Surface Laptop and Windows 10 S review: Six months later
I've been using the Surface Laptop and Windows 10 S for six whole months now. Here's how both have held up.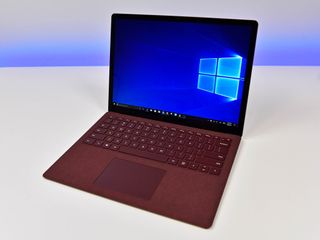 (Image credit: Windows Central)
The Surface Laptop is now six months old. Subsequently, this also means Windows 10 S is six months old today, as Windows 10 S debuted alongside the Surface Laptop back in June. I've been using both since June 15, and I wanted to give my thoughts and opinions on both six months on.
Check out our Surface Laptop review
See Surface Laptop at Microsoft Store
Surface Laptop: Still like new
I know a lot of people had worried that the Alcantara fabric on the keyboard would wear and get dirty over time. I can confirm that this is yet to happen, at least on my machine. Admittedly, I'm not often eating greasy or crummy foods around my Laptop, but I also haven't seen anyone online complaining about stains in the Alcantara on the Surface Laptop. I imagine there are some cases out there where this has happened, but definitely not on the scale it did with the first generation Alcantara Type Covers.
For those unaware, the Alcantara on the Surface Laptop and new Surface Pro Type Covers is different. This second generation of Alcantara is coated in polyurethane to help fight against stains and marks over time, meaning it's more durable and should last much longer than the old Type Covers. That's why my Surface Laptop still looks brand new. I'm using the grey model too, which would likely be the color to show stains and dirt the quickest.
Battery life is still excellent. I'm getting through an entire day with no problems, even after installing all my apps and programs from the Microsoft Store. This is in-part due to Windows 10 S and Microsoft's promise of excellent battery life for as long as you own the laptop. The charger that the Surface Laptop comes with is good but slightly less powerful than the one that comes with the Surface Book. (Pro tip: You can use the Surface Book charger on the Surface Laptop for faster charging, which is what I've been doing for the last six months with no issues.)
I opted for the Intel Core i5 model with 8GB RAM, which is pretty run of the mill. So far, it's performed well. At any given time, I'll have Spotify open, along with around five or six tabs in Edge, a Word document, Slack and GroupMe all open at the same time. The Surface Laptop can handle this workload great, with no real slow downs or noticeable performance drops.
Overall, the Surface Laptop has held up tremendously over the last six months. It still looks new, and I love the form-factor and light weighted-ness. I was a Surface Book user before I made the switch to the Surface Laptop, and I can honestly say that I haven't missed the Surface Book one bit. In fact, when Microsoft announced the Surface Book 2, it was the first Surface device that I wasn't super interested in.
Windows 10 S: I forgot I was using it ...
When I first reviewed the Surface Laptop, I said I was going to switch to Windows 10 Pro so that I could have the freedom of installing whatever program I wanted. It was more for the convenience of that freedom than me actually needing software that wasn't in the Microsoft Store. Regardless, I never actually got around to doing it. I meant to, but it slipped my mind one day, and over time, I forgot that I was even using Windows 10 S.
Windows 10 S has everything I need for a device that's using a laptop-class processor. Of course, I still need my editing and live streaming software, both of which aren't available on Windows 10 S, but that's fine because I have no intention of using the Surface Laptop to edit videos or live stream our podcast. I only ever browse the web, do some email, edit documents in Word or PowerPoint, and communicate with friends and colleagues using apps like GroupMe and Slack on the Laptop.
I have a powerful desktop at home that I use for all the heavy lifting. I rarely need to do any heavy lifting work when on the go, so the Surface Laptop with Windows 10 S is more than enough for me. But Windows 10 S won't be for everyone, especially those who swear by Google Chrome or any other browser. To a lot of people, Microsoft Edge still isn't ready for primetime, which is perfectly understandable.
However, I've been using Microsoft Edge as my default and only browser since it was first made available in beta under the name "Project Spartan" during the development of the first-ever Windows 10 release. I have no issues with it. I love how lightweight and clean the experience is. Admittedly, I'm not big on extensions, which I know many Chrome users depend on.
There hasn't been a single moment where any Windows 10 S limitation popped up stopping me from doing something I wanted to do. I've not once encountered the "You can't install this app" dialogue or found that I couldn't change a default app or search engine to something else. I'm perfectly fine with Bing as my default search provider in Edge because Bing is fine. It's not spectacular or anything, but it gets the job done. And if Bing isn't sufficient, I just head to Google and do a search query there.
Love at first (and second and third) sight
Windows 10 S has been more than good to me over the last six months. For about four months of that time, I didn't even know it was Windows 10 S. That' means Microsoft is doing a great job at getting all the apps I need into the Microsoft Store. Windows 10 S is only going to improve over time too, with the introduction of features like Sets, Cloud Clipboard and Timeline. I'm very excited to see where Windows 10 S is headed.
Six months on, both the Surface Laptop and Windows 10 S are doing very well. I honestly think the Surface Laptop is the best Surface on the market. I've always wanted Microsoft to build a proper laptop, and the Surface Laptop is precisely that. I was a Surface Pro user before the Surface Book came along, and I made the switch to the Book because it was more like a laptop than the Pro. So naturally I made the switch to the Laptop once that came along, and I have loved every minute of it.
Get the Windows Central Newsletter
All the latest news, reviews, and guides for Windows and Xbox diehards.