Surface Laptop and Windows 10 S review: Six months later
I've been using the Surface Laptop and Windows 10 S for six whole months now. Here's how both have held up.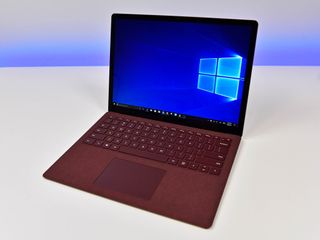 (Image credit: Windows Central)
The Surface Laptop is now six months old. Subsequently, this also means Windows 10 S is six months old today, as Windows 10 S debuted alongside the Surface Laptop back in June. I've been using both since June 15, and I wanted to give my thoughts and opinions on both six months on.
Check out our Surface Laptop review
See Surface Laptop at Microsoft Store (opens in new tab)
Surface Laptop: Still like new
I know a lot of people had worried that the Alcantara fabric on the keyboard would wear and get dirty over time. I can confirm that this is yet to happen, at least on my machine. Admittedly, I'm not often eating greasy or crummy foods around my Laptop, but I also haven't seen anyone online complaining about stains in the Alcantara on the Surface Laptop. I imagine there are some cases out there where this has happened, but definitely not on the scale it did with the first generation Alcantara Type Covers.
For those unaware, the Alcantara on the Surface Laptop and new Surface Pro Type Covers is different. This second generation of Alcantara is coated in polyurethane to help fight against stains and marks over time, meaning it's more durable and should last much longer than the old Type Covers. That's why my Surface Laptop still looks brand new. I'm using the grey model too, which would likely be the color to show stains and dirt the quickest.
Battery life is still excellent. I'm getting through an entire day with no problems, even after installing all my apps and programs from the Microsoft Store. This is in-part due to Windows 10 S and Microsoft's promise of excellent battery life for as long as you own the laptop. The charger that the Surface Laptop comes with is good but slightly less powerful than the one that comes with the Surface Book. (Pro tip: You can use the Surface Book charger on the Surface Laptop for faster charging, which is what I've been doing for the last six months with no issues.)
I opted for the Intel Core i5 model with 8GB RAM, which is pretty run of the mill. So far, it's performed well. At any given time, I'll have Spotify open, along with around five or six tabs in Edge, a Word document, Slack and GroupMe all open at the same time. The Surface Laptop can handle this workload great, with no real slow downs or noticeable performance drops.
Overall, the Surface Laptop has held up tremendously over the last six months. It still looks new, and I love the form-factor and light weighted-ness. I was a Surface Book user before I made the switch to the Surface Laptop, and I can honestly say that I haven't missed the Surface Book one bit. In fact, when Microsoft announced the Surface Book 2, it was the first Surface device that I wasn't super interested in.
Windows 10 S: I forgot I was using it ...
When I first reviewed the Surface Laptop, I said I was going to switch to Windows 10 Pro so that I could have the freedom of installing whatever program I wanted. It was more for the convenience of that freedom than me actually needing software that wasn't in the Microsoft Store. Regardless, I never actually got around to doing it. I meant to, but it slipped my mind one day, and over time, I forgot that I was even using Windows 10 S.
Windows 10 S has everything I need for a device that's using a laptop-class processor. Of course, I still need my editing and live streaming software, both of which aren't available on Windows 10 S, but that's fine because I have no intention of using the Surface Laptop to edit videos or live stream our podcast. I only ever browse the web, do some email, edit documents in Word or PowerPoint, and communicate with friends and colleagues using apps like GroupMe and Slack on the Laptop.
I have a powerful desktop at home that I use for all the heavy lifting. I rarely need to do any heavy lifting work when on the go, so the Surface Laptop with Windows 10 S is more than enough for me. But Windows 10 S won't be for everyone, especially those who swear by Google Chrome or any other browser. To a lot of people, Microsoft Edge still isn't ready for primetime, which is perfectly understandable.
However, I've been using Microsoft Edge as my default and only browser since it was first made available in beta under the name "Project Spartan" during the development of the first-ever Windows 10 release. I have no issues with it. I love how lightweight and clean the experience is. Admittedly, I'm not big on extensions, which I know many Chrome users depend on.
There hasn't been a single moment where any Windows 10 S limitation popped up stopping me from doing something I wanted to do. I've not once encountered the "You can't install this app" dialogue or found that I couldn't change a default app or search engine to something else. I'm perfectly fine with Bing as my default search provider in Edge because Bing is fine. It's not spectacular or anything, but it gets the job done. And if Bing isn't sufficient, I just head to Google and do a search query there.
Love at first (and second and third) sight
Windows 10 S has been more than good to me over the last six months. For about four months of that time, I didn't even know it was Windows 10 S. That' means Microsoft is doing a great job at getting all the apps I need into the Microsoft Store. Windows 10 S is only going to improve over time too, with the introduction of features like Sets, Cloud Clipboard and Timeline. I'm very excited to see where Windows 10 S is headed.
Six months on, both the Surface Laptop and Windows 10 S are doing very well. I honestly think the Surface Laptop is the best Surface on the market. I've always wanted Microsoft to build a proper laptop, and the Surface Laptop is precisely that. I was a Surface Pro user before the Surface Book came along, and I made the switch to the Book because it was more like a laptop than the Pro. So naturally I made the switch to the Laptop once that came along, and I have loved every minute of it.
See Surface Laptop at Microsoft Store (opens in new tab)
Windows Central Newsletter
Get the best of Windows Central in your inbox, every day!
Zac Bowden is a Senior Editor at Windows Central. Bringing you exclusive coverage into the world of Windows on PCs, tablets, phones, and more. Also an avid collector of rare Microsoft prototype devices! Keep in touch on Twitter: @zacbowden.
This is encouraging to read! Glad that the Alcantara has held up and that battery life has continued to be great. Personally, I'll probably miss Firefox if I was to get one of these even though I love the look and the specs.

If you'd miss Firefox, just do the 5 minute update to Windows 10 Pro.

Wanna know about the initial boot time and time to your screen when it becomes useable!
Does 10s offers performance advantage compared to pro or not?

I've had pretty much the same experience, for development I use my ThinkPad. But I've never felt limited by Windows 10 S on my Surface.

One think i would miss out on Win10S: Dwarf Fortress.

Since the consumer can't open a Surface Laptop if a part goes on it, what happens when it is out of warranty and say a RAM module goes or the HD goes and you need to put a new on in it? Does it brick, or is this service available at a cost through Microsoft? I really like this product, and have considered upgrading to it a few times, but the fact that I can't upgrade components in it as my needs grow, scare me a bit.

Most modern ultralight laptops have next to no user-replacable parts. This is not unique to the Surface Laptop by any stretch.

Thanks for this very timely update Zac. I just bought the same model of Surface Laptop (except in burgandy) to begin to use as my work machine. I have the new Surface Pro, but really perfer using it as a tablet for reading, watching media and doing the New York Time crossword. I fell for the look of the Surface Laptop too and it does get looks in coffeshops and offices I've taken it to. Thus far in my use, it has been flawless. I am still stunned at the quality of the speakers every time I turn on Spotify or a video plays. This device is the first I've owned where I find I regularly use the trackpad because it is large enough and works so well. I think a quality trackpad and a touch screen are very complimentary. The trackpad is best for fine control scrolling and for zooming in or out, but for clicking on buttons or icons, I find a finger still works best. I've owned the laptop for a week now, using it every day, and just now plugged it in as it reached 20 percent of battery life. This has been a great purchase.

Nice. When I read the headline and read Windows 10S, I was ready for some serious bashing by you 😂 but its encouraging to see it held up well. I am gonna do some experiment on my own and limit one of my laptops to only install store apps and gonna use it for a while. Lets see how that experience goes but I am almost certain I'll hate it sooner than later :P still lets see... Plus I read in WoA scene Microsoft sat down with Qualcomm to chart out 100 top PC apps that will be optimized for WoA experience. Why doesn't MS push developers of those 100 apps to bring them in store.... nevermind as I am writing this, I realize they probably tried and couldn't make them... but I wish with snapdragon and always connected pc now in picture, they push them again a bit.

The reason why you'll hate is because it's more because you're used to power applications and also you're not an average consumer. An average consumer who does basic tasks would not care about Windows 10 S But the best way to go is on ARM PCs they limit native app development to UWP/Centennial and to the Microsoft Store.

Interesting read, I am hoping there is a more bigger push for UWP apps as more and more devices start running Windows 10s. Personally I'm finding the store some what lacking, despite not being a heavy app user. Also this review highlights a critical factor, if you don't use many apps and just do the basic tasks than Windows 10 ARM will be a massive hit for that group of customers. For power users and those who are app heavy users are most likely going to come across some obstacles (teething issues). As with anything knew there are bound to be issues, which is why to mitigate these Microsoft has to focus on UWP.

I still use Windows 10 S on my Surface Laptop. No issues.

I still wonder if there's performance difference with Windows 10 Pro set to apps from store only. I'd like to have the ability to install a few legacy programs like TeamViewer, since the store app version doesn't work like an unattended remote client, then lock it down from installing any other programs. This way having the functionality of traditional windows and the security of Windows 10 S can prevent unwanted installs. I keep thinking that the moment I unlock S into Pro, this laptop will eventually lose most of S's advantages since Pro will activate leagacy background tasks built into the full platform.

Hi Dan, in windows 10s do we able to setup printers and scanners like a normal windows? my concern is most printers and scanner need to install drivers and software. same to some usb devices, too.

I think Windows 10 S has come a long way before it was released. Back in May. People were cautious, however nowadays people realise there is a need for such an OS, hence why majority of people seem okay with the OS, especially those who only do basic tasks. With iTunes coming soon to the Store, there doesn't seem like much consumers are missing, we also have Notepad++ coming soon as well.
Its clear that Windows 10 S has an audience that is the same as Chrome OS but different in a sense that 10S has the power and high end applications and games. As long as Windows 10 S devices increase the amount of applications will also increase well. This part is doable.

a couple of days ago i went to check out the new crop of surface devices because i haven't had a chance up until now, and of all them i was most impressed by the surface laptop. obviously i can't speak for performance, but it handling-wise it's super sleak and feels really solid. the alcantara makes it definitely feel more high and and less clinical, somewhat cozy even.

Honestly, I just can't get over the price tag. They hamstring the OS with W10S (and the upgrade to full W10 isn't a permanent freebie, if I remember correctly). The thing fights the essence of its namesake, as the stiff, clamshell design is fundamentally in conflict with the Surface Pen support; who wants to try writing on this thing when a Surface Pro is more flexible and affordable for that task? After the Surface line started as a means to progress away from traditional laptops and be something new and exciting, Microsoft puts out a freakinf Surface Macbook that regresses the whole point of the Surface endeavor in a way that is absolutely baffling ,and at a price that is laughable when the Pro does more for less. If they had gone for a 360-degree hinge on this, I could forgive it, even at the lofty price tage around $150-250 above where you could probably find a competitive product (including a Surface Pro). As a "traditional" laptop, it just isn't a sensible product. It really does feel like Microsoft is trying to turn Surface into Mac when they release something so archaic and expensive. The Surface Pro is unquestionably a better product, unless you're THAT scared of x86, to the point you would spend another $200-ish to lose that software support and feel safe from malware.

I get your point, but making a Surface Laptop with a 360 hinge means making a second version of Surface Pro. Microsoft was very clear that they created the traditional Laptop because people asked them for that form factor but with "Surface" treatment. They won't ever produce a low priced Surface device because they won't compete in price with their OEMs. Even with the traditional clamshell form factor, the Laptop has lots of the Surface touch that I expect we may see in other devices: maybe not the Alcantara covering as copying that would be a bit too on the nose for an HP or Lenovo, but there will probably be other ultrabooks experiment with grill-less speakers now that Microsoft has shown how good speakers can sound without being seen at all.

If you make it with a 360-degree hinge, you're not exactly forced to roll it all the way back. In fact, it would have been more interesting if they did like the Surface Book and made a unique hinge style, similar to the XB1 Elite Controller's trigger locks. It could allow the hinge to stop when locked, giving the traditional laptop style, but allowing it to unlock and be a hybrid device like the Yoga. You say a 360-hinge laptop would be redundant, but I don't agree. I don't consider the Surface Pro because it lacks stability as a laptop; the keyboard is too flimsy and floppy. I find the Surface Laptop a backwards device, in terms of form and function--I really don't see the point of Pen support on a clamshell laptop, other than to simplify manufacturing (one type of display for multiple Surfaces) and to increase price. It seems like it would be a physically unpleasant writing experience to me, though I've admittedly not tried it (but I can say I've never thought I wanted to write on paper with the paper/notebook upright). I also dont' think a comparable chassis means it has to compete in the low-end. The Surface Laptop can be $1,000. For it to be that, I think it needs to hit some more checkboxes to warrant the price tage, rather than charging $1,000 for what the competition is doing at $700-800, including the Surface Pro. Make it a hybrid at 15" and I want it. Heck, keep it the same size and make it a hybrid, and I consider it--and definitely buy it at $800 or so. Instead, it's a non-competitive product at a non-competitive price. It's blatantly just an Macbook copycat with a touchscreen. Microsoft started Surface by innovating with the Surface Pro, along with the Surface Book. Now, they've turned to two copycat products--the Studio that looks like an attempt to steal the iMac market and the Laptop that's a touchscreen Macbook, along with creating Studio peripherals that look like they painted some Apple ones grey.

The Laptop is selling very well. I see people buying it that would never buy a Surface Pro because they want a reassuring form-factor as well as a bigger screen. I never understood WHY Microsoft did released the Book instead of a new "powercover" option for Surface Pro as well as a 14 or 15" version of SP. The Book/Book 2 is lacking the kickstand of the pro, but the pro screen is tiny and only answer the needs of people that accept to work with 12" devices, which are not that numerous. I hope that the Surface mobile range will unite the Surface Pro and Book in a single family that brings both strengh into one perfect machine. And the Laptop can stay there as an entry model, with a 360 degree screen rotation but not detachable one.

I've been using the SP 4 exclusively (the SP 2017 isn't available where I am) for 4 months now and find the Hinge to be rock solid. Not once has it slipped on its own! To set the record straight, I'd say, it is rock solid! Yes, the SP 4 weighs so little, that you can knock it over - Tablet, Hinge and Type Cover. But then that can happen with a MacBook Air or any Hybrid, SP 4-like device as well! In fact, I got myself a Hard Cover for the SP 4 recently: apart from the difficulty of getting the SP 4 into the Cover, I find that the Cover's built-in Kick Stand needs significantly more time and care to set up, than the SP 4's built-in Kick Stand!! The SP 4's Type Cover feels a little different from a Standard Laptop Keyboard, as it bends a little, when you speed-type. Nothing tough to get used to, I took maybe a Page of typing, to get used to it, and can challenge myself on any other Keyboard, on accuracy and speed of typing! As for the Track Pad - it is easily the BEST I have ever used, and I have used a number of hps, Dells, IBMs/ Lenovos, in the past!! I had to get myself a Surface Arc Mouse (the latest one, with no distinct Buttons) because, whenever I connected to the Office TV, the Track Pad would go wild, the Cursor jump around like a fish with its tail on fire. Interestingly, this would happen at Office alone - at home and elsewhere, the Track Pad was like an obedient doggie, doing exactly what one asked from it! Clearly, it was due to some issue with the Office Power Supply, but since I need to regularly project from my SP 4, I got myself the Surface Arc Mouse, to complement the SP 4. I just do not use the Mouse anywhere else but in office - such is the SP 4's Track Pad accuracy!!

Thanks for a nice review Zac. I don't use Surface laptop myself but have been trying to limit my non store installation on my Surface 3 since the beginning. Now, Microsoft money plus (for my legacy financial monitoring) and Office 365 are my only non store apps.

I picked up a surface laptop after some research and hesitation- but I'm really happy with my purchase and think its the most under appreciated laptop on the market. To me the standout feature is the 3:2 screen ratio. I know it has a 7th gen intel instead of an 8th, but I'll appreciate the screen everytime I use it and won't miss having an 8th gen 90% of the time. The build quality is amazing and I've been very happy with the battery life so far. I'm still having some minor issues with the surface dock even after updating the firmware, but very much a first world problem. I was also worried about the SSD speed in my i5 256, but it looks like MS might have changed the SSD to intel (I could be wrong, but I'll post about this in the forums). I'm getting 1 GB read and 500 Mb write, which isn't stellar but much better than the initial reviews.

MS still need more work to bring most necessary app into store so the success of windows 10s....
for me i can't live with the 10s, as i using many 3rd party software and do a lot of printing, and the edge is nor good on printing.
and those small 3rd party software i don't think they will in MS store...

Thanks for the 6 months review. I have to agree that Windows 10S would suit my needs in that I also have another work station that I use programs that are not in the store (yet). I use Splashtop (remote desktop) on Windows 10S and on my phone when on the go and need to run an applicaiton like Quicken or Quick Books. I simply fire up Splashtop and connect to the work station and run the application that I need as if it were running on the moble device. However the issue for me with the Surface laptop is the ability to change the battery. I use my computing equipment longer than the average and end up needing to replace batteries.

I tried Win10S back when it came out. Changed back to PRO simply because I couldn't find any way to use the Office suite. I am not in a position to use their subscription model. So if this is resolved, I'd be more than happy to use WIN10S again.

So, Surface Laptop had perfect sense before Microsoft cancelled the phone, hence UPW/Store apps, hence Windows. There are 2 oprions left: waut for the yet another U-turn or go Apple.

Glad to hear it's working out well for you. This can only mean that Nadella is about to dump it.Cynical? Sure but look at his track record.

You mean he kept Surface even after the $1billion loss?

The glass on mine has disconnected it's self from the lid over time.. I can see behind the glass into the lid...Since I don't use the screen, I use an external monitor, I must say I am disapointed after forking out approx $3000 for it. What I wanted to know is, is it possible to purchase just the screen for a Surface? That way I can eject the lid and put a new one on it, rather than purchasing a whole new laptop. So for example could someone take the screen off one Surface and put it on another one, and it carry on working? It's a bit like someone that smashed their screen, can they just replace the screen and keep the base? Would that work? Why did the screen unstick it's self from the lid? No idea....it's not like the screen is ever on, never gets hot as I am using an external screen. It's just a poor build quality I think. I just don't want to pay out another $3000 to use a laptop for 2 years.

I would say your problems are due to a poor glue job. Being the device is ~6 mos. old, it should be replaced under warranty. Haven't heard any other complaints of the display delaminating.

You should open a support call for that screen ASAP.

Thanks guys....Even though its over 1 year old? Will they still honor a waranty or give me support on hardware?

Are you living 2018 ahead of us? This surface laptop was released on June 2017. How can it be 1-year old?

The guy obviously doesn't have it. Russian troll bots.

Dude, it's just a faulty unit. They will replace it no problem.

Is it possible to get 10S for my 64 bit Surface 3?? The CPU is an Intel Atom x7-Z8700@1.68 GHz with a 128 GB solid state drive and 4 GB of RAM? There is plenty of space on the internal drive and there a 64 GB SD card with lots of space of available.I have no need for the Creator's edition or anything esocteric in the op system. What is the outlook for get 10S for my machine?

If your Surface has Windows 10 Pro, you can do a sidegrade to 10 S. I did that to my HP Stream 7 (shipped with Windows 8.1, upgraded to Windows 10, put in a 10 Pro license, installed 10 S. Improvements are noticeable).

Where is your Doritos test? Lmao. This is much better review than that crap from whatever wjs?

I just bought a Surface laptop. I had to update to Pro to have my lossless music programs: Tidal (it supports lossless on Chrome but it Edge) and Foobar 2000. Other than those apps, I would be able to use S. I use Edge and Bing anyway.