Six Windows Phone Red Stripe Deals ring in the New Year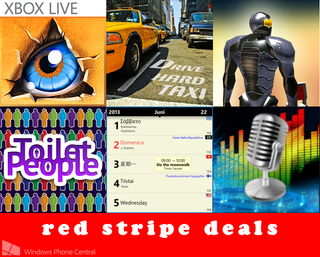 After all those December deals on Xbox Windows phone games, it's only natural that the return to a single Xbox Red Stripe Deal of the Week would be less exciting. And so it is! This week's Xbox sale game is alchemic puzzle game Doodle God from JoyBits. Doodle God last went on sale for 99 cents in July – here's another chance to get it on the cheap.
If the repeated Xbox sale doesn't light your fire, perhaps the remaining Red Stripe Deals will do it. Instead of two non-Xbox deals, we have five this time – all Windows Phone 7 and 8 compatible. Games Drive Hard Taxi from JuJu-Apps, Jack Hale from Igor Maliukh, and Toilet People from Muki Software are on sale for 99 cents. Productivity apps Chronos Calendar and Yivosoft Recorder also get discounts. Head past the break for descriptions, pictures, and Store links!
Doodle God (Windows Phone 7 and 8)
Regular price: $2.99 Sale price: $.99 Download size: 24 MB Store Link
Doodle God started as a popular indie game that was later upgraded to Xbox Live status. It's a puzzle game themed around alchemy. You start out with only four elements to mix and match, each combination creating a new element. The object is simply to make them all, which requires tons of experimentation and thought. What makes glass in real life? Fire plus sand. Combine those ingredients in-game and you've just unlocked glass, which can then be mixed with many other elements.
The Windows Phone version suffers from a bug that can make certain Achievements impossible to earn if you accidentally press the hint button. So don't press that button! The developers promised to patch it but never came through, unfortunately. Also bad, the game dropped to 99 cents for a lengthy time before returning to the too high $2.99 price. 99 cents is what it should cost all the time. If you follow a guide, you'll get the Achievements in just a few hours. See our review for details.
If you don't care about Xbox features, the latest sequel Doodle Kingdom sells for $1.99.
Drive Hard Taxi (Windows Phone 7 and 8)
Regular price: $1.99 Sale price: $.99 Download size: 47 MB Store Link
I bet you didn't know Windows Phone had a Crazy Taxi clone. Oh, but it does – and it drives hard.
Being a Windows Phone 7 game, the graphics are kind of basic. But where else on the platform are you going to find the thrill of picking up passengers and transporting them to their destinations in 3D? Nowhere, unless SEGA ever returns to the platform and gives us the real Crazy Taxi that iOS users have been playing for a year.
Official description:
Jack Hale (Windows Phone 7 and 8)
Regular price: $2.99 Sale price: $.99 Download size: 11 MB Store Link
Remember that Tom Cruise movie Jack Reacher? Neither do I. But Jack Hale uses the same naming convention, which proved to be box office poison in 2012. If this ever gets made into a movie, the developer (who uses our forums) needs to change the name to be more descriptive than just some dude's name.
Anyway, Jack Hale is a sci-fi themed overhead shooter with polygonal graphics. A good choice for Windows Phone 7 users who've already beaten Extraction: Project Outbreak and can't play flashier games like Dredd vs. Zombies or Halo: Spartan Assault.
Features:
Play in full 3D: unique levels, numerous enemies, a variety of weapons and special effects are waiting for you.
Try the cool shooter in the best traditions of "kill them all" games, you never see so many enemies on one screen on Windows Phone.
Toilet People (Windows Phone 7 and 8)
Regular price: $1.99 Sale price: $.99 Download size: 62 MB Store Link
I still don't get the name on this one. Are the people made of toilets? Do you play it on a toilet, or in one? Or are they just saying that all of the struggles in our lifetime will be flushed away at the end? No one really knows. But our own George Ponder says this one "isn't a bad game" in his write-up. That's good enough for me. And hey, the graphics aren't bad.
Features:
Beautiful fully 3D visuals with 60 fps.
Simple enough to understand rules in few minutes yet complex enough to keep your interest.
Play with up to 4 friends on the one device or with bots.
Use phone camera to make avatars for you and yours friends.
More than half an hour original soundtrack so it will never get old.
Chronos Calendar (Windows Phone 7 and 8)
Regular price: $1.99 Sale price: $.99 Download size: 1 MB Store Link
Hey, a premium calendar app. Do you own one yet? Well, we've covered Chronos Calendar several times over the years and even compared it to other calendar apps in a round-up article.
Features:
Practical calendar with read/write sync possibilities for google.com/outlook.com/hotmail.com & live.com.
If you are looking for a calendar without all the sync mess you can run Chronos using only internal events (no internet).
Chronos is also able to read from the built-in Windows Phone Calendar. Unfortunately due to OS-restrictions it's only possible to read from it, if you have a WP8 then you're able to create appointments. But no edit or delete.
Lots of customization for the live tile.
Language support for a lot of countries.
Built-in holidays and other various special days for over 50 cultures/countries exists.
Yivosoft Recorder (Windows Phone 7 and 8)
Regular price: $1.99 Sale price: $.99 Download size: 4 MB Store Link
Now here's an app I actually need. Yivosoft offers audio recording functionality far beyond the stuff included with Windows Phone by default. Look at that fancy interface and those advanced editing features. No longer will you have to wear a wiretap when you're on an undercover mission behind enemy lines. Just turn on the app, lock your screen, and they'll never even know what hit them.
Features:
Unlimited recording.
Recorder, Pause, one touch play back.
Advanced Playback
Email any size recording without having to register
Recorder on Startup
Sync to PC (With Easy Sync Desktop software) even over the internet.
No recording Limit
Run while locked
Prevent Lock screen.
Record on startup.
Email export and Cloud download for large files.
Six games and apps is a lot for a Red Stripe sale. Will you guys be picking anything up this week, or are you like me and all spent out from Christmas?
Paul Acevedo is the Games Editor at Windows Central. A lifelong gamer, he has written about videogames for over 15 years and reviewed over 350 games for our site. Follow him on Twitter @PaulRAcevedo. Don't hate. Appreciate!
Chronos is by far the best Calendar App on WP8. Everyone should give it a try.

Man, I used to love playing Crazy Taxi on Sega Dreamcast. Even though it was 13 years ago, a few months ago I saw Crazy Taxi in an arcade. Sat down, popped in two quarters and, just like riding a bike, dominated that course. It's crazy how much the brain remembers. I would love to see a real Crazy Taxi, along with other Sega games like Chu Chu Rocket and Jet Set Radio, on Windows Phone or Windows 8/RT with Xbox integration. I've bugged @SEGA about it many times on Twitter, but sadly they stopped publishing WP games long ago so I doubt they'll come back anytime soon. Anyone played all three Doodle games: Doodle God, Doodle Devil, and Doodle Kingdom? For some easy achievements I might have to get Doodle God at 99 cents (which, agreed, should be priced at all the time, along with a few more games like Revolution).

The Xbox 360 version is good too. You have to supply your own custom soundtrack since it lacks the licensed music, but otherwise it's pretty much the best version of the original game.

Well, in that case, I hope Sega ports their XBLA games from 360 over to Xbox One someday soon! Or that Microsoft figures out a way to do some backwards compatibility. So many awesome XBLA titles on 360 that I missed out on!

It is sega so god only knows what they will do, still waiting for skies of arcadia and shenmue

Look for when people on IOS and android move onto something else. This generally signals the launch on our platform.

More like shit stripe deals.

Not appropriate, Dark Knight.

Well...there's always next year.

Maybe Toilet People is named as such because the people are shaped like the people icons designating restrooms.

What's all this got to do with a Jamaican beer?

Not a single thing is available for free:(

Red Stripe deals aren't giveaways.

That's not how the Red Stripe deals work
Windows Central Newsletter
Get the best of Windows Central in in your inbox, every day!
Thank you for signing up to Windows Central. You will receive a verification email shortly.
There was a problem. Please refresh the page and try again.