Sky News to launch Xbox 360 app in UK and US on Tuesday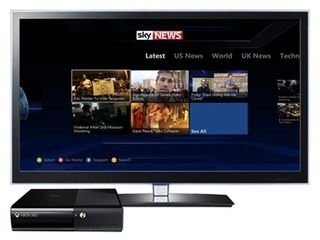 Sky News will offer a free app to download for owners of Microsoft's older Xbox 360 console for both UK and US residents on Tuesday, which will offer the latest news stories and video clips from the UK-based service.
While Sky News is a major media outlet in the UK, the launch of the Xbox 360 app in the US will likely be the first time many residents in that country will become acquainted with the service. The company says:
There's no word if the app will also be released at some point for the new Xbox One console as well. What do you think about Sky News launching an Xbox 360 app for both UK and US audiences?
Windows Central Newsletter
Get the best of Windows Central in your inbox, every day!
A real failure that 360 continues to have and get more apps than the one.

I think that if US residents have seen Fox News then they'll have a good idea of what to expect with Sky News. Right wing propaganda dressed up as journalism for stupid people.

Yep pretty much summed up right there.

As opposed to most other media that is left wing propaganda dressed up as journalism for stupid people.

LOL yeah. If these idiots think Sky is right wing, wait till they read the Daily Mail. :) Honestly, politics is a nonsense. Humans make up their own mind, then listen to news, sound bites and sources that support their belief. Few humans have the ability to be totally objective and rational. Politics is a sport for the masses, which is an unwinnable game - as you have to influence people who don't have the mental capacity to understand (i know that sounds terrible but its true). I now avoid politics, and the news apart from WPCenrtal of course ;) Its sad that a nice story about an app coming to a MS platform, that some jumped up twerp had to smere it with political references. @Symoclod, we don't care what you think. Its just good to have the app.

Sky News....right wing..pls explain why.

Lets hope this leads to skyGo app on Windows phone

Yep rather have a skygo app than pointless sky news (bbc news is far better)

Agree with you both. Group hug?

Sky sucks. Too expensive Posted via Windows Phone Central App

Get what you pay for. Superb HD picutre (better than Virgin, well better than the Virgin Cisco box, not tried the new Tivo one) Trust me, football on a 50inch plasma is sublime. Just because you cannot afford it, doesnt make it suck.

How is it better quality that 1080p virgin? I have had all the boxes and the cisco one doesn't work very well at all, then you have the V+ and Tivo box which works much better and is HD there is no difference really between virgin and sky..

Football is sh*t regardless of the screen size.
I would sooner watch the Six Nations in 360p than that load of tosh!

How about a SkyGo app for XB1, even a Sky News app for the One would have been better than another app on the 360 that's not gonna get used.

I suppose its good but who goes on the Xbox to read the news?.. Posted via the Windows Phone Central App for Android

I do. BBC Sports Football Gossip every morning with my cornflakes. Xbox On, Pins, BBC Gossip [reads footy gossip] Xbox Turn Off, Yes Cereal bowl in sink. Job Done.

Wouldn't give Murdoch the time of day let alone my time or money...

If you thought about the personality of every person running a company you wouldn't buy very much. And if you motive is politically driven, you really do need to think about it a bit more. (or in actual case, a whole lot less)

Stop trying to justify your purchasing choice!
The reality is, Freeview costs nothing and gives 90% of what you have on Sky. By making such a choice, I am keeping my money away from those scurrilous Murdoch rats.
The best stuff is on the BBC, and I get my rugby fix from BT Broadband - so why bother with all that other toot?

Films, both broadcast and streamable library. HD football. More HD channels, series link recording. Voice integration with my Xbox One. So plenty of reasons. Im not trying to justify anything, I never even mentioned my own value judgement. Its childish say you won't spend money with a company based on people running or some other left wing twat reason like Amazon dont pay taxes. News Corp own 39% of the company, which is itself mostly owned by pension funds. BSKYB are on the LSE. You could buy it. Neither Rupert or James are CEO anymore. Its your money, do what you want. But its just childish to watch people get on their ethical little soapbox talking toot mate.

There's nothing left-wing/twattish about operating in a principled manner.
Tesco didn't, so I stopped buying from them. They are changing, but not quickly enough for me.
Amazon are scurrilous rats that will gladly destroy any business that comes in their way. Likewise, I don't do business with them (John Lewis fill my needs right there).
Your buying choices are just ensuring that the UK loses tax money to businesses that operate in absolutely unprincipled ways.
Given that, I reckon you should start operating with one eye on what is right rather than what is the absolute best for your pocket. Alternative, just keep behaving like a 'free market' fool that believes such business practices are warranted in an apparently civilised world

A free market fool? Do you actually listen to the tripe that comes out of your mouth? Mate you've got some issues to deal with. Which was my original point. You are one of those people, us normal people avoid at parties. Good luck with your little propoganda tirades. Gawd help your co-workers and family. :)

Just shows sky to be behind in customer service and technology. Rather than build sky go for customers on a new platform they build for non customers on an old platform!

No thanks, I don't want that European Fux News!

nice even state side i like having a different prospective n what is going on, state side the news is designed as to not offend or embarrassed 1600 .