SkyDrive for Windows Phone gets bug fixes in latest update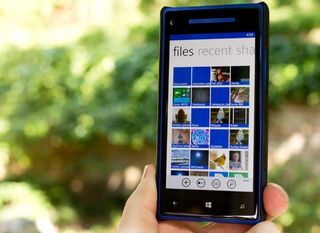 (Image credit: Windows Central)
As if we needed any more updates for app on Windows Phone this week, SkyDrive too has received a minor bump today to fix some bugs. Version 3.0.2.0 is now live in the Store and although your Store notification may not show it, you can go and grab the update by following the link below.
The official SkyDrive app for Windows Phone helps users manage their SkyDrive and mirrors the Windows 8 version of the app nicely, giving users plenty of control over their storage and the ability to share links easily. While this update doesn't bring any new features or UI changes, hopefully if you have had any odd behaviors in the past they'll be fixed with this update.
Download SkyDrive for Windows Phone here in the Store.
Daniel Rubino is the Executive Editor of Windows Central, head reviewer, podcast co-host, and analyst. He has been covering Microsoft here since 2007, back when this site was called WMExperts (and later Windows Phone Central). His interests include Windows, Microsoft Surface, laptops, next-gen computing, and arguing with people on the internet.
Today is a great day with all these updates. Now if only we had an os update lol

What kind of bugs were fixed?

The bad kind. The good bugs were left though. (Joking aside, they weren't specified).

Lmfao Daniel's sarcasm always gets me :P

Love SkyDrive. With 25 GB, it shows loyalty pays off :)

Haha, right? I have 28gb freeeee :)

If you click manage storage from the web you can buy an additional 20GB for only $10/year. That's one way, the other way is to buy Office 365 Home Premium ($100/year includes 5 Office installs, 20GB of SkyDrive storage and 60 minutes a month of Skype minutes at no charge.

Or Office 365 University. $80 for 4 years.

65GB here! 41GB available.

175 GB here. Linked accounts will die soon but I've enjoyed it.

This is simply the most used software/ service to which I've ever installed/ subscribed. If they would up the quantity of additional storage I could pay for substantially that would be great. Yey for updates and platform extension.

Agree with cellus and ray, 25GB is nice for free, and auto backups of phone and pics/videos, also sharing photo albums on my blogs posts, its an excellent service.

How do you get that much GB for free?

Those who had a live account before SkyDrive got 25gb free when SkyDrive was launched. After it became popular Microsoft lowered the free storage to 7gb but those who already had the 25gb before could upgrade back up to 25gb for free for a limited time. At least that's how I remember it.

Yup, this is correct. Those who started out with the 25gb plan were given the option to be grandfathered in.

I for one am sick of news updates saying an app has bug fixes with no change log. This is really not news.

The news is that its available.

The lack of info is frustrating, I agree. But it's news to us because we all know the Store doesn't immediately let us know of an app update. Thank WPC for that!

How I wish WP has a File Manager that functions just like the SkyDrive app

You are not alone in that.

They seemed to have fixed the authenticator bug

Geez,

I had 17 updates today.

Do you have the same apps as me? I also had 17 :)

I know this is off topic, but is there any good write up on how Skydrive works on W8.1. I can't tell if/when it syncs to my PC keeping a local copy, and the desktop app was removed when I installed 8.1

http://forums.wpcentral.com/showthread/231618.htm

Is this update only for the Windows Phone 8 version?

At least the author could mention it... I am tired every day to check the market and get disappointed

time to get used to that..
developers now regard wp7 as a dead platform (it is, actually) and hence a waste of time..
MS should've done something for easy back-porting of apps from wp8 to wp7..
but that didn't happen, and it never will..
so just wait till your time with your phone gets over, and upgrade to wp8 or switch to android where most apps support android 2.2 and above, provided the hardware is decent enough..or an iphone..or blackberry..or anything else..
wp7 is dead..
and yes i too own a lumia 710 which is barely an year old as of now..
and people with cheaper phones than mine get better app support..(both android and wp8)..and it is annoying..but i can't help it..

Developers consider WP7 dead? Hmm, my Marketplace tile indicates otherwise. I have 25 updates waiting for me to install on my WP7.5 HD7. Half of those appeared within the last two weeks. And I still run across brand new apps now and then. I'd probably find more, but I'm not the app-fiend I used to be, given that my 16GB of storage is nearly full.

Pratham - Your comment has nothing to do with Dionigi13's comment - the point was is that the article did not mention that it was for WP8 only. There are two versions of this app, and the courtesy that editors could at least do is advise which version the update pertains to in their articles, so as to save other version users the time of having to go check the store.

I hear ya. I kept checking for that Twitter update too.

I hope it addresses the Other Storage Folder bug. I downloaded and installed it and the "Store on Phone" buttons are not greyed out. Still not a fully baked update.... expect more to come :(

All these updates and nothing on Other storage yet.

I imagine that it will have to be an OS update to address that.

2 SkyDrive biggest bugs:
1. Fast resuming back from any other app, picture we were browing are turing black, said: "please check your network connection"
2. Hit back button after viewing a photo, photo list view position will be reset to from the first photo again.

WTF?

Dumb question but how long has there been an XBox Video folder in Skydrive? It's not a daily use app for me so when I updated my 8X and saw it I thought it came with this update but then I checked my RT and it's there too. None of my videos are there however. Feel free to ridicule me if this folder has been there forever

This sounds like a new feature to me. I know at the Xbox One announcement they talked about having the ability to save and share replays and videos, I wonder if this is how it'll be done.

I noticed it last week, but I don't know when it first showed up.

If you click manage storage from the web you can buy an additional 20GB for only $10/year. That's one way, the other way is to buy Office 365 Home Premium ($100/year includes 5 Office installs, 20GB of SkyDrive storage and 60 minutes a month of Skype minutes at no charge.

Is there a way to get more space for SkyDrive, I've just got 7GB.

Slow news day today................lolrofllmfaoomgnyancatdicaprio7!!!!

Yeah dude bug fix update in the store big news

Installed. Looking forward to 8.1 and integrated SkyDrive on my rt. :):):):):). just need to wait on my device coming back.

Mine keeps saying i have,conflicts and wont save

Skydrive with cloud storage facility is an easy way to access the files even offline, extra storage can be downloaded,for $10 of 25 GB, and I found this as a more worth windows 8 phone application development !

We need wallet fix update.

Updates! Updates ! But where is the one we need the most? ***WhatsApp***

My SkyDrive tiles still have no pictures on them in my albums

Even Microsoft isn't updating wp7 programs that sucks.

They are still updating WP7 apps, just not all of them.

accessing SkyDrive documents through office takes for ever, do others see same issue ? i have 2 SkyDrive accounts, i use app to access one account & office to access another account. SkyDrive on Web/IE on phone refreshes faster.

I followed the link to get the updates but it doesn't say anything about an update....just that it is in my collection......fyi...still at 7.8 would that make a difference?
Windows Central Newsletter
Get the best of Windows Central in in your inbox, every day!
Thank you for signing up to Windows Central. You will receive a verification email shortly.
There was a problem. Please refresh the page and try again.