Skype is bringing back more granular presence controls following feedback
Microsoft is giving Skype users more granular control over their online status with new presence controls.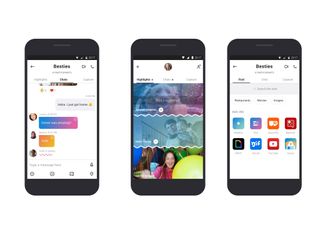 As part of Microsoft's recent Skype overhaul, it changed how the app handled the online status of users. Gone were manual presence controls for toggling from "Active" to "Do Not Disturb." In their place, Skype would simply show you as active to others while you were using the app. Like other parts of the overhaul, many were apparently not happy with this change, and now Microsoft is making some changes (opens in new tab) to address that feedback.
In a post on the Microsoft Answers forum, Skype Insider Program Manager detailed the following changes coming to presence controler:
You asked, we delivered
Let me change my status. You can now set your presence from your avatar.
I want to be invisible. Added more presence options.
Show me my status. You can now always see the status you are showing others.
I cannot see who is online, make the green dot bigger! Made the presence indicators on your contacts larger.
Kilbourne says that these new presence options are rolling out now to Insiders on iOS, Android, Linux, Mac and Windows desktop with Skype version 8.8.76.61480. They'll also make their way to the Universal Windows Platform (UWP) Skype app "soon."
Dan Thorp-Lancaster is the Editor in Chief for Windows Central. He began working with Windows Central as a news writer in 2014 and is obsessed with tech of all sorts. You can follow Dan on Twitter @DthorpL and Instagram @heyitsdtl. Got a hot tip? Send it to daniel.thorp-lancaster@futurenet.com.
What about win10 mobile?!

It will be coming to the UWP Skype Windows 10 Mobile app soon. That is what is says in the article.

I believe uwp is the 3rd on their list. their main priority for the skype experience has been focused on ios and Android. the windows apps are not even in the same design language as of now. not to mention for me personally once i make the switch to another platform i will switching away from skype, unless it can be the default text platform on the other devices. Also why is groupme still around. it seems these feature sets should be in groupme and not in skype. groume is more of a really messaging platform. i think of skype us voip client than a chat client.

So soon that all windows phone will Kaput for good!

I'm on Fast Ring, if it makes a difference, and received an update to Skype today. It adds the different active states but also added the ability to actually delete old Skype conversations, not just hide them. (I believe this was touched on last week on another Skype update.) Problem? Slow as hell. Experiencing 15-second pauses when opening it, scrolling, etc.

Yup! A lot of people are complaining about this on the feedback hub, especially for the delay of sending messages to clients from other platforms like iOS and Android. I hate to say this, but it seems they can't keep the app working every major revision.

The Android/iOS/Desktop app is based on the new core called "slimcore". This is based on Electron (by github). The idea is good, faster development, better code quality. But it seems it is not perfectly optimized yet and also the features they cut pisses people off. Hope this does not get shafted like Groove. Seems MS is in the business of sunsetting consumer apps......

MS seems to be in the process of sunsetting everything they have for consumers, period!!!!!

Yes, the latest update for Windows 10 Mobile is very slow and unreliable. Kind of makes me wonder if anyone actually tests it before releasing to the fast ring.

It's on yesterday update (v. 12.4.716.0), just go settings (tap/click on your settings)

Hmmm..."soon" is the new "last".

Lol.. Is that the new Netflix show?

Is this at Snapcrap Skype that came out on Android? If thats so i can keep waiting for Windows 10 mobile. I swear, if any of my apps ever says "beasties", it's getting uninstalled immediately.

Stupid auto correct. That was supposed to be "besties". What a way to ruin a joke.

"You asked, we delivered". Oh, dear. Where is the common sense?

Introduce an option to delete conversations and stop adding my contacts or i will never install you again, god damn Skype. I gave up! **** app for life.

One of my pet hates too. If I delete a conversation / block a contact, I don't want to see it again. Number of times I've installed on a new platform to see 'recent' coneversation stubs from six years ago pop up. I've had to manually delete them again. Same for contacts - leave my contacts alone.

Finally, this silliness is getting old. Thankfully, They never went away in the desktop app. It was a retarded move to remove them in the first place and had caused havoc for so many people. If you set your status away on the desktop app, you would appear offline to everyone everywhere except if they used the desktop application as well. The same applied to your own contacts, what a freaking mess.

so this has nothing to do with my phone.....

Why did MS even bother to create the Universal Windows Platform, if they aren't willing to use it themselves? Do they think that's going to inspire other developers to create for UWP?

It feels like only 5 people at MS is working on Windows, while 100+ is working on iOS and Android. Really sucks. Cloud first, Android and iOS second, Windows last.

Tired of rambling and sad seeing it is not just me but everyone who loved or love windows pour their frustration here in comments how not mobile but the whole windows 10 platform is very last or never get these new features. Or never get a dedicated app like bing. RIP MS

Because Microsoft doesn't actually CARE about UWP/their own platform anymore, that's why. We are purely an afterthought. And why are they putting more emphasis on mamby pamby features like "presence" and NOT on more basic features of the app? Good grief, Microsoft is run by idiots.

Correction, Microsoft is ran by AN idiot.

I'd argue that at least Nadella's closest top tier are all-in with him on this garbage.

Should have been that way all along. All companies are trying to take control away from the users through automation. I enjoyed things how they were. We had to learn things and felt empowered. Now we use things and drift to whatever the trend is. I'd like to go back and just have something stable again.
Windows Central Newsletter
Get the best of Windows Central in in your inbox, every day!
Thank you for signing up to Windows Central. You will receive a verification email shortly.
There was a problem. Please refresh the page and try again.