Skype Preview adds SMS relay, webpage previews and more for everyone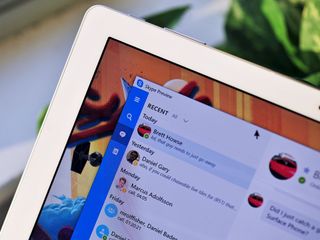 Update: This update also includes SMS relay, according to a post over on the Skype blog. With SMS relay, you'll be able to send text messages from the Skype Preview app on your PC if the app is set as the default messaging app on your Windows 10 Mobile phone.
Original Story: A fresh update is headed out to the Skype Preview app for non-Insiders, bringing along some pretty notable new features. Included in the latest production update for Windows 10 PC and Mobile is drag and drop support for files up to 300MB, webpage previews, and much more.
Here's the official breakdown of what's new in Skype Preview:
Drag and drop any file up to 300MB each in the chat to quickly share it.
Adjust your microphone and webcam setup directly in Skype.
Preview a webpage before you click it.
Know who said what with quotes in instant messages.
As we've previously covered, the new webcam and microphone setup options can be found in the Audio & Video section of Settings, allowing you to toggle and test your camera and microphone. This update also includes adjustments that should improve connectivity in the app.
If you want to check out all of what's new, everyone should be able to grab the latest Skype Preview update from the Windows Store now. After updating, you should find yourself on version 11.9.251. Also be sure to give us a shout in the comments and let us know how the app is running for you after the update!
Download Skype Preview from the Windows Store (opens in new tab)
Dan Thorp-Lancaster is the former Editor-in-Chief of Windows Central. He began working with Windows Central, Android Central, and iMore as a news writer in 2014 and is obsessed with tech of all sorts. You can follow Dan on Twitter @DthorpL and Instagram @heyitsdtl.
I just fell in love with Mircrosoft again. FINALLY AT LONG LAST got our damn SMS relay. EDIT: So far it's definitely been sweet enough to justify the wait. Relayed SMS pops up on my Surface Book very quickly after my 950XL gets it... ...and though I was initially opposed to separating it from the messaging app, the choice and controls that it gives users is a lot better.

Yeah right... Now they just have to make this thing work for what it is intended for.. Video calling... I was not able to make a smooth call since the last in-built skype experience in messages app before AU.. This sucks..

really? I did some a couple weeks ago and commented to some that it's working a lot better now than before. From where I stand, it has been better recently and connecting with skype of business people better too.

Yeah, it's been much better for me. And faster. I just got off a skype video call

I think you are from US... I'm from middle east and it never works properly for me... Such a shame.. Starting to feel the itch of using W10M.. Gotta move on..

There are some Media/Streaming restrictions in Middle East. From a recent experience, I found out that they only allow certain apps to use that bandwidth.

Don't get too excited. I've been testing it for weeks and it's so unreliable! I am really surprised they released this for everyone. Wonder if our user base is shrinking so fast that they need additional testers? Yesterday was the first day in over a week that I was able to send an sms via my PC. (been working for less than 24hrs now). Prior to that, the app on the phone would crash on start every time until reboot. After, it would work until the first incoming sms then crash til reboot! Love it when it works...about 18hrs & counting now. (L950, RelPreview, Skylake PC)

Meh. The app is still slow.

So if I have both skype number and a phone number for a contact, how do I switch between the 2 using the skype app to send messages?? Cuz I tried and I see no sms switch in chat when on skype chat and vice versa.

Did they remove the option to send Video Messages? I can't seem to find that anymore.

So what will happen to the messaging app?

Messaging will still be there... and pure, for those who don't care for the Skype integration.

But for how long... Looks like this is the beggining of a take over. It's not like the Iphone messaging app has two seperate apps, one classic and one new age. It's just one app, why couldn't MS do this.

They should just integrate Skype into the OS and get it over with. It is hard to standardize functions across devices when people are using more than one way to do the same thing. I'm ready to start using this soon, but it seems like it will be a while for it to be stable by some accounts. I will be highly pissed if I miss important messages because of a non-working app , as SMS is 90% of my communication.

Got this update an hour ago on my 550 here in india, not insider.

Well, the article is about the update coming to Production Ring

Still won't switch until we can delete conversations

I'm able to delete SMS conversations on the phone version - press and hold for the menu. I am on the latest insiders version of w10m

I have an option to hide not delete. Is this new in this version?

Just checked the version on my phone. It is 11.9.251.0 which is the one this store is referring to.

SMS conversations can be deleted, although it is a little buggy for me right now (but, hey, It's still a preview). Skype conversations, on the other hand, can only be hidden.

"but hey, its still a preview". Yeah right... My 700$ W10M phone is stuck with a preview skype.. .. MS needs to shutdown W10 on mobile and start (or continue) supporting Android and iOS already..

Uh, no thank you. How about you go play with android or ios instead of trying to force it on to everybody else.

Why do people whine about some things not working 100% when they CHOSE this platform. Seriously, nobody put a gun your head to purchase your 700$ W10M phone. You could have chosen an Android phone or an iPhone if that's your thing, but YOU chose that W10M phone. I assume you read information about this platform and educated yourself before purchasing it because that's what a responsible grown-up and mature adult would do. Therefore, you knew the risks that came with the device before spending those 700$ on it. So if you knew the risks, you just can't complain now. You just have to take responsibility for your purchase and keep quiet as good boy. So as Negan would say, "I know that is a mighty big, nasty pill to swallow, but swallow it you most certainly will."

Why are you using a preview APP as an excuse to berate the operating system? Skype is an APP, not the operating system. Microsoft don't have to provide a phone app at all should they choose not to. There is now a web based interface. Just see the likes of eBay and PayPal for examples of apps that were pulled in favour of using the website. Windows 10 Mobile is the operating system. Skype is just an app and is not required for Windows 10 Mobile to function as intended.

...and how do you unhide them?

No difference between deleting and hiding really, but you can do both now.

I just tried. You can delete sms but can only hide skype messages.

Had a weird "occurrence" which I cannot confirm but submitted feedback for. I found the "delete sms message" option a few days ago. I deleted 2 sms's, one each from 2 different contacts. Afterwards, both contact's Outlook info was missing (deleted?) from my people app! So odd! Haven't tried to duplicate since. Anyone else seen this?

Sms feature: Will it be supported by Cortana? Meaning will Cortana read aloud incoming messages?

Yes, I have my SMS setup through Skype and Cortana reads them out loud when I have my headphones on or when I'm in my car.

Several minta go whenever I was on Driving Mode or my bluetooth attached she offer me to let her read all the incoming message or not, when I say Yes, she read that for me, its good, I am still not trying if Skype is the default sms, I'll update later

Can someone provide a quick tutorial on how to get the cross-platform SMS set up?

Super easy. Set it up on the phone first. Go to settings and turn on SMS. Make sure it is set as the default SMS application as well. Once you have done that, go to the PC app and turn on there as well. Once you turn it on it should tell you the device it is connected to. For me it says; Connect to (my name)'s 950. I found that if you uninstall both apps and reinstall each at point of setup, it seems to have less issues.

There is no SMS setting on the Phone. I can see it on PC, but not on Phone. And yes it's the same version. Does it require RS2?

I couldn't figure it out, either, but uninstalling and reinstalling (phone only) made the SMS options appear.

Oh yeah, it worked, thanks

No, I am on release preview on my Surface and 950. Try reinstalling. I had to reinstall the PC version after this build for the option to show up. Didn't have any issues on my 950 though... I know Zac tweeted the other day that it was missing for him after his updated though too. Not sure what is going on... (I know they have had to make major changes with this most recent build. Syncing is MUCH better. Previously, when I used the phone Skype app, it wouldn't reflect on my Surface if it was asleep or off. Now when I boot up it syncs all previous messages)

I just received update on non-insider phone. As soon as I launched it I was asked if I wanted it to be the default SMS app.

I'm getting "no phone connected" on the PC.

i tried it and it was awful, i couldn't send any type of MMS media it was janky to use, so angry they pulled messaging everywhere

Works great to MMS here... You need to check your settings.

really how about mms video? mms is bad in general so i would convert my gifs to mp4 videos via aeries app and text them to friends. most gifs would simply not send so i used mp4 video work around

My MMS seems to be working just fine too. pics and videos.

Things that don't work for anyone else magically work perfectly for Giddora. No, there is no way for the rest of us to send MMS video from our PCs, only images.


We were talking about phone, which works great for me and the guy above your borderline personal attack.

The OP was lamenting the loss of "messaging everywhere" not how MMS worked on his phone. And I made my comment because you respond to literally every complaint anyone has about WP by saying how well it works for you and how it must be something they're doing wrong. But since many of these complaints are about the way WP just works, I can only assume you have access to some special version where all the annoyances have been fixed. Perhaps you are a time traveler with the WP of the future. That's not an insult. I'm assuming you're special.

Assuming he's special is an insult to everyone you're not assuming is special. That's a borderline personal attack and I'm offended.

Forewarning: My attempt to lighten the mood

Agreed same here! Messaging Everywhere was the dream and I know for a fact that I'm not using Skype to send out messages as I just want a strictly clean and fast messaging app. Oh Microsoft...

i send gifs to friends constantly through out the day if i can't do that in skype preview its worthless

I send and receive gifs and have been doing it since it first arrived.

really how about mms video? mms is bad in general so i would convert my gifs to mp4 videos via aeries app and text them to friends. most gifs would simply not send so i used mp4 video work around via the aeries twitter app

I just send the gifs as a regular mms without any conversion.

How do you do this? When I open the Photos menu to send a saved gif, I don't even see it on the list to select.

I'm with this guy. They're always "too big" to send. Bs.

I'm in the Release Preview ring. Yesterday my mail and calendar app was updated to version 17.7466.40987.0 (the People app had been updated to 10.1.2850.0 a few days earlier). What happened then is that all my contacts from my Outlook.com account first disappeared, then they were re-synced but now I have the problem that sync doesn't work properly anymore. If I create a new contact in the people app, it won't be synced before I open the mail or calendar app. Deleting contacts either from within the app or on Outlook.com does not sync. When I go to the people app settings, my Outlook.com account appears as "Outlook (Mail and Calendar)" and is in a seemingly eternal sync, i.e. it appears as syncing and never leaves that state. This is no issue with my Google account, where any changes to contacts sync immediately without opening mail or calendar, and there is no issue with the "eternal sync" either. I've tried resetting the people app (which just broke it entirely somehow), reinstalling the people app (upon which it was able to launch again) and removing and re-adding my Outlook.com account, with no result. I'm just wondering if anyone else is experiencing this?

Same problem for me after getting update today. Contacts from both Google and Outlook disappeared. I can't even re-sync. Even after re-adding accounts I'm seeing "Attention Required". Same problem for Mail and Calendar. Outlook account shows "Attention Required" & "Your Hotmail account settings are out of date". Google account is working just fine only Outlook has problems even after re-adding it.

And I literally just updated -_-

Won't switch until we get a transparent tile and a notifications' counter on the tile. Is it that difficult?

Listen man... Do no switch at all.. It still lags and sucks ...

Hmm, I'm really curious about this update. What if you have contacts which have 2 or more mobile numbers. On WP8.1 you could tap ... and there was an option to switch numbers etc. Is this option available if you use skype as your default app?

I can switch between different numbers just as easy as the old app.

So I may get some hate for this but what about SMS Relay on android. Any hope for that

Probably not as this seems to be Windows only.

I heard a rumour this was on the cards. Not officially confirmed though. I am guessing MS will aim to get it working smoothly on their platform first, using windows mobile users as guniea pigs, before releasing it to the larger user-base on android and iphone.

So it is not very clear to me; do i have to go through skype everytime if i want to use the sms relay feature? and what about about the messaging app in windows 10 pc? does it do anything now?

Messaging app has been dead on PC sicne Anniversary Update. I've no idea why they haven't unbundled it yet.

Thanks! I had it still on my start menu, but oddly it kinda works, cannot send sms, but it shows all history. Then i guess i'll need to use skype everytime, hopefully it'll get the same snappiness of the messaging app on w10m.

- Still no number counter instead of * - Cant show online only (contacts)

I read that with this Version it was possible to Merge your Skype for Bussines account to the personal one, but I can't find a way to make it work... and Skype for bussines preview is only vailable for IOS and Android u.u

Looking forward to this! Related question: Why can't I put Skype as default video calling app? Or, what video calling app can be set as default video calling app?

It is NOT available for everyone, I'm on one of the 10586 builds on my M8 and it just installs the 8.1 Skype app.

Really don't like using Skype for SMS

skype preview for sms on 950 is slow...

I don't think this should have been pushed out yet for non-Insiders. I still encounter issues with text messages going undelivered. Not as bad as the recent Insider build where they would all get jammed up and you would have to reboot to send any texts at all, I've just noticed that it still doesn't deliver every text sent. I've had zero problems while using stock messaging app, even on Insider builds. It's almost ready for public consumption, but not 100% reliable yet.

Does it still duplicate your contacts by separating the number from the contact?