Skype with SMS Relay heads to Windows 10 Release Preview Ring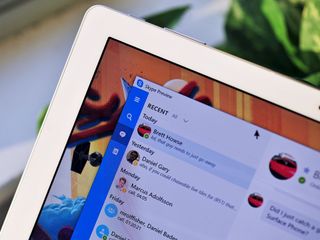 It has been just eight days since Microsoft let loose the new Skype Preview app featuring SMS Relay and syncing to those on the Windows Insider Fast Ring. In an early surprise, Microsoft is now pushing the update through the Store to those on the Release Preview Ring tonight for PC and Mobile.
Skype Preview 11.8.190, which is the same version as Fast Ring testers, is now ready to download. Seeing as this is now hitting Release Preview initial feedback on functionality must be positive for Microsoft to push it to Release Preview.
With this update, users can now send SMS messages to other phone numbers directly from Skype, rather than using the phone's regular SMS app. To enable the feature users must head into Skype Preview setting and enable SMS sync (listed below Privacy). Users can also select how far back the syncing should go with Last month, Last year, and Any time as options.
Which Windows Insider Ring is best? All you need to know about Slow, Fast, and Release Preview rings
Assuming all goes well regular customers of Windows 10 Anniversary Update for PC and Mobile (non-Insiders) should see the general release of SMS syncing in Skype hit devices in the coming weeks. Currently, Skype and SMS syncing is only available on Windows 10 and Mobile devices, but it will expand to Android later on as well. Unfortunately, it is not expected to be available on iOS due to platform restrictions.
Thanks, Jack G. and others, for the tips
Download Skype from the Windows Store (opens in new tab)
Windows Central Newsletter
Get the best of Windows Central in your inbox, every day!
Daniel Rubino is the Editor-in-chief of Windows Central, head reviewer, podcast co-host, and analyst. He has been covering Microsoft since 2007 when this site was called WMExperts (and later Windows Phone Central). His interests include Windows, laptops, next-gen computing, and for some reason, watches. Before all this tech stuff, he worked on a Ph.D. in linguistics, watched people sleep (for medical purposes!), and ran the projectors at movie theaters because it was fun.
The app is useless to me for SMS because I cannot mms anything half of my SMS communicating is with MMS

Sync is quick and reliable so far. Skype app needs some improvements to it's live tile but I continue to be impressed by the Skype UWP Preview. Some great work happening here and the app is up there with the Windows Central app as two of the best UWP apps for me

I'm not seeing that at all. On the 950 it's very slow and it doesn't support a critical function: hands-free. The speed and reliability of the basic Messaging app in announcing incoming text messages and allowing me to respond or initiate is fantastic. It's practically non-existent on this Skype version on the 950.

I would agree...but fyi, I set up Skype Preview with the SMS Relay, but my Messaging app is still receiving texts too. It's as if it is working in silent parallel with Skype Preview, it's just the banner and Action Center notifications come via Skype Preview. However, I had my BT headset on, and it still announced the incoming text with option to reply hands-free, as before. Hope this info helps.

That's how it works by the looks of it. The SMS comes into the phone once and any apps with permissions to access the messages will get a copy of it. They also seem the share the same sync settings

Wow. I'm surprised to see lots of comments saying "it's not good because it's missing features". In response: 1) it's a release preview, so will be buggy and will definitely not be feature complete. 2) MS are taking a "minimum viable product" stance, couples with continuous delivery, meaning when they have 1 suitable feature, they release it then start on the next then release that, and so on. No software company stores up features to release in one big bang release anymore. People want things faster, so incremental releases works for that. But now it seems that people are getting to the point where they "want all the feature now". That's impossible. Just be thankful that we are getting something now, with regular updates people!

Sync is fast but the app itself it not at starting up

Hi guys, I'm having a bit of trouble setting this up, and i would appreciate some help. Im on anniversary update (windows 10), and fast ring on my windows phone. The problem is, i can reply to texts from the action center, but when i try do it through skype, there is no way to do it. For some reason, in skype preview settings (PC), there is no sms sync option bellow privacy.. Is this maybe a region thing?

I believe you have to be on insider on your computer as well

That makes sense because I have no previews set up on either, and I have no synch settings on the PC end. I get the texts in the notification bar, but not skype since some random date.

Yea just go to release preview on your desktop if you don't want to do fast ring its very stable. You just get the production updates a little earlier

Thanks guys, i'll try it out.

You have to enable SMS sync in settings on the PC version as it isn't enabled by default

Make sure that the app version on the devices you are testing is at least 11.8.190 :)

That version is not showing.. :(

Hey Daniel I got an update for the store app recently, but now the store wont open. It says I should check my internet connection. Any ideas on how to fix it without a hard reset?

I've used the regular messaging app for MMS and Skype for the rest, but I don't MMS a lot (heavy use of WhatsApp tho)

I don't use MMS because everything else phone wise is dirt cheap in the UK. MMS just rarely makes sense here

Then I must be doing something differently because I sent an MMS through the app two days ago...

There's a Mms\rcs thing on settings

MMS? I didn't even notice that there wasn't an MMS profile set up on my phone until last week :D So this is how much I use MMS :D

I get MMS through skype quite often.

See I really find it useful. I never use MMS but it is great for organizing meetings etc. without messing with workflow. In my experience at least

Yep if you cant mms with this eventually will only be halfbaked, I can do it all with my mighty text app for Android or prior my Classic with Blend Blackberry ( thinking of going back till Windows phone and Windows has same capability)

Why can't you mms? I find it more reliable at mms than the messaging app

I suppose that's good. I thought they'd fix a few things first tho, like messages in the wrong order and no notification numbers on the skype app icon.

Notification on live tile is a must. Will have to use messaging app for now till it gets fixed on Skype, even though I love the new Skype. Didn't think I'd ever say that about Skype.

I agree I want the lock screen and live tile count sorted (as well as 1 notification per message rather than just the latest message per user) however I've not had a y problems with message order in months. I'm all in on the UWP so no longer use the desktop app, no idea of that's making any difference

Am I the only one having trouble with Skype login on W10M tonight? It was fine just couple hours ago.

Same... Something went wrong for like 5 minutes and then it started working again.

I had issues with that AND with Xbox login at the same time. Also could not access my Microsoft account from within apps during the same time frame. Didn't last long, but there were a couple games on my phone I just had to wait a while to play. First time I'd tried to play them in a month, and that happened. LOL

Yeah, just noticed it when I got home! Seems to work just fine so far. Still hate the "WiFi updating" message that pushes everything else in the app down.

Yeah, should just pop out, not push

Should just do it, and not even bother us with it

if i remember the team said that they are bringing a new way of how they update messages so lets w8 and see :D i think everyone hates how its now :3

I like that pushing, makes it different.

I'm on Production ring, not Release Preview, on mobile, and I got this update. L950

I've been getting fast ring updates and im in the slow ring (Also L950) - might be something on their end

Yes, production got it too.

I do not think production received as well. I think what has happened for some (this happened for my wife's 950XL) is you were on Release Preview at some point and never actually left. But during the AU it looked like you left and your device in the Insider Hub shows you are not in the program. If you register go into Release Preview you will be able to exit immediately and this fixes the issue of being in the ring but the device not showing you are. Hope that makes sense. I experienced and tested this successfully.

Yeah release ring is on the same build.

Same happened to me about two days ago. I have since lost it as I had to factory reset as all my notifications went away. (Including phone calls)

Wish they'd integrate sms natively w Outlook also.

That's an interesting idea

They kinda do if you have a provider you can pipe into it.

I think he means the mail app, but yeah you're right you can SMS via Outlook with a provider

Oh okay. yeah, I meant Outlook

Excellent idea. If you are part of office insider you should definitely submit this idea

The Skype on Outlook dot com must be a step towards that. With Skype supporting sms, you kinda have sms on outlook website (but not in MS Outlook).

I wonder if spammers are able to message you. I do get spam on skype. So it would be really annoying to get it constantly through text

I am constantly get spam calls and messages since preview arrived very frustrating with no way to block the spam.

Disable the option for people to be able to call you from the desktop version of Skype or Skype website. Update: Just checked. Option exists in settings of the Skype app on phone as well.

Doesnt seem to be working for me. I see the SMS Sync option on PC but on mobile, the option is missing completely. Both just recently updated as of a few minutes ago. Also, when I try to send a text on PC, the send button is grayed out.

I had same issue, went back into mobile app later and it asked me if I wanted Skype to be my default sms app, now working fine

Reboot both the phone and PC.

...and we still can't delete chats smh

Right click on the conversation (on PC) or hold down your finger on them for mobile and click Hide Conversation. This is new as of this build, that I've noticed. I had a conversation I wanted to get rid of for months and couldn't.

It just, er, hides the conversation. I'm able to delete the conversations on Skype Web (Skype) and in the Messaging app (SMS) but they still show up on Skype Preview nevertheless.

Yes exactly. Not sure why they don't want us removing them from preview.

MSFT must fix this sync issue AND let us properly delete conversations if they want to achieve feature parity with the desktop app. SMS relay quickly jumped to RP so they must be nearly ready to ship it into production.

Pretty sure desktop skype only hides conversations tbh

Yeah I know there's definitely a difference between the 2 but up until now, you couldnt even hide any conversations. I'm at least glad we can do that now. Its a step in the right direction. Hopefully deleting will come soon. I'm just now trying to figure out how to get the SMS thing to work as its not working for me right now.

The syncing is bugged most of the time. I'm surprised they're pushing it up to that ring already.

I've found that as well, sometimes it identifies contacts perfectly, sometimes it syncs Skype conversations into the same contacts and sometimes it splits the conversations between two contacts with the same name.

Odd. Won't install for me on W10M. Just gives an error in the store. 950XL/Release preview.

Got it to install. Had to change the default storage location to the system drive, then search for the app and reinstall it. Jeesh.

I changed storage location and it still didn't work. Try deleting and reinstalling the app

Microsoft has other issues they need to address in windows 10(pc build non insider )

Microsoft has other issues they need to address in windows 10(pc build non insider )

Microsoft has other issues they need to address in windows 10(pc build non insider )

They aren't working on one thing at a time...

just got it i like it so far seems to be a slight delay in notifications sometimes on the pc but overall works pretty good. Its works better than syncing texts over to the notification center and replying through the notification center because often times texts wouldnt go through that way. Im also able to send mms messages from skype no problems

Yeah replying from.action centre can be a pain sometimes as if mote notifications come in it can sometimes wipe out what you were typing in the quick reply. Pretty sure this is a general problem with notifications though

It looks like the Maps app was updated too for Release Preview (and perhaps Production). I can see the Dark Theme now. Yay!

Thanks for this comment! I never would have checked settings in my Maps app to find that I can use the Dark Theme otherwise. Glad I'm reading through all the comments. We got a lot of Microsoft updates last night, so we may have to go through each one and see what new goodies we have.

No delivery report for SMS. I hope it'll be added soon. Also i can't seem to enable SMS backup.

Missing delivery reports for SMS is what I have noticed as well. It took them ages to implement this in the SMS App and now it is missing in Skype again. Hopefully they are faster this time.

So, on first glance, this is NOT a replacement for the native Messaging app. It takes twice as long to load, then pauses while it is "connecting..", and then provides a poor layout and interface. The SMS syncing through the native Messaging app was much better than the functionality that they have now integrated into Skype. If they think this is ready for the mainstream, they are sadly mistaken.

Some additional info...
Time it takes to open the Messaging app and start typing a new message: 1 second. Time it takes to open Skype Messaging app and start typing a new message: 6 seconds. It's not even close.

Well yeah this is optional so just stick with the messaging app if you prefer it and see if Skype improves over time when it comes out of preview. Messaging or Skype are the choices right now and you just have to pick one, send your feedback to MS through Fback Hub. Messaging is the official default for this so probably stay on that unless you are into preview stuff. They can either release it early so we can try it and feedback or wait until its perfect. Many prefer to try it early

Of course the ability to send Skype messages from the SMS app was much better and made much more sense than sending SMS messages from the Skype app, as you have pointed out. But in case you're wondering, the reason they did this was to bring this functionality to Android which is much more important to them than Windows 10 Mobile and also is in line with the CEO's mobile first cloud first mantra. Though too bad they can't bring it to iOS because of its restricted nature, which is bad for Nadella's daily driver iPhone 7 Pro too.

Makes sense to bring it to Android. It gives Android users a reason to switch to UWP Skype app. They could keep the SMS functionality unique to Windows 10 IMO to give PC a unique feature. Yeah it stops W10M having it as unique but Windows on PC needs to stay competitive too

No... Stop making things up... The reason they did this is because it is better to implement something simple into a more advanced suite than to implement something advanced into a simple suite... They probably hit the roof of what the old sms app could handle and advanced from the other way instead. It has absolutely nothing to do with market share.

As usual, you are again wrong. It was literally to bring it to other platforms.

Nope, that might be one goal. But the direction of implementation is clear. Implement SMS into the Windows skype client (which has been available through Skype for almost as long as regular calls). Otherwise they would have rolled it out much broader.

I agree. This is not ready to go out to non-insiders. That connect ui is bugging me also.

Perhaps not a replacement for native messaging app yet, however, the big deal for me is that I now have an app for messaging on my laptop. This is a big deal for me, as I do a LOT of communicating through SMS. Much easier to type on a full size physical keyboard as opposed to the small on-screen keyboard of the phone, especially when you spend hours in front of a PC.

Not having the ability to delete messages os what is keeping me from using Skype Preview as my default messaging app. Everything worked but no deleting. Unfortunately, this is still not an iMessage competitor because you cannot send SMS messages over WiFi. Basically iMessage over wifi results in iMessage to iMessage VOIP messaging, aka, iOS to iOS, which would be Skype to Skype instant messaging but the issue is that Skype isn't the default messaging app for Windows, ensuring all users can message over WiFi while iMessage is the default for iOS, ensuring that all iOS users can get their messages. It also helps that iMessage switches from SMS to IM without user input so it APPEARS to be one messaging experience, even with the different color chat bubble. Skype requires the user to switch from SMS to Skype, breaking any hopes of a similar ease of use.

iMessage over WiFI is iOS and Mac only though right? So it isn't any use to a PC owner anyway, not specifically on their PC devices anyway. Their surface pro, desktop PC etc. People hype up iMessage WAY too much. It's nothing special from a technical stand point. It's advantage comes almost purely from the number of iOS owners. Although Android has a larger market share I see way way more iPhones in the hands of friends. This can all vary based on your age and social groups. Mine are heavily iPhone biased.

A PC owner may own iOS devices that family and friends own, making iMessage valuable even if they don't know how it works or that it is even called iMessage. I see people with an iPod Touch or iPad and all they know is that they "can send text messages" from their iPod and iPad, not even knowing or caring how. It just works and they may not even know that its is only between iOS and Mac devices but their circle of friends fit that requirement.

It's not ready for prime time yet. Syncing to the PC from my phone is still not consistent. Also, for me it is missing a big feature which is the ability to delete messages.

Not sure how, but I am on production ring and I got this for my phone only about 4 days ago. I have since lost it as I needed to factory reset my 950 (All my notifications were broken, including GroupMe, Skype (not sms relay), and even the phone app). So hopefully this comes out soon because I really enjoyed using it for those couple days. Now that I don't have it, it really bugs me. XD

I can get this app on mobile but not on my Surface

Now if only it would download... Keeps giving me an error.

Move it from your SD card to the device's memory.

The sync works great, but the app is so incomplete. We need ability to setup notification options in phone settings--i.e. show the messages in the action center and customize the sound-- and live tile support. Optimization is also needed on the app itself, even on my 950xl it takes a second or two to refresh the message screen when you link to the app from a notification. All that being said, though, it's coming together quite nicely.

It does need these things but its specifically a preview app and the "W10M users that also specifically use Skype" user base is very limited as it is. I believe they are working as quickly as they can and the whole point of the preview rings is to try things early when they will likely have bugs

What happens when you don't have internet connection would you be able to receive and send sms messages as usual?

If you're using the W10M skype app for SMS it sends directly using the phone so yes. Your PC + phone need an internet connection if you want to send from PC only

Sms has nothing to do with internet, so yes. You won't however be able to send sms from a computer that don't have either cellular or internet connection though.

It's surely just a first attempt, it must get better with more use......... Surely

I think, it made much more sense to put skype in messaging, then to put sms in skype. That being said, I hope they keep it that way and are not zuneing around with it like they did with music. Really like the recent updates, get the feeling everything is coming together at the moment. Edit: Also got the update today as non-insider.

I really liked skype integration in message app. It was so cool.

Putting it in Skype will help take the feature cross platform, such as to Android. This will get the feature into the hands of more users and will be great in terms of wider support for their customer base

They could have taken messaging app to other platforms as well.

You miss out on the existing user base that way

Wtf? U completely miss the point.

It seems you can only enable sms sync if you make skype the default for sms on mobile. I want to enable sms sync in skype and run skype and messaging together for a while to see what is up, especially as this is a preview... Crap planning from devs..

Hopefully Skype for Android will be updated soon to leverage SMS Relay

Hope so. I don't use Android but Android users with a PC are Windows 10 users too and they should be catering for as many customers as possible.

Agreed. Not sure why I am getting down votes to suggest this. Anyone care to explain?

Especially since Google's New allo app doesn't do SMS, and Android users are pissed. Skype may hit that need Posted via the Windows Central App for Android

No delete on the regular Skype which really sucks and no multi photo uploads. I really wanna use this app for messaging, but man it needs some work.

So if I keep Messaging as default in my phone, can I use my PC for sending SMS thru Skype? Both with AU R.Preview of course..

You sure? Have you tried it??

I was wanting to do this as well, keep Messaging as the default on my phone but use the Skype Preview on my PC to respond to texts and such at the same time, but unfortunately I can't do that. Very dissapointed and I wish for the old Messaging app to be back again...

-Can't delete sms with this app.
-Puts a country code on every number that's not saved when sending sms based on the phone's regional setting.
-etc Not ready to replace messaging app..

Think of it as an option rather than a replacement. Just like WhatsApp is an option over Facebook Messenger or Viber

Super fast. It works perfectly

I'm on production ring and the update is already here!!!!

And where are you? Nothing in The Netherlands but want it allready...

I'm not on any of the insider rings and still got this feature for some reason. I'm on 14393.189. Must be something stuck... Anyhow, the skype app is not ready to completely replace the messaging app. I liked it the way it was before when sms and skype messages would sync in a single chat, not different ones, skype only and sms only

They ARE in the same chat. Maybe you didn't link the contacts in the People app, Διονύση.

I did, at least gave it permission to do so. Also re-link the contacts. Could be that together with the skype app, people got an update too, but mine did not, due to not being in the Insider program. So as you say one can choose to send via skype or sms?

This is one of the known issues with SMS in the Skype app, it doesn't do it all the time but it really is annoying to have two separate conversations with the same name. One being the Skype conversation and the other being SMS.

Yes, it happened to me too after I wrote it. On the PC. I disabled SMS sync and enabled again and it was fixed. For now.

Anyone else gets double messages while syncing old messages?

I'm not on insider program and it came for me, also groove music update too

I uninstalled the Skype UWP app. I am a heavy user of screen sharing feature and cannot use the UWP app until this feature is available.

I don't fully get the point, but it sounds cool if I'm already in skype and don't want to switch apps, is this the full extent of It's use or am I way off?

I've not used it with Skype yet and I'm not sure if I would, but I loved the standalone app. My phone might have been on charge or in a different room and I could just reply off my Surface Book without having to grab my phone.
As for Skype I can imagine it being useful if you're in a conversation with headphones on and you don't hear your phone but you see it on-screen.

This feature is gud to send sms via pc skype preview also.....greatwork.......pls launch chating app better than allo and WhatsApp for ur MS users.........

It hasn't been as easy an experience for me compared to when it was baked into the default messaging app. Maybe I'm just doing something wrong but message syncing seems to be hit or miss. Hoping it's just me and not something indicative of a problem with the platform.

Probably the platform. Works for me, not for my wife, the synching that is. Maybe it'll take some time to work out the kinks....

I noticed that the syncing can be incredibly slow, it took a while to sync properly on my Surface 3

Syncing has been pretty fast for me, but I actually did not receive one text from my wife this morning and got one right before it. So am a little worried about reliability. I'm going to test it a while longer and then will switch back to Messaging until more updates come out. Not being able to reply from lock screen like I can with Messaging is annoying too.

Having this on WP8.1 would be a blast!

And after many many years you still can't delete a conversation. Wtf are those developers thinking. This app remains useless as long as this problem is around.

I lied the opposite way, having Skype messages on the regular messaging application.

There options are a bit confusing. On my W10 PC I have Messaging + Skype, Skype Beta, and the old Verizon messages app. Plus Action Center

It works pretty well, however the messages are not showing up with the contact name, they just show up with the phone number. This isn't as useful as the regular SMS app. I hope that they fix that soon.

I have been waiting for a way to send sms and mms from my pc as far as Windows phones. Will this really all be possible soon using skype or another way. I am currently using Mighty Text with an android and sent back my 950xl because you could not text from pc. Even thought about downgrading to Blackberry Passport for the superior Blend but support ending for blend and Blackberry os in general gives pause. For those in the know, will texting from Pc using Windows phone an sending files and pics as well be a reality in next few months or next year or will it be half baked

So after getting an update to the skype preview app it no longer opens on my phone. Definitely won't be trusting my texts to this still poor excuse of an app.

I'm Non-insider but still I've got this update plus Dark Theme update for Maps.

I've been waiting for this, and so far I only have it installed on mobile (not PC), but I see 2 big problems at the moment. It seems if I have a message from someone who doesn't have Skype the message shows up with just their number, not their name. Also, if I try to send a message to someone who has Skype it goes out as a Skype message automatically, not as SMS. This sounds good on paper but I regularly text with someone who uses iMessage on their phone & Mac. Now while they can message TO me via iMessage, they have to open Skype to see messages FROM me. I also know lots of people who have Skype accounts but dont ever use the software so they would never see my messages. I hope they add the option to pick a preferred delivery method as they get closer to release.

You should be able to choose what method you use to send messages above the text box, it defaults to the last one used. I have noticed that some contacts only show one method of messaging if you have a current conversation via Skype.

Perhaps I spoke to soon. I had turned off the integration because of those issues. After your reply I turned it back on and now I get the option to choose a delivery method (it wasn't there the first time). It is also now showing non-Skype contacts names. So my 2 issues are resolved. Hopefully the performance improves a little as they get closer to official release. Thanks for the reply.

It doesn't seem to work on my Surface. I have both my Surface and Lumia on the release preview. It's working just fine on my Lumia. I have 11.8.190 installed on my Surface and the SMS option is in settings, I have it enabled, but nothing is showing up in my conversations. I tried uninstalling and reinstalling, but still nothing.

Same thing happened for me, but I just left the PC app for a bit and it did update with all my old SMSes in the end. So just give it a few minutes. Also, make sure you have enabled it in the Skype Preview app on your phone also.

I have it enabled on both devices. And it's been a few hours on my Surface. I'll see it goes through later.

I have it enabled on both devices. And it's been a few hours on my Surface. I'll see it goes through later
.

have microsoft encrypted the messages end to end via skype? like whatsapp etc...? i hardly use sms thesedays even its free of charge for me in finland :D

Can't wait to have this feature! :)

Thought this would allow me to send texts over wifi. Drats. 950XL on ATT with no wifi texting. Humiliating.

stlil a little iffy to me after using it for a day theres a occasionally hiccup where it wont sync messages over to the pc, there needs to be a delivered notification to let u know the messages went through. Ive had a couple instances where the skype app says the messages sent but i check my phone app and the messaging app on my phone and they hadnt went through

Too many bugs, too slow, and too many missing features to push to release preview this quick

Hi, I currently have on my laptop OS: 14393.187 (Setup for Release Preview) settings on the Insider Preview Builds...however, my Skype Preview version is: 11.7.113.0, which does not have the SMS syncing option...?? I have checked Windows update a couple of times... On my Lumia 950 with OS: 14393.189 I do have the latest Skype Preview build: 11.8.190.0----->SMS Syncing options....what am I doing incorrect...?? Thanks

I am not getting the update on mobile too

Ok was finally able to pickup the PC Skype Preview ver: 11.8.190.0 this morning...however the app's syncing abiltites need work...oh well its a Preview...lol

A real world example of how useful it will be. My wife is part of a medical team that fly's in to very remote places where cell or even telephone service will never become a reality but do have in most cases, access to internet access even if it's intermittent. This will bring friends and family much closer together and they won't be relying on sharing sat phones.

Ms as well should try and integrate skype more with contact list so that you have the option to call a non skype user, like mobile phone, and user to have the options of setting one country as default rather than have to select country each time and lastly, I am unable to see my phones contact even when I select to show all contacts including my phone

I dont see the update at all!! :(

Well that sucked. Skype to slow to load and updates its own notifications before you can do anything. No way to send a quick SMS. Relay doesn't appear to work for outbound as no one I messaged received anything. Back to default messaging app and much happier!

the quick send is there but ive noticed its very spotty some contacts i can send a quick sms from notification center and some i cant

Skype contacts linking to the people hub is sketchy at best. On the PC side I get the option for a few to send via skype or sms, but on the phone I have not seen the option to switch send types for any of my contacts.

Just do it for android Posted via the Windows Central App for Android

Will this update add back video calling from the phone app? I can't switch to Skype video call during a phone call any longer.

I wish they add the ability to have it reversed, where the messaging app on the phone is still the \default way to send texts and such but with the option to use the Skype Preview on the PC to respond to texts. Hopefully someday.

Great idea to bring SMS, but still has show-stopper quirks for me. The names of people who have no skype accnt show only as phone numbers and the pictures of contacts are total mess now. Some show the pic, some show a phone icon. WTH happened?