Skype for Windows 10 team talks Xbox One app, SMS features and more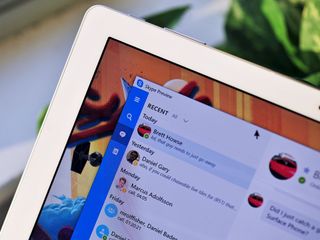 As promised, members of the Skype Preview Windows 10 UWP (Universal Windows Platform) team answered community questions from users earlier today. The team confirmed that the Xbox One version of the Preview app is coming soon, along with other upcoming features.
The online event (opens in new tab), had the team answer questions on their community forums as well as on Twitter. Here are just some of the team's responses:
We are working on bringing Skype Preview to Xbox One in the near future. In the meantime, you can continue to use the existing Skype for Xbox One app. Stay tuned for more information.
Our SMS Relay feature is currently in internal testing with plans to release to Windows Insiders in the near future pending quality gates.
We plan to bring the most used features over to Skype Preview. Including quoting and copy/paste functionality.
You should see video messaging and IM quoting in an update soon. Integrating with ink support within Windows is also an investment area for us.
Custom wallpapers is a great feature addition that would help make conversations more personal. I've added your idea to our list of items to be considered for future updates.
The connecting UI is being updated soon as well.
We're also working on letting you change the mic and camera settings in the UI - coming soon as well!
Download Skype Preview in the Windows Store (opens in new tab)
Windows Central Newsletter
Get the best of Windows Central in your inbox, every day!
Dat Xbox app will be useful for me.

Lol dude just saw your same comment on MSPU article.

Release a New skype app on xbox one will be great, if onedrive also being update for xbox one it will be totally awesome Posted via the Windows Central App for Android

"a New skype app on xbox one will be great" Not if it removes features, which is what happened when the other UWP apps like Groove and Movies & TV hit Xbox One. I have a hunch that we're going to lose features like auto-digital zoom, voice commands, and snap mode when Skype UWP comes to Xbox One, which would not be cool.

Yeah, I've been a bit underwhelmed by these little leftover features as MS has updated the Xbox and related UWP apps and services. I'm sure they'll get there eventually but the roller coaster ride and uncertainty of those updates makes the whole experience feeling less enjoyable.

This always happens with Microsoft. Just look at the mess they did with switching from Windows 8.1 to 10 .... Huge cut in useful features - specifically on the Mobile side - and they stil have nit managed to completely catch up the feature gab but instead added and promoted a few useless features. Same will definitely happen to any app jumping to the XBoxOne.

Besides voice commands, Skype has been another great feature of owning a Kinect with the XBOX One. I prefer Skype Video chats on the XBOX than phone or PC.

Also not having to use the onscreen keyboard and dictating my words instead. Y'all missing out if you don't have Kinect.

Agreed, I just hope the next one will have support for Kinect. I do a lot fo voice commands with all my PC's phones, and my Xbox.

I do too. The app blows but video chat itself is an awesome experience.

Christmas Mornings with family cross-country has never been the same...love Skype for XBOX/Kinect...

Skype calls are a ******* dream on Xbox One. If there's one thing I DO miss about having an xbone its Skype video calling

18 months later, Skype team silent as Skype apps retrenched!!! :)

You should retrench your desire to post comments.

The automatic zoom/user tracking on Xbox One is awesome. I hope they keep that feature. I would love a night vision function that enabled Kinects ability to see in the dark. Also green screen effects for video chat could be really fun, they could even sell backgrounds and themes (Xbox game related backgrounds for Skype video chat or Twitch broadcasting).

I absolutley hate that feature I bought a kinect for the sole purpose of being able to skype the grandparents, but it's turned out to be a waste of money because the skype app is so crap. The grandparents just want to see our faces, but instead autozoom shows them us sat on a sofa 5 metres away, and the whole room. It's so distant that they can barely make out our faces. If one of the kids walks past then autozoom decides to follow them, and our tiny heads disappear off screen while we're talking. It's totally useless. I wish they'd just give us a manual zoom so we can fix the camera ourselves. Until then, we're stuck with using skype on our laptops.....

I've only used it once, for exactly what you want it for and it worked great. My guess is you are too far away. Please don't be a loud voice that gets a feature that others like to be removed. Be careful on what you mean. Fix the auto-zoom and provide a manual option is a better solution that would please more masses.

No, he's not too far away. I use it all the time. Most of the time, it zooms in a bit, keeping me (or us) centered in the picture, but quite far away. Then in the middle of a looong conversation, sometimes it then zooms way in to the point you'd expect and takes my mom by surprise because it's as though I launched myself off the sofa and into the screen. I still like it and gives my mom the feel of being in our living room, which is kinda nice. But I too would like manual control of the zoom function.

Odd maybe my couch was a lot closer to my tv but I didn't think it zoomed too far off. In fact it typically kept the frame centered from the waist up. Unless they updated it and screwed it up.

Didn't get some of my questions sent in time. But some of my feedback for next time: • Ability to change your Skype ID (from "live:xxxx" to a username of your choice) • Ability to link your Skype & Microsoft accounts online, without having to install the app • Modernize the "contact requests" system -- make it more like WhatsApp's model (where simply having your friend's phone number saved in your address book is enough to connect with them) • Show Xbox app conversations & GroupMe group conversations in Skype: Skype could be Microsoft's "OneChat" platform powering all their different messaging services (Skype, Xbox, GroupMe group conversations, LinkedIn messaging, etc.)

Yea, the different accounts for Skype and MSA are a huge frustration. All of my contacts have two profiles and it's very confusing. I tried deleting the MSA accounts and only using Skype ones, but that made it even woirse, and could never get my contacts merged together again. They need to use only one system, no more of this dual account/profile stuff. Also, let us use a webcam on the Xbox One S. No way I am paying a huge premium for an adapter to have a kludge of a setup with the Kinect.

That camera and sound switching will get me over. That is what I really need and I cant do it on the uwp app. Everything else looks great :).

Drag and drop file sharing would be nice.

And basic cut and paste of text too.

I hope they fix skype soon

all you have to do is provide the skype team with duct tape and WD40. and I'm sure they'll fix it real quick

The best part is, it was not broken in the first place...then they F&#Ked with it until it was! Typical MS way!

The disparity and mismatch coupled with the rediculous infighting and very very poor release and updates, even with a redesign, and Whatsapp very easy and simple hasnt left room for Skype for me. Sad really as I liked Skype. Also the Business version of Skype is a mess.

All Whatsapp needs to do is allow video calls and that will be it for Skype.

Not until Whatsapp starts creating desktop apps as well.

I'm not MS's biggest fan but S4B is great. We don't have physical phones at work, just s4b that links to a phone number so people can dial into meeting by phone or by skype and it actually works perfectly.

Havnt used it for this feature tbh as I have a cloudcall account that gives me calls to mobiles and landlines pretty much worldwide for a flat monthly cost and a number + all calls are recorded automatically + conference features, softphones, caller ID options and a whole heap of other things, Skype for Business is not actually good value compared to what else is out there. My experience of trying to get contacts over from 'normal' skype to S4B has been a nightmare, I realise its 2 completely different systems but they made both of them and seems the 2 teams couldnt organise a piss up in a brewery.

How about those stupid idiot devs add the option to change cameras!!!!!! The existing Skype desktop app (obviously designed by competent devs) allows me to change cameras when multiple cameras are installed. This POS they are working on reminds me of the Win8 version.

"coming soon"
"in the near future"
"Stay tuned"
"with plans to release"
"to be considered for future"
"coming soon as well"

They really need to lay off the Skype team and hire better devs.

They did lay off all the skype team. The new skype team are now "insiders" in their parents basements.

I want my skype app for my lg smart tv back...bought a webcam just for it :(

Anyone know if they mentioned bringing SMS to the Skype android app as well?

So what I got out of that is in the near future in the near future we plan on that in a update soon to be considered for a future update being updated soon and last bot not least COMMING SOON AS WELL...... I'm sorry but this all sounds like, I was told by my boss to do this but I'm really not going to give anybody anything just like when we waited for skype on xbox 360 years ago but it never happened ... now the skype for xboxone is the same one that was going to go on the 360, that is how lame skype is .. they do not have their stuff together .. and they just HATE ON WINDOWS ALWAYS.... what a crap pourchase

I posted the first question in the area last Thursday, I had to badger the moderators like mad to clean up the crap posts like why isn't Skype working on my iPhone (In an area called Skype preview for Windows 10), that question about SMS and calls using your phone through Skype was ignored. Although similar questions got "Coming sometime". When on Xbox One got "Coming soon" and my question about a "Sign out option on the Skype live tile" was completly misunderstood................and I spend more time helping out on that forum than just about anyone else, not massivly impressed.

I hope they fix that junky UI.

I would like to use this more, as I have a Kinect. It would be really nice to video with my nephews.

While you guys are at it, let us delete contacts and conversations smh

Especially conversations. Of ANY type.

Absolutely. This is the single reason I won't use it. Ridiculous that every conversation stays in your face. If this becomes the default messaging app and they don't fix this, I will have to cut my losses and move on to Android (which I do not want to do)

I was surprised today when I tried skype preview that I couldn't text people over Wi-Fi with it. What's the point. I need to text people at times when I have no service but I have WiFi. And no I don't have the ability to use Wi-Fi calling/ texting feature since I'm on TMO with a 950XL

I have a 950xl and WiFi calling and texting works for me

Texting over wifi is only relatively recent. What did you do before that was a feature?

Is it just me, or did they really not say anything of substance?

They said plenty in my eyes. Meaning we have no clue what to do, or where to do it. Simple. Scuba, is that you in your photo?

Will Skype preview on PC or mobile ever be as simple, quick and efficient at sms messaging as the messaging app that had Skype in it?

When Skype went to Skype preview the video chat quality took a giant nosedive,at least for me when I use it.

Guys seriously, all I want is to be able to delete chats. I'm begging you. No way I'll ever use this to a great extent if I can't do that.

Did anyone ask them what theyve been doing for the last 5 yrs? Seriously, they've accomplished virtually nothing and ceded their market to Whatsapp, Facebook Messenger, WeChat, LINE, Kakaotalk, Kik, Snapchat, Slack, etc.

If they want to compete with Slack, they need real Markdown support

I dont want to hear about "preview" versions anymore! Skype Preview is very nice but there is lack of features.. The setting tab is very poor and when you minimize the window everyone see you as away. I can say more but i m really tired of this.. Get hurry!!

I was confused that the copy/paste function is already exist

Copying bitmap does not work. In the original application, you can just use the snipping tool to take a snip and then press ctrl-v in skype to send as an image. In the preview version, you have to save an image first and then attach it. I really miss this feature.

No screen share on preview? Posted via the Windows Central App for Android

When are they going to add a chat history delete feature?

Please Add delete chat conversation & delete friends!!!