Slack beta app for Windows Phone puts a larger photo on your profile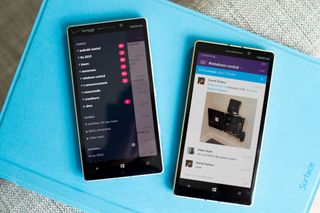 The business-based messaging service Slack has updated its Windows Phone beta app to include larger photos on profile pages.
Here's what's new and fixed in this update, which has the version number of 2016.726.1901.0:
What's New
An updated profile page with a larger profile picture so you can enjoy even more of your teammate's faces while on the move.
What's Fixed
In rare cases the app would hang on the channel loading screen, seemingly intending to do that forever. We'll never find out if it would actually hang forever, now: because we fixed it.
In multiple scenarios we ran a risk of encountering a null state for no good reason. We're doing our best to never touch that void again.
Some pictures were just big for low memory devices and caused unpleasant errors. And no image. You should now get less error, more image.
Sometimes you would like to remove people from group messages, not only add new ones. We understand. You can now do that again.
The screen for inviting users to channels, private channels or group messages always showed the same header. We changed it so that the header actually makes sense now.
Improved indication for image downloads. So you know when the image landed on your device.
Download Slack (beta) from the Windows Store (opens in new tab)
Windows Central Newsletter
Get the best of Windows Central in your inbox, every day!
Which mean prisma might be coming to mobile today

Prisma is photo app. And Microsoft pix is a camera app. Both available on iphone. Ao no relation. Just makin gas here

You are spamming everywhere. Nice job.

What about Imo messenger windows version..working on anywhere..?

When we can expect Windows 10 Slack app?

Slack crashes on launch for the last couple builds or so on the fast ring. It used to happen sporadically, but in 14393.X updates it happens every time. I have reinstalled this many times, before and after soft resets with no success, and connectivity status does not appear to play a role in this, be it WiFi or carrier data. It's now unusable for me. I have also experienced this with Skype Preview, it almost always crashes when going back into the app and it was open in the background, either recently or hours ago but found in recent apps, but the next launch after the crash is always successful. I haven't tried hard resetting my 950 XL since I have no time to re-configure it these days. Anyone else experiencing similar behavior?