Slack for Windows desktop now lets you reset your app data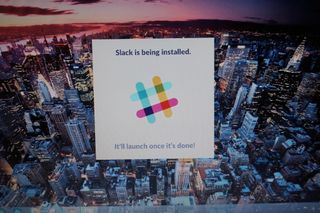 The official Slack app for Windows on the PC has received a fresh update, bringing the app up to version 2.0.2. Along with some bug fixes, it adds a couple of minor new features.
Here's the full breakdown of what's included in the update from Slack:
What's New
Signed into a smorgasbord of teams? We'll pay attention to which ones you use the most, and load those first when the app is started. A minor courtesy.
If you find yourself wedged between a rock and a hard place (or, a bug and our app) we offer you an escape hatch: Help > Reset App Data wipes the slate clean.
Fixed
Context menus were misplaced (and by that we mean, completely absent) for a few unlucky folks. They're in the right place now.
Like a low-budget horror film, a monstrous variety of crashes creeped into the 2.0 update, most of which have been sent back to the swamp.
Downloaded files of the same name will no longer overwrite each other.
If snapped to the left or right of your screen, Slack would develop a case of acute amnesia and reset position when restarted. Our recollection has improved this time around.
The crude white border that would appear around the app the next time it was launched (if you had been zoomed) has been zapped.
We've made further improvements to prevent false detection by antivirus vendors. Those meddling kids.
We offer up a better explanation of why the app stays in your taskbar, if you've set the window to Always flash.
If you already have Slack installed, you should be able to pull the update down by checking in Help > Check for Updates… > Update Now. Otherwise, you can download the full app from Slack now.
Note, some users are complaining about notifications not being clickable so they do not open Slack. The startup is aware and actively working on a fix, which may roll out soon.
Windows Central Newsletter
Get the best of Windows Central in in your inbox, every day!
Bring voice communication without skype calls. Make it within the app itself, as a voice room like discord.

Slack is testing voice calls in the Beta.

Really? Is beta open to the general public?

Please help....i updated to latest fast ring build in my windows phone but its become too unresponsive for me....can i get back to latest slow ring build....i tried to switch the ring from insider app but after switching to slow ring,my phone shows no updates...please help
Windows Central Newsletter
Thank you for signing up to Windows Central. You will receive a verification email shortly.
There was a problem. Please refresh the page and try again.