Smackdown: MoBlog Clients on Windows Mobile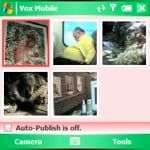 With the advent of blogging, and more specifically its derivative, photo blogging, the question of how to do this on the go via Windows Mobile (WM) naturally arises. Mobile blogging is a great way to share a vacation trip with people in real-time or have friends and family literally see what you are doing day to day. Being in NYC, there is always something worth documenting!
(Editor's note: Hey, look at that, yet another new writer! It's Malatesta, a denizen of the Forums and all around knowledgeable source for Windows Mobile hacks and tricks. Welcome to the front page, Malatesta!)
This review will look at a few of the client based approaches that are available and almost universally free. By client based, I mean it has two parts: software that runs on WM to manipulate the posts and your Blog. Of course, if one were interested in photo-blogging with the least fuss (and much less control) you could always use the existing email-upload feature that many sites like PhotoBucket and Flickr use. While this approach is basic, it doesn't offer the robustness of a client based version, which is where this review will be focused.
This was, in my opinion, one of the best Photo Blog systems out there and what I use as a standard for comparison. Unfortunately Six-Apart, who acquired the site from SplashData, recently axed the site and the software. But Splashblog had some of the best options and was super simple to use.
Pros
Full editing, including deletion of all posts, even after published
Title and text for each picture
Ability to subscribe and view friends/family Splashblogs
One button sync
Ability to choose resolution of uploaded and downloaded photos
Access to Camera app within client
Cons
No longer available!
Had to pay $29.95/yr after 500 photos
No tags for photos
Limited options for online Blog
While no longer active, Splashblog was a simple way to share photos with people as well as keep track of your friends' Splashblogs, all from within a small application.
Owned by Six-Apart, a name you'll quickly become familiar with as they own TypePad, Movable Type and Live Journal, the Vox system is recommended by Six-Apart in lieu of SplashBlog. It is my 2nd favorite of the Photo Blogging software but it does come up short compared to its predecessor and yet it offers more at the same time. Vox is setup like a traditional Blog allowing you to embed HTML, link to sites, load videos (though not mobile ones) and they have plenty of templates for designing your blog, so it's more than a collection of photos. Probably one of the neatest features is that after each picture taken with your camera, a dialog window pops up for instant publishing of the photo to your blog or online library (in turn, a 71kb tiny file runs all the time in the background on your device). If you plan to photo blog a lot, this is a timesaver and best of all, purely optional.
However, you cannot view your friends' Vox accounts from within the program, which is a shame as this was one of the best features of SplashBlog. You can use RSS feeds via a reader like NewsBreak 2.0, though I find sometimes it doesn't pull down the full photo but instead gives you the dreaded "read more online" tag. To their credit, the Vox web site is also "mobile optimized" so navigating to view your (or others) blog is a nice experience from your WM device.
Pros:
Free
Up to 2gb of uploads per month!
Manual check for software updates
Access to camera from program
Monitors all media on device
Option of where to post (Blog or Library)
Option to choose Tags e.g. Mobile
Privacy Level (Public, Private , Friends, Family, etc.)
Publish full resolution photos from device or 640px
Delete photos off of device after Publishing
Add direct links to Amazon, YouTube, iFilm, and iStockPhoto, Flickr, Photobucket
Cons
No editing from WM client once post is published
Cannot view other Vox bloggers within the program (like Splashblog)
Cannot add multiple photos to single post
No GPS integration for geo-caching
If the developers of Vox can address those cons, this would be the best WM Photo Blogging client, hands down. But the inability to edit or delete your posts online from your device (you can of course do so from a PC) and the inability to add multiple photos to a single post keeps this program from being all that it can. Hopefully Vox will fix this with future client updates.
MobiBlogr
Also more of the traditional Blog type, allowing you to post just photos, just text or both, MobiBlogr is not a bad option either. Their site is more limited than Vox and sometimes I had problems with full resolution photos not adjusting themselves to the site, resulting in the picture overlapping content. They also have the option to "Blog it!" when capturing new media, but alas it failed to do so on my 700wx. They do have the option of GPS integration, for posting your GPS location for your pictures (aka Geo-caching), which is quickly becoming a popular feature. But overall, this program pales in comparison to Vox as it has very limited features. Then again, it is free.
But MobiBlogr suffers from one big problem (actually two): (1) no Exit key for the software. Once you run it, it runs in the background constantly. But that is common in WM, right? Just launch your favorite Task manager (or the built in one) and kill the Program. Not so fast! (2) For some reason, MobiBlogr will disappear from your running programs list, but if you run something like MemMaid 2.0 with a processes viewer, it is still there! Worse yet, if you were to repeat the process numerous times, you will end up with multiple processes of MobiBlogr, swallowing up your precious memory. So you either have to run it and leave it running or kill it via a processes viewer, which is quite tedious and just poor programming.
Also there is a Premium version for $19.95 (Buy at the WMExperts Store)which allows you to post to MSN Live Spaces, WordPress.com and WordPress powered blogs, which if you use those sites already makes MobiBlog Premium a worthy consideration.
Pros
Free (Basic) / $19.95 (Premium)
Upload full resolution or 640px photos
Simple interface
GPS Geo-caching (untested)
Richtext editor and full HTML viewer
Cons
Cannot Exit program; can run multiple instances of program (bad!)
Capture new media function does not work (700wx)
Limited options: no tags, no private/public
Blog interface is limited
Website not optimized for mobile viewing
No access to camera from within program
TypePad mobile is also part of the Six-Apart family and their WM client is essentially the same as Vox. The difference here is with TypePad: one of the best and most famous of blogging sites due to its robustness and layout features. However, TypePad accounts are not free and start at $5 a month for a personal account and go up from there.
The software is just as good as Vox but since I don't have a pay account with TypePad, most of its features went untested. But if you are of the more professional blogging types who require or prefer the TypePad system, then you'll be quite pleased with their WM client.
Pros
Basically the same as the Vox client
Cons
TypePad account costs money (but the WM software is free)
Conclusion
In conclusion, the current best option for client based blogging software for WM5/6 would be Vox. It offers a tremendous amount of control of what gets uploaded, how it is labeled, tagged and gives the closest experience to desktop access to your blog. It also provides both free software and free image hosting with a generous 2 gb per month upload limit, allowing you to directly import and link to your other photo sites like Flickr and Photobucket, which is very convenient if you don't want to fully switch to a new site. My only regret is that you can't edit or delete posts once they are made and there is no easy way to view your friend's blog via the software. Both of these were previously in the defunct Splashblog so once you get used to something, you sort of expect the same level of performance. Hopefully Vox will continue to update their software (currently 1.2) and will continue to improve an already great program.
Know of any other Windows Mobile blogging clients that I missed? Let me know!
https://get.typepad.com/Vox.CAB
Info for Email Upload options (non-client based)
Get the Windows Central Newsletter
All the latest news, reviews, and guides for Windows and Xbox diehards.