Smash Champs - a beastly battle game for your Windows Phone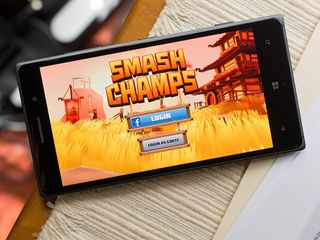 Smash Champs is an arcade styled fighting game that hit Windows Phone Store shelves last week. The Windows Phone game is from the developers of Subway Surfers and has you taking on the role of trainer for some rather beastly fighters.
The better you train, the better your fighters perform in the battle arena.
Smash Champs has plenty of levels to advance through, bonus items to buy and the game is available for low-memory Windows Phones. Smash Champs does require a data connection to play and once you get the hang of things, it can be a decent way to pass the time. The game does take on fight game genre from a slightly different approach that may not be appeal to some. Still, I found the more I played Smash Champs, the more the game grew on me.
Let's get this out of the way from the get go. Smash Champs does have the option to log into the game through a Facebook account. While you can play Smash Champs without a Facebook account, doing so will open up the social aspects of the game plus the ability to seek out your friends and fight them. It is what it is - some are going to hate it, some are going to like it.
When you first launch Smash Champs, you will need to choose your first fighter to train. The fighters have elemental strengths that will give them an advantage or a disadvantage when matched up against other fighters. Your choices break down as follows:
Earth: Teddy the Polar Bear and King the Gorilla
Fire: Ember the Fox and Jag the Jaguar
Shadow: Al the Alligator and Spike the Hyena
While you get to initially unlock and train one of the fighters, as you progress through the game the additional fighters will become available to train and fight.
Once you have selected a fighter, Smash Champs will walk you through a series of tutorials that cover the basics of game play. You need to pay attention to the tutorial because there is no help section or way to review game play instructions.
In a nutshell, you control your fighter's destiny through the training sequences. The better your training score, the better the odds your fighter will be victorious in battle.
Training is much like a game of Fruit Ninja in that you have power balls being tossed up in the air that you have to swipe. This will send the balls towards your fighter and build up his skills. The more balls swiped, the better your training score. There are bonus balls that will appear to give your fighter a boost and bombs that will blow up any balls in play, essentially limiting the training score.
Once you complete the training session, your fighter will be sent to the combat screen where you are basically relegated to watching the action. You can swipe at the screen to collect coins and experience points that fall but the actual punches, kicks and slaps are done automatically.
Battles are fought in "best two out of three" fashion with opponents generated at random, through challenges or by choice from your Facebook friends. You can opt to turn on push notifications to alert you when a challenge has been made.
At the end of each battle, you will be sent to what will become Smash Champs main menu.
From the main menu, you can view your fighter's status, unlock additional fighters, access the game's store and view your progress. The progress menu is a drop down menu that is accessible by tapping your player icon in the upper left corner of the screen.
This drop down menu will show your progress on the journey map (based on your level of experience), display your missions (game play achievements) and access to the game's settings. Smash Champs' options include sound/music levels and signing into your Facebook account.
The game's store includes helmets, body armor, leggings and skins for your fighter that will give them a slight advantage in training or combat. You also have options to buy a lucky box (mystery boosts) and training upgrades. Training upgrades are balls that come into play during the training sequence. The balls, when swiped, will momentarily:
Remove any bombs
Slow down the speed of the balls as they are tossed
Double the point value of each ball swiped
Again, when you choose play the sequence of events will send you to the training and then the fight. With each match victory, you will be rewarded with a token that can be used to open a mystery box from your journey map or unlock an additional fighter.
In playing the game over the past few days, I found that you will want to make the most of any bomb free bonuses during training. This will boost your training score significantly. Also, collect as many bonus experience tokens and coins during combat to level up your fighter quicker. Even if you are defeated, you will earn experience and every point counts.
Overall Impression
Smash Champs is the type of game that starts out slow but once you get the hang of things, it turns out to be an entertaining game. Graphics are well drawn up and the animations help add character to your fighters.
Some may not like that you have no control over the actual fighting but the challenges of training will keep you on your toes. I wouldn't mind seeing a turn-based option for the fight sequence, Then again I guess if you suck at training for a fight, you probably shouldn't be able to win a fight.
I do wish the game had a help section or a way to repeat the tutorial. Smash Champs does take a few tries to get the hang of and if don't follow the tutorial close enough, you may find yourself swiping uselessly at the screen during the fights thinking you are controlling your fighter's fate. A help section would be a nice resource for quick reference.
Overall, Smash Champs is a fun game to pass the time with. After being available for a week, at last check Smash Champs is pulling down a 4 star rating in the Windows Phone Store, which is about right for this Windows Phone gaming title. If you take Smash Champs out for a spin, let us know what you think of the game in the comments below.
Download Smash Champs for Windows Phone (Free)
Get the Windows Central Newsletter
All the latest news, reviews, and guides for Windows and Xbox diehards.
George is the Reviews Editor at Windows Central, concentrating on Windows 10 PC and Mobile apps. He's been a supporter of the platform since the days of Windows CE and uses his current Windows 10 Mobile phone daily to keep up with life and enjoy a game during down time.