Snag a Windows Phone-compatible Vector Watch at a big discount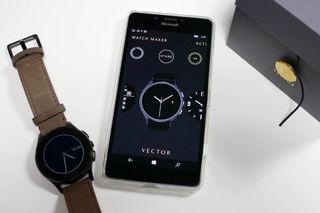 If you're in the market for a Windows Phone-compatible smartwatch, Amazon is offering up some solid deals on Vector Watches (opens in new tab) that are worth checking out. Right now, you can pick up a Vector Watch Luna for as little as $199, which is a big drop from its usual $299 price point.
If you're unfamiliar with Vector Watches, they're smartwatches that fetch up to 30 days of battery life, thanks to a monochrome display. The watch serves up customizable watch faces, message notifications, fitness data and much more. Best of all, Vector Watches work with Windows 10 Mobile smartphones.
Of course, there are number of different styles available, with prices ranging from as high as $288 to as low as $117. Overall, not a bad deal for a pretty nifty smartwatch. If you're on the fence, you can check out our initial impressions of the Vector Watch from last year.
See at Amazon (opens in new tab)
Windows Central Newsletter
Get the best of Windows Central in in your inbox, every day!
Dan Thorp-Lancaster is the former Editor-in-Chief of Windows Central. He began working with Windows Central, Android Central, and iMore as a news writer in 2014 and is obsessed with tech of all sorts. You can follow Dan on Twitter @DthorpL and Instagram @heyitsdtl.
The amazon link at the bottom of the article is not working.

Woops, not sure what happened there. Fixed, and thanks!

Temporarily out of stock. Placed an order though. Can't wait!

Bunch of them "used" at the link...they are just returns. I buy 90% of my items from warehousedeals, never been disappointed. Prices lower than new, no regrets.

Good eye. It's easier to swallow used. It's still a deal, but that makes it even nicer.

Bought one a couple of days ago for that price. Arriving Thursday, can't wait... Goodbye Band, sadly.

It's here. Looks very high quality. Connected to the phone within a few minutes. Updated firmware and was ready to go in 10 minutes.

My Band 1 is no longer working, so I might jump on this with the sale! Does it support ALL functions on Windows?? ​I'm hoping to control music and get all of my text/email/social alerts. I know it doesn't have as many sensors at the Band, but I hope it will still be my fitness/sleep tracker, too. Since MyFitnessPal is gone, I'm wondering what apps this will feed into. ​Thanks! :)

All apps for notifications. Pedometer, sleep tracker kind of, and yes you can control music.

Thanks! :) I'm comparing this to the Fitbit Blaze. The main benefit of this seems to be AMAZING battery life. What I think I'd miss from the Fitbit would be the fitness tracking. Is that a fair assessment of the differences??

The Blaze doesn't support notifications on Windows phones yet (probably won't for a few more months until MS implements GATT support) and I've had problems trying to get GPS tracking to work on mine - it won't work if the cell signal is too weak, which makes it pretty useless for hiking imho. That said, the Blaze does automatically track different activities and the Fitbit app is pretty nice - it has a built in food tracker, which is useful. If you want a smart watch, Vector is probably your best bet at the moment. If you want more of a fitness tracker... have you looked at the Garmin lineup?

Still 248 € on the checkout due to import taxes ☹ too bad because really like the watch...

Any rumors of new incoming models/revisions? I want to get one after the pebble Frisco but not sure if they will release new revisions sooon.

Did anyone see the ones that were on sale for 12.70 for a while. Was that a typo? Because i jump on that deal to see what would happen...

Do you think they will release a new revision soon?

I have no idea where you may have heard of a Version 2 Vector watch hardware wise or if you're just assuming that there will be one. The Vector watch (IMO) hardware wise is where it needs to be to offer everything that it does well... mainly "battery life." I don't see Vector as a "chase tech just for tech sake" group e.g., Microsoft Band, Fitbit, Garmin devices and the rest. This watch has core functionality that suits us users, the development and refinement of code e.g., Apps, Streams, etc. continues to grow and I think this is where the Vector Watch Group is concentrating their efforts. I think once they lock down a great hardware and software experience for their customer base on the three smartphone OSs, then they can explore newer hardware versions. I just don't see it happening in a time frame that would delay my purchasing of the watch. I own a Luna, and would love to buy a Meridian. Just my opinion and thoughts.

I don't have any info on a new revision. I was just wondering about the reason for sale and if it is to clear out inventory. Hopefully not as I ordered one :) Yes, the specifications look good and they support WP, and they look good :)

Got mine about 3 weeks ago. Nice watch except the notifications rarely work, the time is accurate sometimes. Mostly been an hour off. Battery life is great. Looks really nice. I have restore my 950XL to factory and makes no difference. So be prepared to be frustrated!

I got the black steel Vector watch for Christmas from my wife and I have to say that I *love* this watch overall. There are a few things I wouldn't mind improved. Some notifications seem to be a bit delayed and some of the app settings are a little confusing, but the watch itself is extremely well made and I have pretty much all but forgotten about my Band 2 for regular (non-fitness) wear.

I'll stick with my Pebble Time steel for a ltitle longer, at least still it stops working....sigh.. Maybe they will use the E-INK color displays like the Pebble Time does on the next version and then it would be something I would grab.

Good hardware that is sadly let down by shockingly bad software, from the first version of the app, to now. Every single upgrade of the app (and there have been a few) requires you to do rain dances, offer burnt offerings to Zeus, recite the Iliad naked and generally hope that when you hit 'upgrade' on the store, that you won't have to reinstall it multiple times for it to connect with the watch again. Sadly, after you have reinstalled it multiple times to get it to pair with the watch again, you will wonder what idiots developed the Windows app that went with this watch. Your preferences will disappear randomly, your watch faces won't be stored and will have to be downloaded again and you will spend at least twenty minutes setting it up the way you had it before the upgrade. IF you managed to pair it via Windows Phone's superbly flaky implementation of Bluetooth. This company is owned by Eastern Europeans (or at least their company is composed of a majority of them) whose idea of customer service is sending you emails blaming Microsoft for the bugs in their app (that or laughing in their offices that you paid hundreds of dollars for a watch that can't properly talk to a Windows Phone-I have two of them). Buy if you like inflicting pain on yourself.

Pretty harsh assessment, but not inaccurate. The hardware is indeed nice and I was very disappointed particularly in the Notifications and Vibration strength. A text message may display 30sec-2min from when it was received and if you're moving around, you may not even notice the watch vibrate. I really wanted to keep it...
Windows Central Newsletter
Thank you for signing up to Windows Central. You will receive a verification email shortly.
There was a problem. Please refresh the page and try again.