Snag the Xbox One S with a controller and a 4K UltraHD Blu-Ray movie at Walmart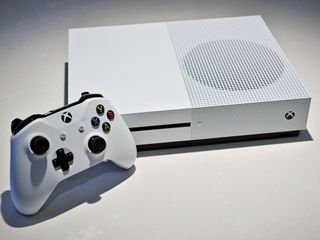 Walmart is selling a new Xbox One S console bundled with a free extra controller and a 4K UltraHD Blu-Ray movie for as little as $306.11 (opens in new tab), a savings of $81.65 compared to purchasing each item separately.
The version of the Xbox One S in this bundle is the 500GB Halo Collection, with free copies of Halo 5: Guardians and Halo: The Master Chief Collection. You can then select from one of four 4K UltraHD Blu-Ray movies to add to the bundle: The Divergent Series: Allegiant, X-Men: Days of Future Past, The Martian and (our personal pick) Deadpool. Microsoft has been hitting Sony over the head this week with the fact that the Xbox One S can play UHD Blu-Ray discs, unlike the upcoming PlayStation 4 Pro.
Finally, you can pick a new controller from three choices. Two of them are standard Xbox One controllers with the Special Forces art style, while the other is the much more expensive Xbox One Elite Controller. Keep in mind that the final price of the bundle might change depending on which movie or controller you pick, but you will still be saving money versus buying them separately.
Thanks to MaulerX for the tip!
See at Walmart (opens in new tab)
Deadpool is, of course, the right answer.

Is Walmart US only, or does it also ship to Oz? (Australia) TIA.

Egh. It gave me a few chuckles, but it wasn't everything the hype made it out to be, and that's coming from a Deadpool comic book fan. Did I enjoy it for what it was? Yes. Do I think the 4K UHD treatment of Deadpool would be better than something like The Martian? Absolutely not.

What a deal bro! Thanks! Posted via the Windows Central App for Android

This is one of the times I feel sad because of the Indian market that refuse to put ultimate offer card on the deck (like this one).

Keep in mind just those two games will use up over 100GB of your (nominal) 500GB hard drive.

True, but at this point any of the three options (500g, 1T, 2T) are going to fill up. I got my x1 just before E3 and with all the GwG games I had "purchased" before I got the x1, and the games that came with it, I was at just over 80% on day one (more like a week later after all the downloading was done). Its a good price and a 2-4T external can be had for about the same price as buying the upgraded hard drive model of the x1S. I'm at the point where I can't even download/install any more games until I buy an external. 500g and 1T are just too small for a system that must have all games fully installed on it.

This is an awesome deal. I'm getting one in 2 months. Then getting Scorpio next Xmas. Really happy that MS have future proofed all models with 4k Bluray player and HDR gaming. On top of that only MS will have 4K gaming. Upscaled gaming is not 4k gaming.

Truly is an amazing deal. By Sony not incorporating 4K UHD BD into the PS4P, Microsoft must feel like all their Birthdays came at once.

3 times power of Xbox One and support for VR. Nadella should return the cake.

VR sounds cool.but having to wear a visor the whole time I'm playing would be a big nuisance, glasses are annoying enough. I'm gonna wait on the fence and see how well VR is received before I commit.

Good thing with options is that they are optional. Sony has all bases covered (well except that one use case of physical media 4k blu-ray but Sony as a father of blu-ray and major media house likely knows that it's not relevant for it's PlayStation customers).

Wow its weird reading you trying to defend something rather then attack it. You're equally bad at both.

Dude seriously? Sony messed up the VR. It was confirmed last E3 by Bethesda themselves that they are working on Fallout 4 VR for Scorpio. But not PSVR because its not powerful enough. Scorpio will use the far more impressive Oculus or Vive. Or both. PS4 Pro CANNOT do native 4k gaming. And cannot do 4k bluray. The only native 4k part of its package is media streaming. The console is to weak to be future proof, and the VR will miss top games by debs because its also to Weak. On top of that Sony are not allowing mods on their console and have just increased PSN price to make it more expensive than XBLG. Right now, Sony is in trouble.

I just pulled the trigger on this. The extra armed forces controller will make a nice Christmas gift for my oldest son and I get a new X1s in the process. Thanks for posting this guys.

What is the cost 2tb model in India for one s Posted via the Windows Central App for Android

Speaking of xbox one s, i saw here in bestbuy that they're selling a toshiba 49" 4K tv with xbox one s halo version for $1023cad. Is it worth to buy?! Well its because im loking for a tv also with that size. Posted via the Windows Central App for Android

You can get the Sony 49 inch xbr800 4K with HDR for 800 and still get this bundle it might be maybe $100 or more but it's worth it for better TV with HDR.
Windows Central Newsletter
Thank you for signing up to Windows Central. You will receive a verification email shortly.
There was a problem. Please refresh the page and try again.