SNAPCAM turns your photos into photobooks, now supported in more countries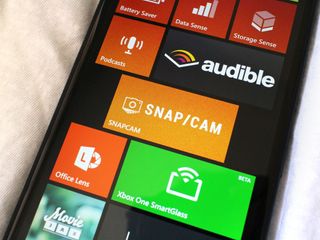 SNAPCAM is an app that is currently exclusive to Windows Phone. With SNAPCAM you're able to easily create photobooks. You can then have those photobooks printed and delivered to you by SNAPCAM. The service is now available in more countries than were initially available a few months back.
The Windows Phone app allows you to select, edit and organize photos into your photobook. The app also then allows you to order a photobook so you can you view your photos 'offline'. Most of your photography takes place on your Windows Phone if you're anything like us. SNAPCAM is a convenient way to share those photos as gifts.
Here are some highlights of the SNAPCAM service:
Photobooks start at £4.99/$7.99
Sign up for special and offers and get 30% off the starting price
Xerox paper and high-resolution machines make your books
Books delivered within days
Two book options: Softcover photobook and hardback photobook
Softcover photobook: This great value personal souvenir is perfect for printing holiday snaps. Printed on 200gsm Xerox paper, this book can hold 49 images over 12 pages.
Hardcover photobook: The long-lasting hardback book comes with a smart, durable cover to protect those precious memories forever. It also holds a maximum of 49 images.
Photobooks are designed on your Windows Phone
You can now order photobooks using SNAPCAM from the following countries: Belgium, Canada, Czech Republic, Denmark, Estonia, Finland, France, Germany, Ireland, Italy, Latvia, Lithuania, New Zealand, Norway, Slovenia, Spain, Sweden, Switzerland, United Kingdom, and United States.
With the holidays coming up you might want to check out SNAPCAM. We all know how much Grandma loves looking at photos.
Windows Central Newsletter
Get the best of Windows Central in in your inbox, every day!
Friend talked about similar service. Very easy to get prints without doing anything other than paying money

So it's available in Belgium, but not in the Netherlands? Right...

Gonna give this a try this vacation.

Is this basically our WP version of Groove Book? My wife uses that service on her phone all the time and loves it.

Crap didn't work for me! Every time I go to pay it says error! Tried 3 different credit cards. Smh. Gave up

I keep meaning to try this, but I just haven't had use for a hardcopy. I do have some events and weddings to attend before the end of the year, so maybe I'll use a couple of those occassions to test this out.
Windows Central Newsletter
Thank you for signing up to Windows Central. You will receive a verification email shortly.
There was a problem. Please refresh the page and try again.