Softcard brings NFC payments to Windows Phone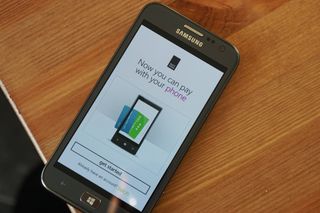 Windows Phone users looking for contactless payments can now use Softcard to pay at over 200,000 outlets in the US. The service, which is formed out a joint venture between AT&T, Verizon, and T-Mobile, lets you easily pay at eligible locations via NFC.
Here's the features offered by Softcard according to the store listing:
Payments: Add eligible payment cards and get all the benefits and protections you would with your physical card. Or setup a prepaid account and add money to it with your preferred debit card, credit card or U.S. bank account.
Offers: Find money-saving offers from participating merchants—right on your phone and ready to use.
Loyalty: Store participating loyalty cards and cut the clutter. Plus, Softcard features state-of-the-art technology and layers of security to protect your information.
To pay, all you need to do is login to the service with your PIN, select a card and hold the back of your phone over the NFC logo at the terminal during checkout. Seeing as how the publisher is listed as AT&T Services, it looks like the functionality is limited to the carrier. We'll let you know if it works on other carriers. Head on below to download the free app, and let us know what you think of the service in the comments.
Thanks everyone for sending this in!
Love closing the App Gap :)

Came here to ask about this. Also upset because it's now very clear I don't have a secure element SIM when the derp at the AT&T store first knew nothing about the technology, then tried to convince me I didn't need it for NFC payments, then was *pretty sure* my SIM was a secure element SIM.

ATT will only give you a secure sim if you use it with their own payment system which was previously only for Android and maybe iOS (dont remember).

@pallentx Softcard is an app from AT&T Services, so this is the probably the service you're referring to (used to be Android only). AT&T should provide anyone a secure sim (with a grey area in the corner of it) if they're phone can use Softcard.

I just went to my AT&T store and picked up two of them no problem. Not going to use them though, not paying Amex to reroute my money and pay them monthly fees just so I can use NFC. F*** that.

Hey, Just as a note. If you open a Serve account and add it to Softcard you don't have to pay the $1 a month fee. AmEx Serve also does not charge for reloads directly from a US checking account or from a Debit Card or Credit Card (However your bank may). You can also put cash on the card at some retail outlets for free too.

Sorry. I will not be emailing them a copy of my SS card and photo ID for a god damn reloadable card. Especially when I got an AmEx card and did not have to do that. WTF?

Tell them you are going back to Android and the sim should be free.

I would like to see wallet support as well as more loyalties. At least they released the app, though a bit slow on some screens and the loyalty card pictures look last minute. At least we can tap to pay now!!!

What about outside of the US?

Yeah... I'd like that too - Denmark

Siden det er de respektive teleselskaber som et gået sammen om det, så må vi jo vente på noget lignende sker i DK. Jeg ville dog foretrække det var bankerne istedet for teleselskaberne, som tog initiativet. Mobilepay er der jo næsten! :)

Ja, det ville være super fedt hvis MobilePay havde nfc!

Many carriers - especially outside the US will give you a secure sim which allows you to use tap and pay with the built in wallet. ATT and US carriers locked this ability and will not issue a secure sim unless its locked to their own proprietary system. The short answer is check with your carrier and see what they allow. MS have made it possible, but carriers can and often do get in the middle and block it.

You need a secure element sim and that is all. In the US to use NFC payments you need both the secure sim and have the softcard app set up.

Its not available for me. I have the Icon. I think right now Verizon doesn't offer it. Only ATT and maybe T Mobile.

I got a secure element sim from verizon for my icon and windows m8 still haven't tried to see if wallet will work

Well the Wallet of Windows Phone was an Idea in the development Process that has not been pursued throughout the release and has been forgotten ever since. dont expect anything of that wallet.

Actually it was in Windows Phone 8.0, but they removed the functioanlity in 8.1. It's pretty freaking annoying. I wish they didn't have to work with carriers on so much of this crap.

A great idea that Microsoft abandoned and Apple took and made something out of...

Microsoft didn't abandon the idea, they were just blocked by the carriers. The feature is sitll supported at the OS level, it just requires carriers to get off their butt. Apple once again gets to be immune to carrier delays becuase of the sweet deal they made with each of them long ago and their continued leverage against the carriers. Even Google can't get that kind of treatment from carriers.

They were unable to work out deals with carriers and dumped it in WP 8.1. Counts as abandoned in my book.

Yup, Microsoft needs to realise that they need to start playing hard ball and not bending over backwards as the Carriers are screwing them over.

You do realize that even Google couldnt get the deal Apple gets. Google has a lot more leverage then MS and yet they are stuck as well. The only thing that changed in 8.1 is that the built in Wallet app does not offer built in support for NFC payments. That is due to the carriers not supporting it. MS did not remove the OS support needed to offer the service, so apps like Softcard can exist. Don't be shocked when Wallet gains proper NFC support once these apps are widely available across all carriers. So no its not abandond, MS just had to wait for the carriers to come around. I'm sure MS has kept talking with the carriers about this service, it just took this long to get them on board.It definitely sucks though. I wish there was an easy way around it.

Its because Apple gives the carriers and retail profit. Those iPhones are crazy over priced. So in order to sell them, Apple has the carriers over a conrtactual barrel. They have leverage, in numbers sold, and money made. MS and Google dont have those margins, and WP doesnt have the numbers. Cellular carriers really do hold us all back with their vested interests. Frustrating. Hopefully in the long run Apple will have kicked the door down for all of us on other OSes.

Same here. Wondering if a Verizon store rep would know anything about this if I asked. Seems like it could be very useful!

Does this work in Canada if you have a SureTap Sim with Rogers? Also it says it doesnt support the device(1020,rogers)

Att exclusive app, won't work for people who don't have att until an app comes along for it

App is not available for me. (T-Mobile US, HTC 8x with WP8.1). The app says it is from AT&T services. The app description also says that an "Enhanced SIM card" is required. I wonder what that means? Does T-Mobile have them available? The websites listed are for ATT and Softcard. Softcard only lists Android models. I guess this will have to wait.

It works with T-Mobile as well, because they are the ones who set me up with it when I bought one of my phones.

The above software says not available for my t-mobile 925. Is there a different version that's not from AT&T to work with t-mobile?

Secure Element does, but this app apparently does not.

T-Mobile calls their secure one the "Advanced SIM" I've seen them on eBay, but only in micro size, not nano. http://www.t-mobile.com/softcard-mobile-wallet.html

Publiser is AT&T... It onlys works for their phones.

I don't think so... It gives you the option off all three major carrier sim cards....
.............
We need Daniel to re do this article...

Says it's not available for my phone at least (Verizon Icon, Black firmware, Preview WP 8.1.1).

Maybe you need Cyan... Stupid Verizon.. Lol.

No, this app is for AT&T branded phones only it seems. Verizon will probably release their app REALLY soon in order to compete with AT&T though, right? LOL...

Yeah.. It's an alliance, so I'm sure they will have their own version.

Softcard is the renamed ISIS Wallet app - so it should also be available on Verizon devices. I have it on my Note 3 with Verizon.

I have been waiting for this for months and I see the headline and get all excited. Then come to find out no Verizon support? B.s.

Isis? We have been waiting for years!!!

See the crazy thing is, I liked on Verizons website and it says the Icon is compatible with this. Yet we cannot download the app. However, the app was developed by ATT so that's more than likely the reason. Hopefully Verizon will release their version of the app.

I need a new Sims card for this, but will definitely get one today...

seems like this is for AT&T only

Not supported by sprint so I can't use this on my neo.

Another Windows Phone fail from Sprint? I'm shocked @_@. (Says a 12 year veteran sprint subscriber)

I got my Softcard sim in the mail the other day, but I won't even bother installing it because none of my credit cards are supported. I believe you need a Chase, Wells Fargo, or American Express card to use it.

ATT, US only for now. Ok, I'm all set up. As others have stated there are only a few cards supported natively. You can use any bank/credit card that you want though. They offer you a free American Express prepaid digital card during set up that you can link any card to it and easily transfer funds from within the app to the prepaid card from your own card. You can set up one bank account, one debit card and one credit card that all link to the American Express prepaid card. You can also set up an overdraft account from any of these three that transfers money automatically to the prepaid card if funds are insufficient at the time of payment. It took me about ten minutes to set up as you have to create a softcard account. It also supports loyalty cards, but I haven't figured out how to add any cards that aren't on their small list. Its not apple pay but it is a slick little app that offers more support and options than initially appear. Edit: Forgot to add that I had already picked up a secure SIM card from att 3-4 months ago as I figured softcard would step their game up because of apple pay.

It doesn't work on my Nokia Lumia 1020 for AT&T. I have been using this on my HTC One m8 for Android for a while. I love that they pay me $1 every time I buy a $1 drink at McDonald's I think it is because I don't have an enhanced sim.

I use it and 24 hours later $1 is added to the account.

Working on my Lumia 1020 for ATT

It is the reason. I got a new SIM, and I have a 1020. Works fine.

And how I can pay with my Phone Outside Us? There are another App?

I got the same message through the online store but downloaded the app from the store through my 1520. According to the AT&T website the 1520 is supported. I am going to AT&T tomorrow to see if I can get the proper SIM card.

To those who got a 10gb-to-20gb data promo, I suggest you wait till AT&T fixes your online plan name and upgrade issue. You wouldn't want an at&t rep to cancel your plan upgrade by mistake.

Plan name was already given. My account shows it as "Mobile Share Value Plan 20GB". Have you signed into OLAM or the MyATT app lately?

Hitting up the local t-mobile store to see if I can get a softcard sim for my L925.

Pointless. Were you even able to get the app?

WANT something like this in Europe. We (WP) had NFC for ages but still no payment support.

Just set it up, got a American express prepaid card, just waiting to activate it. Also join mycokerewards as Softcard gives you three free vending drinks at participating Softcard paying vending machine

i setup a mycokerewards account but cant figure out how to get my loyalty number to sync it with softcard.

I just noticed that serve has critter specific apps.

Can we use the wallet with any nfc for any credit card payments at any store? If not, that makes it sound like false advertising or worse from Microsoft and Nokia.

+1520 I think that this kind of payment or transation don't "take off" becouse of the carriers. Why they have to care about my payments ou cards or whatever? I think that they have to much "power" for the poor service that they offer. :/

What exactly is false advertising? Where did Microsoft or Nokia make that claim?

Got it set up. Going to go try it this morning

Worked like a charm. I just so happened to get a AT&T payment SIM in my L1520 about a month ago. Set my wife's L1520 up with a payment SIM just past week. Just go to an AT&T store and tell them you want to swap your current SIM out for a payment sim. Cost nothing to swap.

I just got to remember to turn NFC off afterwards so my battery doesn't take a hit all day.

Really?...My NFC on my 920 stays on 24/7 365 and I've never had any issues with battery drain. What phone are you using?

That kind of destroys the whole convenience factor. Also I'm pretty sure it doesn't affect your battery that much.

yea, ive never had my NFC off and battery lasts forever

In the settings you can choose when NFC is possible - I opted for "when screen is active" so the battery issue shouldn't be a problem.

Does it work on gophone? If so I'm switching immediately XD

I have a GoPhone SIM (set up with just voice/text, no data, SIM only) in my 928 and it wouldn't fly. Not sure why outside of they hate me.

Do you have the pay sim tho?

Yeah I'm curious because it's basically just postpaid service anyway hopefully someone has the answer

928 is a Verizon phone so the app won't download. I'll have the same problem in a few days. I'm going to put an att SIM in my 928.

The app info Clearly states Only works with Postpaid accounts.

The first paragraph lists T-Mobile. FWIW The store says the app isn't available for my 1520.3 on T-Mobile. If its becaue I BMOD, I guess they really aren't the un-carrier after all.

That's not why. Lol. This is for at&t

As I posted, this article says its a joint T-Mobile, AT&T and Verizon deal. Until Windows Central says they screwed up, I'm going to believe them. They mention the publisher of the app has AT&T in the name but Softcard is for all 3 carriers unless T-Mobile decided to spend time and money bringing this just to AT&T customers.

No. These carriers at some earlier date agreed to get NFC payments going. The article is simply saying that the possibility is there. But that they also noticed its an AT&T app so may only support AT&T. Someone get this guy a bottle and a diaper and a pair of glasses. Lol. AT&T made this app my friend. They cud give a shit less about TMO

Additionally... TMO and Verizon probably have there own variations of the app coming.

+920 ...or they will overlook Windows Phones

Furthermore, my friend... Because I want to help simplify your life... Go to the app store manually... Search "softcard". Notice nothing comes up? Because its for AT&T phones! Using the link in this article forces you to see it. But it doesn't exist for us. Case closed.

Sure, three carriers are involved in the Softcard venture to define a way to manage payments. But so far, the joint venture hasn't released a WP app. AT&T has a larger portfolio of WP devices, got tired of waiting on the consortium to act, and released their own app. Now, they alone can say "all of our new phones support cardless payment technology." This gives them a marketing advantage over Verizon and T-Mobile because it makes them look advanced. It doesn't help them at all to let that app work with other carriers. Eventually, T-Mobile and Verizon will get it. P.S. Everything above is pure speculation. But it sounds reasonable.

No they can't because of BB10... Unless they're getting it soon too...

It says the SERVICE is a joint venture between the 3 carriers. This APP however seems to be from AT&T for their phones only. The other carriers will have to release their own apps to take advantage of the service, presumably.

The Windows Phone version of Softcard (formerly ISIS Wallet) is from AT&T but the original app is cross platform and not AT&T only. It came pre-installed on my Verizon Note 3 when I got it back in March. My guess is the WP version will trickle down from other carriers eventually. AT&T was just the first to release it for WP.

Coz Android already has it...

I was able to install the app on my 1520.3 (on AT&T) by going through the store on the device, I got signed in, and then it threw an error saying my phone wasn't supported. And yes, I do have one of their enhanced/secure SIMs. I really hate AT&T. Pulling crap like this... requiring that you get the phone through them to use the app. They sell the same model, and I'm paying them gobs of money every month... why can't I use my phone?

Its quite simple actually. Wait for a universal app. Or the one to come out for the phones brand. Your all cry babies. Take out your wallet and swipe your card. This tech will be normal in 10 years and you wont think twice about it. Its not AT&Ts fault you decided to get a phone that they already have, from somewhere else. Lol. Omg. Everything is self-explanatory here, guys. Sheesh

There is never going to be a universal app. That is how Softcard works. It is always done through the carriers. They do it that way because they get a cut of each transaction. And normally they block other NFC payment methods from working for the same reason... because they want a piece of the pie. Windows Phone supports NFC payments natively through Wallet, but it doesn't work because the carriers won't cooperate. Why should the carrier care which model of phone I'm using as long as it has the requisite hardware? My 1520 is essentially the same as the 1520 they sell, except mine has Qi wireless charging and theirs doesn't. That's the only difference. (And why did they remove Qi? Because they want a piece of the advertising money pie they can get with PMA... even though nobody uses it.)

Your phones firmware doesn't "ring-up" correctly with the store+AT&T because its not an AT&T branded device. Get a branded device with the correct firmware that AT&T will allow. Trade your 1520 for a AT&T one. Anyone would do that trade in a heart beat

And give up my Qi? Don't think so. I'm also not currently under contract to pay for a phone, which I would be if I "traded" it in. Why in their right mind would anyone ever make that deal? Pay $500 just to lose wireless charging and add NFC payments, which should already be enabled anyway? Sorry, no. Nobody would. That would be insane. I can't believe anyone would defend this. It would be just like a carrier saying, "no, you're not allowed to check your email on your phone... because you didn't get it through us." It's asinine.

I wouldn't trade an international variant 1520 for the AT&T version just for NFC payments. Screw that! Lower capacity device, locked to one network, and lacking Qi make it a ridiculous proposal. Especially since the capability may come to the unlocked devices soon.

Installed but I need an Enhanced SIM

Why isn't it available for my device Lumia 925

It's an at&t produced app...

Haha, I've got my Secure SIM, so looks like in ready to go! :D

Anyone know if the 920 is supported?

Where do you get the the sim card?

I have a secure SIM and a 1520.3 on AT&T... But got a device not supported message and app closed. Wtf?!

Probably because it's not at&t branded

Yeah, pretty sure this app is for phones with the AT&T logo on them (carrier locked). Maybe there will eventually be a universal Softcard WP app released by Softcard themselves (I doubt it though).

Same here. Why do they keep doing this kind of stuff?

Maybe try taking out sim card, and try downloading with wifi ?

So you need a secure SIM card, an NFC phone and an app to be launched every time you want to pay, in my opinion this is too much. With just a contactless sticker Visa you are good to go and works with all phones, as easy to use as a traditional credit card.

Yeah, I honestly see no advantage with this until it's simplified into the phone and can be used without launching an app. I can just as easily take out my credit card and hold it over the terminal. I guess the one advantage would be if you don't want to take credit cards with you somewhere, for whatever reason.

Ah, Verizon, your WP loves cones through, again.

Were you able to get the app

Didn't mention, you need an ENHANCED SIM to be able to use this.

Of course you do. That's always been the case for any brand of phones. They're free. Go to your local att store and switch them out.

Sounds easier and faster just picking up my card to pay.

lol I know. I've see many jerks swiping around apps with their phones to pay taking twice as long just because they think this is useful. NFC payments while a good idea in principle, it's nothing we haven't had before with paypass and similar on card chips...that is if you consider a mag reader "hard" to use.

How much do those SIM cards run for? I am with AT&T.

I just went to at&t and asked for one. No charge.

You can get them for free at an AT&T store. Not sure if they charge anything to mail it.

ITs free to get one mailed to you also. just talk to att wireless support online.

I've been waiting for this for ages

How does this article not mention that you need a secure SIM? And that you'll need the app from your carrier, so until Verizon releases their version this is AT&T only. The article didn't provide any of the back story about ISIS, or explain how this differs from Apple play and Google Wallet. Come on guys...

Because they DON'T KNOW LOL. Jeez. They mentioned the possibility it's at&t only.

I think he's questioning why they released the article prematurely without researching this crucial information. It just leads to a bunch of confused/frustrated responses in the comments.

I agree the article is a bit incorrect.

Good to see so many apps coming to WP everyday.... :-)

Listen all. This is available for AT&T phones ONLY. Get over it. AT&T rips customers off so they have plenty of money to dump onto services like this to speed them up. Lol. Life.

The pic in the Windows Store for the app has a rendering of a Windows Phone with the old Windows Home button logo- makes me wonder how long they've been working/sitting on this app.

+Icon
Was wondering if anyone else noticed this

I went to Verizon's website and they said my Icon is compatible and they are supposed to be sending me a link via text to download the app. Unfortunately, still no text. I'll let you know if I get the app.

This is for AT&T only. The person talking to you probably had no clue what they were talking about, as usually seems to be the case with CSRs, sadly.

No, this is Verizon's website. If I could take a picture to show you, I would. The website itself said that my phone is compatible and that a link would be sent to my phone for the app. Still no link though.

Ah, when you said "they" I assumed you were on a support chat. I found the site and message you are talking about - it's just incompetence on the part of Verizon, they have no WP app. You will never get a link (I never did). https://wbillpay.verizonwireless.com/vzw/secure/softcard/softcardMicrosi...

"Softcard does not currently charge you for the Softcard Services. However, we reserve the right to do so in the future." I wonder how long until they start charging.

I figure I will get Softcard on my phone the day after all the Amex Serve deals end and they start charging for the privilege of dinking around with my phone.

Again, only supporting cards. This is why in all mobile payment systems, only LevelUp did it right. They take pretty much all major cards, give a few bucks off every time you hit a specified amount. Too bad they don't get much attention.

I'm confused, does this even save time? You have to open the app, select a card, and then hold it to the payment processor... Seems like I could grab my card by then. Why isn't there a better option yet?

Apple does it better: http://techcrunch.com/2014/09/09/heres-apple-pay-in-action/ SO much better. No need to open an app, it starts the process when you get the phone close to the reader.

Apple only does it AT ALL on their newest toys. Every Windows Phone and Android phone have had NFC. I don't mind opening an app that I have pinned to my start screen. I'm sure they could do an update that would run in the background and open up when it got close to an NFC POS system, but it would be more difficult with the more robust NFC capability of non-Apple phones. I don't want SoftCard opening up when I tap to pair with my NFC speaker. Apple's better be easier, since their NFC is limited