Exclusive: Windows 11 is active on almost half a billion devices, ahead of Microsoft's expectations
Internal data reveals Windows 11 has been more successful than you might think.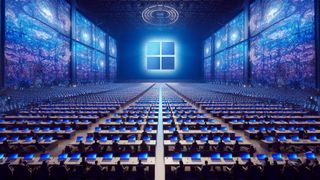 (Image credit: Windows Central | Bing AI )
According to my sources who are familiar with the matter, Windows 11 is now in use on over 400 million monthly active devices. Internal Microsoft data seen by Windows Central reveals that Windows 11's active device usage just recently surpassed 400 million and is steadily climbing to reach half a billion by early 2024.
As noted in our Windows 11 review, the OS has been on the market since October 2021, meaning it's taken Microsoft around two years to reach 400 million monthly active devices with Windows 11. This is a significantly slower rate than Windows 10, which reached the same number in just over a year (and eventually 1 billion users by early 2020). Still, factoring in both platforms' very different launch parameters is essential.
When Windows 10 launched, it was a free update for all Windows 8.1 and most Windows 7 PCs. It was advertised as a free upgrade, limited to just a year, which pressured users to upgrade sooner to avoid missing out on the free upgrade period. Microsoft was also very heavy-handed in getting users upgraded from Windows 7 and Windows 8.
Compare that to the launch of Windows 11, which was pretty tame. Right out of the gate, Windows 11 was only officially supported on PCs made in 2018 onwards (due to TPM), which cut out all those older Windows 7 and 8 PCs that upgraded to Windows 10 and the first three years of new Windows 10 PCs. This immediately limited the growth Windows 11 could sustain, and Microsoft knew this. Indeed, in our readers' poll, nearly 25% couldn't upgrade to Windows 11 due to the requirements.
As a result, Microsoft's internal expectations were set rather modestly, but my sources say Microsoft has consistently blown past these internal goals. Windows 11 has been more successful than the company expected from a user base standpoint. This is aided by Microsoft's new "Moments" update schedule, which enabled the company to get new feature updates in front of Windows users faster.
What's next and Windows 12?
As per Microsoft's internal metrics, Windows 11 is going strong, despite what people online might suggest. Now, all eyes are on the 2024 release of Windows (which could be named Windows 12), which is expected to ship on top of a new version of the Windows platform (codenamed Germanium) and introduce revolutionary new AI and cloud features.
The upcoming release of Windows 12 is anticipated to bring an updated desktop interface, as is typical with new Windows versions. According to my sources, Microsoft's Ignite 2022 keynote revealed a glimpse of a previously unseen UI prototype, reportedly indicating the direction of the Windows 12 interface.
Microsoft has also emphasized that the upcoming version of Windows will prioritize AI experiences and early functionality has already been introduced in Windows 11. Currently, Windows 11 supports AI camera and microphone effects powered by a dedicated neural processing unit (NPU). With Windows 12, this functionality is expected to expand. Windows will potentially analyze on-screen content, offering contextual prompts to initiate projects or apps based on the viewed information. Moreover, it may enable users to identify objects and text within images, allowing effortless extraction and pasting. Certain AI features may require dedicated hardware for optimal performance.
Get the Windows Central Newsletter
All the latest news, reviews, and guides for Windows and Xbox diehards.