Microsoft wants to bring Windows 11 to the cloud for ALL users, including you
Microsoft is working on a Windows 365 subscription for consumers.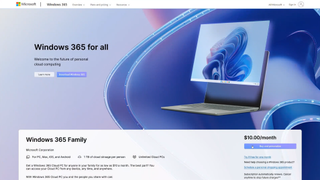 (Image credit: Windows Central)
What you need to know
An internal Microsoft document has revealed plans to bring Windows 365 to consumers.
Microsoft wants to move Windows 11 to the cloud, and allow users to digitally roam their PCs across devices.
Internally, the company has drawn up concepts for what a Windows 365 for Families might look like.
---
An internal document has revealed that Microsoft is building a consumer version of its Windows 365 cloud-PC streaming service that will allow anybody to subscribe to a Windows PC hosted in the cloud that can be accessed on any device. Windows 365 is already available for commercial customers, with both Windows 10 and Windows 11 cloud PCs available.
The news comes from a small snippet in a June 2022 document that was released as part of Microsoft's ongoing Xbox battle with the FTC. In one of the pages, Microsoft mentions plans to continue moving the Windows experience increasingly to the cloud:
"Move Windows 11 increasingly to the cloud: Build on Windows 365 to enable a full Windows operating system streamed from the cloud to any device. Use the power of the cloud and client to enable improved AI-powered services and full roaming of people's digital experience."
The document also mentions AI services as a key differentiator, as well as being able to fully roam people's digital experiences across devices. Microsoft is already building deep Windows 365 integration into Windows 11, which will allow users to seamlessly switch to or automatically boot into a Windows 365 cloud PC on their devices.
Last year, I received some internal documents that detail some of the features that Microsoft has been considering for a consumer version of Windows 365, including a family subscription that would include the ability for parents to drop in on their kids Cloud PCs to help with homework or join in playing a video game.
The documentation I've seen lists pricing for a consumer Cloud PC at $10 a month, but my sources say this was just a placeholder number and that an actual price for a Windows 365 subscription for consumers has not yet been finalized.
It's clear that Microsoft is eager to leverage its success with Xbox Cloud Gaming elsewhere in its portfolio. Bringing the ability to stream an entire Windows PC from the cloud on any device will allow every user to be a Windows user, and it also offers Microsoft the chance to put Windows behind a subscription service.
Of course, the local version of Windows is never going to go away, but Microsoft clearly foresees a future where some people will prefer streaming Windows over using it on-device. As most of what we do on a PC is internet-connected these days anyway, perhaps this idea isn't so far-fetched.
Get the Windows Central Newsletter
All the latest news, reviews, and guides for Windows and Xbox diehards.