Microsoft's implementation of Bing Chat AI on Windows 11 is complete trash
What the hell, Microsoft?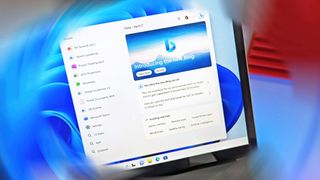 (Image credit: Windows Cental)
Yesterday, Microsoft made a big hubbub about a new Windows 11 update that allegedly puts AI at the forefront of the Windows experience, via a "typable" search box that's now found on the Taskbar by default. The company is headlining the update with this functionality, but the actual "feature" is nothing more than an advertisement for Bing.com.
Reading the Microsoft announcement for this new Windows 11 feature update, you'd be led to believe that Windows 11's search experience is now powered by AI. But it isn't. There's no AI in Windows Search. Microsoft's clever Bing Chat AI isn't even integrated with any shell interface you might see within Windows.
No, what Microsoft announced yesterday is the ability to quickly launch Bing.com's new chat bot, without having to manually type "bing.com" into an address bar first. That's literally all that this is. The Windows Search landing page now has a banner for Bing.com, and two suggested chat prompts that it recommends you try to get a feel for how Bing Chat works.
Clicking on any of the buttons and links related to Bing Chat will take you out of Windows Search and into Microsoft Edge, where you can continue using Bing Chat if you please. At no point is Windows doing anything AI related, because Microsoft hasn't actually added AI to search on Windows 11 with this latest feature drop.
Bing Chat in Windows Search is, quite simply, an advertisement for Bing.com and by extension Microsoft Edge, as that's the browser it opens whenever you click on an internet-related thing in Windows Search. And no, that's not configurable.
This is how Microsoft describes the new AI feature on the Taskbar:
"Today, we take the next major step forward adding to the incredible breadth and ease of use of the Windows PC by implementing a typable Windows search box and the amazing capability of the new AI-powered Bing directly into the taskbar. Putting all your search needs for Windows in one easy to find location.
The search box is one of the most widely used features on Windows, with over half a billion users every month, and now with the typable Windows search box and the new AI-powered Bing front and center to this experience you will be empowered to find the answers you're looking for, faster than ever before."
That is wildly misleading.
Now, that's not to say there isn't any AI technology being added to Windows 11 as part of this latest feature drop. There's a new AI-powered recommended files feature in Start, but that's only for PCs that are Azure Active Directory joined, so it's not something most people are going to be able to utilize.
My gripe is with Microsoft's big push on AI being added to the Windows taskbar and search experience. It's just not true. AI is not being used to better help you find local files and settings, and it's not enhancing any part of the Windows UX, as it hands-off to Microsoft Edge every single time.
I'm maddened to see Microsoft headlining a shortcut to Bing.com as the star of this feature update. There are so many other, better new features and changes in this release, such as the tablet-optimized Taskbar, improvements to in-box apps, and third-party Widget support that would stand as better features to headline.
At the very least, Microsoft could have made it so the Bing Chat interface operates within the Windows Search pane to make it feel somewhat integrated, but they didn't even go to the effort of doing that. It just launches Edge, and it's really disappointing. It doesn't even show chat responses in the Windows Search results pane.
Microsoft has done the bare minimum here, if you can even call it that. A "feature" that adds a link to a website that opens in Edge is not a feature, it's a shortcut.
A goddamn shortcut is the headlining feature of the latest Windows 11 feature update.
Get the Windows Central Newsletter
All the latest news, reviews, and guides for Windows and Xbox diehards.