Some Fallout 4 Pip-Boy Edition pre-orders have been cancelled by GAME in the UK [Update]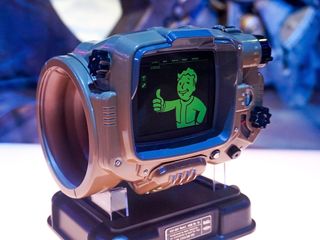 With just a few more days to go before Fallout 4 is released, some UK gamers who pre-ordered the £100 limited Pip-Boy Edition of the game may be out of luck. GAME, the exclusive retailer in that country for this version of the post-apocalyptic RPG, is cancelling some pre-orders of the Pip-Boy edition.
VG247 reports that many people who pre-ordered the game by submitting a £20 deposit have now received emails from GAME stating they were unable to charge their account, so their pre-order was cancelled. Unfortunately, publisher Bethesda Softworks has already said they won't be offering any more copies of the Pip-Boy edition of Fallout 4, which includes a full-sized replica of the Pip-Boy wrist computer in the game.
Many of the people who had their pre-orders cancelled by GAME claim there is nothing wrong with their accounts. Some have posted complaints about their treatment on Twitter, including word that they have been unable to get in contact with GAME's customer support by phone. Fallout 4 is due for release on November 10 for the Xbox One, PlayStation 4 and PC.
Update: GameSpot has received a new statement from GAME
Pre-order Fallout 4 for the Xbox One on Amazon for $59.88 (opens in new tab)
Source: VG247.com
Windows Central Newsletter
Get the best of Windows Central in in your inbox, every day!
Same thing happened to me, I would suggest people call their banks and check if Game's fund request has been cancelled on the pretext as "fraud checks". These check appear to be random and sporadic. Another instance where this occurred was when I backed ShenMue on kickstarter. Edit: To clarify where this happened for me was with borderlands 2 ultimate loot chest edition.

I've had this before too with Game. Now I exclusively use PayPal with them.

I've never been able to order from Game directly with my card, TSB pick it up as fraud every single time. I now have to use PayPal to buy anything from Game.

It happened with ms store during xb1 launch & they ended up cancelling one of the items(xb1 day one gold). PayPal didn't work for me was just a waste of my time

I wonder if they oversold the preorders, and they are using this as an excuse. Posted via the Windows Central App for Android

These companies need get things together with banks. I see this stuff happen a lot more lately though. Almost makes pre ordering worthless for the people that do.

Pre ordering is worthless.

Except when its actually a limited version such as the pip boy where you'll never find it for retail price ever again

GAME at its worst and their exclusivity nonsense on things should stop.

I bet the employees will hoard these themselves and then sell them on ebay for a big profit. I've heard of EB games employees doing similar things when they cancel preorder.

Unlikely, i work for game and call of duty 3 has been causing many of the computer systems issues, so blame cod because its been a nightmare today trying to get people their nuketown codes for a game they will trade in in 2 days

Feel sorry for everyone who's not getting their pip boys. But had a nasty experience with game a few years back with a halo limited edition game and haven't set foot in any of their stores since.

Lol just loved how hmv handled Nintendo games they put display copies up but they somehow lost the cn code that came with the game so they had to do a store transfer. Last time I bought a game from them(maybe a year later they stopped selling games)

For some reason Game charged me £17 less for my copy. 2nd time they have screwed up a pre order in my benefit. First time was for Fallout 3 collectors ed, sent me a copy 3 days early and then another on release day without charge.

Game have been doing this sht from the start, know a couple of people who have paid monthly installments on playstations and stuff, when its released: "oh were out of stock, we sold them all..want your money back in credit?"
Windows Central Newsletter
Thank you for signing up to Windows Central. You will receive a verification email shortly.
There was a problem. Please refresh the page and try again.