Some more Windows Phone Central wallpapers (and a mini contest)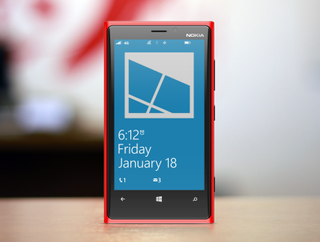 You think I'm just going to sit idly by and let Rich have all the fun with wallpapers? Not a chance. Here are some similar wallpapers to the ones he did the other day, but I would wager raise the bar on minimalism. Just our kickass Windows Phone Central logo set to the background color of your choice.
The focus for this set was simplicity. The logo is white to match the system tray up top and the date/time text. That handsome logo is set to a background that matches your system accent color. My favorite is cyan, but I'm boring like that.
You can grab Rich's wallpapers from here or mine right here. Both rock and will eventually be added to the wallpaper section of our Windows Phone app.
Mini contest
Here's the deal, take a picture of your phone with one of our wallpapers (either Rich's or mine) set as your Lockscreen image. Then send us that image as a tweet to our official @wpcentral Twitter account. Do that and we'll randomly pick one of you for a $25 gift card to the Windows Phone Central Store.
(Mini update) Here is another set where the logo is a little smaller and moved up higher, that way your text shouldn't cover it if you've got calendar info. And if that still isn't enough there is an Adobe Illustrator file where you can customize the colors and do what you want with it. I also threw in a black one since a few folks pinged me about wanting black. Also we'll pick someone on Monday for the gift card. Don't worry if you don't win, we're going to have a lot more 'mini contests' like this going forward. Finally, for some reason if you preview the image in SkyDrive the quality looks lower than it is if you download it. Speaking of downloading, if you want them all at once just click 'download folder' under the 'folder actions' menu on the top bar in SkyDrive.
Neat right? Hope you enjoy them and be sure to comment about future ideas for wallpapers you'd like to see. What do you think about having a future contest where we accept submissions from the community?
Hahaha. Sorry, couldn't resist

Hmm, Rich has his in a convenient ZIP folder... :P

Fine. When I get back to my PC I'll give you a folder. Let me finish dinner yo.

No! Zip files are more important :-P What's for dinner?

Thai tonight. Friends bday. I'm going to stop being anti social and join the party. Make you guys a zip when I get back :)

I like the design of yours better due to the uniform color, but I could only get low-res ones from your link, whereas Rich's ZIPPED wallpapers were crystal clear 720p... Perhaps important to note I attempted the download on my Ativ S, as I don't have home internet; just my phone. Also, kudos on unplugging and joining your friends! That's often difficult for tech lovers like us...

Just select all files and click download. SkyDrive zips them for you ;)

I forgot about the last two designs. How times flies...

Really like the minimalist look of these Sam. Thanks for these!

I love these, but is it just me, or are these not hd resolution?

They should be at 768x1280

Maybe the size or location of the text on the lockscreen differs when the phone is in german, because the letters actually "collide" with the logo. Which is a shame, they look awesome!

Check the 'min update' above in the post, I've tweaked it a little to help. If that doesn't help you can download the AI file and make it work for you :)

Thanks man, very nice! Greetings from Europe, loving your site!

I know this is mst likely super easy but could I suggest a black and white one? These are awesome.


Good call, was thinking the same!

Jay should make the app randomly download one a day and update our lock screens for us :-)

could u please make black one to lool like an ideal black? on my clear black display it is grey. please, make it really "clear" black

SUCH A BIG SHIT. I CAN'T WAIT TO THROW THIS MEGASHITY PHONE NOKIA LUMIA 800 TO THE RUBBISH. NEVER AGAIN WINDOOOOOOOOWS!!!!!
I CAN'T USE MY LENGUAGGE, I CAN'T HAVE GOOGLE DRIVE, I CAN'T HAVE NAVIGATION CHARTS, I CAN'T DO ANYTHING.
WINDOWS SENTENCE... SORRY, CANT DOWNLOAD THIS FILE.
I HATE WINDOWS AND NOKIA.
I BOUGHT NOKIA BECAUSE I ALWAYS HAD NOKIA BEFORE. NEVER AGAIN
ANYBODY WANTS MY NOKIA? VERY CHEAP, IT'S A SHIT!!!

Windows Central Newsletter
Thank you for signing up to Windows Central. You will receive a verification email shortly.
There was a problem. Please refresh the page and try again.