Some thoughts about Windows 10 Technical Preview on the Surface Pro 3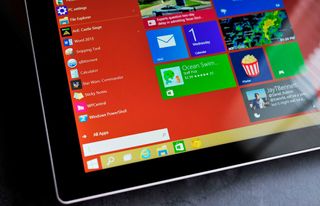 Earlier today, Microsoft's new Windows 10 OS took its first baby steps into the wild through the Windows Insider Program, which lets users take an early look at the OS. Previously I mentioned how you can get back the Modern Start Screen instead of the new Start Menu, something that tablet and Surface owners will want to check out.
Now, I am doing a 10-minute video tour of Windows 10, including how it looks and runs on the Surface Pro 3.
Any issues on the Surface Pro 3?
There are not many, but there are a few. One that I have noticed is that the Surface Pen no longer unlocks and launches OneNote when the button is clicked. My Surface turns on, but the PIN lock screen shows up instead of a new OneNote page. I do not use the pen, so this is not a big loss for myself, but I know for others that it could be a big deal. Others have confirmed this behavior with me on Twitter.
Most Modern apps run just fine, but they are all 'Windowed' now, so you always see the Task Bar. Some also feel like they need to refresh more often. Not a huge deal, but not as elegant. The app Breaking News does not pull in feeds, and I cannot attach images to Tweetium or even Outlook (Modern), which is a big bummer. Clearly, there is something with the new File Picker that does not work well with Modern apps.
If you are not using the Type Cover with the Surface, you can still use the on-screen keyboard, but it does not auto-pop up with Modern apps. This behavior makes sense since Modern Apps now run on the desktop. Not a deal breaker but it does diminish the Surface in touch mode a bit.
Modern IE is nowhere to be found. Instead, there is just one Internet Explorer. It is too early to say if this is just because it is a technical preview, which is likely, or a rethinking of the browser situation on Windows. Regardless, you are running IE 11 and just IE 11 in Windows 10 for now.
Performance is solid on the Surface Pro 3 with the Windows Technical Preview, although on occasion there are some minor graphical glitches, especially with the multiple-desktop support (mostly screen flashes, refreshes).
Should you install the Windows Technical Preview?
If you are on a Surface, I would likely skip the Preview for now. The exception being that you do not use the Surface frequently, or do not mind the new compromises. Desktop PC and laptop users will certainly fair better. After all, this Preview is aimed at IT and desktop PC users, so it is not too surprising that the OS is not yet optimized for tablets.
Microsoft is promising many updates with the Preview and Windows 10 in general. In other words, things can only get better, and it will be very fascinating to see how the OS evolves over the coming months.
If you are still on the sidelines, make sure you hop into our Windows 10 forums. There you can chat with others about their experiences and get a better idea if this is for you or not!
Take our Poll! Have you already installed the Windows 10 Technical Preview?
Windows 10 main topic page and all you need to know!
Daniel Rubino is the Executive Editor of Windows Central, head reviewer, podcast co-host, and analyst. He has been covering Microsoft here since 2007, back when this site was called WMExperts (and later Windows Phone Central). His interests include Windows, Microsoft Surface, laptops, next-gen computing, and arguing with people on the internet.
Coldplay clocks, what a soothing song.

for laptop PCs ...... WOW.............................

Kind of odd it's not doing better with tablets, more specifically surface since that appears to be the Win8's poster child.

Just focus. Right now, this is about Win 7 legacy users and IT. The consumer stuff (Surface Pro 3, etc.) is coming later and I am sure we will see some big improvements. Things like tablet mode and continuum will go a long way in making it feel like it used to.

I'm assuming these issues will all be addressed when Microsoft Continuum feature comes out.

I keep hoping they don't chop off the best of Windows 8 on tablets, namely the multi-tasking which included pulling an app from the left, off screen, into view, or generally the gestures which made my friends' eyes pop because there is no elegant task switching like that on Android. Windows 8 was great on hand-held devices. It just needed to work like Windows 7 on PCs and laptops so I'm hoping they don't touch the Modern side of things on tablets that much.

Dan .... It's technical not tentacle...

I seem to have a different experience on the surface pro 1, for starters I had the modern start screen by default and had to follow your trick to get the start menu, rather than the other way around. I also have no issues with the onscreen keyboard popping up automatically when my keyboard is folded back. I also uploaded a photo to an email on a modern app yesterday, ill have to check it worked but im pretty sure it did.

It will inevitably bite them in the ass again I'm afraid. Microsoft always had a problem with PR side of Windows, and releasing very incomplete version into the wild might cause them some trouble in the long run. Lots of people have no idea or don't care that this is just tech preview and treat it like a demo. To them, the system will probably be bad and broken, and they will stick to this opinion.

I think they made it pretty clear who and what windows insider program is for. They also made it very clear that it's not done yet. We are still a long way from its final form. This is just the first baby step of what I think is going to be something more epic than a " faith no more" song. If you have windows phone and Xbox you are used to these insider programs by now. I'm gonna install this on an extra laptop over the weekend.

True, but with the bad press MS gets, they shouldn't entirely ignore it in my opinion.

Yup, that's exactly it, it's aimed at IT and business users who have universally skipped Windows 8. Indeed I think it was a mistake for MS to not market Windows 8 purely as a tablet solution in the first place (after all it was a reaction to the iPad and cheaper Android tablets). It was never thought through as a desktop/laptop OS and works best and really only properly on a tablet. If they had marketed it purely as that they'd be fine now and have avoided a lot of hate. Obviously that's easy to see in hindsight. Great to see them returning their focus to desktop users, although it will also be good to see the consumer stuff once it comes as well of course though; things like notifications and Cortana on Windows will be killer. In the 20 minutes play I had with Windows 10 in a VM last night it just felt natural whereas it never did with 8. Just simply making things windowed and having the taskbar there was all it took - then you can go into a more submersive (modern/Metro) view when you want it, without it feeling forced on you. I always tried to be fair to MS and stick by Windows 8, but now I see why (even though it's such a small thing) people were complaining. I think they will silence all the complaints with Windows 10, the only issue is going to be if people are too stubborn and stupid to return - or if they just are fine wherever they've moved to.

Try using the desktop purely in touch mode on win 8 and then come back and say that windows 8 was more for tablets. Parts of it are, but again they just half did it as per usual.

That's exactly right - Desktop mode was never meant to be a comtinuing solution, it was meant for apps that haven't transitioned to Modern UI apps yet. Now it seems MS is backtreading. My contention with Windows 8 was that they should have done away with the Desktop mode all together and found a way for legacy apps to run in Modern UI form. I have a Surface Pro 3 and will NOT be downgrading to Windows 10 - it's backwards thinking. The worst part is that this practically guarentees that Microsoft will never do anything remarkable with it's UI ever again - they've made it clear that they will playcate to the crowd who can't get along without Desktop, Task Bar, and Start Menu. I had high hopes the new CEO would be daring, but it looks like he's learned to play it safe. I've pretty much lost all respect for Microsoft that it gained from Windows 8/8.1 and the Surface Pro (especially the 3).

Never heard that point of view before. How is making things work better for mouse & keyboards (m&k) users AND tablet users backtreading? What we've seen so far is to make m&k users happy at last with the changes that W8 brought in. We've not seen the tablet side; this is just a sneak at the future, far from the full picture. They are going to add notifications, Cortana and dozens of things from Windows Phone and all the other W8 stuff will still be there, I don't see how anyone can think W10 is a downgrade. Wait and see what they do before being so damn negative. Send them feedback, hopefully going forward tablet users will have an experience that means they don't need the desktop. I agree with you that'd be great, but really to repeat they've not shown what tablets will be like beyond showing some more WP like screenshots on a <9" device. They are finally listening to feedback, iterating and say there will be new builds based on that every couple of weeks. I have high hopes for Windows 10 as an OS, for my phone, tablet and ultrabook and so should you. Be daring, believe.

That was my point, the desktop doesn't work for tablets. The modern side does. That's why they created RT, so people would have a touch only version of Windows. That is all they should have released, not even bothered with the full version of Windows. Obviously they couldn't do that and hoped that the other changes in W8 for the desktop would alleviate people's issues with bolting on a new interface for touch users that didn't suit a desktop machine.

you can make any modern app fullscreen by clicking the three dots on the top right and choosing fullscreen , it will run as it was on 8.1 .

Yeah, waiting for more people to try it out on a Dell venue pro 8 before I make the leap lol

Once I disabled BitLocker and decrypted the hard drive, I was able to upgrade mine without issues.

Did you have to do this to partition the drive. I new at this but it does not seem the Pro 3 will let me "shrink volume" to create a new partition. I have the 256gb and plenty of free space but it will not shrink.

If you're new at all this then you really shouldn't be considering installing a beta OS, it really is for people who know what they're doing and don't mind if it all goes wrong and you have to wipe everything and start again.

I haven't had any issues so far. I was expecting a lot more bugs. The keyboard also seems more responsive.

They specifically said this version is intended for laptops and desktops. They are still working on continuum which will fix the issues with the touch interface for tablets and 2-in1's.

The preview doesn't include the continuum feature yet. That will arrive later. So, it's not odd at all that the surface would work as indended using the preview. This was designed to let enterprise IT people test it out so they might upgrade from win 7 or XP when it is released.

Thanks for sharing, I'll wait I'm not a developer

The lack of auto keyboard popup would drive me crazy. Installed on desktop, glad I didn't on SP3. Excited to see what happens based on the feedback they receive. I know I have/will submit some. Exiting times ahead!

When you submit feedback, please tell them to flatten out the icons. At present, it looks like an absolute mess with the 'mishmash' of Windows 7 and Windows 8 -- cheers mate ;-)

Have a look at the Explorer icon in all the screenshots... MS definitely has some major UI changes up their sleeve. The preview being updated all the way through launch is going to be fascinating to watch.

They are already doing that. You can see a few of them in this video.

The tech preview is largely a dev-focused build, all about features and functionality. Designers still haven't had a big chance to go through and update everything. Note that you may not get a full suite of modern icons in the preview at all. Windows 8 CP desktop looked almost identical to Windows 7, and they made most of the flat UI changes in the final release.

I hope you guys are right -- cheers Brad, Rock and Nik for your info.

Could always install in a virtual machine like I did, so you get to test but don't risk your Surface.

They should only show mobile IE if in tablet mode.

My guess is that is what will happen. Since there is no tablet mode right now, there is no Modern IE.

Hi Daniel, theres a way to download it. Gonna play around with it for a bit http://www.microsoftproductreviews.com/windows/tip-get-old-modern-internet-explorer-back/

Until they add the consumer/tablet features in a build I would only use this on a desktop or non touch

This is probably the best recommendation at this time.

My biggest bug bear when using it on the surface, is that you can no longer slide down to close an app, something ive become very used to. I imagine this will come back in tablet mode, but at present with the keyboard attached I still do a half and half approach, using the screen for scrolling, closing and opening apps etc, then the trackpad for drag and drop, or selecting text, so for me The way win 8.1 worked was just about the right compromise. Im hoping tablet mode when it arrives will bring it back to that kind of operation.

Daniel,. will you keep checking the behavior of windows 10 updates on the surface pro 3 as they come in, so that we can basically wait for your updated position and recommendations with respect to that device? Cheers Andy

I got to say even for desktop that Windows 10 beta is in pretty shabby shape, so make sure you are going to install this to a secondary computer and not your daily driver. There's still lots of work to be done. It's not like the Windows 8 preview for anyone who may have tried that out.

Just like honeycomb and ics

Informative reviews for us surface users. I agree, this OS is targeting a different audience for the moment. I sure hope they confirm Xbox being supported in the future.

I decided to skip the preview on my SP3 for now so this does clarify a few things for me if i do decide to move forward

Question: Do modern apps fully run in the background when on the desktop in Windows 10? For example, if I have Xbox Video running, will me leaving it to see IE result in the video stopping?

Yes, music and video still play in the background.

I suspect they will still properly suspend in the background in the future, as long as they are invisible. Eg, in windowed mode when they are minimised or on a different virtual desktop, or when not snapped in tablet mode.

The apps only suspend when you minimize them, which is great for desktops/laptops IMO. I don't want to feel like I'm using only one app at a time even if they're windowed.

Can you "voice-to-text" in any text field in lieu of the on-screen keyboard (or any keyboard, for that matter). Maybe at least in Modern apps, if not the regular desktop apps.

I do think if you're using a tablet and choose to use the Start Screen vs Desktop, it should continue to use the method Windows 8.1 has, full screen apps with the taskbar hidden. Makes what's on screen busier and it would probably distract me from the content on the app. Plus in my opinion it looks messy if you intend to use it on a tablet.

Pretty sure all of that will be solved by 'tablet mode', which is not present here.

What about the folks that use hybrids like me (Yoga Pro 2), do you think we will be able to keep tablet mode at all times? I'm much more a fan of that mode than desktop. Even though I use it in "laptop mode" 90% of the time.

I don't know...I hope this all comes together, and has the kind of fluidity that I experience with Win8.1. I really really enjoy the way I work with 8.1, so if the tablet functionality is maintained, I will be happy. If not....we will see. I don't know. I will be sad...?

Here's the deal, I want my keyboard attached and I want the Win 8.1 features. I don't want a Start menu. I don't want desktop mode. I want tablet mode all the time. Unless if I choose otherwise. I hope that will be an option.

It will be. With Continuum, when you take away the KB it asks if you want to switch to Desktop Mode. It also also has an option "Do not ask me again", so you can set one way and forget it.

Thanks for the update. Glad to know I don't have anything to worry about. :) But I do love the one size fits all concept. Looking forward to see how it all works on the phone.

Looks like theres a way to get the old metro IE back, maybe that would heklp usingf the surface abd windows 10. http://www.microsoftproductreviews.com/windows/tip-get-old-modern-internet-explorer-back/

Thanks, Daniel. You have convinced me to wait. I was on the fence, leaning towards installing, but I'll wait for a more touch-friendly version of the preview or just wait for the full release.

Yup, I think that's your best bet! Welcome.

I wonder how the version for tablets is going to be, i don't want to see the taskbar on my surface rt. and i'm worried about how is multitask is going to work if we won't have the desktop.

'Tablet Mode' should be just like Win 8.1 today. Full screen, Modern IE, etc.

That would be best. Their current concept video for Continuum shows the taskbar remaining, but it's only a concept video so who knows.

To add on to that I really hope they remove the old start menu icons that appear side by side with the live tiles on the full start screen when on tablet mode. but yes I too hope its just the vision demo and no attention to detail really mattered.

So to confirm, as of this preview, the taskbar is always visible like in previous windows editions?

Taskbar has had an auto hide option since at least XP

It was a feature in Windows 98 for sure, and I'm 95% positive it was also in w95.

YES. unless you use Auto hide. which has been an option since i can remember (maybe XP)

So even when a modern app is launched from the full start screen, you will see the task bar come up?

One of the app options when you click the "..." More button is to go full screen, which actually makes it like the Universal app we know and love from Windows 8.x. I'm not sure if you can close it by swiping down, but having it full screen is an option.

Don't have it in front of me, but you can likely turn on the auto hide feature of the task bar. Not the solution you are looking for (hide taskbar when modern app is full screen) but its something...

Actually auto-hide taskbar works pretty well because it's mouse activated and almost impossible to trigger with touch. So as long as you don't want to use it via touch it will stay hidden until you hover a mouse to the appropriate edge. Also remember that the taskbar can go on any edge of the screen. On landscape 16:9 screens I always put it on the right edge so I don't sacrifice any of my limited screen height.

Hows battery life been? Curious about this. Also is there gapless music support out of the box? Thinking now that Windows 10 is the only hope of seeing this on the phones.

Too early and pretty sure no on gapless.

Gapless Music would not be part of the OS, That will be App specific surely and there are no 'Windows 10' apps as yet.

You can make modern apps full screen (remove the taskbar) by hitting the 3 little dots on the top left and entering full screen mode. Not sure if it'll do it automatically in tablet mode on the final version though.

Thats expected to be done automatically... As shown in the conference

Yeah, but it gets undone with minimizing, so it doesn't remember. Works, but kind of a PITA. Tablet mode will be full-screen all the time.

On the discussion of the charms ON the windowed app (the 3 little dots) How are those functions working Daniel? And if using mouse, can you still move the mouse to the right edge and get the touch friendly charms as well??

That's a no on the charms. The only ways I've found to get to the charms bar is with CTRL+C or swiping in from the right using touch.

Hopefully they will make tablet mode customisable as some would like have the taskbar showing and for some auto-hide won't cut the mustard.

Not customizable so much as in the taskbar wont show at all when in tablet mode. The continuum video shown is just a concept so many are saying that the taskbar shown there is just for demonstration purposes and so is the older start menu icons. THANK GOD

Daniel, why do you keep saying "tactical" preview in the video?


I might pull out my old HDD and play with it, but for now I won't be.

Some things like start menu when there is no typrcover is under work as mentioned on the conference... Whitch means that it will work like w8.1 (metro apps full screen) and start sceen when there is no type cover and the start menu and windowed mode when has a type cover connected... MS is still working on this...

If you want the Modern app to be full screen like in Windows 8.1, select Full Screen from the ... menu on the top left of that app.

Right. For each time I use the app, lol. Even switching apps will reset this. I mean it works, but it's not the same as the coming 'Tablet Mode', which is what I really want ;)

I was afraid that that might be the case. It will be interesting to see how they handle flipping the touch/type covers around. Also, I actually still use touch quite often when I have my type cover in typing mode.

Got to ask lol surface rt?? ;)

Have you run into any x86 app compatibility issues?

No, but TBH I have not thoroughly vetted many.

Ok, thanks. Curious about LR, in particular...

Well...thanks for being my guinea pig. I'll skip the preview then. I would not install it on my normal PC. Was going to install it on the SP3 but I think now I'll skip it too. I have waited so long for the return of the start button menus, I think I can wait a bit more. Posted via the Windows Phone Central App for Android

How come on windows 8,when I use chrome, they keyboard automatically pops up but not on Firefox? Posted via Windows Phone Central App

Chrome have coded this specifically. Along with their hopelessly terrible Android-esque text selection and context menu functionality. Why they couldn't just replicate the way Windows does it I don't know.

I just installed 10 on my desktop and had a quick look. I noticed that snapping apps no longer works. :( A swipe from the left does not work the same as in 8.1 and the hotspot in the upper left corner is gone as well, I sincerely hope they will bring that all back...

Whoever is running this, please, PLEASE REQUEST THAT MICROSOFT MAKE OPACITY CONTROLS ON THE KEYBOARD

Cool thanks for doing this I was going to try it out on my Surface but I think I will put in on my laptop.

You can bring the StartScreen back. Taskbar->Properties->Star menu in case you use your Surface without keyboard.

Did you even watch the video?

You don't use the pen? Really? What's wrong with you? ;)

Daniel, for the modern apps that are all 'Windowed' can you click on the four dots in the left on the Task Bar and select "Full Screen" It should take over the entire screen.

Oh I can't wait for people to complain saying that it's buggy or it's not that great :P I've tested it, I placed Visual Studio in it and ready to develop a Universal App for it, of course I'll need to wait for a Visual Studio update to allow App Certification to work but I can still work on it regardless :)

If it can still run Office programs, then I might give it a try, since I barely use my surface as a touch device

Office 365 is working fine for me.

I, for one, am disappointed at the direction MS seems to be taking, here. I *like* Windows 8 and even more after the 8.1 update, which solved *many* of the desktop "issues." I agree, there are some flaws in the Start screen--like, wth is my app?--but bringing back the Start Menu and persistent Task Bar isn't the answer, at least not if I cannot suppress them! I mean, who really drills into the Start Menu, anyway? And why? Just start typing the name of the application you're looking for and off you go!