Sony launches the new series of convertibles, the VAIO Flip, in India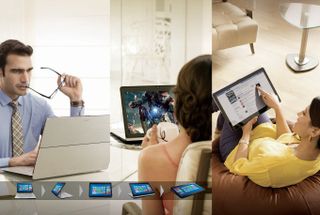 Sony has introduced their new range of Windows 8 convertibles in India which bring a unique form factor design to the VAIO portfolio. Showcased at the CES earlier this month, the new VAIO Flip features a unique hinge that provide users with a variety of ways to use the device.
Available in 13-inch, 14-inch, and 15-inch sizes, the unique line design of the VAIO Flip makes it capable of flipping and converting between laptop, tablet, and viewer modes by flipping the display over the hinge.
While the laptop mode and the tablet mode are the obvious facets of a convertible, the VAIO Flip also offers a viewer mode where the display can be flipped over so that you can share the experience of watching a video with another person or give an instant presentation anytime.
The stylish and functional design is very impressive and the thin chassis with brushed aluminum finish gives it a very premium look. The VAIO Flip F13N weighs just 1.31 kg making it one of the lightest convertibles in the market. Not just in design, the VAIO Flip promises great performance with 4th Generation Intel Core i5 and i7 processors. The F13N includes an SSD while the F14N and F15N pack in a hybrid drive.
Apart from a great device on offer, Sony packs in a lot of extras. For a limited time period, VAIO Flip customers will get MDR-XB910A premium headphones worth INR 12,990 complementary. Also, you can download unlimited songs for 3 months from a huge collection of more than 1.5 million songs from Sony Music - 'Jive' directly on your VAIO Flip.
Also, while the device comes with one year Accidental Damage Protection, till March 31, 2014, customers can buy 2 Years Extended Warranty at a discounted price of INR 999 only.
The new VAIO Flip F13N/F14N/F15N will be available next week, starting from INR 94,990. If you are not at a budget, and looking for a brilliantly designed convertible, Sony VAIO Flip is a great choice. A tad expensive, yes, but definitely drool worthy. What do you think?
Image Courtesy: Sony Press Release
Windows Central Newsletter
Get the best of Windows Central in your inbox, every day!
Pretty cool, I always love Sony laptop hardware.

Battery is fine... It's the fan that's troublesome... Sony has been waay to cautious of overheating... This laptop should be fine without the fan constantly blowing.

Sony released a bios update that has fixed the issue i think

Will it be better than my MacBook Pro? Its the 3999$ one

Does your Mac have built-in touch screen and digitizer? Is it convertible?

They be like Oh that MacBook, thats hella tight
Im like Yo, thats $3,999 dollars for a none touch screen laptop
MacBook edition, lets do some simple addition
$3,999 dollars for an outdated laptop, thats just some ignorant bitch shit
I call that getting swindled and pimped, shit
I call that getting tricked by a business, that MacBooks a hella don't!!!

You sir, deserve to pop some tags

Well I got 300k in a lawsuit so no biggie.

Awesome so now you got $296,001 left to buy something useful :D

Doesn't change the fact that it's outdated and over-priced.

A tad expensive... Nice understatement :)

Now, let them work for that Vaio Phone.

$1200-$1800... The 14inch is cheaper than 13 inch though... The 15 inch ones can be ordered with Nvidia And i7 in sony's website for optimal performance.

?? 94,990.00 INR = 1,537 USD. "Starting from" implies the cheapest one is the 13" at $1500 and goes up from there.

No, 14 inch is the cheapest at $1200, (with i3 though) and still use rotating HDD, the 13inch and 14 inch difference in portability is very noticeable. I've come to an offline store and this is what I've seen and told.

I'm thinking I could download a s***ton of music in three months.

Yes. Still worth lot more than the mac crap

Yeah it is but they should reduce the price to ₹85000 coz then ppl think buying a mac will be better( talking about the apple nipple suckers)

I wish the surface was that size! I love it but I sometimes feel underwhelmed with the 10 inch screen. I hope the surface 3 bumps it up.

Indians just love Sony.. (word of mouth)

I've always liked the VAIO line, but I can't stand the hinge mechanism on these things. The magnets hold the screen in place so well that it takes a lot of force to pop it out from laptop or tablet mode, and when you do, the screen just flops around until you reach the next set of magnets. It's enough that if I owned one, I wouldn't want to go between modes (say when storing the tablet to protect the screen) unless absolutely necessary.

I have the Acer Aspire R7 (similar to this, as mentioned in the video) and it's been pretty great. Aside from some random shutdown issues (due to battery getting disaligned from screws in bottom of laptop) and having to reinstall the OS through USB-to-CD when it was in recovery mode, the laptop has really done it's job well. The Ezel hinge has been super solid. I can do a full 180 with the screen, which can be great for showing something to someone. It can be slightly cumbersome to pull back the screen from 'flat' mode, but it's possible. The screen is of good quality in my opinion, it's not too heavy, fair battery life. I just wish it had a stylus though. I was really leaning towards this or the Surface Pro 2, but it was on 'sale' temporarily in fall 2013 and, as a college student, I felt the need for a laptop was more necessary than a tablet + keyboard. I'd like a Vaio, but they're too rich for my blood. As far as Windows 8 hybrid form factors go, I think this is the best choice from a laptop perspective. A 180 degree, slide-downable hinge. Use it as a laptop, a semi-tablet, presentation/TV, keyboard + touch only (tilting screen so it covers over the trackpad in the back completely) makes it super versatile. Seeing the video, I think Sony should have a stronger hinge so the screen can be tilted at all kinds of angles and can still be usable without the screen flip-flpping.

Had ordered this, 13 inch one... It'll come tomorrow morning... Can't wait!

Interesting .. 3 years back when I bought my lappie, the high end lappies used to cost 70-80k rupees .. Now they easily cost above 100k :O

Some components got smaller and cheaper, but some others got better and hard to manufacture, and also design factor.

Any idea when surface pro2 will come to India? Ot anyway it can shipped to India?

Yes, you can buy it through eBay global but it will cost around ₹80-90K for 128 GB model shipped by US Retailers through eBay U.S.

Is there any chance of surface pro 2 officially arriving in India?

I have the 13 inch flip. Works well and no problems with hinge. Fan is a bit overzealous, but can be switched to low and performance is still zippy. I leave settings there and only switch back for gaming (not that I ever game!)

I'd consider one of those for upgrading my 6-year old VAIO, if it weren't for the noisy fan.