Sparkle 2 is now available for Steam while Sparkle Unleashed hits Xbox One this week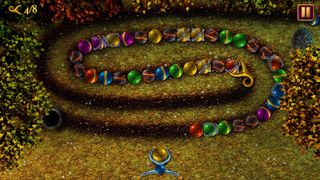 One of our favorite platform agnostic devs, 10Tons Ltd., have been hard at work for the sake of our entertainment. Starting today, you can get Sparkle 2 on Steam and this Wednesday you can look forward to grabbing Sparkle Unleashed on your Xbox One.
Sparkle 2
Many of you have probably already heard of and maybe even played the epic Sparkle 2, as it is already available for Windows 8 and Windows Phone since late 2013 (see our announcement) That being said the guys over at 10Tons want to bring their game to every audience imaginable.
The game takes the same match-three gameplay and puts it through over 90 new levels that feature a narrated story. All of the classic game modes; Story, Survival, and Challenge make their return here as well.
So if you're looking for something to help the time go by that's also completely addictive, I suggest grabbing Sparkle 2 now. Especially since it' is going for 15% off to celebrate its launch.
Download Sparkle 2 for Steam - ($6.79 with 15% discount)
Download Sparkle 2 for Windows 8.1 ($5.99 with free trial)
Download Sparkle 2 from the Windows Phone Store - ($4.49 with free trial)
Sparkle Unleashed
As with most 10Tons games, Sparkle Unleashed has already been available for Windows Phone and Windows 8 for quite some time. Well, this week we're finally getting our first taste of Sparkle on the Xbox One when it launches this Wednesday, June 3.
This is the first time that this version of Sparkle will be available on a platform that isn't mobile. This game steers away from Sparkle's narrated story and instead focuses on a whole new form of gameplay.
Although the gameplay still focuses on match-three objective, you now have to get rid of multiple new Orbs. The new orbs include Chained Orbs and Rock Orbs, which will both take extra shots to remove. Or you could just use one of the 18 power-ups to help you get rid of them faster.
The price of Sparkle Unleashed has yet to be announced, but if other Sparkle console releases are any indication, my guess would be that it will launch at $7.99.
So if you're a Sparkle fan or a puzzle fan for that matter, I'd suggest grabbing Sparkle Unleashed when it launches in two days for the Xbox One.
Download Sparkle Unleashed from the Windows Phone Store - ($4.49 with free trial)
Get the Windows Central Newsletter
All the latest news, reviews, and guides for Windows and Xbox diehards.