Sprint HTC Mogul 6.1: (Unofficially) officially out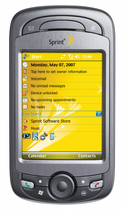 For those who just can't wait till get the "official" and final WM6.1 ROM for the Sprint HTC 6800 (aka Mogul, or Mongrel if you're bitter), it is now out there floating on the 'nets.
That can only mean Sprint is just about to let this one go any second.
Here are the deets:
File Name:
OS:
Radio:
Get it here. As usual, use at own risk. Post feedback in comments!
Via Sprintusers.com
What the hell!?!? The Mogul now gets its second update, while the Touch is still on its original ROM... :(

[size=2]I like this one [/size][size=2]from[/size][size=2]http://www.ideewomen.com/en/index.asp[/size][size=2][/size]

I flashed my ROM last night from the cooked ROM that is out there. The flash was simple and straight-forward. The cooked ROM had some issues and required a number of soft resets, but so far the "unofficial official" ROM is working great. However, ICS is turned off again and you will get the famous error 67 or 1012 when trying to use ICS if you don't have the $40/mo add-on from Sprint. Of course, there are ways around this.
I edited my registry and am happy to say that ICS is working like a champ. If you need to know how to make the registry changes let me know.

Hello,
Can you tell me how to make the registry changes. I too have the same problem since I downloaded the new ROM.
Thanks,
Windows Central Newsletter
Thank you for signing up to Windows Central. You will receive a verification email shortly.
There was a problem. Please refresh the page and try again.