Star Wars: The Force Awakens is already up for pre-order on the Microsoft Store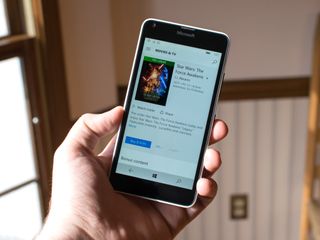 Star Wars: The Force Awakens may have just hit theaters, but you can already pre-order the movie from the Microsoft Store. While no release date has been given, you can go ahead and reserve your copy for $14.95.
Set about 30 years after the end of Return of the Jedi, The Force Awakens takes us back to a galaxy far, far away, and sees the return of familiar faces, along with the introduction of new characters, heroes and villans alike.
As the movie just opened in theaters, it will likely be several months before you can watch it at home, but if you want to be ready for when you can, hit up the link below for the pre-order.
Pre-order The Force Awakens from the Microsoft Store for $14.95 (opens in new tab)
Sweet... A definite buy. Been dodging spoilers for days

Stopped scrolling.. HAHA thanks for the heads up.

Basically a movie ticket price these days!

Cost me £15.25 for my ticket yesterday, worth every penny.

I paid $35, but for a gold class screening. I can't stand regular non-gold cinemas anymore, gotta have them recliners and waiters serving booze at the press of a button.

I hate those type of cinemas, too much distraction, I'm there to see a movie not to have a pint! For me the best place to watch a movie is the London BFI IMAX, but couldn't get tickets for the 17th so went elsewhere, maybe for the next one I'll get to the IMAX.

cost me 0, waiting dvd screener leak.

The poverty is strong with this one

By far, one of the best films I've ever seen

Maybe not the best film I've ever seen but it sure comes close, definitely the best film this century though ;)

Good price, but "Not available for your region" :(

Can the movie be download multiple times? If I login to another computer the way i can with steam. Is it similar?

Saw it last night, super entertaining! & take my $

Same on Google Play as well.

[SPOILER ALERT!!]
Ben Kenobi died, Vader is Luke's father.

How could you? How dare you ruin this for everyone who hasn't seen the movie yet. *heavy sarcasm*

Haha that what I said Wmpower

Saw it at 7pm last night.... IT'S GREAT!

The story and spectacle took me to galaxy far far away.

I just can't get over how they [REDACTED VERB] [REDACTED CHARACTER] at the [REDACTED TIME] of the movie. I mean... Wow

Yes, because they may run out of copies. Lol

I suspect they are going to milk the theater release more than Avatar. So my guess is June release.

Does the store take the money upfront or on release?

Why not wait until they lower it to ten cents, like they did with Jurassic World?! ;-)

I can't wait to see the trio KaijoClub

$14.95 ? I'll wait, After the annoucement of the blu-ray release, the deails will come... Going to try to see it this weekend....try to beat it before it hits the web everywhere....

If I don't see it at a cinema, I'll wait until it comes out in Netflix.

Absolutely worth seeing in the cinema. I'd advise against the 3D version though, added pretty much nothing but you can get some cool looking SW-VII glasses. http://screenrant.com/star-wars-force-awakens-3d-glasses The 2D version has a really geeky easter egg in the title-crawl though, which isn't in the 3D one.

What easter egg? Each version is the same.

Those glasses are actually pretty cool... must be US-only though, as I only got the standard crappy ones in Australia. I did like the 3D version, there's some really cool effects with the ships coming out of the screen, a lot of great depth between characters in the same scene or in vast landscapes. Having said that, 3D is often harder to focus on this during heavy action scenes, so I'd actually like to see the movie again in 2D to see the difference. I certainly wouldn't advise *against* 3D

I'll wait till it actually drops... I'm one of those folks that hates to pre-order.

I rather buy the Blu-Ray and rip a copy for streaming. I'm a traditionalist.
Posted via the Windows Central App for Android

Agreed! I will use a $5 Best Buy RewardZone coupon and get the Blu-Ray for this same price 1st day of release.

Amazon taking pre-orders as well. That's where mine is.

Same thing for Sky (UK cable company), I think it's £13.99, whereas you get it on demand as soon as it releases and they send you a Blu Ray as well!!!! I think I will wait till there is a Nonology (made up word for 9 related films) hopefully in 4K aka Ultra HD by the time the last one comes out!!!! :p

I guess they want to break this pre-sales records, too!

Movie was awesome, seen it a couple times now and the second viewing allowed me to absorb it all a bit more after the sensory/emotional overload of watching it the first time a few days ago.

Waiting for SPARKS release (1080)

What is the resolution of the "HD"?
I might preorder this, but 720 is not enough..

Order it now....watch it 6 months later!!!

Just watched it in the cinema, was pretty good.

Haha what exactly is the point of preordering a digital copy of a movie? Are you really not gonna have $15 several months from now? That's just Disney milking their new cash cow. Loved the movie though.
Windows Central Newsletter
Thank you for signing up to Windows Central. You will receive a verification email shortly.
There was a problem. Please refresh the page and try again.