State of Decay 2 crosses a million players since launch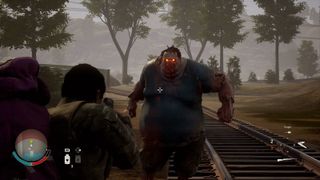 (Image credit: Windows Central)
A week ago, State of Decay 2 launched to mixed reviews around the world. The game was praised for its deep mechanics, but the fact that it exhibited frame rate issues even on Xbox One X and suffered from numerous glitches was a cause for concern. Surprisingly, this hasn't stopped the title from being enjoyed by countless gamers around the world. This morning, Microsoft announced that State of Decay 2 crossed a million players since its May 18, 2018 launch. This is a remarkable achievement indeed given how the game was portrayed in various outlets.
The Xbox Wire (opens in new tab) post said the following about the game's fast-growing player base.
Please note that the one million figure represents players who purchased the game, used Xbox Game Pass, acquired a used copy, or "gameshared" with a friend.
Despite that, it's great to see State of Decay 2 do so well at launch. The first game — regardless of the fact that it suffered from numerous performance issues — garnered a significant following. It appears that the sequel is also popular even though it needs more polish. Hopefully Undead Labs will continue to optimize the experience in the months to come.
State of Decay 2 is a co-op multiplayer game which forces you to survive in the wake of a zombie apocalypse. Players have to work together, build bases, and form communities if they wish to survive in this hostile land. You can currently purchase the game on Amazon or the Microsoft Store, starting at $29.99, or play it for free if you're a $9.99 monthly Xbox Game Pass subscriber.
Keep an eye on WindowsCentral.com/Gaming for all the latest in Xbox and Windows 10 gaming, accessories, news, and reviews!
Asher Madan handles gaming news for Windows Central. Before joining Windows Central in 2017, Asher worked for a number of different gaming outlets. He has a background in medical science and is passionate about all forms of entertainment, cooking, and antiquing.
I'm one of those million and I'm having a blast with the game. You get out of it, what you put into it. The building is deep and takes time to get the hang of. But after the first few hours of struggle the game gets really fun.

"acquired a used copy, and "gameshared" with a friend."
It has not been out long enough for used copies to really mean anything, and the gameshared.... in no way shape or form is that implied, or said....stop making assumptions to down play a milestone.
A sony site praises H1Z1 for 200k or so players at the same time, in no way did they say ..... well most were probably free, or did they care how many are on the free game, and who paid for the other versions...
On a MS site... 1 million players....but lets throw in unverifiable assumptions to make it seem like its nothing.

@mikeclan, what are u talking about?.. oh wait its nonsense

I didn't mean it in an offensive way. I just wanted people to know that it's available on Xbox Game Pass, and, however small the other figures are, people do game share, trade in copies, and play at their friend's house.

Glad it's doing well. It's super fun.

It's a really cool game!! Also a blast with friends, even though it's more of a single player game with coop options. Well done Microsoft 👍

I honestly think this game will do much better than Sea of Thieves unless "The Hungering Deep" turns out to be an amazing expansion with lots of content.

The only figure that matters is copies sold. That's the number I'd like to see.

It's on Xbox Game Pass so that figure is irrelevant. That's like asking Netflix for how many movies they've sold.

I wonder if Undead Labs thinks that's an irrelevant statistic, seeing as copies sold is where they'll get the biggest cut of revenue per player. Microsoft is who profits the most from the cheapskate Netflix of gaming service. I wanna support the developer.

you can! even if you get the game via game pass you only get the $30 edition, you would have to pay for the complete edition.

This game is a pos. Downloaded it for pc and it won't even get past the state of decay splash screen. Everything is up to date on my pc and the devolopers know about but are taking there sweet time to fix it. I'm tired of games being released that are broken and I'm tired of Microsofts screw ups

That happens regardless of the system you're playing on. I bought The Crew on release day and it took 2 months before I could log in and play the game. That was on the PS4. But I'm tired of buggy game releases too. This whole generation has been like that.

Ya it has and its really annoying. It's like they fired the game testers and are like ok can you give us $100 and we will let you play in the future. It's like game releases today are kickstarter campaigns

Xbox wire ost like these by Aaron Greenberg make me laugh.
Try to hype or market the game using the numbers like 6 million firecrackers and fireworks thrown. LOL Can he talk about how many bugs were found since launch? Did he talked about the lack of content in SoT? As usual they'll communicate only these type of numbers but only when it favours them. Are they talking about the number of players paying SoT now? Or the amount of people watching SoT streams?

I'm really enjoying it. Only a.couple of hours in and its a struggle to keep.base with food etc but lots of fun. Lots of negativity about but so far I haven't encountered bugs and its runs fine on xb1x. Loving xbox and game pass.

Slaying Zs with bros! Good time!

I'm glad you're enjoying it.
I guess console exclusives aren't important UNLESS MS makes them... lol
Windows Central Newsletter
Get the best of Windows Central in in your inbox, every day!
Thank you for signing up to Windows Central. You will receive a verification email shortly.
There was a problem. Please refresh the page and try again.