Stay code savvy with the Windows Developer Show App for Windows Phone 8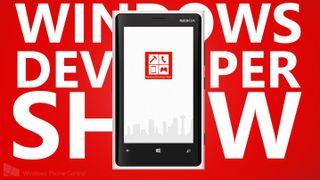 We know your favorite Windows Phone related podcast comes from us. Daniel and Jay are a dynamic duo that help keep you up to date on the latest things with Windows Phone and more. But we approach it more for the general consumer and don't focus too much on development. For that we highly recommend the Windows Developer Show from brothers Ryan and Travis Lowdermilk. There's a new app in the Store that you should check out to get their podcast.
So what is the Windows Developer Show (www.windowsdevelopershow.com)? It's a podcast that started out focusing on Windows Phone development. As the platform matured and Microsoft's three screens and a cloud strategy came into focus they began to include Windows 8 and other Microsoft technologies like the Xbox. While its developer focused, anyone can listen and gain some insight from the show.
The Windows Developer Show app for Windows Phone 8 was made by Shayne Boyer. The same developer that made the I'm Here app. Why the reason for the app? Some users can't access some podcasts abroad and the Windows Developer Show had a handful of fans who were having trouble getting access to it. Here's what the app currently gives you:
Support for all tile sizes
Stream episodes of the Windows Developer Show
Show notes and links for the guests in each episode in addition to resources mentioned in the show
Weigh in Wednesday Poll Results in real-time
It's excellent at what it does and that's give users access to episodes of the show. However feedback has already been pouring in. Shayne has been taking feedback and ideas for future versions. Here's what is in the pipeline for the app:
Offline support
Cloud sync with a Windows 8 version or companion app
Poll voting and not just viewing
Twitter feeds from episode guests and hosts of the show
Third party developers to the rescue! The app has been successful with users too. During the first eight days in the Store it picked up 2000+ downloads and acquired 75+ reviews 4 stars or above. In addition to fans, the hosts of the show (Ryan and Travis) are both fans of the app. If you've got any feedback sound off below in the comments.
Apps like this are a great example of the Windows Phone (and Windows 8) community. The app itself is well designed and a very good first showing. And if you're not listening to the Windows Developer Show you should. Add it to your podcast lineup.
The app is free (no ads) for Windows Phone 8 devices. Grab it here in the Store, use the QR codes below, or swipe to the right in our app.
Windows Central Newsletter
Get the best of Windows Central in your inbox, every day!
These guys are pretty funny to listen to. Been a long time listener. The show can drag on sometimes but mostly good fun.

Sometimes I wish I should have studied to become a developer. :-/

It's not too late. I learned how to code in a month. Now I can program in 3 different languages and 3 different programming paradigms.

It's never too late to learn (anything).
I learnt to produce Windows Phone 7 apps in a couple of days following some of these videos:
http://www.youtube.com/playlist?list=PL6F435E006ABC01F9 I'd never seen or written XAML or C#, but after spending a few hours watching those videos I can confidently write apps.

+1 highly raccomend that series.

Nothing against the show, but for me, I prefer video podcasts ... prefer the visuals.

Actually looking into how to get the live video feed integrated into the app.

I get error when updating shows! Anyone else? Feedback sent.

There is a slight issue when a new show is released. The podcast feed gets in a funky state. I am working on a fix to alleviate the issue and not affect the user experience. Apologies. Follow me on twitter @spboyer for updates to the app.

Not (yet???) available in Germany :(.

There is a feed issue when new shows are released, which was last night. It will resolve itself once the feed gets updated by the providers. - Shayne

Finally!! I am glad someone made this. I was facing this feed problem for almost a month. Now I can continue listening to their podcasts. They are awesome. Will download this app as soon as I reach home
Thanks, Shayne Boyer :)

Glad I could fill the void. Feel free to send me feedback on features wanted

Oh damn. I was so excited to read this that I completely missed out that this app is for Windows Phone 8 only. Sorry. :P
Will try it on my friend's NL820 :)

I used to love that show until one of the hosts became a MSFT employee. then the show took a nosedive because they can't speculate, be critical of MSFT, or do anything that would jeopardize the employment of the host. these were the guys that called ATT stores and asked for windows phone to demonstrate how bad ATT promoted it back in their earlier episodes, forcing MSFT to take action. They even encouraged the audience to do the same and show just how bad ATT handled windows phone and were quick to speculate on future tech and even leak info from internal sources at MSFT.

Since then, they have apologized for that and called their earlier behavior childish so as to ensure their host doesn't get fired. They are no longer on the side of the user or developer but have become yet another lame podcast by MSFT staff which often feels just too politically correct and avoids all the big issues affecting the platform.
as such, it is sad but the show is nothing more than an MSFT evangelist trying to keep his job while being unable to regain its prior glory as a host.
sad sad.

While I understand (and agree to a degree) your point, I also feel that the show also gained some things since this happened. It's always nice to see someone with a direct line to MS communicating with the community.

Just a heads up to all. There was an unexpected change to the feed by the provider which has unfortunately broken the shows portion of the application. I have submitted a fix to repair the issue. Please spread the word and hold comments and ratings if you will until it has been released. Apologies to new users, update should be available in a couple of days. Stayed tuned and thanks for the feedback!