SteelSeries Arctis 5 is a comfy, quality gaming headset that's also affordable
Should you not be a fan of wireless headsets, the SteelSeries Arctis 5 may be for you.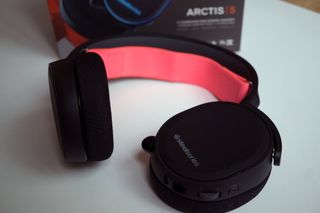 It's difficult to go wrong when it comes to PC headsets these days. For those who aren't sound enthusiasts or producers, picking up any pair of quality cans from a reputable company will unlock immersive gaming, but should you wish to locate a headset that you can wear for hours without issue, look no further than the Arctis 5 by SteelSeries (opens in new tab).
Here's why we believe the Arctis 5 is one of the better headsets you can buy for around $100.
See at Amazon (opens in new tab)
Light show
The first thing one notices with the Arctis series of headsets is the design. We received the Arctis 5 in black though it's possible to pick it up in white, which looks even better in my opinion. What makes this design even more striking is the use of removable headbands. These can be tailored to your personal style and taste with an array of colors and patterns available.
I was skeptical about these head-backs before wearing the Arctis 5 for the first time, but I now sorely miss them on other headsets. These bands separate your head from the main frame, offering a comfortable buffer, and man do they feel good, even after long gaming sessions. Having such a feature to support the headset makes it easier to forget they're even atop your skull.
Then you have the AirWeave cushions of the two cans, and these are just as good as the bands. The Arctis 5 (and the series overall) is the most comfortable headset I've ever worn.
A volume wheel and microphone button join the 3.5mm input jack and proprietary USB port for convenient control access. The last visual feature worth covering is the lighting effects. LEDs bring each cup to life, and the headset itself can be controlled by the fantastic SteelSeries Engine software suite. The effects are sublte and while you won't be able to notice them with the headset on, others will be able to gaze at the colorful magic taking place.
Magic inside
Here are the technical specifications of the Arctis 5:
Neodymium drivers — 40mm.
Headphone frequency response — 20 Hz to 20,000 Hz.
Headphone sensitivity — 98db.
Headphone impedance — 32 Ohm.
Headphone total harmonic distortion — < 3 percent.
Microphone frequency response — 100 Hz to 10,000 Hz.
Microphone pattern — Bidirectional.
Microphone sensitivity — 48 db.
Microphone impedance — 2,200 Ohm.
These specifications show that the Arctis 5 is a powerful pair of cans. Plugging it into the Xbox One or a PC via USB, the latter which will light up your ears like a runway strip, offers immersive sound thanks to the S1 speaker drivers.
These are also deployed in the company's flagship headset series, but Arctis headsets bring down the cost and make this impressive quality available to more gamers. What's nice about how SteelSeries has configured these headsets is the lack of over-the-top bass that can be found in competitors' products. Explosions will continue to blow you away, but won't send you tumbling through space with hearing loss.
For the ClearCast microphone, SteelSeries uses a bi-directional design offering solid levels of voice clarity and background noise cancellation. It's more than enough for communication with team mates and friends, but for streaming and other creativity, one may want to look at upgrading to a dedicated microphone. Thankfully, should you choose do use an external microphone (or wish to take the Arctis 5 out the front door), the built-in microphone can be retracted.
Standards
One thing I dislike about the headset is the propriety cabling. The headset can be used with 3.5mm devices or over USB, but in order to connect to a PC and take advantage of the lighting effects and other features only available through USB you're relying on bundled cabling. It's a pain because if you happen to lose a cable, you're pretty much stumped and need to pay out for replacements instead of hooking up a spare universal cable you may have lying around.
It's nice that the cables can be disconnected and not pull the headset to the floor if you accidentally stand on the wiring, but still it's not a good call for propriety stuff. Still, you can plug a standard 3.5mm cable in for phones, the PC and other devices.
Game on
Overall, we're really impressed with the Arctis 5, and the Arctis series. For the Arctis 5, you're investing in a quality headset with great sound, an impressive microphone, incredible levels of comfort, all at a rather affordable price. Throw in a stunning design and some handy features and you're onto a winner.
That said, the proprietary cabling is a bummer and something I hope SteelSeries opts to remove in future revisions. Sure, it's nice that the company includes everything you need to hook up the headset to a PC, phone or console, but at the same time I'd like to have redundancy by being able to connect spare universal cables. That's my main gripe with them, which shows just how good they are. If you need a new pair of headphones, you can't go wrong with the Arctis 5 for $99.99.
Pros:
Comfy to wear.
Works with PC, mobile and console.
LED lighting.
Great audio.
Cons:
Proprietary USB cabling.
LED lighting.
See at Amazon (opens in new tab)
Windows Central Newsletter
Get the best of Windows Central in your inbox, every day!
Rich Edmonds was formerly a Senior Editor of PC hardware at Windows Central, covering everything related to PC components and NAS. He's been involved in technology for more than a decade and knows a thing or two about the magic inside a PC chassis. You can follow him on Twitter at @RichEdmonds.
I have the Arctis 7 myself, and I love those things. The wireless range is really strong--I can get 30 feet or more from mine, meaning I can keep listening to music between matches of Rocket League on my PC as I stroll to the kitchen for a drink or something. Really great headset, though I wish they put Bluetooth in them (liek they did the Siberia 840). Only complaint is that is could stand to be a bit bigger. I can't comfortably take them off and rest them on my chest; I can do it, but it feels too tight. That, and the headband styles aren't the most impressive. I'd get one of the non-stock ones, but they're lame. They should do like their mousepads and let you request custom ones!