SteelSeries Siberia X800 wireless headset review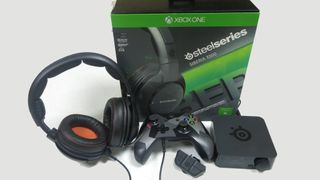 If you're going to use a headset for gaming, movies, and music very often, it's important that the headset be comfortable. Wireless headphones like the SteelSeries X800 have a significant advantage in the comfort department. Of course, you'll also be paying more for that wireless functionality.
The X800 connects wirelessly to an audio receiver, allowing you to listen to your Xbox One, PlayStation 4, Windows PC, and other devices without the need for a cable. You'll still need a wire for voice chat with some of those platforms, though. Read our full review with a video to find out just how comfortable and convenient the Siberia X800 is to use!
Compatibility
The SteelSeries Siberia X800 is compatible with the following platforms:
Xbox One
Xbox 360
PlayStation 4
Windows PC
Mac
Mobile devices
Roku
Anything with 3.5mm, 2.5mm, or optical audio output
Headset
The frame of the Siberia X800 consists primarily of matte black plastic with comfortable black padding along the interior. On the outside, a black rubber lining carries an imprinted SteelSeries logo. Both sides of the frame can be adjusted to accommodate a variety of head sizes.
The plastic portions of the ear cup pieces sport a two-piece design – not only can they be rotated horizontally as per usual, but each cup can also bend inward about 10 degrees. Again, this helps the Siberia 800 fit a greater variety of noggins.
Although most of the ear cup plastic is matte black, the outer portions each feature a large glossy black circle with the SteelSeries logo in silver. This cover piece can be removed on both sides, but the Siberia 800's battery is only found behind the left-side cover.
The left ear cup houses the microphone, which tucks all the way into the cup when not in use. The mic extends out several inches when you use it and can be flexed in any direction you like. It has a red mute light that can be seen from any direction – excellent.
The right ear cup houses the recessed power/mute button and a couple of ports. Long press the power/mute button to turn the headset off or on. A white LED on the button comes on when powered up. Short presses mute the mic, causing the mute mic light to turn red. The mute tone is different for on and off, and easily recognizable as such (unlike the Corsair VOID's mute tone).
The two ports share a single rubber cover that feels a bit flimsy to me. It attaches at two points, which should hopefully prevent it from breaking off. Those ports are labeled Share and Chat.
Share provides a unique feature of allowing voice from another headset to be connected via 3.5mm audio cable. This function allows you to daisy chain headsets (presumably of any brand, not just SteelSeries) and have everyone's voice sent through the Siberia 800. If you were streaming a game through your Xbox One and wanted a second headset's voice to be streamed as well, Share would let you do that.
As for the chat port, it connects via proprietary cables to the controller or device you'll be using for chat. We'll discuss what that means for Xbox One in a moment.
Receiver
Part of what makes the Siberia X800 a pricier headset is that it includes a Dolby Digital audio receiver. The receiver is the brains of the unit from which it processes sound and sends it back and forth to the actual headset. Without the receiver, the headset will not function.
The receiver requires its own external power supply and even includes three proprietary adapters for European outlets. You can use this thing almost anywhere in the world without having to buy a separate power adapter.
The rear of the receiver contains the following ports:
Analog in (3.5mm)
Chat out (3.5mm)
DC power
USB (for PC and Mac connectivity)
Optical In (connectivity with Xbox and other devices)
Optical Out (So you can keep your console connected to a surround sound system and the Siberia 800 at the same time)
The front of the receiver consists of a monochrome display, a small cancel/back button, and a large volume knob. Pressing the knob in as a button accesses the receiver menu. Rotating the moves the menu cursor and toggles selections; pressing it in again confirms selections.
The receiver menu offers the following options:
Audio: Adjust chat and audio balance, toggle Livemix (automatically adjusts chat and audio balance), use the Equalizer function, and toggle virtual Dolby Digital 7.1 on and off
Source: Toggle, add, or remove sources. The receiver can connect to up to three sources via its various inputs, and then switch between them at will.
Profiles: Create and switch between profiles with customized EQ settings.
Options: Adjust options or put the receiver in Standby mode, turning it off.
Batteries, charging, and wireless range
A wireless headset needs power. The X800 includes two swappable 1,000mAh Lithium-Ion rechargeable batteries. The unused battery inserts into the right side of the receiver, which charges it. A full battery gets about 20 hours of power, so you won't have to swap batteries too frequently. When the headset finally runs out of juice, just switch the drained battery with the charged one, and you can keep using it.
Changing the battery can be somewhat unpleasant, though. You have to remove the outer cover of the left ear cup to get to it. Sadly, the glossy plastic of the covers will get smudged up during the process. And removing and reattaching the cover is annoying because it doesn't provide an excellent grip for your fingers. But having practiced, I can get it on and off quickly now.
As for the wireless range of the headset, it impresses. I can walk anywhere in the downstairs area of my apartment without losing sound. Only when I shut a door or head upstairs does the sound cut out. The advertised range of 30 feet certainly seems accurate.
Voice chat
The Siberia 800 is capable of fully wireless voice chat, but only when used with a Windows PC or Mac. All other consoles, tablets, etc. will require the utilization of an audio cable. Without the wire, you'll hear the game but won't be able to hear or speak to other players. Several cables come with the headset, including Xbox One and 360 specific cables and a cable for mobile devices. The X800 variant of the 800 includes a SteelSeries-specific stereo headset adapter for use with older Xbox One controllers that lack a 3.5mm headset jack.
Plug the appropriate cable into the Chat port on the right side of the headset, connect it to the Xbox controller, and you'll be able to voice chat. The headset still gets its sound wireless from the receiver, so that chat cable will be the only one tethering you to a device. It's not as convenient as an entirely wireless setup, but Microsoft has only allowed Turtle Beach the honor of producing fully wireless Xbox headsets so far.
Check out the Turtle Beach 800X for a fully wireless solution, but be sure to read our review to learn more about its ups and downs first.
Sound quality
Other than comfort (which the X800 nails), the two most important factors in a headset are the quality of the system sound and microphone. In my experience, the X800's sound has been flawless. In the regular stereo mode, the sound is quite rich.
Turn on the Dolby Virtual 7.1 surround sound and you'll get an even greater soundstage. The surround effect convincingly makes rear speaker-oriented sounds appear to come from behind you, which can be helpful in many games such as shooters.
Other sound options include an equalizer and the Livemix feature. Livemix lets you adjust the balance of system audio and chat audio. You can usually do that with the console menus, but it's nice to have the option at a hardware level.
The 800's microphone is not bad, but it doesn't quite measure up to the headphones. Compared to several other headsets I've used, the actual mic sound quality excels. Volume is where the microphone falls short. It's simply a bit too quiet, with no built-in way to boost. You can position the mic closer to your mouth, but you'll pick up more breathing sounds that way. People can still hear me when I use the 800, but they sometimes complain I'm too quiet.
Overall Impression
Wireless headsets don't come cheap, and the Siberia 800's audio receiver adds even more to the price. It retails for $300 – quite a lot to spend for a headset. But you get a lot of bang for all those bucks. Wireless comfort, excellent sound and optional surround sound, and a versatile receiver that can connect to both a PC and console simultaneously. Switching back and forth between my PC and Xbox One without swapping cables is quite convenient.
The only room for improvement in the Siberia 800 would be boosting the mic volume and adding more optical inputs on the receiver. Some of us own multiple consoles, after all. But if you're looking for a wireless headset and want better sound quality than the average Turtle Beach headset delivers, the Siberia 800 won't let you down.
Note that the Siberia 800 comes in two variations: the 800 and X800. The X800 includes an Xbox One stereo headset adapter but is otherwise identical to the 800. You'll have a hard time finding the X800 in stores, so I suggest grabbing the 800 instead. If you need a stereo headset adapter, the Chatpad provides that functionality and a keyboard to boot.
Paul Acevedo is the Games Editor at Windows Central. A lifelong gamer, he has written about videogames for over 15 years and reviewed over 350 games for our site. Follow him on Twitter @PaulRAcevedo. Don't hate. Appreciate!
Can you say this is better than the Stealth 500X. I have that one, and am looking for another one for another room. I have literally no complaints about Stealth 500x, and if this is better, might pick this up. I would find it hard to justify the price jump from about $180 for 500X to $300 for this though. It would have to be amazing! Is Virtual surround sounds also what 500x has? I know it claims surround 7.1 too. or am I missing something? It sounds very good and spot on for shooters.

No! Its not worth the jump. I have the 500X its totally wireless. These Steelseries need a cable. (I have the H, very similar to these) The Mic is terrible. The best feature is the swappable battery, I wish my Astros had that feature. But no, I would not upgrade from the 500X. Its barely noticable.

Whoa thanks missed that in the review. I thought that was some other cable for some other purpose. Another 500x it is. Love them so much!

Why can nobody release a truly wireless headset? They all rely on a wire from the controller to the headset. At some point Turtle Beach had a full wireless headset for the 360. Is there something wrong in the XB1 that keeps this from happening?

Stealth 500x fully wireless and best headset out there for fully wireless.

500X stealth is 100% wireless

The stealth 420x is true wireless too, but is only stereo. It uses a wireless dongle and I've been quite happy with them.

I see the leather ear pads getting hot and wet after long use. Not a fan of that at all. I still think my TB 500x has the lead here.

I don't have any issues with them becoming uncomfortable over time, but I don't keep my place very warm either.

I'd definitely look at these, but not for $300. Going wireless just isn't worth that much extra money.

This seems like a $300 compromise. No way you can begin to sell me on that price and not be truly wireless. It almost seems like they tried to throw a bunch of features into these to excuse the price tag without actually thinking about user experience. Nice review Paul but definitely not for me.

Sometimes Turtle Beach has the Elite 800x refurbished for just under $220. That's what I bought.

Got the 800x and hated them bought the 500x and loved it. There was always a loud static noise with the 800x I couldn't stand it.

The had the 800x refurbs on sale over the holidays for $150 and I still passed then up because the mic sucks.

For the money, I'd much rather have a high quality mic like a Yeti and a high quality set of headphones. I'm primarily a PC gamer, so I can understand console gamers have different needs. That cost though is a bit much.

Price is high, but worth it if they last a long time

its ok but ill stick to my xbox one stero headset. thanks paul but ill wont be picking this up.

Thank you for the review Paul. I'm so angry about this situation with the Xbox One. Why is Turtle Beach the only brand "allowed" to make a headset with wireless chat!? It's So ridiculous it's maddening. The 800x sucks! I have a friend with them and he always sounds the worst in group chat. The mic is horrible. The 500x is way better with voice chat BUT it's the same traditional design as TB's older headsets which are a very poor design and Will break inevitably at the thin plastic arm that sides into the head padding. This whole situation really stinks!

Yeah, I hope Microsoft either creates an official wireless headset or a wireless headset standard for the 'Bone soon.

High price for not fully wireless, but swappable battery is good. Hate the stealth 500x for not having that. Makes an awesome headset so annoying when the battery goes 5 mins into a long game session.
Windows Central Newsletter
Get the best of Windows Central in in your inbox, every day!
Thank you for signing up to Windows Central. You will receive a verification email shortly.
There was a problem. Please refresh the page and try again.