Surface Pro X vs. iPad Pro 12.9 vs. Chromebooks: A cost (and value) comparison
By Daniel Rubino last updated
Compared to Apple's iPad Pro 12.9 and Chromebooks, the Surface Pro X is not nearly as overpriced as you may think.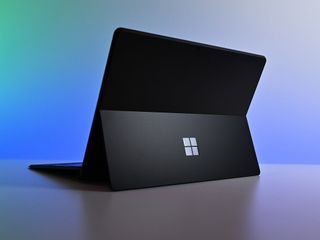 (Image credit: Daniel Rubino/Windows Central)
A hot topic when talking about technology is always cost. It's a subjective discussion with no right answer. As I recently wrote, price in tech is also fleeting; a 4K TV cost $10,000 five years ago.
But there's something that keeps bugging me about the cost complaints regarding the Surface Pro X being too expensive. Here's why the critics are wrong.
Everything should be cheaper
Before I get to the crux of my argument, let me just say I get it. Every new gadget, technically speaking, is "too expensive" for someone. In our heads, we all have an arbitrary price point that we think makes sense. Some of that is pragmatic: how much we can afford? A lot of it is just opinion: what we think said object is worth.
Some people drop $300 on sneakers and don't bat an eye, while others grab whatever is on sale for $45 and are just as happy. This question of value exists everywhere. I guarantee someone thinks you paid too much for a piece of tech you cherish.
From that perspective, when people claim the Surface Pro X should cost $500, I understand. I mean, hell, why not price it at $200 and ship it with free games? Maybe Microsoft should take a loss on the hardware and just pay you to use it?
I'm being facetious here, but my point is most people won't agree on what is a fair price — not without debate, caveats, and exceptions. With that said…
Surface Pro X vs. iPad Pro 12.9 with LTE
The Surface Pro X is often compared to two other device categories: Apple's iPad Pro and Google Chromebooks.
These are all very different devices (with different prices), but there is some overlap.
Let's start with Surface Pro X compared to an iPad Pro 12.9, since those are very similar in size, price, and target audience. For simplicity, I'm comparing the mid-range configuration for both devices with 256GB of storage and LTE.
(opens in new tab)
Microsoft Surface Pro X
ARM'ed Surface

For some, the biggest drawback of the Surface Pro X is the inability to run x86-64-bit apps, which include high-end CAD apps, photo and video editing (Adobe), and some modern games. Running full Windows 10 makes the Surface Pro X more of an authentic PC experience, which is both a pro and a con for some buyers.
For
Runs full Windows 10 Home (or Pro)
Upgradable SSD
Gorgeous design
Two USB-C ports
Can use a mouse
Against
Lacks x86-64-bit software
Performance is just "good enough"
(opens in new tab)
Apple iPad Pro 12.9
Brilliant tablet

Much debate has occurred over whether the iPad Pro 12.9 could be a proper laptop replacement. For some, it can work. But for many owners, the iPad Pro is a supplementary device that backs up a proper computer (PC or Mac).
For
Stunning display
Superb hardware
USB-C port
Optional keyboard and pen
Amazing apps and ecosystem
Against
Runs mobile OS
No proper mouse support
Looking at the specs, we can see these are similar machines in many ways, including storage, display, LTE, and what's included.
Surface Pro X
iPad Pro 12.9 LTE
Display
13.0-inch PixelSense (2880x1920)
267 PPI
12.9-inch Liquid Retina (2732 x 2048)
264 PPI
Storage
256GB
256GB
Upgradable SSD
Yes
No
Storage expansion
No
No
Keyboard
Yes (optional)
Yes (optional)
Pen
Yes (optional)
Yes (optional)
LTE
Yes
Yes (optional)
Ports
Two Type-C
One Type-C
Security
Face recognition
Face recognition
Price
$1,299

(opens in new tab)

$1,299

(opens in new tab)

Keyboard and pen
From $270
From $329
The Surface Pro X with 256GB of storage, 8GB of RAM, with Surface Slim Pen and keyboard comes to $1,569 (though you can also find it on sale right now) (opens in new tab). By comparison, the iPad Pro 12.9 with 256GB of storage, LTE, Apple Pencil, and Smart Keyboard Folio comes to $1,628. The savings favor Microsoft by $59. That's not a lot, but you could put that towards an Arc mouse (opens in new tab) or maybe a dinner out.
Are one or even both overpriced? Maybe. But the more significant point is, if anything, the Surface Pro X is slightly cheaper – when all else is equal – than a similarly configured iPad Pro 12.9.
When Surface Pro X is on sale (like it is now), it's $1,369 with the pen and keyboard. That's $259 cheaper than a similarly configured iPad Pro 12.9. And current-gen iPads rarely, if ever, go on sale.
If you want to go nuts and max out both devices, Surface Pro X (16GB, 512GB) with pen and keyboard is $2,069 ($1,869 on sale). The Apple iPad Pro 12.9 with LTE (1TB) is $2,028 with a keyboard and Pencil.
Going the other direction the Surface Pro X base mode (8GB, 128GB) starts at $999 (on sale for $899 right now) while the iPad Pro 12.9 (64GB) and without LTE also starts at $999. Even here, the Pro X gets you "free" LTE over the iPad Pro with double the storage. In a best case scenario, it's $100 cheaper than Apple's tablet.
I won't debate which tablet is better, because that's up to you. My only point is to illustrate the cost comparison between two similarly configured devices.
Surface Pro X vs. Chromebooks
Things get more complicated if you compare the similarly-configured Surface Pro X to the entire Chromebook category. In general, Chromebooks are much cheaper.
Take, for instance, the latest Google Pixelbook Go, which starts at just $649. It lacks face recognition, LTE, upgradable storage, has only a full HD display, and doesn't support inking. But the quality is there.
However, if you go to the higher spec'd version of the Pixelbook Go, things start to skyrocket. Opting for the i7-8500Y model, you get a 4K display with 256GB of storage and 16GB of RAM (still no LTE) for $1,400. A Surface Pro X (16GB, 256GB) will set you back $1,499 ($1,299 on sale) without the pen and keyboard.
Mind you, that i7 is a seven-watt Y-series, dual-core chip, not a traditional U-series 15-watt quad-core found in most Ultrabook PCs. The Surface Pro X's Qualcomm SQ1 chip has eight cores, by comparison, though performance is more like a U-series Core i3 to i5.
Google also still sells the highly-regarded Pixelbook — considered the crown jewel of Chromebooks — for $1,200 in 2020 (opens in new tab). That laptop came out in late 2017, features a 2016 Y-series processor, and it lacks LTE.
That said, you could go for the 2018 Samsung Chromebook Plus v2 (LTE) for $600. I have this laptop without LTE, and for the price, it's decent. For $600, here is what you get with Chromebook Plus v2 compared to the pricier Pro X:
Surface Pro X
Samsung Chromebook Plus LTE
Display
13.0-inch PixelSense (2880x1920)
267 PPI
12.2-inch (1920x1080)
180 PPI
CPU
Qualcomm SQ1 (8-core)
Intel Celeron 3965Y (2-core)
Storage
256GB
PCIe NVMe SSD
32GB
eMMC
RAM
8GB LPDDR4x
4GB LPDDR3
Storage expansion
No
Yes
Pen
Yes (optional)
Yes (included)
LTE
Yes
Yes (optional)
Ports
Two Type-C
Two Type-C
Security (bio)
Face recognition
None
Price
From $1,099

(opens in new tab)

(sale price, regular is $1,299)
$600

(opens in new tab)
Finally, you could go for the 2018 Acer Chromebook Spin 13 for $650 (it used to be $900). For that price, you get a real Core i5 U-series processor, 2K display, inking, 8GB of RAM, and 128GB of eMMC storage. There's no option for LTE, which is one of the main selling points of the Surface Pro X, but it's hard to deny that the price is more palatable.
Is Surface Pro X in a league of its own?
When compared to Apple's iPad Pro 12.9 with LTE, Surface Pro X costs less — sometimes by a little, sometimes by a few hundred dollars.
However, someone will inevitably raise their hand and say they don't need LTE, or that they could even get by with the smaller 11-inch model. Those are fair points; Apple certainly has more models available, letting buyers pick and choose exactly what they need. But the reason some people, including myself, prefer the Surface Pro X to other PCs is the always-connected 4G feature. Things like running full Windows apps (UWP, x86-32-bit) and that kickstand make it even better.
Turn to Chromebooks, and the price gap is massive, but there is often a good reason. You get old, quite anemic Intel CPUs, slow internal storage, and often don't even have the option for LTE.
There are only a few computers available today that feature everything the Surface Pro X offers. A high-quality display, 4G LTE, all-day battery life, excellent audio, inking, Windows Hello facial recognition, upgradable SSD, and that kickstand. And, yes, for many people, integration with the Microsoft ecosystem and running Windows 10 is a selling point. If I thought Chrome OS or iPadOS were better, I'd be using them.
Why Surface Pro X is my favorite laptop of 2019
Whether what Surface Pro X offers is crucial to you is a personal choice. I am not telling you that Surface Pro X is a good value. But at least when it comes to the sticker price, the cost is not excessive, at least compared to the rest of the market.
Windows 10 on ARM
(opens in new tab)
Microsoft Surface Pro X
The thinnest and lightest Surface Pro available

Surface Pro X delivers the most exciting design for the Surface Pro yet. For people who need a light, thin, LTE-enabled productivity laptop, the Surface Pro X offers a unique set of features not found anywhere else.
Apple workhorse
(opens in new tab)
iPad Pro 12.9-inch
When you need the best Apple offers

The 12.9-inch iPad Pro is more like a computer replacement for those who want to do most of their work with iOS. It has more screen estate to work with than other iPads, making drawing, handwriting, and typing a breeze. However, the large size can be cumbersome to hold and it isn't as portable as the smaller version.
From Google with love
Samsung Chromebook Plus (V2)
A lot of 'book for your buck

Samsung's Chromebook Plus (V2) is a sturdy and great looking Chromebook that brings everything you need — and most everything you would want.
Daniel Rubino is the Executive Editor of Windows Central, head reviewer, podcast co-host, and analyst. He has been covering Microsoft here since 2007, back when this site was called WMExperts (and later Windows Phone Central). His interests include Windows, Microsoft Surface, laptops, next-gen computing, and arguing with people on the internet.
A long and tedious article that fails to note the obvious: Microsoft got big by providing a "good enough" experience at cut-rate prices. What this article argues is that the Surface Pro X, which doesn't provide a "good enough" experience due to its lack of apps is an equal value proposition by virtue of being similar in price to an iPad. The Pro X is dead in the water unless it hits a price point at which the lack of app ecosystem undercuts the obvious app advantage of iOS. Which to me is around $600-$700. Definitely nothing more.

What apps from the App Store are people using for productivity? Certainly nothing for heavy productivity. Artists use the iPad, but as a companion device for sketching (which can be done on other devices too, like the SPX and SP7). So besides art apps? Is there a very good calculator app you can recommend? For productivity, especially light productivity which is what this class of device is designed for, there isn't much in the App Store that isn't readily available on an SPX, is there?

You just proof the waist of this article!
One of the claims is that the tablet has Full Windows 10 over IOS. Well, full of limitations if that's what Microsoft advertise.

Well technically the Pro X has full Windows 10, just limited performance for certain programs and a small pool of programs that don't run on it. For a good amount of people a deal-breaker and for others it doesn't matter.

"What this article argues is that the Surface Pro X, which doesn't provide a "good enough" experience due to its lack of apps is an equal value proposition by virtue of being similar in price to an iPad."

What a terrible, misinformed and myopic response. This is just your

opinion

and not mine, so I did not miss anything. You're not stating a fact. iPads also cannot run desktop apps and there is a reason why most people still have one

and a PC or Mac to do real work

. Everyone knows this and I don't see how it is at all different from the Pro X. For some people, neither device can replace a full desktop experience all the time, but since they're priced the same, the result is the same. If I use a Surface Pro X every day and not a Chrombook or iPad how could I possible even agree with what you said as being accurate? I can't. I'm also assuming you never have used an Pro X but merely read things on the 'net about it? Because, unlike you, I do use the Pro X every day as one of my main computers (the other being my desktop/gaming rig) and I choose it over every other major laptop that is available on the market.

I have used both device and say what the Pro X sucks for general users, first of all you mentioned that even iPad can't run desktop apps, but guess what? iPad is not trying to!
They have enough healthy apps made for the device that, it can stand on it's own as a different segment, not to mention that this also result's in better experience in general.
On the other hand, Pro X is trying to be a device which works like a full PC, this results in sluggish performance on most of the apps and not to mention that 64 bit apps don't run at the moment due to Microsoft's trademark on 'coming soon'.
You can't expect customers to pay full price for incomplete product and future promises!
I got no intention to get in beef with the editor in chief :P, but I can't stand people endorsing product which is just incomplete and is asking for absurd price.

Again, this is just your opinion though. If I (and others) are using the Pro X as our main or even secondary laptop with no issues, how can you apply your statement to

everyone

?

It's fine to say

: "Pro X is not for everyone". I actually wrote that as the main thesis for the review! So we agree.

It's not OK to say

: "No one finds value in the Pro X, it's not for anyone, but the iPad is" That's factually and logically wrong and an overreach. You 👏 don't 👏 get 👏 to 👏 decide 👏 value 👏 for others.

"You can't expect customers to pay full price for incomplete product and future promises!"

Literally

every new device category ever invented

- including the iPhone and iPad - does this. This statement makes absolutely no sense. Was the iPad 1 sold on discount by Apple because it only delivered on "future promises"? Is the $2K Galaxy Fold cheaper right now because apps don't scale right on it e.g. Instagram? No, so why the double standard?

Well I totally agree, that in certain use cases like office users or writers and may be a couple more, this can be a choice, but even in that case the price (you can get something better, which supports more use cases for similar price)! I mean if you want to sell a product, they have to make it appealing to larger consumer base, and to that larger pool, this pricing is not going to get them far with the limitation of the device.
I might not get to decide value for others, but you will see in the sales figures that majority will agree that for the price what you are getting is just not enough.
Just an fyi, I don't own any apple device personally and totally can't stand with their principle and restrictions they keep on users. What I feel is at this pricing and software quality Microsoft will fail, and kill the segment which could have been a game changer in future.

"you can get something better, which supports more use cases for similar price

Please, tell the head reviewer, who has all of these laptops, which one has: Pen built in to the keyboard (and as good of a pen) Tablet/thin form factor 3:2 aspect 4G LTE with eSIM Windows Hello 8+ hours of battery I have the answer. The closest is Spectre x360 13", which has optional 4G LTE. The pen sticks to the side, but is easy to lose, and it has a 16:9 display, and it's a laptop (not a tablet design), but it's close. I have this device (sans LTE) and it's great. I also still prefer the Pro X. HP Dragonfly is close, but it's LTE modem currently is very buggy and unreliable.

"I might not get to decide value for others, but you will see in the sales figures..."

None of us will see the sales figures, ever. You know this. We have no idea on sales of the Pro X and there is no way to determine it outside of not seeing a version 2.

" that majority will agree"

The majority never drives technology adoption, it's the minority and early adopters who do. Only later do the majority become relevant. You (and I) don't speak for the majority or others, only our own experiences. This is where we disagree.

"I don't own any apple device personally and totally can't stand with their principle and restrictions they keep on users. "

So why the double standard with Apple? The system can't use a mouse, can't be a main computer for most people, doesn't work well in the lap, costs more than the Pro X, doesn't run desktop software at all, and is very locked down, and yet it's worth that amount? (I actually think it is, as people find value in it). How many people buy an iPad Pro

and still have a desktop and laptop PC/Mac for real work?

iPad Pro. If it only supports 32-Bit Apps, then it mind as well not support them at all. iPad Pro supports use cases that are totally unsuitable to this device, due to the lack of app support and the limitations of its x86 emulation (both in Bitness and Performance Impact). You can buy a $329 iPad with an A10 Fusion SOC and still get more done on that then on this tablet. I"m sorry, but I totally disagree. Don't care who your head reviewer is. They only touch the tip of the iceberg in those reviews. The iPad has software like: https://new.steinberg.net/cubasis/ And you will struggle to find anything comparable for the Pro X, unless you're running a Win32-comparible DAW, and most of those are going to be pretty shoddy with Touch and Pen, not to mention the performance impact of emulation (and the fact that their engines were not tuned for Low-Power CPUs like the SQ, so battery life will be impacted). I do feel like the hardware was released well ahead of the software, but ecosystem will still be an issue. Microsoft's devices still beg for developers to jump aboard the UWP train, but the traction just hasn't been there. IMO, this hurts devices like the Surface Pro and Surface Go, as well. It isn't an X-specific problem. If UWP had really taken off, they wouldn't really NEED to emulate x86-32 so much. It would have enough native apps to sell itself on the hardware alone. Right now, we all have to make excuses to make this thing feel worth the cost they've attached to it.

"You can buy a $329 iPad with an A10 Fusion SOC and still get more done on that then on this tablet. I"m sorry, but I totally disagree."

Not for running full Office you can't. Not for connecting up to Active Directory for work and remote management. And why are you comparing the $329 iPad to the Pro X as if they have similar specs/screen/kickstand/expandable memory/face-recognition - Microsoft has Surface Go for that, so what's the point here? Do you make the same argument why someone shouldn't get the Surface Go - the most widely sold Surface - and tell them all to get iPads instead, even if they don't need an iPad?

Right now, we all have to make excuses to make this thing feel worth the cost they've attached to it.

I have an iPad, and MBP. I know what they can do. If I thought they could do the same thing for at my job as the Pro X I'd use them. Business users and professionals aren't using iPads to get work done, they're using them to consume media, watch movies, and play games. If I was wrong on this we'd see MBP sales plummeting. Instead, we see many people carrying two devices: iPad and MB. Using an iPad Pro as a device for productivity without mouse and trackpad support is a nightmare. Have you tried to use an iPad Pro 12.9 in your lap with a keyboard? Do you like touching the display every 15 seconds to navigate? Do you think app switching and not running the apps I'm familiar with is important? Here's the thing you're missing: I don't want to invest in a new OS, new ecosystem and re-buy apps that I'm not familiar with when I have something

that does not require me to do all of that

. I know Windows, I know the apps, I know how it all works. How do you not see value in that? Why is "go buy into a new ecosystem and re-learn all you know" an ideal solution for people?

The surface go is the most widely used surface? That's interesting! When I've done searches on Facebook marketplace I rarely find one for sale lol. Plus why would they hold off son long on releasing a new one!

A few Pro Artits are using iPad Pro for Pro work, it's possible. But otherwise let's face it Daniel is owning all the commentors here.

Cubasis is a joke compared to full Cubase. While 32-bit support for Cubase stopped back in 8.5, that version was still orders of magnitude more powerful than Cubasis.

These people who say this device lacks clearly haven't used one for work. I am making do with a Lenovo c630 right now. Like Daniel I can have almost any device in the laptop range of pricing. I take the c630 as it's perfect for all day keyboard warrior work. Office. Web. Perfect. I just wish the screen was better. I can't justify the extra cost on the SPX not because it doesn't compare to similar devices, but because it looks looks like an extravagance compared to even a surface pro. I think it needs to be a bit cheaper. 300 cheaper would convert many would be SPro or stock Lenovo purchasers. Arm performance is good enough for daily office work. Anyone who claims otherwise either hasn't lived with one or trying to get do some edge case thing.

@n8ter#AC "Right now, we all have to make excuses to make this thing feel worth the cost they've attached to it." Supporters of this device are forced to engage in verbal gymnastics just to make this device sound like a reasonable purchase at that ridiculous price point.
Credit to Daniel though. His ability to talk in circles is impressive.

I use my Surface Pro X as my primary Windows solution - I run a Technology Strategy and Delivery Team for a 1 Billion Dollar Consulting Firm (yes we are small). My needs - Office 365 Desktop (I attempted to make the Samsung Galaxy Tab S6 my mobile solution but could not use our Excel-based MACROs)
Ink support for OneNote (I've been inking in OneNote since 2003 and have notebooks dating back all 17 years)
All day battery life
LTE Support
Competent Browser to support needed Web Apps and Management Portals (Chromium Edge)
Competent Shell Environment (PowerShell and WSL 2.0)
Needed to light and look professional Being able to manage my global team anywhere makes this device worth it, delays in my line of works can cost my company millions. No mental gymnastics - if you chose not to understand it's use case then cool but you don't get to assign value for others.

I think what Daniel is trying to say is it's unfair to criticize only the Surface Pro X for being overpriced when the iPad Pro commits the same sins - both cannot run 64 bit desktop apps and are very expensive. At least the Pro X is a bit cheaper, has Office, and can emulate some desktop apps, while the iPad can't, though granted it does have a big app store to compensate. Yes, there are cheaper Windows laptops than the X that have a more complete desktop app compatibility, but this point should also be used against the iPad Pro. Both are similar excellent luxury devices, but it's unfair to hate only Microsoft's product for the high price just because they're not Apple.

Kind of like a comparison between a truck and a sports car. Sure they are both automobiles but not meant for the same purposes. Also, how dare anyone have an opinion that is different from Daniel's opinion!!

"how dare anyone have an opinion that is different from Daniel's opinion!!"

That's not the issue. I flat out say it's not for me to decide the value of the Pro X for a user (or an iPad), nor am I telling people to even buy it. But here we have a bunch of people doing exactly that. Instead of saying "it's not for me, it's too expensive" it's "no one should buy this, get an iPad Pro instead". That's what I'm arguing against. I also find this a lot of posturing as I highly doubt many of you use an iPad Pro as your main mobile work PC. I think that's insincere. I think many have an iPad

in addition to their laptop

, which is no different than buying a Pro X and still have a main PC.

I disagree a bit with the last statement. I wouldn't get a Pro X as a secondary device. It can do both PC work and (if you use web apps to fill in the gaps) be a decent consumption device as well. Not iPad level but enough for me at least. I'd prefer that over juggling two devices.

The same nonsense arguments were used about the Pixel Slate by people who hadn't used it and Google then killed it based on these :(.

The Slate was kind of expensive considering you either get a celeron or m/y cpu while still need to pay with your privacy for profiling/ads.
In contrary to the Pro X the State did not stand out at anything unless you really wanted ChromeOS (e.g. at least the Pro X is very good for Office users and inking etc).

You need to read again what he said. ;)

If you get angry at people's comments then don't post replies.

@CryptoSys "I got no intention to get in beef with the editor in chief :P, but I can't stand people endorsing product which is just incomplete and is asking for absurd price" He has a vested interest in these MS products succeeding. It's understandable that the more negative the press is on these expensive devices then the more evangelical his defence will be.

From a hardware perspective, this is a great device. I just get the feeling this is a device begging for Windows 10X.

Why? Windows (as we know it) runs brilliantly on Arm. Honestly you need to live with an Arm Windows device to realise it's more than enough for road warrior / office use. If you want gaming, no. Visual studio dev, no. Video work, no. But for OneDrive. Web, Teams. Office work, email. YES! Perfect. It's snappy and your battery life will be literally double an equivalent Intel standard laptop.

Why do you say double? Battery on the SP7 and SPX seem similar, with the SPX averaging a little more.

Bradavon. I get between 5 and 7 hours on normal laptops. 14-15 on my c630. I read the SPX is probably more like 10, which is slightly sad considering. I do wonder if the users/reviewers were using emulation constantly. But my c630 smashes any intel based laptop.

Probably because the resolution is not overkill for the c630 and perhaps the SPX has an overclocked cpu? The 850 in the c630 seems to favor battery life while the SPX seems to favor performance.

"Honestly you need to live with an Arm Windows device to realise it's more than enough for road warrior / office use." I don't disagree with that which it makes it an even stronger case for Windows 10X to be on this device. Windows 10X is a streamlined version of Windows 10 designed for road warrior / office use and those that prefer a simplified OS.

Don't get me wrong. I'd love a new legacy free Windows. I bet it rocks. But even right Now standard Windows runs really well on ARM.

This is the thought of reasoning I'm coming too as well after 7 years of experience with Surface. The Surface Pro is a controversial device for the current asking price, even with the stylus and pen sold seperately.

Depends on the apps you use, especially the normal Pro would be solid enough to completely replace standard laptops and mostly tablets. Its just that since it is Windows you sometimes need to look a bit better for your app, possibly on other stores than the Windows Store or pwa's in Edge or pinning sites to the taskbar/start menu etc. But at the end it can work great.

Doesn't the Pro X have access to billions of applications?

Good article and I think this is absolutely right and someone needs to say it. But there's one point missing. People today regularly buy $1200 Windows ultrabooks for basic tasks like Office and browsing and nothing more. How is the SPX different? It's different only in that it's better. A better screen, a better pen experience, built in LTE, and battery life and build quality comparable to any high end ultrabook. People also buy the expensive iPad Pro, which is definitely competition, but again it's because for productivity lots of people only need Office and a browser (and maybe an app or two from the Store, usually for fun) and that's it. And I don't have to tell anyone but die hard iPad fans that ergonomically, getting work done on a real laptop with software designed for that experience is always going to be easier than in a touch-first environment, even if all you're doing is Office and the web. The other point that's missing is that cheaper alternatives are already on their way. The SPX is one premium device in a new category that will have the full range of price options. Why was that so hard to believe for some people?

I think there is a vital comparison missing here - the 2-in-1 Windows laptop universe. One prime example is the HP Spectre x360 13 (Late 2019). For $1799 ($1499 during Christmas at Best Buy) you get a 2.9 pound (compared to 2.5 pound SPX with keyboard) 2-in-1 with 10th Gen Ice Lake i7, Iris Plus Graphics, 4k OLED, 16gb ram, 1tb SSD, two USB-C Thunderbolt 3 ports, 1 USB-A, mSDXC slot, and a pen in the box. There is no limitation on running full 64 bit Windows applications, and performance runs circles around the ARM based Surface Pro X. No LTE unless you order direct from HP, but in that case you have to settle for FHD - with all the other specs of the Best Buy model, for only $1549. Comparing the Surface Pro X to Spectre x360 is not "apples to oranges" but more "Fuji vs red delicious." I have been a confirmed tablet/2-in-1 user since the old HP 2730p Elitebook in 2009. I rarely see anyone using any Surface tablet without the keyboard attached, even when note taking. There is no value proposition to a Windows tablet sans keyboard, and there really is no value proposition to the Pro X, or even Pro 7, over the performance and feature set of 2-in-1 laptops like the Spectre x360. The real competition is not iPad Pro or Chromebook, it is Spectre x360, XP 13, Samsung Flex, and other 2-in-1 alternatives.

"The real competition is not iPad Pro or Chromebook, it is Spectre x360, XP 13, Samsung Flex, and other 2-in-1 alternatives."

Spectre I can see (it has optional 4G). The others, I cannot because they lack 4G LTE, which is the main reason I use a Pro X. Even there, Spectre's 16:9 display still bothers me, but it is a very good value laptop, actually "the best buy". I have one and I'm reviewing it currently, but given a choice between it and the Pro X I still grab the Pro X each time. Devices like Surfaces are 'halo' devices meant to drive innovation, not so much raw sales, that's very different from Spectre. My larger issue with Intel-based 4G systems is they tend to have issues - at least something like the HP Dragonfly, which has a lot of modem problems currently making it unreliable. It's software bugs, but still an issue.

Daniel - I agree with your "halo product" observation, but I don't see how the Surface Pro X is really moving into a new direction. The 2017 Surface Pro LTE was a far more powerful and compatible, albeit with shorter battery life. In fact, if the Surface Neo is even remotely as good as the preview demonstrated, what then is the life cycle of the Surface Pro X brand? You'd get full x86 compatibility in a smaller form factor with full time LTE. Wouldn't Microsoft be tempted to just move the real Surface Pro line to the Surface Pro X form factor, anchor LTE with Neo, and call it a day? If they really want to drive innovation, license the S Pen technology from Samsung, put a silo in all of these devices, and make inking ubiquitous, instead of just waiting and wondering when you'll lose your latest pen. The "pen in the keyboard slot" is not the real answer, especially in Neo and Duo size devices. Plus, none of this answers the "value" question when you get multi-factor power and feature performance for the same or even lower prices than the Surface Pro X.

"Surface Neo is even remotely as good as the preview demonstrated"

Lots of questions around Neo including how good it will be as a PC (I don't know), but I can tell you I was told it doesn't have LTE, which makes it less interesting for me. Mobile here for me means it has to have LTE. If Neo adds that, it could change that.

The "pen in the keyboard slot" is not the real answer

Really? I think it's an amazing solution for the Pro X. Maybe not Neo, but that's not here yet and I'm not sure why it would negate the value of the Pro X's design (which will likely go to Pro 8). I also expect Neo to be

very

expensive - more than a Pro X.

"put a silo in all of these devices, and make inking ubiquitous"

Siloed pens are interesting - Yoga C940 has one. But here's the tradeoff, they're stylus that are good for signing a document, not for anything more than few minutes of work because they're very uncomfortable to hold. It's why Surface Pen/Slim Pen and Apple Pensil have their designs.

Thanks Daniel - very good points - but I swore they said Neo would have LTE - if not that changes the dynamic dramatically. However, like cameras, the best pen is the one you have with you, and after you've gone to a meeting (or hearing) and left that big stick on your desk (or in your other bag, or on the floor where it fell off) you'll trade your soul for that little stick. I agree, and use, a full size Wacom Pen for longer sessions, but I live and breath by that little stick in the frame. Wait a minute - I know I read it somewhere that Neo had LTE - in Zack Bowden's review: https://www.windowscentral.com/surface-neo

Just to comment on the pen - I use the surface pro 2017 (I think that was the name when it came out? Lol) but honestly I've never accidentally lost it or left it somewhere. At most it's in my bag somewhere because when I took it out it got knocked off from the side of the bag. This isn't just like a random ballpoint pen that you throw around. Just as with my other important items, be it my wallet, phone, or laptop, I take care of them and know where they are most of the time. I'm not saying everyone is going to be as careful as me, but generally people take care of the things that are important to them.

That's all fair enough but no matter how good the current Pen situation with the Pro is, the Pro X is better. Sure, having to retrieve the Pen from your bag occasionally is not the end of the world but having it accessible within the device EVERY time is still better. Also, even if someone only loses the Pen once, that's all it takes. Once it's gone, it's gone. Anything that can make that less likely without negatively affecting the overall experience has to be good in general.

Granted, it is not a Bic Click - I get that. If you have an active mobile life, or use your pen routinely at your desk to take notes while visiting with clients or coworkers, you will inevitably leave it on the desk in a rush to a meeting. A real headache; and no magnet is anywhere near as good as a silo. At least the SPX has the tray built into the keyboard, which is the next best thing for most purposes. Still, having a stick in the silo at all times, and a larger pen for longer sessions, is worth the effort.

A couple points. First on the topic of price, the base price is ok, but the storage upgrade price is ridiculous. Microsoft is charging $300 for a storage bump that every other manufacturer of tablets/computers charges $150 for. There is absolutely no justification for this. Secondly, you missed a pretty big con on the Surface Pro X side. There are very few apps in the Microsoft Store available for this. For example, there is no Salesforce, no Concur, etc. As a business user working in the field, I can't use the Surface Pro X for productivity in touch mode.

"There are very few apps in the Microsoft Store available for this."

Apps don't need to come from the Store for the Surface Pro X, so I don't understand this point? This isn't Windows RT or Windows 10 in S Mode, it's regular Windows that can install x86 32-bit executables like Steam, Chrome, etc. that you just download from the web. If Salesforce or Concur only have 64-bit options, that's an issue, but usually enterprise apps still have 32-bit versions due to support for Windows XP systems. Salesforce for Outlook should certainly work.

"Microsoft is charging $300 for a storage bump"

That's true of ALL Surface devices, so while accurate, it's out of the ordinary no unusual for the Pro X. Second, you can literally upgrade the SSD yourself with one screw, making the point moot for many.

"That's true of ALL Surface devices, so while accurate, it's out of the ordinary no unusual for the Pro X. Second, you can literally upgrade the SSD yourself with one screw, making the point moot for many." This is why I haven't bought any Surface, along with the fact they don't have modern ports for docking stations. So with the Surface Pro X, you can now replace it, if you can find an SSD in the correct size. But even then you are still paying for the drive that comes with the device, and the replacement one. Microsoft must change their pricing on storage upgrades to be competitive against iPad Pro.

I didn't know that these business apps (they sound important to your line of work) aren't available for Windows. That is crap. In your case you'd have to go iPad, I guess. For me and my wife, the Windows Store and x86 have everything we need. For example my wife uses Citrix when working at home, and I use statistical software downloadable from websites. In both cases touch-first is no good - we'd need a keyboard and a mouse/touchpad to get anything done.

It's true that it's expensive for the average consumer, not the company that uses the Office. Why would the average consumer choose the iPad? Simply look at the apple logo and buy the product? Apple has been working hard for almost ten years on the iPad.
That's a lot of high quality apps in the App Store. Students use learning applications to study and artists can create their own works, attracting more users and gaining popularity. So why are we using Windows??
You can do whatever you want, and you can run most programs. You can do whatever you want. But what about Surface Pro x?
32-bit programs Why not run and even run things are unstable.
The benefits of Windows that you can do whatever you want are gone. Most importantly, it's $ 300 with capacities ranging from 128gb to 256gb.
Is this a normal price? Surface pro x is very expensive compared to the available work. Especially for the average consumer.
Why do you put a shield on this product?

"Why do you put a shield on this product?"

Because there's no other device on the market like it and delivers value for me and others. Period. I don't get the rest of the complaint: it runs 32-bit apps just fine. They're a bit slower at first, but they run fine. I run half a dozen games from Steam on it with no issue. I run Office, a browser (Edge, Firefox), email, photo editor (Affinity), Slack/Teams, Skype, Telegram/GroupMe, Twitter, AirTable, Mail/Outlook, Gmail. like what am I missing that makes this experience so bad? I have a dozen laptops here and I still choose the Pro X, so care to explain that if the experience is so awful? Everyone cites "Adobe apps", which at least we know will get support (eventually), but I don't run Adobe apps, so 🤷‍♂️

But don't you know? If some hipster tech blogger can't run his precious Adobe apps, the product automatically sucks lol /sarcasm

What makes it so bad is your attitude. I'm glad you: "... have a dozen laptops here and I still choose the Pro X, so care to explain that if the experience is so awful?" But that's not reality for most people. Many people have a Desktop or a Laptop, maybe both... and they want somethign that is more suitable for on-the-go usage. So, they can't just say "ugh... this Surface Pro X doesn't run the apps that I need, I'll just pick up Laptop #8 that has 11 hours battery life to and take that with me, instead." They have to make a choice. Either they spend $1K on a Surface Pro X, or they spend it on a MacBook Air, iPad Pro, Dell XPS, or some other machine. In that situation, the Surface Pro X is the worst choice. If you'd care to let me know why a Surface Pro X is worth paying $1,299 for over a MacBook Air, iPad Pro, or Dell XPS, then please... attempt this feat. I'm not buying it - pun intended... Not everyone is living in your world, where they are allowed to make compromises because the costs of those decisions are minimal to them. They have to take these limitations more into advisement than you do. Some people spend a whole year saving up just to make a purchase of this cost. Making the wrong decision (and then sticking with it, because of what some blogger says) is a huge financial and productivity blow to them. And they certainly aren't running a fan blog, so they tend to be a bit less biased (everyone is biased, so don't take offense - extent is what matters).

@n8ter#AC Excellent post. Well said.

Not all programs like 32-bit support, security programs for frequently used sketchups, banking, and electronic management. I don't know now, but if you continue to draw lines in
DrawboardPDF, there are bug that break. I know each person's point of view is different, but I'm skeptical that the $ 1,000 is not expensive for an unfinished product.

"Not all programs like 32-bit support, security programs for frequently used sketchups, banking, and electronic management."

Which ones? And can those apps also run on the iPad? Banking is just through a web browser, so I really don't get that point. Microsoft even admits 50% of all actions on Windows 10 desktop

is through the web browser

. That's why new Edge is so important.

"DrawboardPDF, there are bug that break."

I use Drawboard PDF. It works as expected on the Pro X just fine. Even not, new Edge has PDF markup built in saving you the $12.

" but I'm skeptical that the $ 1,000 is not expensive for an unfinished product."

Right, that's

your

experience as I mention at the beginning of the article. I personally feel the same way about all iPad Pros - too much money for something I don't get a lot out in return. But I don't think that for

all

people as I know there are many who

do find value

in the iPad Pro even though they still have a $2K MBP to use for "real work". If the iPad Pro could replace a MBP, well, we wouldn't be having this discussion. My point, simpler: I don't see the difference between buying an iPad Pro 12.9 + a MBP versus buying a Pro X and a desktop. In fact, I'd argue with the Pro X for many users you don't need to buy a "real" laptop unless you're doing gaming or video editing.

Mobile Banking Apps support things like Push Notifications, Biometric Sign-In, Mobile Deposits, etc. You don't tend to get those things through a web browser, not to mention the user experience in a browser is just worse. I use mobile banking apps on a daily basis. Same for medical apps. Yes, there is a website, but the mobile app is better in every imaginable way. Biometric Signins, Push Notifications, etc. The iPad Pros are expensive, but Apple does develop their software a bit more aggressive for their target user base (which is a bit narrower than Windows, IMO). Aside from that, even the Surface Go is overpriced compared to cheaper iPads, which can be had as low as $329 for a 128 GB Storage device that has better battery life, a better display, better cameras, and a far superior app ecosystem with Pen 1.0 and Apple Keyboard support. People need a real computer for a lot more than "Gaming or Video Editing." What you're stating is more of a cliche. Even if we take that statement of yours seriously, there are far more superior media creation apps (Video Editing, Music Production, Graphics Design, etc.) that run native on the iPad, but would require emulation (or not run at all, cause 32-Bit) - assuming they're even available - on the Surface Pro X. The iPads are just better, for practically everyone, than this machine. I'm not even sure why they saw fit to release a device like this in 2019. Available on iPad: - Cubasis (Not Available on Windows - Cubase Elements $99 and only 64-Bit)
- FL Studio Mobile (Need Full FL Studio on Windows - $199+ - assuming they still ship a 32-Bit build)
- iMovie (Not Available on Windows)
- GarageBand (Not Available on Windows)
- LumaFusion (Not Available on Windows)
- Affinity Photo (64-Bit on Windows)
- Affinity Designer (64-Bit on Windows)
- Adobe Rush (64-Bit on Windows)
- Dartfish Express (Mobile App not Available on Windows)
- Coach's Eye (Not available on Windows)
- Notion 6 (64-Bit on Windows - Mobile App not Available) The Surface Pro makes more sense at this price point. This has too many limitations, and even its ability to emulate Windows applications comes wiht some serious implications considering the time period in which this software was released. A lot of developsers simply are not developing for 32-Bit Windows, anymore, and they aren't going to go back to add support for it - considering the product would be crippled in performance anyways. UWP never really got its mobile app ecosystem off of the ground, which is the biggest hurt to this device. If Microsoft's store had a UWP app ecosystem half as good as Apple's, then the value proposition would look a lot better for a device like this (and the Surface Go, for example). It basically would have been the iPad Pro of Microsoft's lineup... But it isn't, and this really limits how you can use the device - unless you're the type of person who would do "just fine" wiht a $300 ChromeBook, in which case... why are you wasting $600+ buying this thing?

Mobile Banking Apps support things like Push Notifications, Biometric Sign-In, Mobile Deposits, etc

That's interesting, but would you make the same argument against using

every other Windows 10 laptop

on the market? Because none do what you say either, not even MacBook Pro.

"The iPads are just better, for practically everyone, than this machine. I'm not even sure why they saw fit to release a device like this in 2019."

Not for Microsoft Office, not for using AD, not for using in my lap and on the-go with a keyboard and trackpad. I'm not going to touch the screen 200 times to write, edit/upload photos, and do basic tasks. Have you actually

tried

to use an iPad as a laptop replacement? I can't do it, it's terrible. Typing is worse, the kickstand is worse, navigation is worse, file management is worse, even connecting up peripherals is worse. These are not opinions, they're indisputable facts and limitations (currently) of iPadOS. I've long said once iPad gets mouse/trackpad support it WILL be a threat to Surface. That was one year ago.

"Available on iPad..."

I don't use/need any of these, so why is an iPad better for me? 🤷‍♂️ I write, use the web, use Office, Slack/Teams/Skype/VPN/Groupme/Telegram/take notes/OneNote. I do all of that without having to re-learn or buy into an iPad which can't replace my laptop. The Pro X

does

replace my laptop.

I can list dozens of windows programs that wont run on a iPad -- just because you cherry picked a list of programs that most people will never need doesn't make the iPad a better choice.

Typical GD Microsoft computer, can't get the sound to play. Is there any system WORSE than a Microsoft system? I think not.

Logic ---> Internet = Kaboom! 😉

It's definitely too expensive, when you can get a MacBook Air (or MacBook Pro, for that matter) at the same or cheaper cost. Those are basically just as portable (esp. the Air) and get great battery life (ditto). Apple has iPads as low as $329 for 128GB Storage, and they perform quite well for these mobile'ish things while delivering good battery life, and have compatibility with the 1st gen Pencil and Crayon. This is basically Surface RT 2.0. Chromebooks are irrelevant when your'e at this price point. You can get a real laptop (MacBook Air/Pro) with great battery life for less or equal cash investment.

You can compare the Pro X to the iPad Pro, but that model is really just a luxury version of the base iPad. A $329 iPad has pencil support, runs all the same apps, and will integrate with a keyboard. Microsoft not having anything to compete with the iPad is the issue. Without value machines driving a user base, Windows on ARM will struggle to gain users and will never be taken seriously by developers. With 10X not launching on cheap ARM devices, the same issue will occur. You don't start at the top, you need to build a base before you can justify making uber expensive luxury machines.

"A $329 iPad has pencil support, runs all the same apps, and will integrate with a keyboard."

Then I'd compare it to the Surface Go. Let's stick to the topic here. Comparing a 10.2 inch device to a 13-inch one severely misses the friggin point. There's a reason why I choose Pro X over my Go.

" but that model is really just a luxury version of the base iPad"

You literally just described every higher SKU of every bit of technology that has ever existed. This is not insight. Let's try with the Pro X:

"but that model is really just a luxury version of the Surface Go with LTE"

This is not an argument, it's obvious.

Surface Go isn't ARM and it also is overpriced for the lousy performance it offers. It is an old school, legacy Windows laptop. It doesn't really count as a new platform like Surface Pro X, Chromebook, or iPad and doesn't feed into this discussion. The Surface Pro X is overpriced. It isn't a value proposition, it is a luxury machine like an iPad Pro. There is a reason you are the only one arguing differently. As is, it should start around $500. Apple can start their iPads at $329 do it, why can't Microsoft even get in the ballpark?

Apple can start their iPads at $329 but to get a better processor, more memory, better screen resolution, and LTE, to get it to the state of the ProX, you have to add a few bucks. MS doesn't make a lower end ProX, because there isn't a need for it. Want a cheaper Windows PC, ther are plenty avaialble, from MS and others. Want a cheaper iPad than a Pro, well, it wouldn't exist if Apple ddn't make it. It would be the same argument dismissing an iPhone vs Samsung Galaxy comparison by noting that Samsung makes cheaper cell phones, why can't Apple.

There absolutely is a need for a cheaper Pro X. Building a user base. Without a strong user base, WoA won't be around long.

Considering the heavy requirements of containerizing win32 applications I don't think a "cheap" ARM Windows device is actually possible (while being relatively as usable as an iPad is). Is it?
And if we're only talking about looks and size (10" vs 13", narrower bezels, etc), maybe the Surface Go 2 will provide all that with an Intel processor, thus becoming the true "cheaper Pro X". Until then, Pro X is indeed expensive, but not too expensive -- this is my opinion, a personal and non-enforceable one so to avoid fights :).
I guess we'll see where this goes.

You seem rather defensive Daniel.

Because he is the only blogger defending this over-priced machine. This article is in response to a recent piece by The Verge where they say the Pro X makes for a great Chromebook but it is overpriced for that role. They continue to not recommend the Pro X.

Bleached, I can speak for myself. You're not my representative.

If you're surprised I'm engaging with my audience then you would be forgiven for not knowing this what I've been doing for the last decade ;) I enjoy spirited discussion and defending what I say.

Daniel, sorry but I'm not with you on this one.
You are defending the Surface Pro X against iPads and Chromebooks which both of those are running operating systems designed for the hardware they are on. Both of those have full app ecosystems that perform respectfully for their hardware. Give good valid reasons to buy the Surface Pro X over other Windows tablets, convertibles, 2 in 1's. Because as of now Surface Pro X fails pretty bad at its price point with the other options out on the market.
It has almost zero true "tablet" or arm apps worth a spit and it runs Windows apps poorly. The battery life really isnt even that great.

"iPads and Chromebooks which both of those are running operating systems designed for the hardware they are on."

And both fail at a certain point for getting real work done, which is why few people only use an iPad or Chromebook 100% of the time. How is that any different than the Pro X? It's a double standard.

"Because as of now Surface Pro X fails pretty bad at its price point with the other options out on the market."

Surfaces are never the best value option for PCs. The Pro X is no different in that regard to the Pro 7, Laptop, or Book. I'm not sure why that is being brought up here as if it's a new, differing point for the Pro X.

Surface Pro X can't get that "real work" done either. That is, work you need a Windows device worthy of the "Pro" moniker. Work that is best done with a discrete GPU. Anything beyond pedestrian office and email apps (your stated workflow) and it falls on its face if it can run them at all. When that "real work" presents itself, you don't want to be sitting in front of a partial Windows machine like the Pro X.

"Surface Pro X can't get that "real work" done either."

Of course it can. It's a PC.

I brought that up because its exactly my point.
The Surface Pro X fails against its own siblings much less the competition. You can buy a Surface Pro in a cheaper configuration that absolutely does every single thing the Pro X does (outside of integrated 4g) better!! The Surface Pro X fails all the way around.
Comparing it to iPads and Chromebooks its performance is poor and its apps ecosystem stinks.
Using it to get "real work" done can be done cheaper and more effectively with its own sibling the Surface Pro. Lose lose for the Surface Pro X.

"You can buy a Surface Pro in a cheaper configuration that absolutely does every single thing the Pro X does (outside of integrated 4g) better!!"

That and the longer battery are life are the main reason why you buy the Pro X, that's it. I'm not sure what point you're making here. If you don't need longer battery life or LTE, then you get the Pro 7. This isn't rocket science. It's obvious. The point is choice: give people a choice to buy it. Just because it's not for you, does not mean it's not for someone else, period.

I see, recognize, and consider your point entirely valid. But you are the one that wrote this article complaining and asking people to stop claiming this is too expensive. Then you went into a long drawn out defense of why its a good product that is not overpriced. So yeah the point is choice and it is good there is choice for the consumer. It still doesnt mean the Surface Pro X isnt too expensive.
The proof will be its failure in the marketplace. Of course your opinion may think its not but unless this product is a sales success then your opinion will be in the minority.

I felt this was a good article, but the comments have been attention grabbing. Man, I haven't seen so many people champion a cause against a product line. It's like the Surface is on the other side of the MeToo movement or something. It's been that way since its inception. I remember that cheesy dance-centric commercial for the original Surface. I don't know if you could have braced for the proverbial "beatdown" from the media and blog community that followed. It's even more hilarious now as I watched some of the Apple ads we have the "pleasure" of witnessing - pointless eye catchers in the vein of the original Surface ad. So funny. I have iPads, MacBooks, Surfaces, etc. I'm using a ProX as my everyday computer. It is fantastic! I was initially skeptical, but now, I'm not sure why this device was, for lack of a better word, "slammed" by the tech writing community. I tend to agree with Daniel on this one: everything doesn't fit everyone or every purpose driven role. Some of the rebuttals are so asinine and foolish that it has to be deemed hilarious. One guy brought out that Apple didn't design or aim the iPad at running PC applications... as a positive.... LOLOLOLOLOL!!!! He basically praised Apple for making him buy 2 devices and giving them more money than Microsoft did, while commenting on an article about Microsoft overpricing the Pro X. Meanwhile, I'm sitting here using my Pro X as my single, all in one, get it all done device - tablet and all. Might not work for everyone, but I don't care.

Microsoft would have been better served to just let the Surface Pro X quietly fade into history. This article is poking the bear. The "Streisand effect" of tech.

"Microsoft would have been better served to just let the Surface Pro X quietly fade into history. This article is poking the bear."

People lamented Surface Pro 1 - 3 for many of the same reasons as the Pro X: price and questions of usefulness (vs a "real" laptop).

Why don't you save whatever credibility you have left for Surface Pro X v2?

Once you bring up Apple, even in a relatively fair and even comparison, you can expect the crazies to come out of the woodwork.

As a heavy 10" iPad Pro user (app ecosystem, one note, web) then actually having that device makes me more likely to want a Surface Pro X. I could happily carry both at once (I'd ditch the ipad keyboard case and use it purely as touch in that scenario, its already a sunk cost for me). iPAD OS just doesn't cut it for me enough to justify the 12.9". The main thing stopping me on the X is actually the screen, I'm disappointed it isn't brighter as I really love using the iPad outside in the warmer months. If they updated X with an iPad class brightness then I'd probably go for that rather than upgrading my iPad this year. I have a suspicion we won't see that this year though and as my iPad Pro reaches 3yrs old will the latest iPad Pro take my cash?
(Note, my primary work x86 laptop has to be my corporate one, hence not looking at say a Dragonfly 1000nit)

It is almost like having choice of use case is a bad thing for some and must be stamped out at all costs... It's not as if any other market for the same price points allow for choice and/or preferences e.g. Cars, food, games, TV shows/movies. The tribalism in tech is objectively absurd and hilarious.

"It is almost like having choice of use case is a bad thing for some and must be stamped out at all costs.."

That's a very good point that I should have made. Choice is important. If I prefer Windows 10 to iPadOS, that's fine. The question is then do I have something iPad Pro-ish to now buy? With the Pro X, I'd say yes. It's not a 1:1 but the reverse is true too for iPad. None of these devices do it all or are perfect.

That has certainly been my experience... For example, the ProX is a perfect option for my company. Light, fast, good battery life, Windows, and quality build that looks sharp, it ticks all the boxes for us. Now, were we to require something outside of the feature set or for a different user case, then it would not be the right device. Which is to say, that doesn't make it a bad device, or inappropriately priced for the target market. Not at all, just the wrong tool for the job, thus does not appear a balanced exchange of value. Maybe some people just want their opinion to be right, without realising there is no right opinion... Just ones that are different.. Unlike sports of course... The only right sport is rugby union. And I'll argue that with anyone who says different!!! /s

Daniel, Daniel, Daniel;
There you go again, using FACTS in a Religious Argument (Microsoft vs. Apple.)
Don't you know that "Microsoft SUCKS, man", and "Apple is for the Superior People who can afford it"
You know, like the "Ford Edge vs BMW X5" arguments. It's all about cultural identification, not anything boring and rational like FACTS.
Geeze Daniel. It's like you do this for a living or something...........man.
(Great article. Keep up the good work.)

Well said Daniel, unfortunately some people completely forget the extras they have to buy for an ipad pro. It's like all their braincells go on vacation and all common sense goes out the Window the moment they see the Apple logo lol. I have come across a few people who say they use the ipad pro for real work - which is hilarious. Primarily because they are often hunched over that itty bitty keyboard and whilst cursing under their breath whilst trying to tap the small ux elements in citrix viewer / receiver lol... which is being used to remote into... a windows 10 session... lol..🤦‍♂️ When pointed out that they could have just bought a cheaper laptop instead... they just scoff. What makes it even worse is that people who are in charge of IT policy these days have zero experience with Windows tablets. Which makes sense after all Microsoft literally shoved the tablet experience into the ether - this is the hole they dug themselves and now they have to climb out of it. Therefore all these IT folks are now handing out ipads and android tablets which are functionally useless and highly inefficient. As these tablets are used primarily as a dumb terminal / dumb screen as they are only locked down to solely use citrix receiver to remote login into a virtual instance of windows 10 in desktop mode *facepalm*. So you can imagine the frustration when they trialled it in the office in lieu of laptops for remote working. Plus they where trying to force everyone to use chrome as well 😅and here is another real world example - my course provider solely uses chrome and has locked out every other browser by policy on every single pc on the campus. Even for web design classes where browser interoperability should be a key focus - this is setting an appalling precedent for web standards as students should be taught about web standards and browser interoperability. Speaking of college - I have used a chromebook a few times and it was functionally useless for proper work. The only use cases for chromebooks is media consumption and basic productivity (thanks to MS Office) otherwise the entire chromebook line up is as useful as a paper mache umbrella in a hailstorm in my opinon. Windows on ARM would make a massive difference for remote working especially with LTE. What baffles me why Microsoft has not been able to get Mediatek back on board? Because if they were able to do so that would open up a very budget friendly avenue for WoA. Perhaps it's the poor tablet UX holding them back?

Sounds hilarious lol. I did see someone recently with a Ipad Pro at work, was amazed how big that screen was (probably because of the 4:3 ratio). That being said for work I agree, you might as well get a 2-1 Windows laptop if you want that pen experience (for work a good touch pad is in general way more important anyway than touch input).

Daniel, why do you even try to make this point? This is called the price function, utility, or bang for your buck. The larger question is the value of the ecosystem you receive when you buy the Pro X or the iPad. Are you an iOS user or a Windows user? My wife and kids use an iPhone. I use and Android--a former Windows Phone user. Why is iOS more "valuable" than android? Well when my wife went to a third world country with spotty wifi access and even less cell phone coverage, she could still text and face time with her kids. But she really could not communicate with me reliably for about 2 weeks. She and my daughter have apple watches. My wife said if I got an apple watch (I have never worn a watch) then we could compare our workouts. Sure. That is the value you receive when buy into an exosystem. The device is the mechanism you need to join the exosystem. The same argument can be made about cars. Do I buy a Chevy or a Cadillac? A ford or a Mercury? A Honda or an Acura. A sports car or an SUV? Your choice of transportation is driven by your need for utility. But with information systems, there can be big differences in what you receive from the ecosystem within which the device operates.

"Daniel, why do you even try to make this point?"

Because judging by comments here it's clear people don't understand the difference between value and cost. That and why someone would prefer to stay in the Microsoft/Windows ecosystem vs. switching away to iPadOS.

The ecosystem thing is kind of overrated though. It is usually not the difference between being able to do something or not, but instead being able to do something slightly simpler or easier at costs of making yourself dependent on a company (in this case Apple). E.g. in the watches case you might as well have just talked about your workouts or send a screenshot or emailed the data or whatever. So in the end it is slightly more convenient but you also pay more and sacrifice choice (since you need to buy an Apple device vs picking whatever is most interesting at the time).

The fact that I need some Win32 apps (which happen to be 32-bit) for my work as a freelancer are why I have generally been using Windows devices over Chromebooks and iOS ones. That is the only thing tying me to the Windows platform and I don't mind; it's a great platform with excellent apps. I could even make do with the Surface Pro X because in MY SPECIFIC CASE, it would work. If it didn't run an app I needed, I would opt for something else, simple as that. No need to criticize people who do purchase the Surface Pro X. We are all spoiled for choice when it comes to computers nowadays. My second choice would have been a Chromebook, but I honestly think the hardware is too.."low-grade" (unlike the Surface line) and the Pixelbook is too outdated. Samsung is releasing some new 4K ones, but I feel at home in Windows for now. It just "works".

The usual anti-Microsoft trolls will be here posting, (bleached) cough cough.

It is over priced, there really isn't an argument to be made to the contrary. $1500+ for a partial Windows experience is way too much. The performance of the Pro X is worse than your standard $500 laptop. This really shouldn't be controversial. The Pro X, like the iPad Pro, are luxury devices. They aren't meant to be value oriented.

Surface Pro X is cheaper than iPad Pro 12.9. That's the argument, I made it, and it's 100% accurate. You bring opinion, not facts.

Those 2 CONS for the X are show stopper whoppers though. Until x64 runs better there's no way I'd take a chance on it in my business.

For me comparing this device with the Surface Pro line with Intel is more relevant. Although relatively the price matters less. I do think the hardware is gorgeous as usual with Surface. But I still find the software controversial and similar issues with early surface on arm 7 years ago is too similar, with worries about software support longterm. The is an more solid ecosystem on Windows for Intel (legacy). The software on arm is still too fresh, young and no certain outlook for the future. It also reminds me the rough road map of windows phone, and the way its developing now still has a similar feel. It has meaning, but remains niche and a gamble for future servicing. For that uncertainty, although at first sight a complete package deal, has worrying longterm vulnerabilities below the surface in the long run. For that I think the pro X with current OS design and software is controversial for the price. It might be very well be subjective. It might be the right price as a pioneer device. Grounded in reality and experience I think longterm validity of value and support I do have doubts about the price. It has been a tough road for Windows on Arm to get enough developer engagement to increase the value beyond the top used apps. Even those have been on shaky ground over the years. Lagacy seem to hold the test of time, even renewed interest from Microsoft. Developer support still feels like an afterthought despite best intentions from Microsoft. I don't know what will help other than high stakes incentives, from Microsoft, to keep the project afloat. My experience is that surface on Intel retains its value and support better over time. Within work I see an increasing onbewust in investment for surface Pro over ipads. Most ict systems are windows based. Compatibility, communication over troubleshooting is more clear with Surface on Intel than an ipad. From colleagues I hear that the screens are a better size for reading than the ipad.

I have some key x64 software that I need to run and also some USB devices with 64bit drivers. These do not have 32bit equivalent version that I'm aware of. These are music production stuff. For this reason alone, I would not buy the Surface Pro X. The 2-in-1 design of the Surface Pro X and Surface Pro 7 should be for people that want to use Windows in tablet mode at times. I don't see the point of getting that type of form factor desing if you only use it with a keyboard. In my opinion, the Surface Pro X and Surface Pro 7 are too big and heavy to make a good tablet. The Surface Go though is a just right as a tablet. My Surface Go is one of my most beloved computing devices. I use it as a tablet about 50% of the time and 50% with keyboard and it replaces a lot of what I would use a phone for at home simply because it is more comfortable to use than a phone due to the bigger screen. We use the Surface Go as a reader, watching movies, and cooking. Its size and weight are perfect for this. The Pros are too big and heavy to be a tablet. I also have a 2.9 lb HP Spectre that is a 2-in-1. I never use that as a tablet because it is too clunky and heavy, though I could. So this leads me to say, I would get a Go running ARM given the limitations of ARM today. I do not use my Go for music production. It would be fine on ARM for what I use my Go for.

Oh, and by the way, putting the pen in a keyboard slot is the dumbest idea ever. I never use the pen when I have the keyboard. I only use the pen when I use the Go as a tablet. And when I use the Go as a tablet, I set the keyboard aside. The Go sets in our kitchen in tablet mode with the kickstand holding it up and pen attached. The keyboard is detached but nearby so can be grabbed when needed. The pen going in the keyboard would ruin this.

I am 95% of the way to buying a Pro X. I have filled my Microoft Store cart so many times, but I just can't hit Buy. What's stopping me? A similarly specced Surface Pro 7 is cheaper and more powerful, also has instant on, and its battery life is not that much shorter. This, to me, is the Pro X's biggest competitor. Sure, the SP7 doesn't have LTE and it's not as pretty. I just wish Microsoft had made the Pro X pricing a no-brainier compared to their own SP7. The current price cut helps, but I'm not seeing it here in Australia.

All I can say is maybe try it? MS has a very good return policy. No other way to know if the drawbacks affect you.

I usually support you... it in this I can't. When I device that's essentially got the same performance as it's little sibling (surface go) for 3x the price, and can't event run most apps creatives use (or if it does it runs the cripple old 32 bit versions)... it not worth the price. With that screen size and those specs I could maybe see at most $699 starting price.

"When I device that's essentially got the same performance as it's little sibling (surface go) '

That is not even close, sorry. I posted the benchmarks in the review: Device| CPU | Single core | Multi-core Surface Pro X (ARM) | SQ1 | 3,505 | 11,727 Surface Pro X (x86) | SQ1 | 2,182 | 6,822 Surface Go | Pentium | 2,078 | 3,934 Even on x86 emulation the Pro X beats a Surface Go

especially

on multi-core because the SQ1 is 8-core vs dual-core of the Pentium chip. When you get to ARM64 apps like Edge the Pro X will destroy the Go. Where are you getting your information from anyway?

Nobody needs this thing when you can but a Huawei matebook e signature with a fanless i5 for less money. Technically on a higher lever.

Matebooks aren't used by gov't agencies nor those using sensitive data, and that device is nearly impossible to buy outside of China. It's also significantly slower in performance. A SQ1 in the Pro X is faster in emulation than the 850 is at native ARM performance. The Core m3 variant will actually get similar performance, not better because it's still dual-core vs the 8-cores of the SQ1. But regardless, no one is buying Matebook E in droves. The point of this article was not are there cheaper PCs than the Pro X (that's true of ALL Surface devices), it was a price comparison against iPad Pro X and Chromebooks.

I can see that all the naysayers here are obviously NOT the targeted customers for the Pro X, which is fine, no one is asking you to buy it, and I would not personally recommend it to you knowing your user case. What you guys need to understand, is that there are people who FITS the Pro X user case, and are most happy to buy and use it. Live and let live. The Pro X user case doesn't care about whether the Pro X is able to run Photoshop, Light Room, Premiere, or AutoCAD simply because he don't use it. And these are the same users that are already buying Ultrabook at these prices running exactly the same software, i.e. Office 365, browser, Netflix, Slack, Spotify, but without LTE and long battery life. So to them, this is the value add they are buying into hence the Pro X make sense. A corporate laptop is the best scenario for business executives. It's lockdown and the user can't install his own software. And the job nature will never require Photoshop, AutoCAd, etc, but LTE and long battery life will be a Godsent. You guys seem to suggest that if I buy an Intel version that can run all the creative stuff even though I will not be using them at all, and live with the inconvenience of no LTE and short battery life, I am a smart consumer.
But if I buy the Pro X knowing I will not use any of the Adobe/AutoCAd stuff wanting LTE and long battery life instead, then I am stupid ?

That is all great, but it doesn't change the fact that the Pro X is over priced. The performance afforded by the machine doesn't make sense at $1500+. At $499 this would be a much different story and reviews wouldn't have been so poor.

"That is all great, but it doesn't change the fact that the Pro X is over priced. "

But you're wrong on that. It's expensive, not overpriced.

"The performance afforded by the machine doesn't make sense at $1500+" You're missing the point. I said the Pro X user case uses Office 365, browser, Netflix, Slack, Spotify, i.e. light computing, and they run very well. More so if they are ARM64 native apps. This is evident from reviewers running ARM64 Edge Chromium who initially trashed the Pro X on their first review running the emulated Chrome. If you keep insisting your non-Pro X user case on the Pro X then of course it will never work. And I would gladly recommend you to go for the Pro 7. The problem I see is that we understand why the Pro X is not for your user case and rightly accept it, but you guys can't do, or flatly refuse, to do the same for the Pro X user case, insisting that the Pro X must meet your user case. I rest my case.

Why are you comparing it to Apple products? Almost all their hardware is (and has been for years) toally overpriced! Look at HP and Lenovo: they have hardware way cheaper, and with better specs. I bought a Lenovo Ideapad Flex 15 with 16 GB RAM and 512 SSD for $1050 CANADIAN! The same spec'd Surface is CDN $2700!

Because saying a Surface device (Laptop, Pro, Pro X, Go, Book, Studio) is more expensive then other Windows devices is not new. We all know that. That's boring. Also, my point still stands: there is no other PC out right now that does all the Pro X does for specs/features and design.

You are comparing relatively cheaply build devices vs premium devices. The Ideapad is Lenovo's lower end, a Yoga 940 or Thinkpad tablet is a better comparison. While the Apple/Surface devices might not be build like e.g. Thinkpads or Precision laptops, you most likely get a lot of advantages (better screen, better speakers, fully metal casing, better input / touchpad / pen etc).

Not convinced. It's hard to defend a product like Surface Pro X, its just a confusing device. Battery life isnt stellar either. It's better to just get the Surface Pro.

" It's better to just get the Surface Pro."

Unless, like me, you need 4G LTE and to be always connected. Again, you miss the point of the Pro X.

Daniel Rubio to work for every tech website's Windows team. And fire rest.

You want all your Windows news to come through rose colored glasses?

My thoughts, opinions and insight are much better than yours.

I think the Pro X is a great device and it is the only one of its kind if you need the form factor and LTE and it fits your use case. My main concern is whether MS has the stamina to make WOA a success if I am going to spent top dollar for a top spec WOA Surface device. Even now, I read with horror that the Surface dock cannot be updated with the Pro X. And that the new Edge is already available for x64 but still in beta for ARM. What should that even be the case, especially when the Pro X is priced at this level. In a few years time, I am 100% sure a x64 Surface will continue to be supported and works. I am not so sure whether that will be the case with the Pro X. A case in point, the Surface Pro 1 continues to work well with Windows 10 and the new Edge browser, while the newer Surface 2 is stuck at Windows 8.1 RT with IE11 that no longer work on many websites, including this one.

The answer to this article is SURFACE GO WITH LTE. Basically, the SPX is another GO with better hardware but poorer (worst) software than the SGo

Have you tried using a 10-inch laptop vs 13-inch one? I have and do. It's not the same experience. Otherwise, companies would only make 10-inch laptops. Choice is good. Why you are against choice for consumers is something I find baffling. Battery life on Pro X is also about 50% better than Go with LTE and the Pro X has a much better display.

If you put the Surface Go LTE internals (updated to the new ULV 1oth gen parts) into the SPX case, and filled the rest with batteries, wouldn't that seriously close that 50% battery gap and give you 100% compatibility? In fact, one of MS's lead engineers did a video back when Surface Go was launched explaining they went with the Pentium Gold part so as not to have compatibility/performance sisues versus ARM. Check out the 4:00 minute mark: https://techcommunity.microsoft.com/t5/surface-it-pro-blog/behind-the-de...

1300 will buy me a pretty powerful Sager laptop with a fine graphic card... The Surface pro x blah blah will give me a weak office machine.

This is 100% completely irrelevant to the discussion.

they can be too expensive while not being too over priced

Surface Pro X is an IQ test dressed up as a 2-in-1. It is meant to test the ability of people to think outside their narrow "self-space" and it is clear that some are receiving a failing grade, especially when the iPad Pro is clouding their view and the x64 compatibility come to light. I don't think it is particularly hard to figure out the Pro X: It is a a Surface Pro 2-in-1 for mobile use (it could very well be named Surface Traveler Pro) with long battery life, instant-on, modern standby and LTE always-on connectivity as the key USP paired with full Windows 10. Since this is a Windows 10 PC, the "lack of apps" argument is downright amusing considering the wealth software available together with the simple and obvious fact that it isn't a consumer device meant for consuming content - it is a "mobile PC". If all you want is some consumption through a Netflix app and playing some games or using "apps" in general, go and get an iPad. If you want a mobile PC with LTE, the Surface Pro X and Samsung Galaxy Book S comes in handy. I just don't see what "apps" can do that I can't do on a PC and it include banking (and no, I just don't buy that argument about biometric log-in to the app as a major benefit when PCs offer biometric security and provide superior encryption solutions et al). Having a lot of notifications from different apps just drive me crazy and make me turn them off. Nothing make me more annoyed than having apps constantly asking for attention. Since the Surface Pro X offer full Windows 10 (which I very much prefer over Android, iOS and iPad OS - three systems that I just can't stand nowadays because they are too locked down) and can run most applications I would always go for it over an iPad.

Can somebody, please, mention whether this device is good for entertainment. Things I am specifically interested in are:
* whether it is treated as the 'tablet' by the Kindle, Nook and such or as the 'PC'. Usually you can read periodicals on the former, but not on the latter.
* whether it is treated as the 'tablet' by Vudu and the like. You cannot get ad-sponsored movies in the app on 'PC', you need to use the browser for that. I think the whole 'tablet'/'PC' difference in treatment by the vendors is missing from Pro X/iPad comparison.

Absolutely Love mine. Exactly what I wanted. I'm sure the next iteration will fix some of the things others care about. But I don't game and I don't care about photo editing software. I have forever used a laptop with LTE. They are A) just a few choices available with lte. B) they aren't "always on" and if you do that the battery goes to hell. C) the LTE connection doesn't connect half the time so I spend 5 minutes trying to figure out why they won't connect.
With my X I just open it up and go. Wherever I'm at I can take care of my customers in an instant. Pull Office files down and edit anything. Wouldn't trade this thing for any other PC, tablet

I will not speak for everyone here but I would definitely buy one... once my trusted Surface 4 Pro gives up the ghost. I am usually an early adopter, so I get it. But not everyone does. I buy my hardware fully loaded so it will stay relevant for years to come. Is it expensive. Hell yes! Can I afford it? Not really. But I've been burned too many times in the past with so-so alternatives and figure buying quality upfront pays off in the long term. Plus outstanding Microsoft warranty. I run my Surface dock for work purpose using a multitude of work related software. Tons of audio/video conferencing/ remote work etc.. plugged to a surface dock with two extra large monitors. It works just fine. I don't do gaming, so I don't care about the extra oomph. I take my surface everywhere on the go and use it extensively without the keyboard and ink every day. I would love the LTE the X offers. I am a big fan of multi use/purpose devices. I look forward to the day a device like a Duo/Neo will be enough for me to do everything. Just one device! Just plug it in a dock at home/work and way you go! We are a way off from this day but the Surface X is a way forward. At this point for me it misses an audio port and SD card slot. But when my Surface 4 is no longer usable I will certainly give the X a good long look. Ps. Typing this on an IPhone, have a multiplicity of Android/Apple devices. There is no way in God's green earth I would uses those for work / productivity.

I feel like this entire argument wouldn't exist if there was a base model SPX with 128GB storage, no LTE, and basically just a glorified Facebook/Office machine for $500. It'd probably be the size of the Go as well, so basically a Surface Go X. Which seems to be what everyone here thinks this is (news flash, it's not). SPX is completely useless for me, I'll never buy it, it can't do what I need it to so it's not for me. But it's no more overpriced than any other luxury tech product and anyone arguing otherwise is delusional.

Yes, it is overpriced. First of all, it is misnamed. This should be the Surface Go X. This is NOT a "Pro" device. Comparing it to the iPad Pro only proves the point. The iPad Pro - not to mention the iPhone 11 Pro, the Mac Pro and the iMac Pro - ARE top-of-the-line devices with top-of-the-line performance and features, and are priced accordingly. If you think this is a top-of-the-line device, then you are delusional. And don't give me "But the 'Pro' designation has become meaningless these days". No, it hasn't. But Microsoft is certainly going out of their way to make that happen with the Surface "Pro" X. Second, even if this WAS a top-of-the-line device, comparing it to other expensive devices is pointless. It is like saying "Compared to the BMW 740i, the Cadillac Escalade is not expensive at all!" Both are super expensive and out of the range of most buyers. So is the iPad Pro and the Surface Pro X, when there are $600 laptops and $400 iPads that will do just fine for what 90% of people need. The point is, calling a Toyota Corolla the "TC 740i" and pricing it accordingly is absurd, bordering on fraud. So is the $1300 Surface "Pro" X. You defending the price with lines like "I have a dozen laptops here and yet I choose the Surface Pro X every time" just makes you sound like a way out of touch, Microsoft fan boy. If this was a $1300 iPad mini you would be singing a very different tune. People have called Macs "overpriced and under powered" for decades. Rightly so, in most cases. Well, the Surface "Pro" X is the new poster child for "overpriced and under powered".

It's a top of the line WoA device.

That's like saying its a top of the line Intel i3 device. Thanks for making my point.

The hardware inside Pro X are top of the line, so it is expensive, but not overpriced. Your argument is basically based on software performance, but then ARM64 native and ARM optimized x86 apps run very well, no issue if you fit the user case for this machine, and that is the whole point. Instant on, always connected LTE, long battery life by itself is great value worth the extra $, again for the user case that the Pro X (and by extension WoA) is targetting. If your user case doesn't fit, even it is priced at $199 you wouldn't buy it either.

If it was priced around $900 for 256GB, I would buy it. Being Windows, that price HAS to include the keyboard. $1,300 + keyboard? No way. Overpriced. BTW, Best Buy is already dumping the 128GB version on eBay for $800.

I get you on this. To me the hardware is moot point. The deal breaker is the compatibility support.

The Surface Pro X is EXPENSIVE because they made the same mistake they made with their phone. There are few programs that work well. The 32bit emulation is slow and the experience of using emulated apps is painful at best. There are windows store apps that will run but the experience is all over the place. The pen and keyboard are expensive. While Microsoft is saying they will have 64bit emulation its performance is going to be worse than 32bit emulation. You can get an i5 Surface Pro that has none of the application emulation issues and is actually cheaper. Do I have one and do I use one, yes, for work because my company is trying to see if we should support it for something we sell. It never comes home with me. It could have been great but they once again forgot about the application ecosystem. Frankly, there is no point for developers to target ARM. There is no money to be made here. So you can do an apple-to-apples hardware comparison all you want, it is the applications that are important. For general office work and media consumption, it and the Apple iPad Pro are both way to expensive. Some people have lots of money to spend on tech and others like many managers at work get their iPad Pro's for free from the company and in both cases this may be fine. However, if I have to spend my own money I rather get something like the Surface Pro i5

Dan, it seems most tech bloggers / vloggers think everything is expensive unless it has an Apple logo on it. There's also a perception that people use tablets for massive amounts of gaming, photo and video editing. While "creators" are a nice market the reality is that there are lots of people that "create" and work on complex spreadsheets, docs, and powerpoint presentations. That need Teams and full multitasking capabilities. While the Pro X isn't perfect, I wouldn't consider it expensive for the "Prosumer" Tasks. I have an iPad and use it for media consumption and a great e-reader but there is no way I can use it to get my work done on a daily basis. Carrying a SPX is attractive because I get full Office, Real LTE, and it is light on the plane. Does it need more offline capabilities and media consumption apps? ABSOLUTELY! However the SP7 would not give me those either.
Windows Central Newsletter
Get the best of Windows Central in in your inbox, every day!
Thank you for signing up to Windows Central. You will receive a verification email shortly.
There was a problem. Please refresh the page and try again.