Surface Pro X vs. iPad Pro 12.9 vs. Chromebooks: A cost (and value) comparison
Compared to Apple's iPad Pro 12.9 and Chromebooks, the Surface Pro X is not nearly as overpriced as you may think.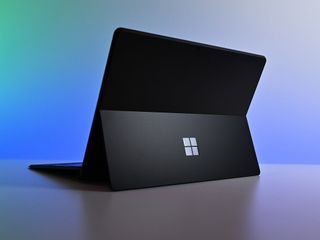 (Image credit: Daniel Rubino/Windows Central)
A hot topic when talking about technology is always cost. It's a subjective discussion with no right answer. As I recently wrote, price in tech is also fleeting; a 4K TV cost $10,000 five years ago.
But there's something that keeps bugging me about the cost complaints regarding the Surface Pro X being too expensive. Here's why the critics are wrong.
Everything should be cheaper
Before I get to the crux of my argument, let me just say I get it. Every new gadget, technically speaking, is "too expensive" for someone. In our heads, we all have an arbitrary price point that we think makes sense. Some of that is pragmatic: how much we can afford? A lot of it is just opinion: what we think said object is worth.
Some people drop $300 on sneakers and don't bat an eye, while others grab whatever is on sale for $45 and are just as happy. This question of value exists everywhere. I guarantee someone thinks you paid too much for a piece of tech you cherish.
From that perspective, when people claim the Surface Pro X should cost $500, I understand. I mean, hell, why not price it at $200 and ship it with free games? Maybe Microsoft should take a loss on the hardware and just pay you to use it?
I'm being facetious here, but my point is most people won't agree on what is a fair price — not without debate, caveats, and exceptions. With that said…
Surface Pro X vs. iPad Pro 12.9 with LTE
The Surface Pro X is often compared to two other device categories: Apple's iPad Pro and Google Chromebooks.
These are all very different devices (with different prices), but there is some overlap.
Let's start with Surface Pro X compared to an iPad Pro 12.9, since those are very similar in size, price, and target audience. For simplicity, I'm comparing the mid-range configuration for both devices with 256GB of storage and LTE.
(opens in new tab)
ARM'ed Surface

For some, the biggest drawback of the Surface Pro X is the inability to run x86-64-bit apps, which include high-end CAD apps, photo and video editing (Adobe), and some modern games. Running full Windows 10 makes the Surface Pro X more of an authentic PC experience, which is both a pro and a con for some buyers.
For
Runs full Windows 10 Home (or Pro)
Upgradable SSD
Gorgeous design
Two USB-C ports
Can use a mouse
Against
Lacks x86-64-bit software
Performance is just "good enough"
(opens in new tab)
Brilliant tablet

Much debate has occurred over whether the iPad Pro 12.9 could be a proper laptop replacement. For some, it can work. But for many owners, the iPad Pro is a supplementary device that backs up a proper computer (PC or Mac).
For
Stunning display
Superb hardware
USB-C port
Optional keyboard and pen
Amazing apps and ecosystem
Against
Runs mobile OS
No proper mouse support
Looking at the specs, we can see these are similar machines in many ways, including storage, display, LTE, and what's included.
Swipe to scroll horizontally
Header Cell - Column 0

Surface Pro X
iPad Pro 12.9 LTE
Display
13.0-inch PixelSense (2880x1920)
267 PPI
12.9-inch Liquid Retina (2732 x 2048)
264 PPI
Storage
256GB
256GB
Upgradable SSD
Yes
No
Storage expansion
No
No
Keyboard
Yes (optional)
Yes (optional)
Pen
Yes (optional)
Yes (optional)
LTE
Yes
Yes (optional)
Ports
Two Type-C
One Type-C
Security
Face recognition
Face recognition
Price
$1,299

(opens in new tab)

$1,299

(opens in new tab)

Keyboard and pen
From $270
From $329
The Surface Pro X with 256GB of storage, 8GB of RAM, with Surface Slim Pen and keyboard comes to $1,569 (though you can also find it on sale right now) (opens in new tab). By comparison, the iPad Pro 12.9 with 256GB of storage, LTE, Apple Pencil, and Smart Keyboard Folio comes to $1,628. The savings favor Microsoft by $59. That's not a lot, but you could put that towards an Arc mouse (opens in new tab) or maybe a dinner out.
Are one or even both overpriced? Maybe. But the more significant point is, if anything, the Surface Pro X is slightly cheaper – when all else is equal – than a similarly configured iPad Pro 12.9.
When Surface Pro X is on sale (like it is now), it's $1,369 with the pen and keyboard. That's $259 cheaper than a similarly configured iPad Pro 12.9. And current-gen iPads rarely, if ever, go on sale.
If you want to go nuts and max out both devices, Surface Pro X (16GB, 512GB) with pen and keyboard is $2,069 ($1,869 on sale). The Apple iPad Pro 12.9 with LTE (1TB) is $2,028 with a keyboard and Pencil.
Going the other direction the Surface Pro X base mode (8GB, 128GB) starts at $999 (on sale for $899 right now) while the iPad Pro 12.9 (64GB) and without LTE also starts at $999. Even here, the Pro X gets you "free" LTE over the iPad Pro with double the storage. In a best case scenario, it's $100 cheaper than Apple's tablet.
I won't debate which tablet is better, because that's up to you. My only point is to illustrate the cost comparison between two similarly configured devices.
Surface Pro X vs. Chromebooks
Things get more complicated if you compare the similarly-configured Surface Pro X to the entire Chromebook category. In general, Chromebooks are much cheaper.
Take, for instance, the latest Google Pixelbook Go, which starts at just $649. It lacks face recognition, LTE, upgradable storage, has only a full HD display, and doesn't support inking. But the quality is there.
However, if you go to the higher spec'd version of the Pixelbook Go, things start to skyrocket. Opting for the i7-8500Y model, you get a 4K display with 256GB of storage and 16GB of RAM (still no LTE) for $1,400. A Surface Pro X (16GB, 256GB) will set you back $1,499 ($1,299 on sale) without the pen and keyboard.
Mind you, that i7 is a seven-watt Y-series, dual-core chip, not a traditional U-series 15-watt quad-core found in most Ultrabook PCs. The Surface Pro X's Qualcomm SQ1 chip has eight cores, by comparison, though performance is more like a U-series Core i3 to i5.
Google also still sells the highly-regarded Pixelbook — considered the crown jewel of Chromebooks — for $1,200 in 2020 (opens in new tab). That laptop came out in late 2017, features a 2016 Y-series processor, and it lacks LTE.
That said, you could go for the 2018 Samsung Chromebook Plus v2 (LTE) for $600. I have this laptop without LTE, and for the price, it's decent. For $600, here is what you get with Chromebook Plus v2 compared to the pricier Pro X:
Swipe to scroll horizontally
Header Cell - Column 0

Surface Pro X
Samsung Chromebook Plus LTE
Display
13.0-inch PixelSense (2880x1920)
267 PPI
12.2-inch (1920x1080)
180 PPI
CPU
Qualcomm SQ1 (8-core)
Intel Celeron 3965Y (2-core)
Storage
256GB
PCIe NVMe SSD
32GB
eMMC
RAM
8GB LPDDR4x
4GB LPDDR3
Storage expansion
No
Yes
Pen
Yes (optional)
Yes (included)
LTE
Yes
Yes (optional)
Ports
Two Type-C
Two Type-C
Security (bio)
Face recognition
None
Price
From $1,099

(opens in new tab)

(sale price, regular is $1,299)
$600

(opens in new tab)
Finally, you could go for the 2018 Acer Chromebook Spin 13 for $650 (it used to be $900). For that price, you get a real Core i5 U-series processor, 2K display, inking, 8GB of RAM, and 128GB of eMMC storage. There's no option for LTE, which is one of the main selling points of the Surface Pro X, but it's hard to deny that the price is more palatable.
Is Surface Pro X in a league of its own?
When compared to Apple's iPad Pro 12.9 with LTE, Surface Pro X costs less — sometimes by a little, sometimes by a few hundred dollars.
However, someone will inevitably raise their hand and say they don't need LTE, or that they could even get by with the smaller 11-inch model. Those are fair points; Apple certainly has more models available, letting buyers pick and choose exactly what they need. But the reason some people, including myself, prefer the Surface Pro X to other PCs is the always-connected 4G feature. Things like running full Windows apps (UWP, x86-32-bit) and that kickstand make it even better.
Turn to Chromebooks, and the price gap is massive, but there is often a good reason. You get old, quite anemic Intel CPUs, slow internal storage, and often don't even have the option for LTE.
There are only a few computers available today that feature everything the Surface Pro X offers. A high-quality display, 4G LTE, all-day battery life, excellent audio, inking, Windows Hello facial recognition, upgradable SSD, and that kickstand. And, yes, for many people, integration with the Microsoft ecosystem and running Windows 10 is a selling point. If I thought Chrome OS or iPadOS were better, I'd be using them.
Why Surface Pro X is my favorite laptop of 2019
Whether what Surface Pro X offers is crucial to you is a personal choice. I am not telling you that Surface Pro X is a good value. But at least when it comes to the sticker price, the cost is not excessive, at least compared to the rest of the market.
Windows 10 on ARM
(opens in new tab)
The thinnest and lightest Surface Pro available

Surface Pro X delivers the most exciting design for the Surface Pro yet. For people who need a light, thin, LTE-enabled productivity laptop, the Surface Pro X offers a unique set of features not found anywhere else.
Apple workhorse
(opens in new tab)
When you need the best Apple offers

The 12.9-inch iPad Pro is more like a computer replacement for those who want to do most of their work with iOS. It has more screen estate to work with than other iPads, making drawing, handwriting, and typing a breeze. However, the large size can be cumbersome to hold and it isn't as portable as the smaller version.
From Google with love
Samsung Chromebook Plus (V2)
A lot of 'book for your buck

Samsung's Chromebook Plus (V2) is a sturdy and great looking Chromebook that brings everything you need — and most everything you would want.