Subway Surfers updated with Mexico City World Tour for Windows Phone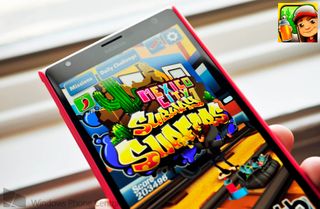 It's another month so time for another update to the popular endless runner Subway Surfers. Continuing on their 'World Tour' the game is leaving New York, and it now heads to Mexico City, for a bright and festive new skinning, along with new outfits, collecting spicy chilies and new weekly challenges.
Unfortunately, 512 MB RAM support is still not there, and we're starting to think it just may not happen. (There are occasional clone apps that have been 'hacked' and show up on the Store, but those aren't official ports. Play at your own risk.)
Subway Surfers have proved to be a widely acclaimed game, and the frequent updates on Windows Phone – which mirror those on iOS and Android – show that the platform is gaining traction. While re-skinning the game is literally a superficial makeover, it does keep things fresh, and we think it's a novel idea.
Head here to the Store to pick up Subway Surfers 1.21 now for your Windows Phone. 1 GB of RAM or more required.
Thanks, Anmol M. and Sumit P., for the tips!
Windows Central Newsletter
Get the best of Windows Central in in your inbox, every day!
Daniel Rubino is the Editor-in-chief of Windows Central, head reviewer, podcast co-host, and analyst. He has been covering Microsoft since 2007 when this site was called WMExperts (and later Windows Phone Central). His interests include Windows, laptops, next-gen computing, and for some reason, watches. Before all this tech stuff, he worked on a Ph.D. in linguistics, watched people sleep (for medical purposes!), and ran the projectors at movie theaters because it was fun.
I guess 520 has lost the battle now... Now every phone is going to have 1gb ram so no one wants to optimize.

Yes people who wants to play games are now buy 525

Joe belfiore promised game to be available for 512mb devices. Temple run even took quite time to be optimized for 512 devices . Hope so it will be possible in near future . Nd things are bound to improve after wp8.1 update ..!!!

Not just 520...think of 620, 720..:( Sucks man

Yup My friend, As world wide showing lumia 520 mobile or 512 mb ram mobile are in high stakes but these developers wont helping us by ,making 512 mb ram game...

I'm not even played the previous one yet...

Just curious, what's the minimum RAM requirement in Android phones to run this game? 512MB?

700mb ram galaxy sduos...plays it..think that's the minimum....

Windows Phone need to make appx optimizer . Can't they ?

My bro's pathetic tablet at 512mb plays it really really well.

512 mb Sony tipo plays it smooth.

It's always funny to see Caucasian people confuse Mexico from Spain

Lol. I try not to. I've never been to Spain...only Mexico.

Yeah, they should at least have bothered to Bing images of Mexico City if they were gonna call it that.

There's Subway surfers for 512 Mb ram too. But not of kiloo. Its Same and Its From Gameo.[ Subway surfers New York ]

That has been removed from the store.

How to get the clone for 720??

Just side load the app by unlocking your phone .

Lucky me. I have clone subway surfers :)

Wow this game gets updated a lot!

I think it gets updated every 3 weeks

Kiloo please make it for 512 mb devices.

Still waiting for Candy Crush Saga.

its already in the store , wpcentral have to do a news about it http://www.windowsphone.com/en-us/store/app/candy-crush-saga/dee79c09-37...

What ??? the same levels the same game ??

I do not understand why Microsoft lets people creat clone apps in the store.

Atleast for subway surfers clone app act same like and let ppl like me with 512mb devices play game which runs without gliches

Rocking my new cyan L920 now. Gonna make this a run !

512 mb update will never come,so its proved Joe belfiore is a liar..:/ and Kiloo just sucks.

I use 820 , bt still at Miami game not updating .every morning i get update option but it vanishes as i click it . I restarted n,tried,thru WiFi i tried ,even,deleted once n tried still nt updating. Plz help,some anor. Ashking2@hotmail.com

I got and downloaded the update this morning but I'm still in New York. =/ Maybe its region restricted?

Nopes dear in India my friends r using latest updates . N i receive notification every morning in app store n even when,game,starts but as i click,to update it vanishes :-(

Try rebooting the phone then downloading directly from the store. Worked for me just now. =)

Such issues happen sometimes, but they get fixed after a reboot.

I tried all nthn happn even i did a soft reset .dz nt anyone have master trick :-(

Wait for a while, maybe a day. Once had happened with me with status tiles, it got fixed automatically after a while.

notthn happens y da hell m not able to update , plz someone help . i tried all no use . no smart guy in here ? who has solution ?

This game runs smooth on my 520

Just received a reply from Kiloo about the 512MB version for WP devices. Here is their reply Hi, Thank you for your mail.
Please note that we do not have any affiliation with the Subway Surfers version you are referring to.
It was an unofficial version created by a third party. We are working on optimizing Subway Surfers to support these phones, but we cannot guarantee that this will be possible. Best Regards,
Kiloo

Lol, they have a WORKING PROOF that it can be optimized, and yet after 3 months, they still say it might not be possible ? How stupid !

Are you kidding... Not for 512 mb ram...

Well, I had sent them an extensive mail regarding the issue. But they seem to focus on giving a high quality experience. Which is fair and appreciable. So the best thing to do is either not have any hopes or have patience. Patience I think is something all WP users have, courtesy WhatsApp ;)

Kiloo is really quick with updates. They are on their toes all the time. I really appreciate it as they are showing a lotta love towards WP and its users. Bloody Imangi studios needs o learn something from them. Can't fix the graphics issue for L1320 and L525 as well as game save since 2 freaking months. Pathetic !!

What do you mean by play at your own risk ?? Its just a game, what risk could it pose to my phone??

I am guessing that the dev og the clone app can get your Facebook password by linking a fake Facebook page in the app....so just incase don't ever log in in those fake apps

Y u people not releasing 512mb version for subway surfer

Hey guys who r crying for 520 support search bing for ss 512 mb wp8 and dere u get d link to wp8 store.

So has anyone actually successfully downloaded this update or is everyone on this article a 512mb ram user? =P

Never mind actually, rebooted the phone and it downloaded from the store just fine. =) Awesome.

i think only u r 1gb user :P

Developers , just sit at ur home and f*** , cant u even optimise subway for 512mb rams ?

It is really disappointing to see certain ignorant fools abusing developers. Well, optimizing is not a piece of cake... and secondly you will be same bunch of idiots who will criticize for giving a low-end version... what is the point in that?? if you want everything, have patience.... and if you don't have patience learn to compromise...

Agreed. I can imagine many of these people think optimising for a device with half the RAM is as simple as ticking a box when uploading...

Play at own risk? What's the risk?

I hate these developers they not even cared about 512mb ram phones

Why not the gameo one on store? That works fine for Lumia 520

At least these comments are not full of Baku, Azerbaijan. Look at Kiloo's Facebook page.

Hey , i think that it will be available at 512 MB of RAM at the new update (windowsphone 8.1) , because of DirectX 12 !, :);)

Yep I heard that so In house development for windowsphone
Things starting to improve nw :)

Anyway, back to the actual update after 50 comments about 512 devices... Anyone get a white screen glitch when going into the boosts menu straight after a game? The options are there but the screen is white, hiding some of the text. Accessing the Shop and then boosts is fine. Lumia 925. 1GB...

Love this game, but they are updating it too much! I wish you could choose a "skin" within the game, instead of updating it and not going back. I just started playing the New York version! My daughter actually asked me to stop updating it all the time on my phone. Maybe they can release different instances in the store so you can pick the city, or cities that you like the most.

-_- man. There are many games in store that gets never gets updated after being published Look at six guns. Not updated even for once
Nd kiloo doing it on time with other platforms In brief its good :)

Best clone ever .. They they same great developers too

I have the NY version on my 620 and it plays very smooth!!!! Better than the Miami version that I also downloaded from the store.... I think that the 512MB devices are being left behind in the same way that they did with WP7.X

I have Subway Surfers in my 520. The publisher of the app is Gameo. But when I searched today for the app it was gone. Strange

The clone app has been removed today
Windows Central Newsletter
Thank you for signing up to Windows Central. You will receive a verification email shortly.
There was a problem. Please refresh the page and try again.