Check out our Sunset Overdrive Twitch stream highlights and winners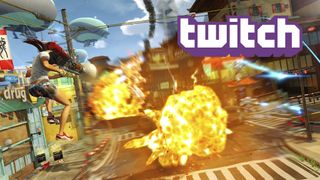 fall's freshest Xbox One exclusive Sunset Overdrive finally launched today, both on its own and bundled with a unique white console. All across the world, new and established Xbox One owners are now fending off the Awesomepocalypse and engaging in multiplayer "Chaos Squad" games. It's a fairly awesome time to be an Xbox gamer.
In celebration of the Sunset Overdrive launch, Windows Central is hosting a special Twitch streaming event. Tonight you can both tune in to watch us play and chat with our staff and your fellow readers, and you can also actually play with us during the session! We'll be inviting stream viewers into our Sunset Overdrive multiplayer game for some serious wall running, grinding, and more extreme antics. The event starts at 8pm Central (9pm Eastern/6pm Pacific), so get ready to join us!
Update: The stream ended and a couple of viewers walked away with super surprise prizes!
Watch live video from WindowsCentral on Twitch
Sunset Overdrive multiplayer Twitch session details
Once the event starts, we'll be playing with you guys and streaming Sunset Overdrive for at least one hour, maybe a bit longer.
To watch or play along with us, just follow our general channel Twitch.tv/WindowsCentral and then join us in the Twitch chat during the stream!You can watch the stream right here in this post, but you need to actually participate in the stream in order to receive a multiplayer invite. And obviously, you must own Sunset Overdrive if you want to play with the staff.
Tune in for your chance to play with the following Windows Central staffers:
Due to unforeseen technical issues, I won't be able to play during the session but I'll be right there chatting along with everyone.
What's the best way to experience Twitch? If you don't have a PC, you can get the Xbox One or Xbox 360 Twitch app and watch from the comfort of your couch. Or grab the unofficial app Livegaming for Windows Phone. It has plenty of great features, including the ability to chat along with your fellow viewers. Unfortunately you'll have to add our channel to your favorites from the Twitch website, outside of the app.
Lots more streams this week!
If you enjoy our Sunset Overdrive multiplayer stream, I hope you'll join us for the rest of this week's streams! These will come from my personal account, Twitch.tv/EastXTwitch. Go ahead and follow it so you'll be ready.
Tomorrow, Wednesday, October 29 we'll be playing one campaign mission each from Halo 1 and 2 on the Master Chief Collection. The next day, Thursday, October 30th we'll follow up with one campaign mission apiece from Halo 3 and 4.
Tune in at 8pm Central (9pm Eastern/6pm Pacific) to see how great the games look on Xbox One, how bad I am at first-person shooters in my old age, and to experience the comradery of Twitch chatting with your fellow Windows Central readers.
You can also win some sweet prizes during our Halo streams! Each day we'll give out three codes for Xbox Live credit and one 3-month Xbox Live Gold membership.
Halo: the Master Chief Collection – Xbox One – ~65 GB – $59.99 – Amazon Link

(opens in new tab)

– Xbox.com Link

(opens in new tab)
Don't forget, every Saturday at 8pm Central (9pm Eastern/6pm Pacific) we stream a different ID@Xbox game and give away a bunch of copies of that game.
This Saturday we're streaming classic adventure game/platformer Another World: 20th Anniversary Edition. We'll be giving away Xbox One, Playstation 4, and WiiU codes, so don't miss it!
Another World: 20th Anniversary Edition – Xbox One – 268 MB – $7.99 – Xbox.com Link

(opens in new tab)
Surprise contest winners
We didn't announce a contest for the Sunset Overdrive stream in advance, but we still had prizes to give away! Congratulations to the following viewers. Each won a $25 Xbox Live credit.
Windows Central Newsletter
Get the best of Windows Central in your inbox, every day!
Paul Acevedo is the Games Editor at Windows Central. A lifelong gamer, he has written about videogames for over 15 years and reviewed over 350 games for our site. Follow him on Twitter @PaulRAcevedo. Don't hate. Appreciate!
Dang, wish I could make it but I've got some stuff going on tonight! Next time...

Been playing it tonight, haven't gotten the hang of grinding and jumping yet, but it's a fun game.

Seems a bit overwhelming to tell the truth! Im sure once I get a few more hours in ill get better at it...pretty awesome though so far.

I picked up on it well enough. It'll take time to master but I really enjoy it.

Oh man, would've come but I'm about to leave for college :(

My first time using Twitch and enjoyed it alot. Great atmosphere and walking away with the gift card was a huge plus. Thanks to Windows Central!

Fun stuff lads and lasses... Multiplayer seems an unpolished afterthought but does nothing to detract from the solid campaign. *Composed narrating is another huge plus

I think the multiplayer is actually quite polished.
We (I was playing with the wincentral team last night) just had a few connection issues, which is odd because I had zero problems playing MP earlier that day. It might have something to do with either the twitch stream or review copy of the game? I can't really say.
Also, we were playing with a less than full squad, and all of us but the streamer were lower lvls with not as good gear, making it harder.
But even if you never try the MP the SP is awesome.

Ha. Yeah, we could see you, but could only hear JD. He was asking some questions about your phone, but the conversing sounded enthralling in comparison to chatting cheerleaders. Learn some juicy details about WinCentral's edtorial process?

I watched little while I had a chance on my phone.