There are still no plans for bringing Clash of Clans to Windows 10 Mobile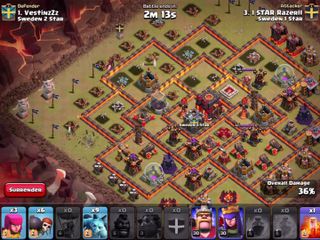 Clash of Clans has become one of the biggest mobile games for iOS and Android users, but Finland developer Supercell still doesn't have any plans to bring the game over to Microsoft's Windows 10 Mobile platform, if a statement from its CEO is any indication.
When a fan asked Supercell CEO Ilkka Paananen, via Twitter, if the company had plans to release Clash of Clans for Windows 10 Mobile, Paananen simply replied:
Clash of Clans first launched in 2012 for iOS and expanded to Android in 2013. The free-to-play game uses in-app purchases and is consistently one of the top games, in terms of revenue, in the iOS App Store and Google Play. Supercell held the first official Clash of Clans convention, ClashCon, in October 2015 and has recently been running new TV commercials to promote the game that feature Spectre actor Christoph Waltz.
Thanks to Karthik for the tip!
Source: Ilkka Paananen (Twitter)
Windows Central Newsletter
Get the best of Windows Central in in your inbox, every day!
So their smart move is to ignore 200+million plus windows 10 users who would love their game. Sounds like a smart business move

Exactly. Popular games like these does great on Windows too. You can see that in reviews. The only logical explanation that makes sense is that Google bribed them or "supported them" in exchange of not making app for Windows.

So u think google are scared of Microsoft

I wouldnt use word "scared". But they are trying to stop potential growth of Windows mobile platform by making sure popular apps wont come there.

Yeah! Because......its......its different! You know what I am saying!

SAMSUNG alone sells 102 million devices in one quarter. So user base is relative and not absolute. 100 is nothing in front of 10000000

Your maths doesn't really work there, it's not 100 million new USERs every quarter, large majority of those are people being on android or iPhone already (and even windows phone) just picking up a new device, 200 million device installs for Windows 10 doesn't mean 200 million users but we are talking at least 150 million, which means in the best case releasing for Windows 10 does mean another possible 150 million new users to make money from, however since a large majority of those users will already own an Android or iPhone device those people are already targetted. Personally I think even 1 million users is enough of a business reason to develop for any platform considering how easy it is to port games, they would easily make a large profit from a small investment but in most cases these days it comes down to a CEO or executive not liking the platform and forcing the business to ignore it.

My math is purely based on relative users. Users of Android are relatively "very" large than WP. Now how did you interpolate that "atleast 150 million"

windows 10 user base is now 200 million + and I bet it will be close to 400 - 500 million at the end of the year.. I bet a big chunk of that 500 million wants to try the game out cuz it is popular or are allready playing it on other platforms. I personaly don't care if they bring it since aoe is 20 times better

"since aoe is 20 times better" AOE CS is kinda different. I used to say the same thing, until I really started playing COC more. There's really nothing like it. I know a lot of games look similar on the surface, (no pun intended) but COC is really one of a kind. I'm completely hooked! And the awesome thing about iOS or Android is we have COC AND AOE CS! I play both! Among many others that aren't on WM, and likely will never be, for example; 8Ball Pool by MiniClip or SimCity BuildIt by EA Games.

thats shity lithuanian made game who plays that trash at all

It doesn't really matter, there is still a potentially large number of users that they could gain. Businesses are in it to make money, they are ignoring potential income, and it's probably something stupid, like Microsoft killed off Nokia. They may have many more users on android and apple, however, it wouldn't kill them to add windows mobile to make more money. Just my thoughts.

You did not read what he said

Links so not work in 'view links' section. External links work but WC ones don't. Fix please.

A lot more issues, I am not getting emails that who is replying to my comments. I have reported many times but nothing. Windowscentral is not focussing on Windowsmobile then how can we expect some other.

To be honest, the emails lost a lot of functionality previously, so you are not missing much. Hopefully the new app is integrated like the current one used to be.

But, how many of those 200+ million already have smartphones, Android or otherwise? Posted via the Windows Central App for Android

Even if they already have Android, they would be happy to play it on pc as well... Same as Aoe which was phone first and now more and more people are playing on pc since it is easier to control troops on bigger screen

Clearly they show how they are not brave nor smart enough to make it happen...because you know, Windows is like way too complicated and hard or something. =\

Islandwood was supposed to make it easier to port games over. King have done it with the Candy Crushes, why not Supercell? MS did all the work in making a tool to help developers to come to Windows 10, why not use the bloody thing?

Although Islandwood is out, it's in Beta so Microsoft isn't pushing it that hard.

What!!!???? Candy crush used islandwood???

Yes, they used Islandwood..

They are probably just waiting for MS to cave and buy them.

I play both CoC and Cloud Raiders and, putting aside clan wars, Cloud Raiders is far better than CoC, gameplay makes more sense and chat is far superior

I'm play both too but Cloud Raiders cannot compare vs CoC, CR just a bad clone of CoC

How do these games compare to Game of War? I have been hooked on GoW for two years now. Haven't missed a day. Can't afford to start another game unless I give up Game of War, which I think is the best massively online strategy war games I have seen.

War Inc. Is similar. I've never played Game of War, but I find myself addicted to the game. I've even spent ridiculous amounts of money, because I'm impatient and did not want to do continuous raids to get enough material to build up my base to get the good units. Smh

Not even disagreeing, but it ignores the part about CoC being one of the biggest games around. Also, Boom Beach.

No comparison to CoC please. Coc.ftw going to TH9 tomorrow :) One of the reason that I left Windows Phone using as my daily driver.

they're just phones and everyone has their reasons; none are "stupid".

This doesn't mean that some reasons aren't stupid dawg. Anyway. I hope the developer will change mind or address *packing gun*

Daniel, off topic, when is the new Windows Central app coming? love and peace

psh, phones can't drive lol ;p

They do. They can drive u crazy

Simply Age of Empires: Castle Siege.. Nothing else
If this game has launched earlier,I bet CoC can never ever to beat it

This. Genuinely cannot see the difference between half these 'samey' games.... different skins and titles, but essentially the same game.

Cloud Raiders is very good online game compared with CoC.

1) Most Windows 10 users also have an Android or iOS device, so this isn't an issue for them. 2) All Windows 10 can play Clash of Clans on their PCs, if they want to, since PCs can run Android. It is only users of Windows 10 Mobile that can't play the game. And there are like ten of us.

"All Windows 10 can play Clash of Clans on their PCs, if they want to, since PCs can run Android."

What % of people do you think

actually

run Bluestacks vs. the amount that would download via the oh-so-convenient Store? It'd be night and day in numbers. You can't legitimately claim that is a 'way' for PC users. Nerds, sure, but nerds rarely matter for numbers, which is what we are talking about.

I was thinking the same thing... Lol!!!!

Agreed. But let's just not call it oh-so-convenient Store. Lol. Store always tests my patience irrespective of the device used. *sighs

its easy enough for me.. you need to L2Store.. lol

Tens of millions? Certainly many, many more than use Windows 10M. And, as I said, it would only be the tiny slice of Windows 10 users who don't already have an iOS or Android device that would really benefit.

Everyone ain't got that money to have three phones! Some people in developing countries (like India), where windows devices sell most, have just one phone..and so the provision of dual soon phones become essential here..and yeah, those who have android or iOS are even using Windows phones..

Well... Although I previously use Windows Phone and Android. My current and only device is Android. Both phones are quite old (older than two years) so I need to upgrade. Sadly, I only have budget for one mid-low end device. So I go for Android for the sake of social life (like playing games with colleague during work's break time to ease some stress.. Heck, even my boss is joining on his iPhone). Just want to remind you that not everyone has budget to buy two phones. Specially in countries which don't adopt subsidized phones like US (all phones must bought out right).

I'd be shocked if Bluestacks had tens of millions ACTIVE users. Posted via the Note 4/Nexus 7 (2013)/Lumia 1020/Lumia 2520

I agree with you Daniel but I will also make it known I am one of those "nerds" that use blue stacks on my SP3 just for COC.

Dan out of the conversation, when will windows central app update to a more revamped UI for 10

Anyways. Keeping that aside, there have been many problems with those 'very convenient' features of the app which are not working. What do you think of others if windows central app itself starts sucking? (no offence but I am very serious about this question)

Who bothers for COC there are more than that on w10m..

What does W10M/W8.1 have that can compete with CoC????? Posted via the Note 4/Nexus 7 (2013)/Lumia 1020/Lumia 2520

W10M/W8.1 have two things that can compete with CoC: https://www.youtube.com/watch?v=80nIAMMtU50&feature=youtu.be&t=3s

Lol I like ARMED! But it doesn't quite compare. Posted via the Note 4/Nexus 7 (2013)/Lumia 1020/Lumia 2520

Define "most" in point 1) That's an outrageous claim.

I mean this: http://dictionary.reference.com/browse/most I very much doubt you mean this: http://dictionary.reference.com/browse/outrageous I would speculate with high confidence that an overwhelming majority of people in the world who have modern PCs running Windows 10 also have an iOS or Android device on which they could play CoC, if they wished. That is to say, adding W10 to the mix would increase only very, very slightly the number of possible players of CoC and thus represents a tiny unaddressed market.

Fine. Don't waste your time creating a universal app on an OS that already +200Million people are using since 6 months and where december created more profit on the windows store than ever on windows 8.

Samsung sells 102 million devices in some quarters. So, user base is relatively large or small and not absolutely.

Samsung's device sales are split between their Windows, Android, and Tizen, so that's not really a fair comparison.

Okay lets take Android then. Android-298 million in just one quarter. Now we can imagine.

Think it'd be more fair to compare not just Windows 10 to that for that matter, but windows in general perhaps? Seems logical by that.

iOS alone is a bigger ecosystem than Windows. Once you cover iOS and Android, the additional benefit of Windows is very, very small.

http://forums.crackberry.com/news-rumors-f40/gwi-q3-2013-mobile-os-userb...
....
Outdated I know, but basically what I meant was the overall Windows user base, not just the mobile platform. But eh, idk.

If and only if windows 10 mobile was released for all older devices, the number of windows 10 devices would increase substantially..but, bringing new users isn't easy I'd you can't give apps.. And moreover, we've got some ****** official apps in the windows phone 8.1 store (even windows 10 versions aren't up to the level) like the fb app, Instagram app, twitter, you name it..all apps lack features..and are updated after they are updated months on other platforms..and not to forget Microsoft makes better apps for other platforms than in its own platform..(facepalm)

Wait.. "Better apps for other platforms than it's own".
I seriously doubt that, I very much love the Office apps as they are now separately and fully featured on the Windows 10 Mobile, and the integrated skype and the new video calling up, sure it lacks features but it's being updated promptly.
Not to mention Cortana (which seems to be the center of attention lately for getting it's share of the android/ios share) is far more integrated into windows, certainly glitchy but hey the o.s isn't done just yet.
....
As for the other apps that I agree to, but Facebook seems to be getting it's fair share of attention lately, surely not as good as the apps on the other os but it's a good sign, somewhat.
...
I seem to have no problems at all with my Lumia 735 with the latest build, actually has been so since quite a few builds ago. Certain apps do lag, yes. But overall it's nearly just as good as Windows 8.1 was on my device.

Profit? I think they talked something about revenue and could be 1 $ as far as we know because unlike Apple Nadella hides the numbers that matter.

but Royal revolt 2 is better than coc

Doesn't even matter. We've been over this.

Lol, it seems you're going to have to write another article about this... Lol!!! We have to go over this again. Lol!!!

royal revolt is a total different game, have you even played COC?

Its better but its not coc.

Good cause these games are a pointless waste of time all designed only to get money out of people while catering gameplay and success only to those that pay, making what's linear seem non-linear. It's all just a hoax. We need real and better games.

I think this in-denial thing about failures of W10 to gain traction with devs is reaching a little. The fact is, CoC and Boom Beach are huge games and Win10 would be better of having it than not.

I do agree with you Mr. Rubino. It would be better for W10 mobile to have than not, then again, on who's end are we talking about here, theirs or ours? Windows 10 is a massive success regardless if this CoC game is ported to windows of any kind or not, to me it is in their best interest more than ours to support windows 10. When I say windows 10 I mean phone and PC as universal apps should be easy enough to make so sure it may hurt us right now but really, does it hurt us that much? Soon the **** for CoC will dwindle down as all of them do and the next game will be out. Frankly, each time I play one of these games I immediately uninstall because it is literally the exact same game as the one before it except with different skins and graphical images. So they are a dime a dozen really. I can only hope that us users get out of the craze for these same games over and over and want more substantial, real games with new and different mechanics and gameplay, not these same things over and over with different skins.

True. While the platform may gain users just with the game being available, I'd rather it doesn't happen. Never was and never will be a fan of these freemium games. It causes all these in-app purchase, DLC, and pre-order nonsense. Quality is sacrificed just to make a quick buck. Sadly, it will never change as people always want something for free. No matter what the consequences are. The same could be said in supporting games that doesn't have Xbox Live integration. They wouldn't even bother with the process since they know users would still accept it just because they don't have anything. There's also the fact that the Tiles of these are an eyesore since it isn't uniform with titles that do have it.

A company making product to make money? im shocked.. A game that has 10s of millions of people playing, ya they need to kill this thing and make better games.

I don't hink you understand what a video game made by any large company actually is.

I hate these kind of companies, it's like they have a chip on their shoulder for Microsoft and refuse to make an app regardless of userbase for windows. They make it free on iOS and android but Microsoft needs to make Sime kind of side deal or pay to have it on windows. They can even port it to windows and they still refuse. Microsoft just needs to give us android emulators and end this foolishness.

These developers need a bullet in their head. They are just fools. They should shove their crapdroid and iCrap devices on their butt and jump from a plane without parachute

Calm down guy, nobody needs a bullet...a beatdown at most and that's it. =\

Someone should investigate whether companies have an incentive program to keep apps off of Windows..

The incentive is not wasting development costs for 1% of the mobile market Posted via the Windows Central App for Android

Windows 10 universal app would make it more than 1% but I didn't expect you to know that so you are forgiven lol.. Posted via the Windows Central App for Android

U mad bro? I hope they change their mind once Mobile goes live worldwide

Would be nice to stop having to use BlueStacks on my SP3 to play

They will bring it anyhow when the game attains the near to death state

Ooooh what a loss (that was sarcasm, by the way)

It's a way of making someone feel better when you disappoint them.

Whether I like the game or not, I like for apps to come to the phone. I personally would never play this or this type of game in a millions years. However, I really loathe this game in paticular, because of the comercials. I just can't stand them. To be honest, part of my hate could be the type of game it is. Download free, then keep paying to actually play. I also hate the genre.

Isn't Age of Empires: Castle Siege pretty much the same game? I don't think there are too many people dying to play CoC.

"I don't think there are too many people dying to play CoC."

Another one in denial. C'mon, guys. "Supercell earned $1.7 billion in 2014, led by its three primary games (Clash of Clans, Hay Day, and Boom Beach). Clash of Clans became an App Store top 5 download between December 2012 and May 2013, and this success has been described as helping to usher in a new era in conjoint gaming on mobile devices. In 2013, Clash of Clans was the third highest game in revenue generated on the App Store and no 1 on Google Play."

Point is, people only want to play COC because their friends are playing it, there are better games of that type on WP (You know if like me you don't have many friends!)

But that misses the bigger point of growing and attracting new users to W10. The "there are better games" argument does nothing for the ecosystem, that's just pride. And pride don't amount to much.

Daniel you're correct with your statements, but can you tell me if Microsoft's ghost readers are really checking these forums and reading these topics and conversions from its user base? If so, why not just pay the developers with Android royalties of the most popular apps so we can have them?

Better based on your opinion?

Yeah, but casual gamers don't search out for the "best" game. They decide they'd like a game to play occasionally to kill a few minutes, see this game in commercials, find out a couple friends or Coworkers play it. Download it, enjoy it. Stop looking for a new, better game. Posted via the Note 4/Nexus 7 (2013)/Lumia 1020/Lumia 2520

Well, they did very clearly state that they don't think, so... =p

I'm not denying that we need more apps on windows phone. I'm saying that if you are interested in playing a game of this genre on WP, then you are already playing AoE. CoC is the most successful game of this genre type largely because it was first on the scene. Many players have hundreds of hours and dollars invested in that game and are unwilling to abandon it even when a better game of the same genre comes along. Same with AoE on windows phone. It's already filling that niche. If CoC were released on WP today, I don't think it would detract too many AoE players away from their game, mostly because of what they have invested but also because CoC looks seriously dated when compared to AoE.

Lets not be ignorant about big players and accept that we are using an inferior software vis-a-vis others.

take your mobile fanboy blinders off...lulz

Sarcasm Detected? Posted via the Windows Central App for Android

Big loss to MS rather. Less movement of Ios and Android users to WMobile now.

Now, why would a person move to WP from Ios or Android if he plays COC

He can play same type games or even better. **** CoC

He can, but his COC group is gone, he will feel alienated. Thats true.

i've played those games, they aren't better, even if they were (which they are not), they are not taking over COC.

I did, COC loses it's appeal eventually, it's not enough to justify staying with an OS.

Yeah. Just like TempleRun and the likes

Not denying the fact that the Windows system needs that, better off with than without as Daniel said, but if one's mind is altered by the absence of a game then surely he doesn't need to switch either.
....
As for the rest I believe there to be much more to My Windows Phone over the Galaxy S6 I have. Having used all three of the systems I personally prefer iOS however being a student it's too high of a take for me. But if I want (least with windows phone 8, but I don't complain about windows 10 since it's not completely ready just yet) a smooth premium feeling phone, my Lumia gets the job done fair enough.

No reason, it's not like they're being begged to switch, not anymore anyway...that's why MS makes apps for android and iOS. Is that question asked by most people out of insecurity or just morbid curiosity? =[

Supercell is a Finnish based company. Maybe they have bad feelings about what happened to Nokia.

Companies don't run on emotions, unfortunately

But he is. So he needs some punches

...or maybe some smooches? O.o

Tell that to John Legere of TMO and that Snapchat CEO.

John is just fine, thanks for asking...

I get the impression that's true. Then again a lot of Fins got paid a lot of money in the MS take over, and even those who lost their jobs would have been handsomely paid off in most cases and with their kind of skills would probably have been picked up again, quite possibly by Nokia, which still exists and is about to reenter the mobile phone business.

I seem to recall that the CEO of Supercell made it very clear in the pay that this was exactly why they would never support WinPhone.

Cause of Nokia?? I'm gonna need that quote... Posted via the Note 4/Nexus 7 (2013)/Lumia 1020/Lumia 2520

They'll end up bringing it over when iOS and Droid users start to die off. Bringing it to windows at that point would bring a spurt of revenue before it completely dies.

I don't think it'll die very soon !!

Probably. Posted via the Note 4/Nexus 7 (2013)/Lumia 1020/Lumia 2520

Sad news. I really like Hay Day and Clash of Clans. We should all reply to his tweet and let him know that we are a big community. Most probably Google has paid them not to release apps and games for Windows. Same for Snapchat. Meanwhile, Microsoft has the resources to come to an agreement with this developers. Just throw money at 'em.

"Just throw money at 'em."

Problem is, companies then become dependent on that money. "Oh you want us to update the app? Pay us" And it happens. It's why for WP8 we saw many new apps come to the store only to wither. After launch and initial bug fixes on Microsoft's dime, the company is expected to take control of the app and continue its life cycle. Many see the money go away and let the app die. True story.

Apart from the User base, what else do devs want?

There's no excuse for Amazon not have updated the Kindle app, that really needs some investigation. I'd say Amazon pretty much have a duty to update their app given their monopoly position and responsbility to continue supporting customers who purchased DRMed material through the Windows Phone Kindle app. Weird too when their subsidery Audible managed to produce an outstanding Windows 10 for Mobile app.

Ignore my question, this post answered it. That really sucks though, developers basically black mailing Microsoft.

The only app im waiting to windowsphone is clash of clans!

Supercell: Apps only on IOS and Android
Google: Apps only on IOS and Android
Microsoft: Apps on WINDOWS, IOS, Android

This is the reason why we love MS,

iOS: Apps only on iOS
LOL

Microsoft should simply stop supporting other platforms and block the services of those companies. If Apple and Google won't play nice then force their users with their own services. Offices alone wouldn't use OSX or Chrome OS. That alone is enough. Take gamers into account as well if you want to. This is something up until now that Microsoft hasn't picked up or is scared to do.

No company is in a state of monopoly to do that.

Story could may have been different if Nokia was not purchased by MS .... Both are Finnish companies ... ( Pure Imagination )

Shortly after US entered World War II, the situation actually took a turn for the worse for allied nations. We've got support like World of Tanks Blitz, Candy Crush Saga, FUNimationNow, look at the bright side people.☺

Hahahaha. Thats really optimistic. But unfortunately, those waiting for COC will have to wait more.

That straight suck balls, correction, "hairy balls"!

At least he was less rude than the people on supercell forums when I asked about Hay Day on Windows.

Sorry to read this and I start to hate such companies. It looks like egg-chicken problem. No users - we won't make an app. No apps - we won't go to new platform. Many times saw and heard arguments like: - Windows store doesn't have apps! - Any proofs? There are a lot of different useful and greate programs. - Do you have CoC, Instagram etc.? People need their "favorite" apps and won't go to W10M even if there are own great apps with same functionality/service, but not exactly same title/publisher.

What on earth is stopping them. They could just contact MS and use Islandwood. They just have to contribute theirs and MS will do most of the work. That's how we got candy crush, right?

They can port thru islandwood but they still have to update continuously on the platform. For which they are lazy.

Microsoft needs to focus on getting devs for windows 10, forget phone specifically just dev for universal but put the focus on win10 store. Mobile users will get the benefits, but the language for the devs needs to be for the large numbers on pcs

Trouble is nowadays a lot of app devs are Mac users and so win10 isn't getting in front of them.

There's actually no shortage of games similar to and better than clash of clans on Windows Phone. The main benefit would be for some people to play with their friends. I'm surprised Supercell don't have the ability to convert it to Windows Phone, it really can't be that difficult, especially with the tools and assistance MS are offering developers for Windows 10 for Mobile. I think it's a snobbish thing on the part of the Supercell management, they think it makes them look cool to snub Microsoft and Windows, I bet they are iPhone users, it's really a bit sad, espcialy considering they would be guarenteed to make any money spent on porting it back many times over, even with the relatively small Windows Phone base, and it's not like they are short of a bob or too anyway.

Yeah, but those games don't have James Corden and Cristoph Waltz doing commercials for them, do they? Let's be honest, none of us Windows users are friends...some community. =[

Won't they benefit from getting more users? Or are the app-building investments not worth the returns?

I was hoping Islandwood would create more incentive for the developer to port the game over. I guess not.

Islandwood is somewhat unreliable. All the Candy Crush games, which are the results of Islandwood, fail to connect to Facebook.

They won't bring it to W10 unless its popularity drops. Similar to what King.com did.

Personally not that bothered. Can't stand IAP games.

"no plans at the moment unfortunately" Unfortunately my ass. Like he really wants it on Windows/Windows Mobile but has no say in it.

I'm sure he means, "...unfortunately for you losers..." which is what they think of us, they're ALL saying it I just know it! >=[

This is a business not a popularity contest.

It's just too obvious that something else( imo bribed by apple or google, or personal vendetta against mcrosoft) is depriving these top devs from making these app for windows other than The user base on windows excuse.

Cold calculating business cares for nothing except the cold hard numbers, and we are desperately, hopelessly outnumbered my friend...not that I care. =p

This kind of people (like google, Supercell, steam and snapchat :( ) are denied to develop apps and game for New Windows Platform in the end they produce a very Negative thought among crowd and that affect all other who want to make app for New Windows Platform (new developers). BTW What about new Windows Central app update? Before maybe 2 to 3 week ago on ask den episode Den said that it'll available in beta Next week but nothing came out.

I don't care about that ..

Big deal its a game.. Use the phone for its intended purpose. Buy a gaming tablet-

Its just a stupid game... the Win store is filled with games... the IOS store is also filled with games and 100's of copies of the games thats why it has lots of apps ✌

MS needs to negotiate from a position of strength, by leveraging the fact that they have always had the platform of choice for gamers. Wish I knew how, but the only way I see this working is for MS is to bring PC/XBox games to mobile. Then instead of begging to be included, WP might be the only choice for League of Legends or Starcraft on mobile perhaps.

Considering the high numbers of gamers with windows 10, this is a mistake. Still think Microsoft should buy them and snapchat developers

Lol funny thing is, that's what most people say about windows phone Posted via the Windows Central App for Android

My Android tablet is used for Clash of Clans only - nothing else. Use my Surface for everything else :)

Who cares... It's just another freemium game. They're too many our there as it is.

If people keep talking about windows is so small and it's not worth developers time. Please get the **** out of this forum, no one wants u here, u people are slow and are dumb. If u can't blame lazy scumbag developers, who are actually at fault. Leave we don't need u here. Why are u even here in the first place?

Seriously, my 920's apps are only FB and WPtorrent.. I just use it for pocket reading, browsing, messaging, and downloading torrents. I use iPad for apps. Apps in Windows Phone are hopeless. There is no future in WP. I am sorry.. But still, i love my 3 year old primary phone 920.. No scratches!

They need to go **** themselves, we will live without their game, haters!

People switching to another platform for a mobile game is ridiculous. Lol

Bring piano tiles 2 on windows phone too :(

I'd much rather have Plunder Pirates. Posted via the Note 4/Nexus 7 (2013)/Lumia 1020/Lumia 2520

After becoming garbage it will be release in windows store.Remember supercell ceo nothing last forever ,one day ur coc will just be another trash game.. S don't be Soo proud

We need clash of clans app for windows10

The only reason I can find is a very thick amount of... you know what, from scroogle to the CEO.

W10 doesn't seem to be changing things

You guy's say it's not a big deal. Many of my Co workers and I play this game and play it together. This and snapchat are the main apps that I miss when I use my 640. I don't feel like taking my tablet everywhere so if they could get those 2 apps I might make the switch to wp on a permanent basis Posted via the Windows Central App for Android

Microsoft should just make a Halo Wars universal game app for the PC and phones. That would be a type of game I definitely play on my phone.

Started playing this game a few days ago. Already hit the Freemium no funzone wall. All you do is wait for sh*t to build or spend money so you don't have to wait. Pretty GD lame just like every other piece of Freemium crap out there. Uninstalled.

For me, I would love to be able to edit my bases with a mouse and keyboard on a big screen. It's a huge pain to do on the phone and I've tried Bluestacks and it isn't the same. Maybe take a small percentage of whatever they spend on advertising and bring it over.

Not sure how many here have been play COC but after the last update the game is not worth playing unless you want to keep spending $ to keep playing, they have destroyed farming within the game it almost impossible too upgrade defense within the game.

Not a smart app for windows mobile users....

Windows Phone and Mobile 10 is trying to be what consumers don't care about, productivity, plastic, and all that BS! That's why it ain't getting no support both from consumers and developers.

Still no plans for me ever playing it anyway.

Microsoft should buy Supercell! Bluestacks should come to universal apps!

I hate SuperCell ... Coz they don't provide such an excellent game on windows... I play on my 2nd phone but want it on my phone

Play Cloud Raiders. Same type, awesome game, with much better design and graphics. I don't need their gam and will never use it, especialy because they ignored us.

And now after Google and Microsoft issues has been settled will clash of clans come to windows 10 mobile or Nah.

It is greed . for example, developers AIGRIND, make them play on all platforms http://warspear-online.com/ru/home

I've played the Clash of Clans on Windows 10 Mobile phone and we are continuously playing and tasting it on our site. Clash of Clans Hack Team (COC Hack)

NBA live Mobile (NBA Live Mobile) is really good game now for basketball. Clash of clan is gon away at this time.
Windows Central Newsletter
Thank you for signing up to Windows Central. You will receive a verification email shortly.
There was a problem. Please refresh the page and try again.