Surface 3 128GB prices are currently cut by $150 at Microsoft Store and Best Buy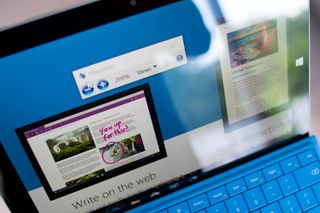 If you are looking for a new tablet and want to save some cash, Microsoft's latest promotion for its Surface 3 might be to your liking. The 128GB versions of the 10.8-inch tablet are currently on sale for $150 off their normal price from now until Thursday, Jan. 21 at the Microsoft Store site, along with Best Buy.
That means the regular Wi-Fi model is currently priced at $449, rather than $599, and the Wi-Fi + LTE version costs $549, rather than $699. The Surface 3 still comes with a free one-year subscription to Office 365 Personal, which is normally worth $69.99.
Via: Neowin
Windows Central Newsletter
Get the best of Windows Central in your inbox, every day!
still waiting for india using lumia 730

It's already available in India, check in Amazon and Flipkart. Only Surface Book was not launched here, if it arrives the cost of the high end would be approximately 300K.

He said Surface 4... not Surface Pro 4. Can't wait to see what they have lined up for that. Absolutely loving my Surface 3.

Surface 4 is definitely not coming... Don't you think a Pro device is a better choice?

Depends on what you need. I want an RT replacement. I have little need for Pro.

Pro is not necessarily better depending on your needs. I have both surface pro 3 and surface 3 for more than eight months, and I have to say surface 3 becomes my go to device rather than surface pro 3. Simply because of the much easier to hold form factor

I hope so. I love my Surface 3, but the USB Type-C revolution is here, and it's time to let go of full-sized USB. They can make the Surface 4 phenomenally thin if they ditch full size USB for Type-C... and score some brownie points if they decide to toss in a cheap little Type-C to USB adapter so we're moving forward while accommodating what's stuck in the past.

Agreed. My next tablet and phone will have USB-c so they can be charged off of a battery pack when traveling. I'm tired of looking for outlets and taking a zillion different cords and power bricks.

And in India price of pro3/4 are increased by Amazon within one week of launch...by ₹5-6000 (80$approx.)
PS: Strange...they are back to original price within 1 hr...

It's always strange with pricing in India. Those VAT and other things...

No..it's not VAT...price is still fluctuating by same seller I.e. Cloudtail. May be some glitch or $ to ₹ conversion. There is no other explanation of such rapid change within minutes. Remember Amazon India has exclusive rights to sell surface pro in India for 6 months. Since there's no competition and no other seller, this is Amazon fulfilled delivery with only one seller- cloudtail

Damn it! Why don't I have monies for this :'(

That's a great deal. It's really unfortunate I can't take advantage of it. Oh well, maybe next time.

That's a great price!!! I absolutely love my Surface 3. I keep getting surprised at how much it can handle in it's small form factor. I can run Photoshop CC, full Office... and just recently tried Remote Desktop to my home PC and omg it worked smooth as butter and I was able to run graphic-intensive programs like Premiere Pro with zero lag (on my home network). Honestly, I love this device lol. You get really well-designed hardware at a great price. I didn't expect to use it this much, but I use it every day :D

Your experience is encouraging to hear. How much ram does your S3 have - 2gb or 4gb?

I agree. I even play all my battle.net titles on my S3. It's not the best at it. But it works

Indians just pray that our ludicrously insane psychopaths(MPs) in RS clears the GST bill so we can witness a steeper slash on Electronics Goods and services' price tags. I hope the prices of Surface Pro4 will be brought down by another ₹17.5k if the GST is being implemented.

Are they still doing the free type cover?

Such a great device. We love ours.

I would get one if it came with a free type cover.

its still not better than the deal costco had before thanksgiving thru cyber monday. you could get the S3 128 with Type cover, pen, and office 365 for 599.99. i think the price will drop lower or they'll bundle more accessories in the next few months. I'd wait if you dont own one now.