Three years later, is the Surface 3 still worth your time?
The Surface 3 is still Microsoft's latest non-pro Surface 2-in-1. How is it holding up three years after it first released?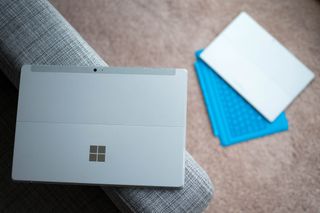 The Microsoft Surface 3 is almost three years old, which is super old in technology time. Launched with Windows 8.1, the Surface 3 was Microsoft's true "entry-level" Surface aimed at college students and those who do mostly lightweight tasks and web browsing. The Surface 3 was special for two reasons; its size and price. At 10.6-inches, it was a smaller alternative to the Surface Pro, while also costing significantly less at just $499. (opens in new tab)
It's Microsoft's only Surface offering that could run Windows 10 and was available for under $500. It was an immediate hit among Microsoft fans, students, and casual PC users looking for a lightweight device. The latest stats from AdDuplex say the Surface 3 is the fourth most popular Surface on the market right now, sitting just behind the Surface Pro 2017 at 11.4 percent Surface market share. The Surface 3 is still in use by a lot of people today.
As such, how is the Surface 3 holding up in 2018? It's been over a year since we last checked in on the Surface 3, and since then Microsoft has released two new Windows 10 updates, with a third just around the corner. Has performance degraded? Has the kickstand given in yet? Let's find out.
See Surface 3 at Amazon (opens in new tab)
Surface 3 performance and software
I've owned my Surface 3 since the day it went up for sale. I purchased mine with Windows 8.1 and later upgraded it to Windows 10. My Surface 3 has always been an "around the house" type device. I use it like I would use an iPad, browsing the web, checking email, and sometimes playing a mobile game. Even with the latest version of Windows 10, the Surface 3 is still excellent at this.
I also own the Surface 3 Type Cover, which unfortunately still hasn't been updated with the new Surface type cover design. Still, it's a perfectly usable keyboard, and although the trackpad is a little small, it works well and is very precise. It uses precision touchpad drivers, which is a super nice bonus.
I mention the Type Cover because I use it more than I thought I would. While the Surface 3 is great for around the house procrastinating, it's also still a perfectly capable Office machine. I'll often have documents come in via email that I have to deal with, and with the Surface 3 I can just flip out the kickstand, attach the Type Cover and start editing with ease.
I use the Word Mobile apps on the Surface 3 because they're much more lightweight and doesn't drain your battery as much. The Office Mobile apps are superb on the Surface 3, and I prefer them over the full versions of Office. They're simple, straightforward, intuitive and even look nice with Fluent Design effects subtly implemented across the apps.
In fact, I ended up putting Windows 10 S on my Surface 3, because the Surface 3 is the perfect kind of device for Windows 10 S. The Intel ATOM processor inside it isn't super powerful, but it's more than capable for what the Surface 3 is intended for. That paired with Windows 10 S means the Surface 3 should stay running well, and it has done.
Surface 3 hardware
The Surface 3 hardware is arguably the best part about the Surface 3. It's built well and essentially looks like a mini Surface Pro. Even after three years, my Surface 3 has held up well. The kickstand is still strong, and the device has no dents or scratches that I can see. I've looked after my Surface 3 a lot, and as such the device still looks new.
One thing that has started falling apart ever so slightly is the Type Cover, however. Oddly, the fabric has slowly started peeling away from the device. It's not the end of the world because the peeling is very small, but it's an issue nonetheless. Luckily you can find Surface 3 Type Covers on Amazon (opens in new tab) or eBay these days, so if it does fall apart, I can just replace it.
The other issue I have with the Surface 3 is the Micro-USB charging port, which is outdated for 2018. It's also really finicky in the sense that the Surface 3 will only charge with some Micro-USB cables. The one that came in the box no longer works for me, and you can't just use a normal smartphone cable, even with the power brick that comes with the Surface 3.
Other than that, the Surface 3 is still holding up well. The tablet itself is doing very well, and I still take my Surface 3 out and about with me when I'm traveling when I know I'm not going to need my Surface Laptop. Its size is its biggest advantage over any of the other Surfaces on the market today. I love the 3:2 10.6-inch display.
The display itself still looks great for 2018. It's 1920x1200, but since it's on a small-ish screen, it looks very nice. Most sub $500 on the market today still ship with sub 1080p screens, which suck. The screen on the Surface 3 is more than fine. Also, a rarity on sub $500 is pen support, which the Surface 3 has and support very well. You can even use the new Surface Pen launched last year on the Surface 3, and it works just like you would expect.
Surface 3: Still suitable in 2018?
Is it possible to get by using a Surface 3 in 2018? Yes.
The Intel ATOM is more than fine if you're using the Surface 3 as a lightweight Office and web browsing machine, and the hardware is still super premium. You can get newer tablets for around the same price, however, more often than not, they always compromise on something.
The ASUS Transformer Mini T102 is a $349 tablet (opens in new tab) that's about the same size as the Surface 3. It has pen support, a keyboard, and even a premium feel to it. However, it has a 1280x800 resolution screen, which sucks so bad. When compared with side by side to the Surface 3, the Surface 3 screen blows the Transformer Mini out of the water.
Even though it's three years old, the Surface 3 is still in a league of its own in the 10-inch, sub $500 2-in-1 category. Unfortunately, Microsoft doesn't sell the Surface 3 anymore, so if you're interested in getting one, you'll have to look online.
I hope Microsoft hasn't given up on this sub $500 category because I'd love to see a Surface 4 with updated internals sometime in the future. What do you think?
See Surface 3 at Amazon (opens in new tab)
Zac Bowden is a Senior Editor at Windows Central. Bringing you exclusive coverage into the world of Windows 10 on PCs, tablets, phones, and more. Also an avid collector of rare Microsoft prototype devices! Keep in touch on Twitter: @zacbowden.
One of the worst products Microsoft has released in my opinion. Very underpowered. More than 1 browser tab and it starts chugging along. It can't handle any more than the very basic of tasks. I was very disappointed and sold it as soon as I could get rid of it

Top of the range Atom for 2014 was just fine. It's 80% of Haswell i3-U performance. It was good enough back then, CPU wise.

If hardly being able to run 2 browsing tabs is "just fine" than you have low expectations.

4G RAM model...8-10 tabs works fine. Haven't tried more.

The OP was most likely using the budget 2GB model. The x7 atom with 4GB RAM is very serviceable

I still run a Surface RT and have no problem with multiple browser tabs. Maybe you have a bunch of extensions and plugs in your browser. Nice thing about the S3 is you can install something light weight like Oprea.

I used an RT for two years, excellent device. The S3 had all its strength (size, weight, battery) with the added X86 and pen benefits

It's definitely for light productivity. It's not a bad product at all, it's actually extremely useful. It does what any Android tablet, or iPad can't. Run the real stuff. Just depends on the user. I'll tell you one thing. I tried running my online studies on both iOS, and Android, tablet browsers, and they couldn't do it. I had to get the Surface 3 because it was able to run those classes on it's desktop browser, and also run some really technical programming programs for specific classes (try running Multisim on a iPad. Good luck).
........
I STILL use the Surface 3 everyday. It has literally accelerated my career. Now that's a real world opinion.

Too bad that the ipad and android tablets do what the surface can't too with apps. I would never have sold mine if MS had 1/3 of the app catalog that my ipad has.

I still use my Surface 3 as a daily driver for person use, i take it on the road to Nashville when i'm there Recording and everywhere else works great.
i also lay games like Pinball FX 2 works good but not FX 3, it coughs and farts on that one, but for games in the store most are fine.
i also use FB & Easy Chat for FB Messenger just because it has a dark theme, i which the official app did.

Now, if we could only get an updated Arm version that's affordable... Reason being that 10.3" screen is highly portable... Andromeda might actually take it's place, depending on how much screen it has to work with. I just need something that's light when I ride my bike to work.

Verizon is still selling the surface 3 with built-in LTE and I just got one in for my users that with in the field; it works just fine and no complaints. I did have to order the keyboard off of Amazon because VZW says they were on backorder and I couldn't wait.

100% agree, this device (even the 4GB variant) was a solid waste of money in retrospect. It was useable, but even then it was a pain to use. Now it's downright crippled by Windows 10's updates.

The Acer Switch 3 is a better under $500 surface-like device available now. The N4200 CPU is faster than the best Atom. I got mine for $430. It's 11.5 Inches and it comes with a keyboard and N-trig pen.

Mine is still going strong, great for light use such as email and web browsing. Agree it's under powered and MS really need to launch a more powerful version which under cuts the iPad in order to get consumers using the platform. I thought the new ARM tablets might fill the gap but so the ones launched so far cost a lot more

I agree, the ones listed on Verizon's website are as high as 1299.00 (Samsung)

Zac, does your Surface have 2 or 4 GB of RAM? In my experience, Windows 10 on anything less than 4 GB is a waste of time and a machine--and it's a shame that they're so common. They can't seem to handle anything more than exactly one thing at a time. I'm having a very happy experience with my Asus Transformer Mini with just an x5 Atom chip (and 4GB)--I was too cheap for the already-discontinued Surface 3 with the x7. It really is a brilliant little machine, IMO.

The min. I would use for Win 10 is 4GB RAM and 64GB storage. I've tried to use an Atom device with 2GB RAM and 32GB storage, and it just isn't enough.

Mine (the "bigger" one with more memory) worked great until installing the Fall Creators Update, which made it almost unusable: crazy slow, Edge browser bogging it down so much it was not responsive for long periods of time, Skype video calls obviously too heavy for it. It wouldn't even run Word properly, but with frequent freezes. I had no choice but to replace it (went for the 2017 Surface Pro).

I run mine on the Fast Ring and have no issues.

I expected more up to date images in the article and some benchmarks would've been cool. Same for battery life. Oh well.

My wife has has been using a Surface 3 for a couple of years now. It works great for her needs. Primarily she uses it for the Internet and the JW Library App. It's a great tablet for that.

I use mine in a similar fashion, but it's not in amazing shape. I got it used and there's a deep scratch across the back. One of my stupid friends sat on it and killed a pixel right in the middle of the screen. Performance is pretty good after I did a fresh install with RS3. I use it as my Fast Ring device. It's noticeably slower than my m3 Pro 4 and with a clearly inferior screen, but that's to he expected. I like it, but I wish I had a new one with the 4GB of RAM and the Type Cover, as I feel that would make a huge difference in performance.

How did you install 10 S on it? Did you just flip the toggle?

My Surface 3 (2GB RAM) was soooo slow, I was about to throw mine against a wall, or turf it; Instead, I decided to re-install windows and start from scratch, and give it a 2nd chance. Smooth as silk. I'm very happy with it.

We use the Surface 3 LTE for all of our salespeople here at work. It is the 4GB and 128GB (SSD) model. I have 5 in use and they all work great. I don't have any problems with them and they are more than enough for our sales department. The only issue we have is really a software issue where it will nag about being on a metered connection and can't seem to stop it.

I distribute then to my field inspectors and they work just fine with no complaints. I had the Microsoft store upgrade then tyo windows 10 pro using my enterprise key.

I still use my Surface3 everyday. Will probably drive it until the wheels fall off.

I've thought about picking one up recently, it's getting old, but still the best small Atom powered device IMO.

Because very few OEM went with the x7 version (almost everyone uses the less powerful x5) and VERY few OEM paired the atom with 4GB RAM.

My dad has had the Surface 3 (4GB) basically since launch and still loves it. I tried to prod him to the 2017 Pro m3 model recently when it's been on sale and he doesn't have any interest. He doesn't want the larger size and it's capable enough for his needs.

Traded in my RT for the 3, and have been - and still am - a happy user. I have a desk top for speed and power, but the 3 is a nice for using around the house and while travelling on vacation. The Pro version is more than I need or want to pay.

I think the limited kickstand on the 3 is a non-starter for someone who has enjoyed the full range of motion in the pro series.

Perhaps. But as a Surface 3 owner who used to be a Surface RT owner, the kickstand still impresses me.

I have had a Surface 3 since August 2015 and use it heavily. It is the 4GB model. I simply do not understand the comments here from people complaining about it being slow or getting bogged down. Perhaps that is the 2GB version. At any one time I will always have desktop Outlook and Word open. Often Excel as well. Then a whole load of tabs open in Edge. The other program which is usually running is Microsoft Money. Nobody has come up with any personal finance product to match it. I love the small size. I love the small weight. The screen is great. The USB charging is a boon. As is the clever Micro SD slot. Even though the same in £ as in $ it was good value. If Microsoft came out with a replacement I would buy it like a shot. I might even have bought the larger Surface but absent USB-C not a chance. I simply cannot understand why they blew the opportunity to use that instead of prorietary charging.

I like the device (4GB & 128GB) but it has been somewhat problematic. I've owned a couple and every single one has had horrible screen burn in issues and sometimes screen speckling issues. Edge runs a little slowly but that seems to be doing a bit better lately. I needed the LTE function and only got it because Microsoft repair destroyed my 2520 and this was the only LTE device Verizon carried. Until recently it was the only LTE capable Surface. But it's a solid device, not for heavy RAM intensive tasks but for what it does well it does a good job

Love my Surface 3 LTE, which I opted for 4/128 GB. What I really like is the GPS chip that comes with the LTE version. It's a standalone navigation device. Will probably keep it til it dies.

I used to recommend the Asus Transformer Mini. Mine was great at first. Over the 10 months I've owned it I've had driver problems and the charging port has become lose. I wasn't rough with it but you just knowtjat you're going to get a hard time with a warranty claim.

Same as most of the other 4GB commenters - I'm still running mine at least weekly without many issues. However, I'd be willing to upgrade if there was a successor - better specs are always welcome!

This was a great budget device. We use ours regularly and would had been great in schools I'd they didn't stop making it.

I've used a 4/128 S3 since day 1. At home, I use it mainly to stream video and for casual Net surfing. For other things at home I use a standard desktop,mainly because I'm more efficient on a full size keyboard. I absolutely love taking the S3 along while traveling because of its size and weight. When traveling I will use it for word processing and editing photos. I'd be happy to upgrade to a newer version if they put one out. I have had no regrets or issues with S3 4/128. I wonder if those who mention serious performance issues are using the 2G version.

Using my Surface 3 4G/128G non-LTE to type this reply. Overall, I'm very happy with how it has behaved over the past few years. I seem to be, forever, experiencing unintended cursor movement as a result of palming the trackpad on the Type Cover...even with the sensitivity set to low. It may have more to do with the height of the top of my desk with respect to the maximum height of my chair. I also get a USB warning when putting the unit inside the Surface 3 dock. Outside of that, I'm running Office Home & Business 2016 without any issues. The performance is smack dab in between my Surface Pro 3 and my Insignia NS-P08W7100 8" Windows tablet...similar to the NuVision tablet that Zac reviewed last July.

Well, my Surface 3 is my "go to travel", "around the house", and even was my main desktop computer until I bought a new Surface Pro 2017 when my Surface Pro 3 died. Yes, as a desktop it was slow. But it ran Outlook 2016, Quickbooks 2015, and Quicken Deluxe 2018, usually simultaneously. When necessary it also ran 2 other expense programs, as well as Word 2016. I was glad to get back on a more powerful machine. But in a pinch, the Surface 3 came through for weeks. Great little machine. It's relieved to be free of those huge programs and back to its sweet little self.

I still use mine everyday for work. Plus it can run Cuphead beautifully.

I have one as my on the go machine to jump between running classes (typically through wireless projection and lots of Windows ink), running labs, and the multitude of meetings that make up academia. The device is great. I have the 4/128 model (with an additional 64 in mSD for media) and have never had performance issues with Edge, Office, Teams, Skype, multimedia, several games (even Civ:Beyond Earth), or the specialty chemistry drawing software I use (why I can't go to 10S). The size is perfect as a carry all day device and a decent high output ancillary battery can charge it.

I use my Surface 3 pretty much ever day. Not for anything heavy - mostly reading in bed. My favorite thing about it is that I can bring it on a trip, and use it for general reading, web browsing and video, but if necessary, I can use it to remote into the office network for troubleshooting or problem resolution (with a BT keyboard and mouse that stay in my suitcase until needed). This keeps me from having to bring a laptop, which is nice.

No one write retro review as good as Zac. Well done. I luv it.
My Surface 3 2GB is 18 months old and is still working very well. My unit comes with Windows 10 Home and after several feature updates, is still as fast as new. And it serves as my one and only PC.
For those who Surface 3 slowed down, I suggest resetting your PC might help.
I also default to Windows store app as much as possible. I only have Office 365 and Microsoft money that are not from the store.

Like a lot of you, I'm very happy with my 4GB version, lies around the house, kids are now getting into it with their own accounts. I can manage their screen time and hours. Well it did go through some adventurous insider builds that really hobbled it but it's good right now on slow ring Would like a touch smaller 9" one or something.

So you're one of the lucky ones whose screen hasn't started turning yellow? Or had the starburst pattern form in the center of the screen? Or had the entire thing decide to no longer charge even with a factory Surface 3 charger? Cause all that happened to my wife's Surface 3. Twice.

Is this model supposed to get the new type cover?

Not completely relevant to this thread but I'm definitely reading this from my (still ultra reliable and well performing) Surface Pro 2.

It will come back with SD945.

100% agree- the 4GB LTE version is only all-in-one work and play machine i use. Use at the office plugged into the dock and a large display for Office, and web. On the go for recording, editing and uploading classes i teach and at home with the MS display adapter, stream all entertainment content we want to the entertainment system. Oh and in the kitchen with Cortana, it's the always on home assistant for music and recipes and voice texting. Yes It could be a little more powered, but the compact size and light weight more than makes up for it for me.

Surface 3 is still the one I use. No fan means no worry about the fan getting loud. It's the lightest Surface, and it runs real Windows. Though it doesn't have a lot of power, it plays my games well, provides a very comfy typing experience and handles my IDEs like a champ while taking up minimal space. Though I'd attempted to replace it with a Surface Book, it stole me back from the SB. It's STILL the one that's perfect for me. I'm actually still holding on to it until MS sees the value in the smaller Surface machines.

I use the Surface 3 (4gb model) everyday. Portability is nice for Powerpoint 2016 and Word. Plus, this thing is built like a tank! I was moving some furniture in my wife's SUV and the son-in-law saw the surface where I had place it in a dresser drawer. He took it out and set it on top of the Escape while he moved the drawer inside the house. Well, he forgot it up there! As I later drove away, I saw something in the rear view fall off the top of the Escape. The Surface hit the road, the type cover with surface pen attached, popped off and bounced into the other lane of traffic. I stopped and rescued everything from traffic certain that the Surface was dead. It's back was scratched, one corner dinged and a small screen crack in upper corner. Pen was heavily scratched and the keyboard was fine. I was sure surprised when it booted right up and it has worked fine ever since. That was a year and half ago! As I said, really nice build. Becuase of its size, I too would love to see a Surface 4!!!

I actually love the 10.8 inch display, it's way better than the 10.6 inch display, you must have gotten a prototype or something. Yes the Surface 3 has a 10.8 inch display, I keep waiting for some Android tablet maker to realize this is the perfect size instead of the hoard of 10.1 inch devices they keep making. Anyway, the author of this article mentioned 10.6 twice and that's just wrong, so so wrong. 🙂

I've had an SP3 with the i7, 8GB, 1TB options and I freakin love it. Best computer I have ever owned. I also have an SP4 and will soon be buying and SP5 with LTE.

What is the best solution for the micro USB charger? I really like the Surface 3 for it's simplicity, but the charging has been very problematic since Day 1. I can never depend on the device charging correctly. I've never seen a device that was so difficult to charge. Any recommended solutions will be appreciated. Thanks.

Buy the what was $200 dock now for like $15-20 and rapid charge is reliably - beats the old micro USB charge times - https://surfacedeals.wordpress.com/2017/04/25/surface-3-dock-deal-30/

I have a 20,000mah power brick, it has 2.1A output, and will charge the device. It also means I don't bother with a wall adapter at all except when I'm home.

I had that problem at first. I had to wiggle the connection again and again to make it work. My solution was to warranty return the original power supply. The replacement works great and has ever since.

I have one, and use it. The greatest feature, and failure is both in the micro usb port. Why it's brilliant, is because I don't have to carry around a power pack with the surface 3 at all, I have a power brick, and it makes it so easy to have an absurd amount of battery life. Its failure is also that it's painfully slow to charge the device, and if only it was type c, which was conceivable at the time, then this device would have been a killer for an atom powered device.

I suspect that Microsoft's Andromeda is going to be the Surface 3 replacement and not the Surface Phone that everyone is speculating.

I loved my old Surface 3, but it's not really a good option today. It's way too slow (even the 4GB model). The screen is slighly too low-res to be useful for work (I found it annoying from the get-go; I was coming from the world of Samsung tablets). There were major screen defects (yellowing and backlight bleed). The pen input was underwhelming (a feature I used every day and still do, mostly for taking notes). The keyboard wasn't great. And did I mention it was slow? Jesus. And the difference with the Surface Pro in battery life, weight and dimensions really isn't anything worth mentioning. (It was great that any old smartphone battery pack could top up the battery, but seriously, I don't need one for my Surface Pro and I'm on the road every day.) So an entry-level Surface Pro would be a huge improvement. Just don't bother with a Surface 3 unless you're broke, in which case you should still probably get an Acer or a Lenovo or one of the Chinese budget brands anyway.

I agree the Surface 3 is not the best for full business use, but as a secondary PC, I totally disagree. It makes a super unit. I use it in the family room for mostly personal, but also some business use. The only use I don't use my S3 for is work that requires a larger screen (MS Money, large spreadsheets). I don't care if you're rich or broke, the S3 is a great secondary unit. I haven't had any of the hardware issues you mention.
Using MS hardware eliminated integration problems. I'm done using any other brand.

I use my Surface 3 everyday for personal use. Of course it's not as powerful as my desktop or my laptop but I also don't expect it to be. I have the 4gb version and for web browsing and light word and excel use its just fine. And anyone that says you can only have 1 tab open is crazy. I often have 6 or 7 open tabs open and stream Spotify with out any problems.

Totally agree. While my Pro 4 with docked monitor, keyboard and mouse is best all around for business, I use my 3 in the family room, with the excellent key cover to do nearly everything the Pro 4 can, mostly personal, but business as well. It sits on a small Queen Ann style table that gets it up close at the right height and the beautiful screen about 15 inches from my face. This makes the size perfect.

Excellent review! As an owner of a Surface Pro 4, I have the luxury of using my Surface 3 much like Zac describes. I too had an RT in which I was happy, but took advantage of the MS rebate to upgrade to the 3. Sometimes there seems to be a double standard for a Windows device and what it should be capable of vs. an iPad. For pure tablet use, I was fine with the RT and still enjoy my Surface 3.

is the surface 3 up to date with windows 10 does anyone know

Here it is 2020, and, my old Surface 3 is still going strong. I donated it to my church when I purchased my Surface Go. The battery report does indicate a reduction in battery capacity, but, otherwise, no real complaints. 🙂

I just remembered the rule about tacking onto older topics. A Mod or Admin can delete both this and my prior comments if necessary. Paul.