Why Microsoft's Surface 3 still stacks up in 2017
By Zac Bowden last updated
It's 2017, and Microsoft's latest consumer Surface tablet is still the years-old Surface 3.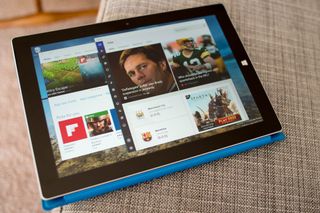 Launching back in 2015 for only $499, the Surface 3 was Microsoft's cheaper alternative to the Surface Pro 3. It rocks the same excellent build quality and a lower price, at the expense of specifications. The Surface 3 wasn't as successful as the Surface Pro 3, but it did allow new users to experience Surface at a much lower cost.
It's been almost two years since that launch, however, meaning the industry has moved forward, and specs from back then most likely no longer hold up well compared to modern-day alternatives. That's true, but the Surface 3 hasn't actually aged all that bad. It already launched with a pretty low-spec CPU, an Intel ATOM to be exact, so even in 2015 you were going to be getting subpar performance compared to an Intel Core M or Core i3 chip.
Unfortunately, Microsoft has yet to update its non-pro line of Surface devices, meaning the Surface 3 is still the entry-level Surface for new customers who want to dip their toes into Microsoft's flagship brand. So how does the Surface 3 hold up in 2017, and is it still a good starter device for new users looking to make the switch? Let's find out.
Performance
First and foremost, performance is important, and as we know, the Surface 3 is no powerhouse. Rocking an Intel ATOM x7 CPU with either 2GB or 4GB of RAM, the Surface 3 was meant to be good for light multitasking, web browsing, email and word processing. It wasn't a device in which you could edit video on the go, as that was the sort of task for a Surface Pro 3. That wasn't what the Surface 3 was for anyway, and Microsoft positioned the Surface 3 as a productivity device, on that was good for students or those who work in Microsoft Office. And it really was.
Even in 2017, the Surface 3 holds up in this regard. In fact, thanks to Windows 10, performance has gotten slightly better compared Windows 8.1. Microsoft has done a lot of work under the hood of Windows 10 to make it work great on low-end hardware, and this directly benefits devices like the Surface 3. It still chokes when multitasking with more than a few apps at a time, but if you're just doing simple things like writing up a document while listening to some music and browsing the web, the Surface 3 holds up fine.
That's the extent of your usage scenario, however. Pushing the Surface 3 any more will cause some noticeable slowdowns. Although better, Windows 10 hasn't perfected everything. Installing updates still takes much longer than on more modern hardware for the same price, and sometimes apps can take a few extra seconds loading, which adds up over time. I've also noticed that sometimes, although rarely, the Start Menu won't open on your first try. It takes a second or third click before Windows decides to actually open Start.
Battery life is exceptional. I constantly achieve nine or 10 hours on a single charge with the Surface 3, and even more when using it lightly. This makes it an excellent device for when you're on the go, as you won't have to carry around a charger just in case you run low on juice. It should get you through the workday just fine.
Speaking of charging, the Surface 3 is rocking a MicroUSB charging port rather than the USB-C you'd expect from a device like this in 2017. Since it launched in 2015, however, micro USB is what you get. Sure, it feels old now, but it's something I can live with considering I still have so many micro-USB chargers lying around.
One of the biggest gripes I have with the Surface 3 is that it takes an unusually long time to charge. Even with the official Surface 3 charger, it can take up to two hours to fully charge from around 10 percent battery. That's super slow when you consider newer devices with USB-C and quick charge can juice up a battery in less than an hour. It's an annoyance more than anything but still something to take note of.
Build quality
Now, one thing Surface gets phenomenally right is build quality, and the Surface 3 is no exception. With the Surface 3 essentially being a cheaper Surface Pro 3, Microsoft had to cut back somewhere to keep costs low. As we can tell by the Intel ATOM chip inside, Microsoft decided to cut back on specs rather than materials used to build the device. As a result, the Surface 3 feels exactly like a Surface Pro device, sporting that super premium magnesium chassis and a gorgeous 10.8-inch, 1920x1200 screen with three-position kickstand.
That 10.6-inch screen is very nice, and with it being a 3:2 aspect ratio, it makes for excellent viewing in portrait mode as well as landscape mode. With the upcoming Windows 10 Creators Update, Microsoft is building in a bookstore, and books will look great on this screen. When in landscape mode, the 3:2 aspect ratio makes everything feel less cramped compared to a more traditional 16:9 aspect ratio screen.
One of the benefits of using an Intel ATOM chip is that it doesn't require a fan to keep cool, meaning Microsoft kept the Surface 3 incredibly thin and without that odd vent cutout you find on both the Surface Pro 3 and Surface Pro 4. This makes the Surface 3 feel like one solid block, which makes for an excellent premium experience when holding the device.
Moving onto the kickstand, an important element on any Surface because it allows the device to stand upright. Although not the same infinity kickstand found on the Surface Pro 3 and Surface Pro 4, the Surface 3 offers three positions, which should be just fine for most people. In addition, Microsoft also offers Type Covers designed specifically for the smaller Surface, which are excellent for people who want to write using the Surface 3.
Unfortunately, Microsoft hasn't updated the Surface 3 Type Covers since they launched, meaning they still use the older Type Cover design and layout rather than the new design and layout found on the Surface Pro 4 Type Covers. This also means there's no way of adding Windows Hello to the Surface 3, because there's no fingerprint option on the Type Covers for the Surface 3. This is where the Surface 3 starts to feel like it's been left behind. No Windows Hello and no accessory updates since it launched make for an experience that feels like it came from two years ago.
That's a shame, because if Microsoft did update the Surface 3 accessories, it wouldn't feel as outdated as it does. If I could buy a new Type Cover for my Surface 3 with a fingerprint reader and updated trackpad and keyboard, it'd breathe new life into the device in more ways than one. That's exactly what Microsoft did for Surface Pro 3 users when the Surface Pro 4 launched, offering users fn the older tablet a way to upgrade their Type Covers. If only Microsoft would do this for the Surface 3, it'd make it a compelling product once again.
Final thoughts
So do I recommend the Surface 3 in 2017? Yes, I do.
It still holds up design-wise, and although it's rocking an Intel ATOM chip, it's still a great lightweight web browsing, email and writing device. That's what it was when it first launched, and that's what it still is today. If you're looking for a device that caters to those needs, you should absolutely check out the Surface 3. If you can find a deal on it, or even get a slightly used one, I definitely recommend it.
Or you could wait and see if Microsoft will update the Surface 3 this year with a new Surface 4, which would make every non-pro Surface user happy. I'm definitely a fan of the non-pro Surface line, and I will be one of the first to preorder a new non-pro Surface device whenever Microsoft announces one. It's a great starter device in the world of Surface, and the device gives users great insight into the build quality and experience you can expect from Microsoft's flagship line of devices.
Zac Bowden is a Senior Editor at Windows Central. Bringing you exclusive coverage into the world of Windows 10 on PCs, tablets, phones, and more. Also an avid collector of rare Microsoft prototype devices! Keep in touch on Twitter: @zacbowden.
i Also use an i5 256 GB/8GB SP2 and also have a Surface 3 LTE 128 GB both Run very nice with W10 RS1! :-)

Yeah me too with the SP2 i5 256GB. Every time I think it's time to upgrade it I think what's the point? It's still got great specs and runs flawlessly today even of it is not as pretty as todays offerings

Couldn't agree with you more Zac. Great light-weight long lasting battery with an excellent screen including Netflix watching. Over time the S3 has improved greatly ie. W10 and firmware updates. I use this device because of it's convenience more so than my SP4 unless additional processing power is required. Lack of fan is a huge plus too. I sure hope a replacement product at a reasonable price is in the works.

Mine is still going strong as well, my mum uses it now though. Two things are wrong in the article, it has an ATOM x7 not an x5 also it's a 10.8" display not 10.6" at 1920x1280, other than that great article Zac ;-)

I got mine as a give away from MS at a conference when they were trying to clear inventory. I love it. It's got some problems - sure - like app icons being empty, but it's a great productivity tool. I took pen notes in OneNote for 4 days straight during a recent business trip and watched Netflix at night. Battery was great!

I have one.. Runs my programs fine, it's light weight, and has good battery life, and LTE, always connected...
....
A lot of people don't know this, but you can add the LTE version to your AT&T account right now. I'm pretty sure att still has some in stock, but you have to call att. I don't think they are listed on the site, and probably aren't in stores.

Thanks for the tip! I just called AT&T and they said they're no longer in stock. :/
If I get one I guess I'd be willing to go used/refurbished too.

I have the insurance on mine.. I wonder what att is gonna do if it fails, or comes up missing 🤔🤔🤔

Same thing they did to me when the screen shattered on my beloved 1020, offer you a "comparable" item, an Android device.

But that's not comparable at all.

This stuff is what makes me have anger and even hatred towards companies. But sadly I have att as well. But I don't ever pay for the insurance as I find it a rip off. ESP since the one time I did have it to use they gave me a refurbed unit. I said no more.

100% agree. Lesson learned.

They are in stock through the business section of AT&T. They only come with Windows 8.1 (AT&T and I had a big argument about this already which actually ended up with them refunding me the cost of a Windows 10 key since the site doesn't say it and the picture is clearly windows 10). For the cost, this is perfect for companies to get for employees on the go that need LTE and don't need a full power house.

I got mine through att in November.. Came absolutely brand new, with 10 installed.

I actually play some games on mine. Rocket League is actually playable! (of course, it doesn't look too pretty ;) )

I play Heroes of the Storm on mine. It's not great, but it's playable.

Civ 3 boggs down as the game progresses. If you end the animations it works better.

My three-year-old Dell Venue 8 Pro finally got dropped hard and lost its screen. It was my Insider Fast Ring device and with all the new goodies I was starting to fall in love with it. I really liked the combination of a super-portable 8-inch screen and pen input. Disappointed that Dell has discontinued that line of devices. The nearly-11-inch screen might be bigger than I prefer, but Surface 3 is something I've been looking at.

To be honest the size didn't bother me and TBH it wasn't as big as I thought it would be.

The screen in the Surface 3, you have to give to get.. Depending in what type of work you're doing in it you'll love it when you're on the move, but sometimes you might wish it was larger, just a tad bit, when working.... And, you can get real work done on this thing.

I have both versions of the DV8P and a Surface 3. I use the DV8P with the USB-C daily. But I must say, my Surface 3, though older, is much more reliable. It just doesn't have quite the use-case for me as an 8-inch device. I hope Surface comes out in an 8-inch version, with kickstand and ARM processor. Oh I hope.

My Surface Pro 2 is still running strong, and I love the 10 inch form factor. It travels very well. I have Galaxy Note 8.0 for comparison. With all the Windows Inking updates, they are pretty close now. Lately I have been using my SP2 more.

I was trying to get my company to buy the new DV8P for me to carry around our lab. I work on a many various instruments connected to Windows computers and with the USB-C dongle, pen input, and connection to network assets, it would've been the ultimate diagnostic hand-tool for my job (to carry around with a screwdriver and multimeter). I don't have lots of alternatives because IT here only allows company-purchased Dell products. Unfortunately I asked just as Dell was discontinuing it. Maybe there's hope around the corner with Windows on ARM.

Took some time, but windows 10 for surface 3 is great :) Use mine with the kids a lot. Been trying to train them to stop calling it an ipad... They're tablets, platform agnostic terminology please :D

That's annoying!!!! 😬😬😬😬😬 iPad can't even run my online classes because the browser is mobilyobily

Mine is so slow and laggy. Though that could be because I use Chrome instead of edge. I have the 2gb ram model and I got it November 2015 for around $400 with type cover, pen, and dock.

I found Chrome to be a big resource hog, especially on the Surface 3 2GB model.

So should I just try using edge or some other browser?
I mainly use my MacBook Pro anyways, mainly use the surface to watch news online. I wish windows had some of the games that my android has. The windows app store is still lacking. Microsoft hasn't solved this gap after all these years.

Look up Remix OS or Remix Player.

I tried installing it once but I couldn't get it to work. Touch support wasn't working

It got better in time? Maybe give it another try sometime.

I use Chrome with extension The Great Suspender which automatically suspends unused tabs. They're no longer burning the CPU but are available for easy reload later, all with less thinking than using a bookmark or tab manager. (And available for multiple windows upon restart after a Chrome session if you let Windows close it rather than doing a Chrome exit.)

Edge works somewhat better but it isn't perfect, Firefox can be laggy with extensions. Personally you would probably be better off using Edge instead

You are certainly experiencing the sluggishness because of Chrome. Edge is a dream.

Trust me, Edge does not improve performance for the 2gb model. Open more than 2-3 tabs, Edge will use virtually all the memory and bring the device to a crawl. My work around has been to use Opera.

It doesn't but unlike Chrome it doesn't eat resources like a kid in a sweet shop

I've got the same as you and the 2GB are the main culprit of its slugginess. I also run Insider Fast, so stability isn't great either. Still a great machine, but my i7, 8GB and SSD laptop has spoiled the experience to me.

Being on the Insider Fast Ring won't help with speed either

I had the 4GB model, and Windows Central in particular was hard on the device--to the point that replying in the comments was often impossible due to input lag. Because Surface is not a "mobile class" device when it comes to browsers, it would run the full version of websites, which is bad when desktop sites are video or advertising heavy. WC often had 2 video ads running at a time(!), which really bogged down the Atom CPU. That was using Edge, before extensions were added, making Adblock possible. Chrome with Adblock actually did better, though scrolling was never as smooth. I liked a lot about Surface 3, but it's hard to recommend it because the desktop browser experience can be painful at times without Adblock (I try to allow ads on the sites I frequent and wish to support). Surface 4 will either be an SD835 running WOA, or hopefully some Y-series version of a Core-based Pentium.

If you use edge and enter reader mode it will get rid of the ads. Firefox also has a reader mode.(I'm not sure about Chrome)

Yeah, and that mode can be quite handy--until you drop down into the comments, as that section usually doesn't make the cut in reader mode.

I just use the uBlock Origin extension which helps a lot with the input lag by removing the ads, not the right way to go but it works. I also use the Windows Central app if I want to look at something quickly.

My experience with Chrome on my Surface 3 has been much better than with Edge. Edge bogs down MUCH worse than Chrome. I actually want to use Edge to get a few extra MS points, but it can't handle anything but the simplest of web sites. I've rarely had a problem with Chrome though.

Glad to see this article; as a happy owner, I agree with all your points. I would just add that the seemingly small difference in form factor/weight from the Surface Pro 3/4 makes a big difference in portability and use as a tablet replacement - I tried both. Actually, it's small enough that i just leave the typecover on when I'm using as a 'tablet' and it is there for easier character entry. I go back and forth seamlessly between touch and keyboard/mousepad, gravitating to easiest method w/out thought. The power is plenty for multitasking email, web, streaming, and office work. With the docking station I use it as my only computer. I read that Microsoft intended to stop manufacturing at end of 2016, which I think would be a mistake. The Surface 3 meets the needs of a large part of the market.

I think MS just needs to update it--go full USB-C to maybe slim it down, and also update the SOC. If MS could talk Intel into a Y-series Kaby Lake Pentium, that would be awesome.

I had one, size was great, performance was acceptable, but lack of internal storage, and crappy keyboard made me sell it and get a real notebook and Ipad. Oh...that's the other thing...the surface 3 as a tablet for using apps was TERRIBLE. Inking was great using the pen. But apps like texture etc Did not work.

it's great for general business applications, including fairly intende modeling. it's still my go-to device, even 2 years later. i hope MSFT offres a similar screen size at some point when i must replace the S3

I'd choose my S3 over my SP1 any day, that's for sure. It's just working pretty well for most of my daily tasks. I have pretty much nothing but good things to say about this thing, bearing in mind what I expected before I got it. Only really noticeable downside for me is the pen, it's not as good as the SP4, and the tablet struggles i bit if you draw in onenote and the notebooks get larger. Yes, I like the vector drawing in onenote, dont ask. I installed Corel painter, and it runs pretty well.

Without a doubt- the Surface 3 is my favorite device I've ever owned. this even with just purchasing a new HP Pavillion Laptop as well as a Alcatel Idol 4S. I got this device about 1.5 years ago and find it to be a very capable device. The size is perfect. I use it for work and find I can everything I want on it. Which is to say I can access my work computer via VPN, I can run multiple spreadsheets and connect it to a external monitor with no issues. It's a marvelous device. I am curious to see the "refresh" of this product this spring. Microsoft would be foolish to abandon this form factor IMO, it's perfect for students (High school and College), it's also perfect for professionals who want extreme portability. The one main gripe is the charging flaw-- Mine as well as many others have issues charging when plugged in, sometimes you have to plug and unplug a half dozen times before it begins to charge.. I hope to upgrade to a SURFACE PRO 5 in the next year. the added power and real estate will be appreciated. But my Surface will still be used in my house, it's a tremendous device.

"Microsoft would be foolish to" ... Have you ever met Microsoft. hehe ;)

Yes,, haa. I didn't like the premature benching of the Band, I liked the Band 2, maybe they'll retool and make a better one that is more durable. Regarding the Surface 3, I think they have to have a small form factor to fill out their family lineup. It just makes sense to have a smaller device as well as a less expensive option.

I agree and like your positivity. 😀

My purchase of the Surface 3 is what got me interested in TECH news and brought me to Windows Central, and made me a strong Microsoft advocate.

I've used S3 everyday as my primary device for just over a year. Granted, it's not for making movies or anything. But for email, web, office, casual games, streaming, etc ... Surface3 has completely replaced my former iPad.

I have 2 Surface 3 4gB 128emmc drive. I never been able to get 9 hours of battery run time with any of the 2. I get 7 to 8 hours of battery run time with both of them. I also think that the lack of performance with that device, is not the Atom x7, but the emmc drive which is very slow, even compared to other emmc drives.

Actually just ordered a Surface 3 a few months ago just for the LTE. Our safety director needed something light and portable that can have network anywhere and this fit the bill perfectly. Threw Windows 10 on it and so far he hasn't had one complaint. Does he use this for intensive work? No but it does the email and light work that he needs! As being part of the techy world and IT, you need to know the device to fit the bill and not force something that doesn't work to work just because you think it is newer or cool. This outdated device fit in cost wise and checked the right boxes for this instance!

I use my Surface 3 for insider builds as well the usual tablet uses (eBooks, email, web surfing, etc.). Eventually I want to trade in the surface and my old laptop for a higher end Surface model, but for now it does what I need it to do.

I bought mine on day one and still use it for everything from Office, Steam games, to drawing comics with Manga Studio 5. I love the thickness and foot print. I would love a little more power, but not having a fan and a smaller form factor is more important to me, I read comics in bed with it. I would love a Surface 4 or 5 without the Pro.

Can I load Android or LinuxMint on it? It might be interesting to dabble with MSWin in tablet form, but not at $500.

From what I gather, it has been attempted, but support is not great. I don't think the type cover works at all.

I am wondering, does surface 3 which is ATOM x7 is more faster than lenovo yoga book which is using a lowerend Intel ATOM x5?

The ATOM x5 is definitely slower than the x7, I noticed this in my mums HP Pavilion x2

I pre-ordered my S3 when they were first announced. It has been my daily driver since. I travel alot for work, and it does everything I need. I also stream my xbox One to it when I am too lazy to get out of bed. The thing is not a powerhouse, but can do everything the basic person needs. I love mine still.

I bought the surface pro 3 with win10, it works really good

I still use mine all the time. Love it!

My Surface 3 is aging badly. The screen shows yellow splotches all around the edges of the screen and various place thru out the middle. It looks particularly bad on light or white images and is distracting. It's less than two years old.

That was one of the flaws in the initial batches of Surface 3

Mine also has the same issue. Is there any workaround to this?

Unfortunately the workaround is to send it in for repair as it's not fixable by software

Back in the early Fall I took my Surface 3 to two different MS stores trying to get a replacement. It is obviously a manufacturing defect but they would not exchange it. They offered to have me paid $220 in each instance to get an another one. I said no thanks. I'll used this as long as possible and will purchase a non MS replacement

Sounds about right. Micro USB charging rate sounds correct. Maybe even slightly faster than some smartphones on microusb with big batteries. 2 hours doesn't sounds bad. And we still don't the damaging effects of battery half life with quick charging, so there's something to be said about the slower rate. And with up to 9 hours battery life a slower charge will likely be an acceptable compromise. If I'm not mistaken the surface 3 accessory port is also compatible with the newer type cover models. So that solves the accessory update problem partially.

It's more than just a lightweight browsing and email device, so much more. As an engineering student I need a portable machine for work, and while I do still do a lot of work on a much more powerful desktop I can't tell how many assignments I have completed with software such as Matlab on my humble surface 3. This beast of a machine is one of my best purchases, If I have the money to spend I will definately upgrade to a surface pro model to fully ditch my desktop.

And when all else fails on the lower powered machine you can always RDP to your workhorses!

I also run mathematical and statistical software on my Surface 3 and it works great. It won't chew through loads of data in a jiffy, but small data sets and somewhat simple code run fine. As for Chrome lag, Ghostery will take care of most of that. I wish the device were faster (and the screen had more pixels) but other than that, I have no complaints. It's a OneNote and econometrics powerhouse, even with an Atom processor. The S3 is the device I've always dreamed of. I don't have a desktop anymore. I don't need one. If and when the next small, fanless Surface comes out, I'm gonna be all over that.

I was looking to get one before Xmas, but it was still relatively pricey. I picked up an Asus Transformer Mini with same/specs save the screen, for a lot cheaper considering it came with a keyboard and pen. It also has the infinity kick stand. Something to consider of you are looking at a new Surface 3.

Buy the surface book with performance base. You won't regret it

Grammar police.
From the article...."performance has gotten better"
O.o
How about "performance has improved"

the surface 3 is long in the tooth, and there are new options. I would like to see how Lenovo's thinkpad 10 with the atom x7 8750 compares, or any other new atom based tablet that's a generation newer then the s3

And, contrary to all Pro-models: the S3 actually has 2 USB-ports for data ... .(by extending the micro-USB power inlet with a cheap USB-OTG connector). Thus it is a direct competitor to the Surface Studio, in a sense ...

Lots of people on the forums laugh but I love my S3. I got the 4/128 model and it is a great productivity device. I use it daily as a science professor for lectures, endless meetings (even academia has those), laboratories (great with active pen), and putzing around. Yeah it can't do heavy duty lifting like modeling de novo in organic chemistry, but handle the 3D models just fine. I get through a day on a charge, and on the long days I can run it off a decent backup battery. The only downside is that there is some kind of laggy hardware issue with miracast off it. My tegra powered Nexus 7 can cast to a Microsoft wireless adapter with no hiccups, but the S3 always has a little lag to it (same issues with other Atom W8 tablets).

Love my 64GB Storage 2GB RAM atom processor Surface 3. Best tablet I have had. I have had iPads, surface RT/2, and instill have my surface pro 3... But the surface 3 I won from a Windows Central hidden gems contest has been a daily carry for home and work. The size is great. I can push its limits, but I usually use it with no compromise. My surface pro 3 is good, but he surface 3 is great. It doesn't not get hot, no fan noise, great battery life, full windows... I thought I like my Dell venue pro 8 as a tablet, but they surface 3 is my personal laptop. I remote into my dev machines when needed. I was in LA for business last week, just had my surface 3 and pro 3... Both kicked tail as I had to screens to work with and no compromise. A light weight package that can do just about all. I have really powerful machines, but the surface3 has been nothing but a joy. I am not talking about playing games, watching movies, or browsing web... I use my devices for work and being a geek at times... But that's fun for me

Plus it handles plenty of decent games (Starbound is my current fav) just fine for when the meetings get too long.

The one complaint I have about build quality is that the power/lock button has gotten a bit sticky. Wouldn't have expected that to happen in the 18 months I've had it.

I have had a strong interest in having one of the LTE 4gb 128 models, but they are almost impossible to get these days....

Can't you use the type cover from the sp4 and use it on the surface 3?

The Surface 3 is smaller than the SP4. The keyboard might function, but it would look really odd.

"2015 machine in 2017" lol. I built my PC in 2012 and it still stands strong, even when playing the latest games. Surface is a good device, it doesn't wear off that fast. Why do you guys make all this fuzz about it? It doesn't need to be updated every year

Exactly Samuel. I still have an acer 17" 7720 that I use regularly with windows 10 on it. All I did was max ram, add an SSD, put the second HD is storage. The only issue I have is that I cannot get the touchpad to recognise scrolling no matter what drivers I install. Other than that it's fast. No need to toss old machines away anymore. Windows 10 is actually pretty resource savvy. It actually runs faster with 10 than it did with 7. The only reason I have been buying a crap load of tech lately was I was trying to find something that fit what I needed. The surface 3 was close. Just didn't have enough onboard storage, and the apps downright sucked on it. as did the keyboard. I went to a dell 2 in 1, slapped 64gb ram and a 2tb SSD in mine and I think I have the perfect machine for what I need. Got the wife a dell 11" to replace her surface 3, because she hated the keyboard too.....and I put 8gb ram and 2 TB SSD and she loves hers as well. These devices, barring physical damage, will last us a long time.

thanks for the downvotes. Nice to know I am still loved when I make COMPLETE SENSE! Silly fanboys!

Personal preference aside for the Type Cover, you can always buy super fast microSD to supplement storage. As for your Acer, you must use older drivers for your touchpad. For my Fujitsu T4210, the newest driver I can use for the touchpad was the Synaptic v16.2. Anything newer and the gestures wouldn't work in Win 10. If your Acer is using a Synaptic touchpad, try searching for that driver. If you're using Alps, look for the Vista drivers.

Eric, as a traveller/photographer I still had to take hard drives with me on trips. Just not enough storage for the photos and videos. So that's why I said there is not enough storage. It could edit photos and videos no problem, sure a bit slower than a maxed out notebook, but still not unreasonable. But I have a 2 tb SSD in my dell now and have lots of storage for our travels, and I can carry all my photos on my notebook until we get back home to dump them into my server. As for the touchpad, I tried EVERYTHING. old drivers, new drivers.

OIC. When you install old drivers in Windows 10, you have to make sure that the driver is actually installed in Device Manager. Many times, it isn't enough to just use the Driver Installation program. You may have to change the driver manually because Windows 10 may continue to use the built-in driver rather than the one you just installed.

Yeah, I have been trying everything. I can't roll back drivers through Device mangler. I have to give it another shot this morning. I hope I don't have the same problems on my shop computer. a hot rodded HP elitebook. Thanks for the help bud. I will give it a shot again. I will download the old vista drivers again, and try to get them to force through device manager.

After weighing the options between a Surface 3 & a Pro 4 m3, I decided to go with the Surface 3 last year. The factor that pushed me to the Surface 3 is the entire Surface line isn't upgradable unlike the TabletPC I was using. So I decided to spend less $$$ and upgrade every 2 years. For a Atom-based tablet, I'm very happy. It's much faster than the Dell Venue 8 Pro and Asus Vivotab 8 which I played with for a short while. The only letdown is the eMMC 4.5 storage which restricted storage speed and causes Windows Update to be slow as molasses. But I can live with that, just let it restart overnight. No biggie.

Can you buy this still at the MS Store? did'nt they remove it from display a while back?

still running W8.1 on my S3, primarily for reading + web browsing + note taking.
Not upgrading until they finally release Fullscreen for Edge!

You can still set the default browser to IE11 and use F11 to go fullscreen.

Shift+Win+Enter in Edge will go full-screen!

this works however this implementation is disappointing, can't snap a second app next to it or have 2 edge windows side by side in FS mode, this is possible on windows 8.1 with modern IE

I bought a Lenovo Miix 700 with the intention of selling my Surface 3 and 5 year old HP Dm4. But, there is just something abut Surface 3's form factor that makes me want to hold on to it. The Miix is a thoroughbred compared to the Surface 3's performance. But when I need a consumption device where I might want to send off a few emails or type up a quick document, then the S3 is in the bag.

I just bought my first Surface Pro 3! Amazing. I bought it mainly for drawing, but maybe some music recording. I use garageband on a Mac, what are some good music recording programs? I just had a major update on this this... Makes my Mac seem a bit boring! Very happy with this. I got the i5, 256gb, 8gb ram model, with Windows 10 Pro. I got the tablet, keyboard and pen for $500 on eBay, and in great condition. I'm a former WP user, hoping for a Surface phone too... If it's anything like the tablet, yes, please!

Welcome to the future matt. I am looking for windows 10 music production software too. I was on OSX twice and hated it. I bought them for garage band. But my mac's just sat in a corner the rest of the time. Touchscreen, etc is SOOOO much better than the apple macos now.

You sound like me with my macbook purchase from about 3 months ago. I wanted it mainly for garageband, but used it for nothing else! I'm serously thinking of selling it...love the functionality of the surface Pro 3! I was looking at Reaper which is $60 and seems really good. There's also Audacity amongst others...love the touchscreen too. Microsoft has done great with the Surface line!

Not the 3, but I still use my Surface 2 (ARM) every single day. It's just perfect for my daily lightworking routine!

My surface 3 is the most used device in our house. It never was a powerhouse, but rocks for casual use.

Sounds nice, but as long as my Nokia Lumia 2520 still runs, not updating :-)

My S3 (4G model) is a preorder I've had since day 1 and is still going strong. I use it mainly while traveling, but still use it around the house for some things, mainly streaming, mail, and web. Every time I think about exchanging it for one of its big brothers, I end up staying with the S3 because of the size.

I recently replaced my Surface 3 with a SP4 and was surprised by how thin it is. The extra width makes it about the same size as a laptop but the weight is lighter than my work ultrabook.

I still love my Surface 3, but it does have a yellow line going down on the right side of it. Which is annoying on a black screen, but isn't too bad. I thought about sending it in to Microsoft as it was still under warranty, but decided to wait and replace it with a Surface Pro 5 later this year. Whenever that comes out. I just wish the keyboards weren't so damn expensive. I could get an HP stream for the price of their keyboards.

That is so funny, I have the exact same issue... I wonder if it was widespread.

I got a surface 3 around a year ago. Its a great product to read and listen to music at. I feel that its way to slow tough.... I like the design and size tough, but when it gets slow with 2 tabs in the browser (firefox) and spotify on... ( i got the one with 4 gb ram) Anyone have a sugestion for what to get in the future? (I probably just will build my own pc and keep the surface as on the go computer)

I have the top of the line 4GB LTE Surface 3 and its very underpowered. I got it because of the LTE option. There are some nice things about it but its slower than my old iPad3. Cherry Hill doesn't cut it. Hopefully the will come out with either a SurfacePro5 or SurfaceBook2 with LTE builtin option. THen I will be throwing my money at MS.
Windows Central Newsletter
Get the best of Windows Central in in your inbox, every day!
Thank you for signing up to Windows Central. You will receive a verification email shortly.
There was a problem. Please refresh the page and try again.