Why Microsoft's Surface 3 still stacks up in 2017
It's 2017, and Microsoft's latest consumer Surface tablet is still the years-old Surface 3.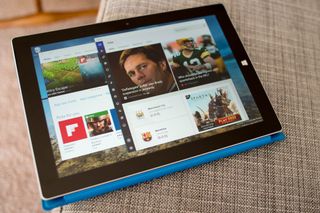 Launching back in 2015 for only $499, the Surface 3 was Microsoft's cheaper alternative to the Surface Pro 3. It rocks the same excellent build quality and a lower price, at the expense of specifications. The Surface 3 wasn't as successful as the Surface Pro 3, but it did allow new users to experience Surface at a much lower cost.
It's been almost two years since that launch, however, meaning the industry has moved forward, and specs from back then most likely no longer hold up well compared to modern-day alternatives. That's true, but the Surface 3 hasn't actually aged all that bad. It already launched with a pretty low-spec CPU, an Intel ATOM to be exact, so even in 2015 you were going to be getting subpar performance compared to an Intel Core M or Core i3 chip.
Unfortunately, Microsoft has yet to update its non-pro line of Surface devices, meaning the Surface 3 is still the entry-level Surface for new customers who want to dip their toes into Microsoft's flagship brand. So how does the Surface 3 hold up in 2017, and is it still a good starter device for new users looking to make the switch? Let's find out.
Performance
First and foremost, performance is important, and as we know, the Surface 3 is no powerhouse. Rocking an Intel ATOM x7 CPU with either 2GB or 4GB of RAM, the Surface 3 was meant to be good for light multitasking, web browsing, email and word processing. It wasn't a device in which you could edit video on the go, as that was the sort of task for a Surface Pro 3. That wasn't what the Surface 3 was for anyway, and Microsoft positioned the Surface 3 as a productivity device, on that was good for students or those who work in Microsoft Office. And it really was.
Even in 2017, the Surface 3 holds up in this regard. In fact, thanks to Windows 10, performance has gotten slightly better compared Windows 8.1. Microsoft has done a lot of work under the hood of Windows 10 to make it work great on low-end hardware, and this directly benefits devices like the Surface 3. It still chokes when multitasking with more than a few apps at a time, but if you're just doing simple things like writing up a document while listening to some music and browsing the web, the Surface 3 holds up fine.
That's the extent of your usage scenario, however. Pushing the Surface 3 any more will cause some noticeable slowdowns. Although better, Windows 10 hasn't perfected everything. Installing updates still takes much longer than on more modern hardware for the same price, and sometimes apps can take a few extra seconds loading, which adds up over time. I've also noticed that sometimes, although rarely, the Start Menu won't open on your first try. It takes a second or third click before Windows decides to actually open Start.
Battery life is exceptional. I constantly achieve nine or 10 hours on a single charge with the Surface 3, and even more when using it lightly. This makes it an excellent device for when you're on the go, as you won't have to carry around a charger just in case you run low on juice. It should get you through the workday just fine.
Speaking of charging, the Surface 3 is rocking a MicroUSB charging port rather than the USB-C you'd expect from a device like this in 2017. Since it launched in 2015, however, micro USB is what you get. Sure, it feels old now, but it's something I can live with considering I still have so many micro-USB chargers lying around.
One of the biggest gripes I have with the Surface 3 is that it takes an unusually long time to charge. Even with the official Surface 3 charger, it can take up to two hours to fully charge from around 10 percent battery. That's super slow when you consider newer devices with USB-C and quick charge can juice up a battery in less than an hour. It's an annoyance more than anything but still something to take note of.
Build quality
Now, one thing Surface gets phenomenally right is build quality, and the Surface 3 is no exception. With the Surface 3 essentially being a cheaper Surface Pro 3, Microsoft had to cut back somewhere to keep costs low. As we can tell by the Intel ATOM chip inside, Microsoft decided to cut back on specs rather than materials used to build the device. As a result, the Surface 3 feels exactly like a Surface Pro device, sporting that super premium magnesium chassis and a gorgeous 10.8-inch, 1920x1200 screen with three-position kickstand.
That 10.6-inch screen is very nice, and with it being a 3:2 aspect ratio, it makes for excellent viewing in portrait mode as well as landscape mode. With the upcoming Windows 10 Creators Update, Microsoft is building in a bookstore, and books will look great on this screen. When in landscape mode, the 3:2 aspect ratio makes everything feel less cramped compared to a more traditional 16:9 aspect ratio screen.
One of the benefits of using an Intel ATOM chip is that it doesn't require a fan to keep cool, meaning Microsoft kept the Surface 3 incredibly thin and without that odd vent cutout you find on both the Surface Pro 3 and Surface Pro 4. This makes the Surface 3 feel like one solid block, which makes for an excellent premium experience when holding the device.
Moving onto the kickstand, an important element on any Surface because it allows the device to stand upright. Although not the same infinity kickstand found on the Surface Pro 3 and Surface Pro 4, the Surface 3 offers three positions, which should be just fine for most people. In addition, Microsoft also offers Type Covers designed specifically for the smaller Surface, which are excellent for people who want to write using the Surface 3.
Unfortunately, Microsoft hasn't updated the Surface 3 Type Covers since they launched, meaning they still use the older Type Cover design and layout rather than the new design and layout found on the Surface Pro 4 Type Covers. This also means there's no way of adding Windows Hello to the Surface 3, because there's no fingerprint option on the Type Covers for the Surface 3. This is where the Surface 3 starts to feel like it's been left behind. No Windows Hello and no accessory updates since it launched make for an experience that feels like it came from two years ago.
That's a shame, because if Microsoft did update the Surface 3 accessories, it wouldn't feel as outdated as it does. If I could buy a new Type Cover for my Surface 3 with a fingerprint reader and updated trackpad and keyboard, it'd breathe new life into the device in more ways than one. That's exactly what Microsoft did for Surface Pro 3 users when the Surface Pro 4 launched, offering users fn the older tablet a way to upgrade their Type Covers. If only Microsoft would do this for the Surface 3, it'd make it a compelling product once again.
Final thoughts
So do I recommend the Surface 3 in 2017? Yes, I do.
It still holds up design-wise, and although it's rocking an Intel ATOM chip, it's still a great lightweight web browsing, email and writing device. That's what it was when it first launched, and that's what it still is today. If you're looking for a device that caters to those needs, you should absolutely check out the Surface 3. If you can find a deal on it, or even get a slightly used one, I definitely recommend it.
Or you could wait and see if Microsoft will update the Surface 3 this year with a new Surface 4, which would make every non-pro Surface user happy. I'm definitely a fan of the non-pro Surface line, and I will be one of the first to preorder a new non-pro Surface device whenever Microsoft announces one. It's a great starter device in the world of Surface, and the device gives users great insight into the build quality and experience you can expect from Microsoft's flagship line of devices.
Get the Windows Central Newsletter
All the latest news, reviews, and guides for Windows and Xbox diehards.