Surface Book 2 hands-on video: MrMobile falls in love ... again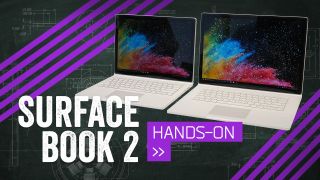 It feels vaguely heretical using a MacBook to type out my Surface Book 2 hands-on, but if you've been following my videos for a while, this particular sacrilege will probably come as no surprise. As I've said before, I'm essentially married to the MacBook Pro because all MrMobile videos are built in Final Cut Pro. But as the saying goes, just because I'm on a diet doesn't mean I can't look at the menu.
For the past two years, the Microsoft Surface Book has sat at the apex of my ideal-Windows-device pyramid. When I reviewed its Performance Base upgrade last year, the laptop's funky four-in-one form factor won me over, its vast capabilities making up for its ponderous size and prodigious price tag. Today, Microsoft reinvigorates its halo notebook with the Surface Book 2, a duo of devices offering the same look and feel of the Surface Book, but with revised specs and two available sizes.
I normally wouldn't wax poetic about so iterative an upgrade – but the Surface Book is a special line of machines, and it is just the shot in the arm the portfolio needed. Microsoft calls it "twice as powerful" as the MacBook Pro, and the company seems to be targeting Apple even more aggressively than it did last year, retaining the Surface Book's USB-A ports and SD card reader while adding USB-C support. That kind of offering seems tailor-made for would-be Windows converts like myself … and it'll be a miracle if I get to the other side of my Surface Book 2 review without buying one.
Until then, join me for the MrMobile Surface Book 2 hands-on! I spent two hours with the new notebooks alongside Windows Central editors Daniel Rubino and Mark Guim, and there's a lot more to these upgraded models than it might first appear. Then check out Windows Central's own Surface Book 2 impressions for the full deep dive, and let me know what you think of 'em in the comments below!
Stay social, my friends
Get the Windows Central Newsletter
All the latest news, reviews, and guides for Windows and Xbox diehards.