Surface Book 2 preorder ship dates slip for some
If you preordered the new Surface Book 2 from Microsoft and saw your shipping estimate slip past release day, you're not alone.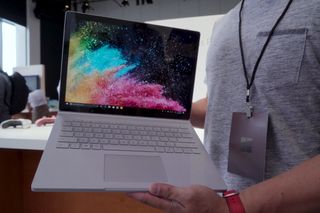 A number of Reddit users have reported that, despite preordering the Surface Book 2 on the same day preorders went live on the Microsoft Store, they've seen their shipping dates slip from the November 16 release date.
The delayed date appears to affect anyone who ordered a 15-inch model, with shipping dates moving from November 16 to November 30. We've seen it as well, with a 15-inch 256GB model, which showed that it would be available at launch when ordered, but recently switched to a November 30 ship date on the orders page. The dates also line up with shipping estimates now available on the Surface Book 2 order page (opens in new tab), which indicates a shipping date of November 30 for all 15-inch models, save for the 1TB version, which is set for even later on December 15.
Curiously, not all 15-inch orders seem to be affected, as some are also reporting that they've already received shipping confirmations.
In any case, shipping seems to be all over the place for anyone who ordered the larger model.
Did you preorder a Surface Book 2? Have you seen your initial shipping date slip? Let us know in the comments, or chime in on our forums.
See at Microsoft (opens in new tab)
Windows Central Newsletter
Get the best of Windows Central in in your inbox, every day!
Dan Thorp-Lancaster is the former Editor-in-Chief of Windows Central. He began working with Windows Central, Android Central, and iMore as a news writer in 2014 and is obsessed with tech of all sorts. You can follow Dan on Twitter @DthorpL and Instagram @heyitsdtl.
My order got bumped to the 30th. I just checked my card and there is a pending charge again. Dated today the 15th. So there is still hope I guess.

I have received no direct communication info from MSFT on my confirmed preorder....but have seen the comment on web on the MSFT Store Surface 2 website "ships by 30 Nov" vice release date 16 Nov. Ordered my i7 256 15 on day one 0020 EST (2120 PST) just 30 miles from MSFT. Sigh.

So far mine still says "ships by 15 Nov". I am really hoping that it doesn't slip.

Well this sucks... Mine now says that it ships by 12/15. What the heck is going on over there? The odd thing is that I am showing a pending transaction on my credit card for the full price. Not sure what to believe right now.

Mine got bumped to "ships by Nov. 30" on the My Orders page, too. But it said it would "be available on Nov. 16" when I preordered. And I never got any notification about the delay. Lame.

Check FedEx Delivery Manager I am in the same boat as you, but see a package from MS scheduled for delivery by 8PM tomorrow even though my MS order page now says ships by Nov 30th too.

mine was bumped to the 30th too :(

Ordered my 13inch i7/1TB in th UK. Got a dispatch confirmation this afternoon. Yay! ;)

"coming soon™" boys "coming soon™"

oooooo panzy fangirl downvote for the OBVIOUS JOKE! waaaaaahhhhhh! Go cry in your fruit loops some more.

Where do you guys find these delivery estimates? My order history at the Microsoft Store just says "Pre-Ordered," and there's no reference to shipping dates. (I placed my pre-order about a week ago.)

Bumped to 30th also. I just hope they aren't obliged to give inventory to best buy and newegg before direct orders.

Shipping was updated, it shipped today 15th and arrives tomorrow 16th, since I paid for expedited shipping. Not bad for CA to FL.

FWIW, I ordered the 13-incher with discrete graphics and 256GB storage, and mine has only said "pre-ordered" for the past week. Judging by the Reddit discussion, however, I seem to be an outlier.

If you have FedEx Delivery Manager (or create a free account), check there regardless of what your MS order page says. I was told today by MS Customer Service that my order had slipped to the 30th even though I ordered minutes after the pre-order opened but I have a FedEx label created and scheduled delivery from Microsoft due by 8PM tomorrow.

Thanks, Denalor. I set up a FedEx delivery manager account, and it showed my lable printed and a delivery date of tomorrow.

This was a total non-story. I just got an email from the Microsoft Store saying it shipped on time and will be delivered tomorrow. I am sure the new dates are for people that buy now and not for the people that already pre-ordered.

I preordered my 15-inch SB2 within an hour of preorders going live. Today is launch day, and my order is only just now "processing," which hopefully means it will ship today. Still, I expected it to ARRIVE today. And Microsoft never sent me any sort of delay notification. That's a story. A sad customer experience story.

My order shipped a few hours ago. I pre-ordered the 15-inch 512gb model on Sunday. Im in the US.

I preorder mine the morning of 11/9 and am getting the 15" 16gm with 512SSD, and confirmed I will have it tomorrow morning. I can't wait, this is going to be a great edition to my Surface Studio

I ordered 11/9 and I pick up at the store tomorrow, 15 512

Just checked again and lo and behold, UPS tracking number generated, Visa charged, and mode is overnight air to Hawaii where am visiting. Screw the beaches, i am activiating an SB2 15 i7 256 tomorrow...anyone wanna see a pic or vid of box opening with waving palms? (hard lesson from years ago...sand and laptops are rarely a great combination).

YES! This happens all the time with Dell in canada...Not sure about them in other areas of the world. My new touchscreen monitor was listed first to be delivered on november 2 then after watching DELL's tracking system it went to december 20th. the box showed up on November 2 as stated originally. More than likely going to be the case for most everyone ordering surfacebooks as well!

Bumped till 30, going to cancel since local Ms store has them tomorrow, in the 15" 512gb configuration. Only canceling after I have device in hand. Pre-order used to mean something.

Order was placed on 9th at 5am before going to airport in Vegas.
Windows Central Newsletter
Thank you for signing up to Windows Central. You will receive a verification email shortly.
There was a problem. Please refresh the page and try again.