Surface Book 3 spec leaks show 10th Gen Intel and professional-grade GPU
The Surface Book 3 could see a noticeable spec bump over its predecessor, according to new leaked retail listings.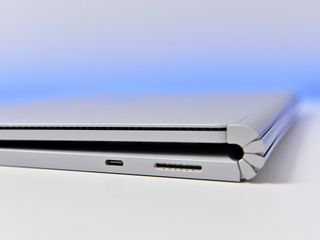 (Image credit: Daniel Rubino / Windows Central)
What you need to know
A leaked retail listing shows potential details of the Surface Book 3.
The listing indicates that the Surface Book 3 will bump up to a 25W processor and have an option for an NVIDIA Quatro GPU.
Other listings share potential details about the Surface Go 2.
Update: Small correction: These are standard 15W chips, not stronger 25W ones.
Recent leaked store listings include potential details about multiple variants of the upcoming Surface Book 3. As with all leaks, these need to be taken with a grain of salt, but they line up fairly well with what's expected of the Surface Book 3. They certainly don't include any details that seem blatantly unrealistic. WinFuture first spotted the listings and shared details about the Surface Book 3. Additionally, some details about the Surface Go 2 came out through leaked listings.
The listings show options for 13-inch and 15-inch models of the Surface Book 3. Both models have options for the Intel Core i5-10210U and Intel Core i7-10510U processors, according to WinFuture. These chips are similar to the previous generation being 15W TDP, but they can burst or be configured to run at 25W TDP.
While it's not clear exactly how different these chips will be, there's a fair chance that the Surface Book 3 will have much more powerful chips than its predecessor. Intel's data charts share more insight regarding the Intel chips that might appear in the Surface Book 3.
WinFuture notes that the Intel Core i5-10210U and Intel Core i7-10510U processors have a base clock speed of 1.6GHz and 1.8GHz and a turbo clock maximum speed of 4.2GHz and 4.9GHz, respectively.
It also appears that The Surface Book 3 will see a bump to an option with 32GB of RAM. This jump isn't surprising but is more than the previous model. There will also be options for 8GB and 16GB of RAM, according to the listings. Storage for the Surface Book 3 goes up to 1TB on the listings.
On the graphics side of things, the Surface Book 3 seems like it will have an option to have an NVIDIA Quatro GPU. These would be professional-grade GPUs that could handle heavier workloads.
The Surface Book 3 listings range from €1,007 to €4,256 (roughly $1,093 to $4,617).
WinFuture also shares some potential details about the Surface Go 2 based on retail listings. The Surface Go 2 will reportedly have LTE and non-LTE option. According to WinFuture, the Surface Go 2 will have an 1800x1200 pixel display and potentially have a screen diagonal of 11-inches. If accurate, this would mean that the Surface Go 2's display would be largely the same as the original Surface Go.
On the inside, the Surface Go 2 will reportedly have an Intel Pentium Gold 4425Y, with a clock speed of 1.7GHz or an Intel Core m3-8100Y CPU. The Core m3 CPU is from the Amber Lake family of Intel chips. It has a base clock speed of 1.1GHz and can reach speeds of 3.4GHz. The Surface Go 2 will have options for 128GB or 256GB SSDs, according to the listing.
As always, leaked listings can be inaccurate or incomplete. There could be other variants of each device listed, or things could be entirely different.
Windows Central Newsletter
Get the best of Windows Central in in your inbox, every day!
News Writer and apps editor
Sean Endicott brings nearly a decade of experience covering Microsoft and Windows news to Windows Central. He joined our team in 2017 as an app reviewer and now heads up our day-to-day news coverage. If you have a news tip or an app to review, hit him up at sean.endicott@futurenet.com (opens in new tab).
New Surface Book 3 15" with a Core i7, 16Gigs of RAM and 256GB storage for €1400,00???? That's a bargain. I might get me one. We have a Surface Book 2 15" and it's a beast. Best laptop we ever owned.

I still use my OG Surface Book. I wish that the driver problem for discrete GPU was better handled but happy to see a 3rd revision come out. It is a great device.

What driver issue? I have an OG with nvidia gpu and haven't had any problems with the gpu driver. Now this terrible wifi driver is another issue. So tired of having to reset my damn wifi adapter 5 times a day...

I like that quadro is an option, but I'd like to at least see something besides skylake 14nm+++++++. The iGPU performance and RAM speed limits of CML are just not worth the price premium imho.

Indeed, that's an optimization, for something that has yet to be released I was hoping for at least one of the new Ice Lake cpus.

I just want Thunderbolt 3 on a Surface... Hopefully the Book 3 has at least one.

Same. If there is no Thunderbolt then DOA IMO

11 inches on the Surface Go means they probably shrank the bezels, as the original Go has a 10 inch display. With a processor that can boost, Microsoft has really made a huge improvement here over the original.

Hmmm...Wonder if Office Mobile will still be free with the screen size increase.

Hah yeah that's exactly what sprang to my mind - I'd love smaller bezels (even without a bump in res) but yeah it does mean you're now above the 10.1" cutoff - shame. Although while I initially thought Office Mobile would be useful for me, I actually didn't end up using it much. YMMV

Gonna call BS on the list. There are two identical listings with a $1500 price difference: Core i7-10510u, 13.5", 32GB, 512GB. Honestly, it looks like some random placeholder information.

It's so disappointing that the Surface Book 3 gets the objectively worse intel CPU instead of an AMD CPU but the Laptop 3 15" got the objectively worse AMD, I know that you could get the better intel CPU but still...

Yup. Seems like Microsoft makes these sort of dumb decisions every time.

The engineering and design decision happen many months if not years ahead of when we see these products. And until a month ago AMD's mobile chips were quite inferior and honestly sucked.

Hey, Windows Central. What is Nvidia Quatro GPU? A new upcoming graphics special for SB 3? You know, this thing does not exist right now...

I assume they meant Quadro which is Nvidia's professional series of GPUs.

Come on Microsoft, you know you're better than this. One of your best Laptop ranges in the surface book, and ONLY Intel CPU's??? The New AMD 4000 mobile processors are ripping things up. Show us some spine! 7nm and ultra efficient while intel is trying to sell everyone a redo of a redo of a... 14nm architecture.... Dissapointing

There are rumors of an AMD variant coming later.

You don't just stick in a new processor right when it comes out you know, it takes much longer planning and engineering

Umm they just don't decide on specs on a single day and put it in factories, especially with many design challenges in Surface Book. AMD 4000 is impressive but was only released months ago, and this Surface Book likely been on final design way back than that. If they will release a AMD variant, which would be nice, then it would be on later date. Probably middle between Surface Book 4. Though there is a higher chance that AMD 4000 will come on Surface Laptop first instead.

We'll see but without an i9 and thunderbolt, this machine is a no go. I've basically given up on the surface line as doing 3D modeling with computational EM tools like HFSS is basically unusable. In order to not lose hours of my life, an eGPU is required for decent hardware acceleration.

I don't think these machines are meant for what you are trying to use them for...

The fact that they listed comet lake cpu's instead of ice lake ones does not make sense efficiency wise. Especially since Surface Pro's also use Ice Lake cpu's and Surface Books have their cpu in the tablet part too. Maybe this leak is not correct?

@ochhanz I believe you may be correct.

Yeah, I wouldn't recommend anyone interested in longevity of their computer look into these. Just checked for Driver Updates again on my Surface Book 2, 15 inch with a GTX 1060... "The best drivers for your device are already installed". No update since 4/04/2018. Missing critical features for using Adobe products and many video games. Unbelievable lack of support from MSFT here. My next computer is a Dell or a Mac.

I think in general MS is pretty good with driver updates (at least with recent machines), but the Surface Book is maybe a bit too exotic if someone wants a reliable machine. A clamshell laptop or a laptop with 360 degree hinge is in that regard more reliable (taking into account that someone skips the budget models and e.g. buys a Spectre, Zenbook or Thinkpad 2-1 or such).

Agreed. I can upgrade to NVIDIA's GPU driver but I risk random BSODs or the tablet portion no longer working. Pretty horrible position to be in. Really poor form from Microsoft; they're treating their - in price at least - flagship and most powerful device like a released-and-done piece of kit. We SB2 owners collectively waited on a very old version of Windows while everyone else got the latest software. Absurd to sell this as a device for pros or prosumers with that level of lethargic support (complicated and futuristic as it may be of a device). I actually love the hardware, I am just out of love with the support experience. Feels like the Lumia line all over again

Doesn't MS give updates for the gpu itself through Windows updates? (like very half year or every year or such?)
Personally I only upgrade gpu drivers every 1-1.5 year on my desktop & laptop since I am usually not noticing much difference if I do it more regular.
Windows Central Newsletter
Thank you for signing up to Windows Central. You will receive a verification email shortly.
There was a problem. Please refresh the page and try again.