Surface Duo 2 draws interest, and preorders, from enthusiasts
Almost one-third of our readers want to buy a Surface Duo 2.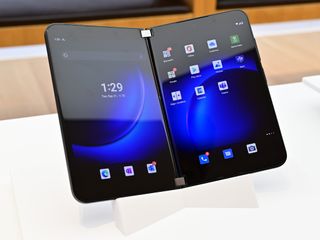 (Image credit: Daniel Rubino / Windows Central)
What you need to know
Microsoft announced five new Surface devices and three new accessories last week.
Over 30% of our readers that voted in a recent poll want to buy a Surface Duo 2.
The Surface Pro 8 received the second most votes, with almost 24% of polled participants saying they'd like to order one.
Going into Microsoft's Surface hardware event, our readers were most excited by the Surface Duo 2. That excitement appears to have continued following the official announcement of the foldable device.
"Preordered two Duos for my husband and I," said sarfinv in the comments section of our recent poll. GraniteStateColin preordered one as well, "I've preordered the Duo 2 already (but grumbled about the missing Qi)." Several other readers said they would buy a Surface Duo 2 when it became available through their respective carriers.
Over 30% of our polled readers said they'd want to buy the Surface Duo 2.
The Surface Pro 8 came in second place with 23.64% of the vote (note that voters could select multiple options in this poll). The Surface Pro 8 saw its most significant refresh in several generations, including thinner bezels and a larger display.
Around one in five voters said they'd want to purchase the Surface Laptop Studio. Several have already preordered Microsoft's new device. ITMedCEO said that a "fully loaded Surface Laptop Studio is on the way!"
Microsoft calls the Surface Laptop Studio the most powerful Surface device to date. That power convinced jasqid to order one. "I pre-ordered the i7 studio laptop. First time I ever [ordered] a device like this. I've [had] a pro 3, pro 7 i5 and it just wasn't enough. Kept over heating. So I went with this beefier piece. Not looking forward to the extra weight and thickness but it will have to do."
While it fell behind the major hardware announcements, the Surface Slim Pen 2 drew a fair amount of interest from our readers. Almost 14% of those polled said that they would purchase a Surface Slim Pen 2.
News Writer and apps editor
Sean Endicott brings nearly a decade of experience covering Microsoft and Windows news to Windows Central. He joined our team in 2017 as an app reviewer and now heads up our day-to-day news coverage. If you have a news tip or an app to review, hit him up at sean.endicott@futurenet.com (opens in new tab).
Does Microsoft offer a trade in deal on Surface products in the UK?

This is absolutely me, I needs it noowww

That's how I feel too. Sadly, even though I preordered only 1-2 days after it went up for preorders, I'm already in later delivery batch, missing the Oct window. My order is showing Nov 3 as a probable delivery date.

As long as the software is fixed Im all on board.

That is the question I need answered as well

That would mean the software was fixed for both devices. But I doubt it, Micro$haft will be screwing customers with this on jut like they are doing with Duo V1. Vaporware updates.

I've yet to decide for sure. The Duo is obviously the most intriguing, as it offers so many improvements over the first. The SP8 isn't bad, but if you already have one (especially a 7 or 7+), some ports aren't worth a 4-figure replacement purchase. It doesn't break any new ground to sell to many new kinds of customers. It's a very "status quo" offering. The SLS is too niche in its form factor. It's quite pricey for a niche device (even as the Duo is similar in its cost). The Go is kind of just there, barely changed and not likely to draw new buyers. The Duo is just the one that has the major upgrades, daily usability, and coolness. It deserves the most attention.

512GB preorder sold out in UK... 😞

3-Month before I upgrade - but awesome to see it selling so well! :)

Unfortunately, while I enjoy my Duo 1, I'm be waiting for the Duo 3 because I actually use my current Duo in candy bar mode when on a call unlike what MS said (most people didn't use it with the screens folded on one another). While I appreciate the much improved camera, I just can't see myself taking a call with the phone opened in book mode and not have the ability to fold the screens flat on top of each other in sandwich mode 😁. I also wish MS would simply have made a Duo - S (single screen) to simply compete against the iPhone & the Galaxy S series devices and leave the Duo to compete in the foldable category.

OMG55, I too take calls in single screen mode (if I'm not using a Bluetooth headset). I do this both for direct calls and VoIP calls through MS Teams on the Duo. However, in looking more closely at Dan's pictures, I think the Duo 2 will be OK in this form factor, just like the Duo 1. It looks like the angle will be pretty tight. You can see in the pictures that the gap created by the camera is thinner than either of the two halves, looks like it's only about 3.5mm -- that's a pretty small gap, ALMOST an imperceptible change in thickness when holding it. You can experiment how this will feel with your existing Duo. Just fold it into sandwich as you called it, ensuring that the gap between the two screens is thinner than either of the two sides. Notice that you can still hold it one-handed just fine? Where I think the gap will make a real difference (but won't know for sure until I can try it) is slipping the Duo 2 in your pocket, if your pants aren't baggy. I think in a pair of jeans, for example, that extra 3-4mm will make a difference.

Thanks for the response! I thought the same thing from watching the VIDEO of MS introducing it and a few others on youtube of the bigger tech channels. I want to jump in but I really don't want to pay $1499 for a reduction with 1-3 months after the initial release. I also think since MS has decided to use Android as the OS on their mobile device offering that they should make a single screen device with the latest camera tech to compete with the iPhone and Galaxy line; what are you thoughts about a single screen surface phone? I also use my surface earbuds when in Teams meetings, watching YouTube, and on phone calls if I'm exercising as well.

Something's funny with the screen aspect ratio and resolution reporting. The Duo 2 is not the same as the Duo. It looks like it's no longer 3:2 for a single screen. Looks like it's taller than that now, unless the resolution specs are wrong. I briefly thought that maybe it was because some of the pixels on the spine wrap around so don't take up as much space, but that would make the screen narrower relative to height, not wider. So if anything, the pixel resolution UNDERplays the change to a more rectangular form factor. I don't have a problem with this -- replacing part of those huge vertical bezels with more screen is a pure win and this still has nicely wider screens than any other popular phone. Just pointing it out.

Is it even possible to pre order the Studio Laptop?

I am absolutely going to get the Duo 2! Although with the first batch (of the Obsidian Black colour) sold out in the UK and the release date now being 30th November , I might hold off on a pre-order in the hope that they release a bundle with a case/slim pen nearer Black Friday/Christmas.
My Surface Pro 4 is on its last legs too, so I'm tempted to upgrade to the Pro 8/Laptop Studio

Can we get a an SQ chip that is leading the pack? How about a mobile device the works. The surface pro kick stand is retarded. Balancing one of those on your lap or uneven surfaces, no pun intndes, is frustrating at best.

Love the idea of the DUO - i just want it to have a seamless gap like the Galaxy Fold - once they get that done, im all in!!!

Nope, will not "Drop" anymore cash to this company. Fool me once, shame on you(Windows Phone); fool me twice, shame on me (Surface Duo). Not going for a third with this ****.
Windows Central Newsletter
Thank you for signing up to Windows Central. You will receive a verification email shortly.
There was a problem. Please refresh the page and try again.