Which Surface devices do you want to buy?
Microsoft announced a total of eight new devices this week, and we want to know which ones you want to buy.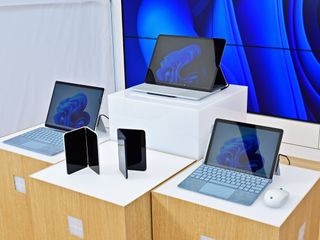 (Image credit: Daniel Rubino / Windows Central)
Microsoft expanded its Surface family with five new devices and three new accessories this week. Now that you've had a couple of days to digest all of the announcements, we want to know which device (or devices) you actually want to buy. There are plenty of innovative pieces of hardware that may impress you technically, but this poll focuses on the Surface devices you want to spend your hard-earned money on. Actions speak louder than words, after all.
We covered all of the Surface devices announced in a roundup and had a special edition of the Windows Central Podcast this week, but we'll also run through the new hardware here as well to get you up to speed.
The Surface Laptop Studio is the most powerful Surface ever, according to Microsoft. It also introduces a unique form factor with its screen. It could make our list of the best laptops, though we'll have to do a full review first to assess its merits. With a starting price of $1,600, it's also the most expensive of the new Surface devices.
The Surface Duo 2 drew the most interest leading up to the event. Buzz around the web and activity from commenters on our site suggest the excitement has increased since the device was officially announced. The Duo 2 has a faster chip, bigger screens, and better cameras than the original Surface Duo. It also supports 5G and NFC. Like the Surface Laptop Studio, it also has a high price tag ($1,500).
Microsoft revamped its Surface Pro line with the Surface Pro 8. It has a larger display and thinner bezels than its predecessor. It's also significantly faster than the Surface Pro 7. Microsoft rounded out the Surface Pro 8 with a 120Hz display, Dolby Vision, and Adaptive Color Technology.
The Surface Slim Pen 2 looks like it will make our list of the best Surface accessories. It has a haptic motor inside that provides feedback as you interact with supported PCs. It can replicate the feel of writing on paper and provide queues when navigating around Windows 11.
The Surface Go 3 was a more modest upgrade for its respective line than some of its Surface event siblings, but it's still much faster than the Surface Go 2. It also maintains its relative affordability with a starting price of $400.
Microsoft didn't refresh the Surface Pro X with a new design or new internals. The company did announce a lower starting price for the device thanks to a new model without support for LTE.
Lastly: You'll notice we mentioned eight total items were announced at the event, but only seven are in the poll. That's because one of them (the Ocean Plastic Mouse) doesn't have Surface in its name. Cue the sad trombone.
Which new Surface devices would you like to buy, if any? Let us know in the poll above and the comments below. While you do that, you can also check out which Surface devices the Windows Central team members want.
News Writer and apps editor
Sean Endicott brings nearly a decade of experience covering Microsoft and Windows news to Windows Central. He joined our team in 2017 as an app reviewer and now heads up our day-to-day news coverage. If you have a news tip or an app to review, hit him up at sean.endicott@futurenet.com (opens in new tab).
I will buy the Surface Duo 2 if it is available from Verizon.

I'm going with Surface Duo 3, counting its already in development.

I'm with you. I am happy with the D1. D2 feels like a response to the critics. D3 will be the complete package.

Good choice, waiting to see if Duo actually catches on and doesn't get canceled before then. It has a hard hill to climb. Fold 3 is amazing, very few people are going to choose antiquated dual screens when pricing is similar.

Pre-ordered the laptop studio.

Will wait on reviews before getting the Duo, I want it to be great, but time will tell.

If I didn't already have the Go 2 (m3) then I would probably get the Go 3 (i3).

Surface Studio on pre-order. Acer had a very similar machine (tablet mode vs laptop) back in the tablet PC days. I am curious to see how this compares.

I like the pull forward form factor and processing power of the Laptop Studio. But it's too heavy for me and I think the lip around the bottom looks weird. I'm seriously considering the Pro 8, though I wish they hadn't made it thicker and heavier than the Pro 7. The Go 3 would be an obvious choice to replace my Go 1, but I'd order the top tier one, and if I'm going for power then I should just get a Pro 8. But it's quite a bit more expensive and less portable than the Go 3. Tradeoffs are hard. I'm very intrigued by the Duo 2. The form factor might be amazing for me, but I might also end up using it single screen most of the time. It's a lot of money for fairly risky experiment. As for the Pro X, it's too bad they didn't have new chips to put in it. Having a cheaper Wi-Fi only option is nice, but WoA emulation and performance is still in the "risky experiment" bucket for me. All that to say, I'll probably get something, but I don't know what yet.

Fact is, I would like very much the Surface Pro 8, but what I need is a Surface Go. So that is what I ordered. I purchased a new laptop 18 months ago, I was looking then for the Surface laptop studio features. I have to live with my choice of 2020 for now.

Fully loaded Surface Laptop Studio is on the way!

I'd like to buy and own the surface laptop

Surface Duo 3, mainly because I need to wait, and time passes by fast. 😋😋😋

Surface Duo 2, but next year. Instead of a Surface Pro I want the ThinkPad X12 Detachable, replaceable batteries in a tablet are a must for me.

Duo 2 and Go 3 I3 on the way..

Definitely a Duo 2, eventually. I have a Duo and use it as my daily driver with no issues. Right now I am working on a new desktop, a factor not really addressed by Surface

I pre-ordered the i7 studio laptop. First time I ever did a device like this. I've have a pro 3, pro 7 i5 and it just wasn't enough. Kept over heating. So I went with this beefier piece. Not looking forward to the extra weight and thickness but it will have to do.

I've preordered the Duo 2 already (but grumbled about the missing Qi). I might also order the Laptop Studio, depending on full reviews -- I'm a little concerned about its weight and screen resolution. It has a significantly lower resolution than other high end systems at this size. I know Zac cares about this too, so I hope to hear his opinion on the display.

Preordered two Duos for my husband and I.

I'd like all of the devices, but I won't be getting any of them because none of them covers my needs better than cheaper alternatives.

Pre-ordered Duo 2 with ATT Sim. Can't wait!

If I didn't already have a laptop, I would definitely get the Surface Laptop 4...but I wouldn't mind getting my hands on a Surface Duo 2..this new iteration is now totally worth the purchase.

I have a surface pro 7. My current plan for future computers will be refurbished (both for money and e-waste). However, the studio really tempts me. I don't need it, It is more power than I realistically will use. But my gadget **** really wants it.

I was looking for a LTE device and the only one that's have it is surface x ( Not intresserad in duo Don't want android ) but no special upgrades so I will pass atm.

Except the Go 3 and Pro 8 both have LTE options as well.

Pre-ordered SD 2...cmon Oct 21st...

I really want the Pro 8, but I don't really have a reason for it. What do people do with these machines outside work in 2021? I don't have any need for one that a $300 iPad couldn't do better.

I think the Surface Studio looks awesome. I wouldn't get the DUO, after getting left out in the cold by MS phone strategy before, it will be some time yet before I trust them in that arena again. And, even then -- I want a Windows OS, not android. So, realistically, I would go with the Pro. I have an older model and that is wonderful. Anything to avoid the iWorld!!!

Since My Iphone 11 was stolen. I would opt for buying a Surface Duo. the next device I would buy
is a Surface Pro 8 with an Intel i7 CPU +1t SSD. I would use this device for at least 4 years
because they are expensive as hell to "Buy" The Surface "Duo" to me is combo Digital assistant
device & a Smart phone. I think Multitasking on 2 separate screens is better than one screen.
Windows Central Newsletter
Thank you for signing up to Windows Central. You will receive a verification email shortly.
There was a problem. Please refresh the page and try again.