Surface Duo 2 November 2021 update arrives, brings Android security patch
This should be familiar if you were, or are, a Duo 1 owner.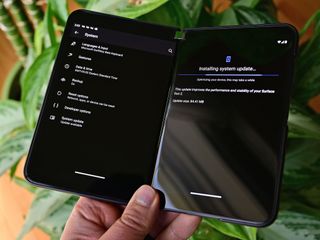 (Image credit: Windows Central)
What you need to know
Surface Duo 2 has arrived.
Its monthly updates are, as of November 2021, just as mundane, small, and straightforward as Duo 1's.
This month's Android security update brings the Duo 2 up to version 2021.830.19.
Surface Duo 2 owners, it's time for a special Friday surprise: Microsoft's dropped a Duo 2 update into the wild. It brings the device's version number up to 2021.830.19 and is 84.41MB in size. As to its contents, this update "addresses scenarios outlined in the Android Security Bulletin – November 2021."
That's it. That's everything. If you thought there would be more to November's update, you can safely close this page, as there isn't anything else. Double-check Microsoft's own Duo 2 update page (opens in new tab) if you want firsthand confirmation that this is it until December.
Owners of the original Surface Duo may not be surprised by the light patch, given that it's what they've been receiving for many months, including November. It's just the way it is when you own a Duo.
The lack of meaningful updates has been a source of contention for some Duo (both 1 and 2) owners, leaving them in positions where they wonder if Microsoft is serious about the Surface Duo 2. There's no telling at this point, though analysts are convinced the Duo still has a ways to go before it can be declared a winner.
For those equipped with a Duo 2, perhaps a security patch is enough. Or maybe, as is the case for many disgruntled Duo 1 owners, an Android security update as the entirety of an update feels lacking.
Windows Central Newsletter
Get the best of Windows Central in in your inbox, every day!
Robert Carnevale is the News Editor for Windows Central. He's a big fan of Kinect (it lives on in his heart), Sonic the Hedgehog, and the legendary intersection of those two titans, Sonic Free Riders. He is the author of Cold War 2395. Have a useful tip? Send it to robert.carnevale@futurenet.com.
Microsoft won't lift a finger and leave it to Android 12L, so it'll be a long long wait to see anything meaningful. Not that there isn't real even dire need for Launcher and Microsoft apps to behave better - looking at how we are on OneDrive beta of all things.

I tend to agree with you. By all accounts Android 12L is where Dual screen and foldables have "built in" features and support. 12L is already released in Developer Preview, so Microsoft can get their hands on it in a non-theoretical version. Sure fixing bugs in Android 11 on Duo will come, I would think. But big work? If I was Microsoft, I'd focus on 12L.

I don't believe there were any updates last December. 🤔 Correct me if I'm wrong.

We are expecting a significant update for December with fixes/new features.

Rodney/Daniel, as you both being the two biggest supporters of this device, are you both okay with the lack of updates it received? Missing November was a letdown for sure and still silence on what's to come in December. Their update history page is lackluster:
https://support.microsoft.com/en-us/surface/surface-duo-2-update-history...

Huh? They could be faster, but it's still November. I'm confused by your question

It's been out a month already!

Am I OK with the lack of updates Duo has received? Lol. It's not only about Duo, rather my frustration with Microsoft and mobile spans 3 decades. Sure, I like Microsofts ideas like Windows Phone, live tiles, Band, Duo, etc., but it's the execution I'd like to see Microsoft finally nail one day. In my opinion, when it comes to mobile Microsoft simply fails to be "aggressive".. So, no I'm not pleased with Duo's update history. Not at all. And, I think it's fair to speak for Daniel and say he isn't either.

You won't have to worry about it when they cancel it this spring. Your best bet is to return the Duo 2 and get a Fold. There are now Windows Central writers who agree on them canceling it. Back a winning horse for once!

Not even attempting to fix known issues is a slap in the face...

and the reason i went fold 3 is proven.

The Duo 2 has been a great experience for me, since I've had it for nearly two weeks. I've experienced a couple of small bugs, but not frequently enough to make the overall experience great on this device. I'm certainly looking forward to new features, but I'm hoping Android 12L will motivate more app developers to optimize their apps to work or work better on the Duo. So fare, I've only come across one app that I could not reinstall, due to it not being optimized for the Duo.

Was it the Verizon messaging app? That seems to be the best messaging app on Duo for even non Verizon customers. But, it sometimes doesn't play well, and I think it may have most of its issues with version 2. Microsoft needs to develop a Duo specific messaging app.

I use SMS Organizer and SwiftKey. I'm not sure if it was the app itself, but the update or updating process seems to have corrected this issue, where the keyboard wouldn't always open, if I was typing within two different apps. For example, my typing out this response and having the message app open to respond to a text. When I tap the other app, the keyboard would not pop up.

All messaging apps work great on the Fold. Simple and powerful is the right combo. It needs no special developer or even OEM support to be great. Microsoft Has a knack for making devices that are complicated and limited at the same time. Why can't they ever make anything simple and powerful?

You like the fold. That's cool. This article is about Duo 2. People who read it probably bought the Duo 2. It's not your job to convince them to buy something else. You're simply coming across as a blind fanboy who has way too much time on his hands.

Sonos One app also doesn't work on the Duo... :-(

When I say doesn't work, it will not let me reinstall the app, citing "this app is not optimized for you device." Which is odd, because I would have been good with it working on jus the one screen.
However, it's exactly surprising, because the developer put out the Apple version of the app, before putting out the Android version 6 months to a year later. Considering it comes from a local transit agency, I'd imagine there is a very limited number of people working on this app and will not likely see an update for this app anytime soon.

I still get the black screen thing on DUO 2

This update fixed an issue I with the Sticky Notes not syncing properly.. That's something I suppose

I had that issue with One Note, but it wasn't the Duo. When setting up my Duo, I realized the version of One Note seemed to be the problem. I nearly lost all my email login info and other app/online accounts. Fortunately, I emailed a copy of this info to myself.
Windows Central Newsletter
Thank you for signing up to Windows Central. You will receive a verification email shortly.
There was a problem. Please refresh the page and try again.