Surface Duo preorders now available at Best Buy
If you've been waiting for Best Buy to open preorders, wait no more.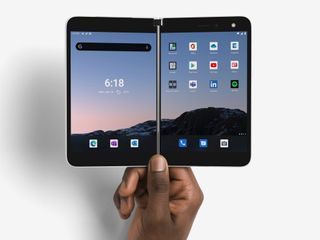 (Image credit: Microsoft)
What you need to know
Surface Duo is now available for preorder at Best Buy.
Microsoft, Best Buy, and AT&T are all three offering Duo preorders.
You can preorder both Duo models at Best Buy for $1,400 for the 128GB model

(opens in new tab)

and $1,500 for 256GB

(opens in new tab)

.
The Surface Duo finally got a September 10 release date today, and preorders are starting to go live. We've already seen preorders arrive on the Microsoft Store (opens in new tab), while AT&T is set to launch them tonight. Now, you can also add Best Buy (opens in new tab) to the list, too.
Best Buy has both Surface Duo models available to preorder. You can pick up the model with 128GB of storage for $1,400, while the 256GB model costs $1,500. Both are expected to ship on the September 10 launch date.
Surface Duo is Microsoft's approach to a mobile productivity device, giving users two screens to boost multitasking. It's also incredibly thin, giving it distinctly light look despite its width. Here's a quick look at everything Microsoft has packed inside:
Swipe to scroll horizontally
Category
Surface Duo
Operating System
Android 10
Display
Single: 5.6 inch (1800x1350), 401 ppi, 4:3 aspect ratio
Opened: 8.1 inch (2700x1800), 401 ppi, 3:2 aspect ratio
Type: AMOLED
Wide color gamut: 100% SRGB and 100% DCI-P3
Corning Gorilla Glass
Processor
Qualcomm Snapdragon 855
Network
WiFi-5 802.11ac (2.4/5GHz)
Bluetooth 5.0
LTE: 4x4 MIMO, Cat.18 DL / Cat 5 UL
SIM
Nano SIM + eSIM (no eSIM on AT&T model)
Network Bands
FDD-LTE: 1,2,3,4,5,7,8,12,13,14,19 20,25,26,28,29,30,66
TD-LTE: 38,39,40,41,46
WCDMA: 1,2,5,8
GSM/GPRS: GSM-850, E-GSM-900, DCS-1800, PCS-1900
Memory
6GB RAM
Storage
128GB or 256GB UFS 3.0
Expandable Storage
None
Camera
11MP, ƒ/2.0 1.0um, PDAF, 84.0° diagonal FOV
Optimized with AI for front and rear
Audio
Mono speaker
Dual mic with noise suppression and echo cancellation
Qualcomm aptX Adaptive
Security
Fingerprint
Ports
1x USB-C 3.1
Battery
3,577mAh
Up to 15.5 hours of Local Video Playback
Up to 10 days of Standby Time
Up to 27 hours of Talk Time
Fast Charging using 18W in-box power supply
Pen
Surface Pen (not included)
Dimensions
Open: 145.2mm (H) x 186.9mm (W) x 4.8mm (T)
Closed: 145.2mm (H) x 93.3mm (W) x 9.9mm (T at hinge)
Weight
250 grams
If you're planning to pick up a Surface Duo from Best Buy, the big-box retailer also has Zagg screen protectors (opens in new tab) for the device available for $40. Also note that, according to CNET, Microsoft is offering zero percent interest financing through its store, while AT&T will offer Duo on its Next Up program.
Preorders today!
(opens in new tab)
Two screens are better than one.

Microsoft delves into the future of foldables with an ambitious dual-screen device, featuring two ultra-thin 5.6-inch AMOLED displays bound by a 360-degree hinge. This pocketable inking-enabled Android smartphone marks the latest in the Surface lineup, geared for mobile productivity.
Main
Windows Central Newsletter
Get the best of Windows Central in in your inbox, every day!
Dan Thorp-Lancaster is the former Editor-in-Chief of Windows Central. He began working with Windows Central, Android Central, and iMore as a news writer in 2014 and is obsessed with tech of all sorts. You can follow Dan on Twitter @DthorpL and Instagram @heyitsdtl.
Hey, Dan, just noticed a typo: "$1,500 for 512GB." It's not a 512 GB model, it's the 256 GB. Almost gave me a bit of excitement!

Woof, good catch and thanks! Fingers are moving too fast.

It rather looks like the mind was too fast, not the fingers. I totally get where you were heading there. ;)

Pre-ordered from Microsoft under the USB 3.1 it says video output?

Yes, standard Type-C/Android video output. It's not Continuum.

Thanks for reply, just questions since LG has that basic desktop mode. Made me wonder if microsoft would have made something similar.

As much as I would love to grab one, MS feels like they burned the mobile bridge for me. Been on a Windows Phone device since 5.5 all the way through to Windows 10 Mobile before it's abrupt "No more updates" tweet at the end of 2017. Even while on the 920, I used nfc tremendously once MS got it working and still do today on my Razer Phone 2. So as a daily driver, I can't. Now if work wanted to provide one, then I'd be all over it, but the bean counters seem to think iphones are the only phones worth getting :(

I lived that moment. While I was enjoying the most stable OS ever created (Windows 8.1), I bricked my Nokia 930 while upgraded to the buggy Windows 10 insider edition. All my retailer did to me was refunded as all units sold. The height of arrogance is limitless for whoever made the decision to discontinue the mobile sector.

I had the opposite happen. I'm still on window phone 7.5,
but the browser doesn't work with most sites.
I had a lumia 650, with edge browser, and upgraded from
windows phone 8.1 to 10, and it works with
almost every website, is super fast, and stable now. I'm still not ready to switch to all touchscreen phone,
since I prefer a physical keyboard. But the lumia plays all
my old windows phone games (that haven't been delisted),
and everything is much smoother and faster. later
-1

After being totally wack over when buying a Lumia 950 XL in 2016 I would never buy this Android phone thing from Microsoft. I write this from my Samsung galaxy S10. Microsoft got to find some else to fail this time. Samsung is my preferred safe choice now.

You are on a perfectly fine wagon with Samsung if you are into Microsoft services on any level, or if you simply don't need anything for an Apple price tag from Apple. Nobody really said that anyone should get this device. This is out there to see if anybody needs it. I guess hence the price tag. The price tag is not there to suck people into this. It's there to see how many people would get this keeping it sustainable. Microsoft does not care if anybody else is picking up on this form factor. It is a bit misleading when WC considers this a unique form factor. It is not even that. It is the OS features that make this form factor provide additional features and a better experience. I would not be surprised if this device was out there to show Samsung if it is worth releasing a similar device in 2022 along with the Duo 2. I don't think either or the other would happen without its copart.

Why would MS need to show Samsung if a 2 screen oddball was viable?! This is not MS being the bellwether for Windows on Tablet, like it is with the Surface devices. This is not MS' OS, it it Google's, and with MS being only committed by accident to even 'free' Windows over it's far more profitable business line, why would MS care to demonstrate a foreign-OS Consumer device when it is not really making the big bucks off consumers, either?! Google makes money off the tie in to other services and the data it gathers. What is MS interest in Android to even get close to making this a viable market? I don't think MS has any idea why this device is out there aside from some personal resume polishing by executives and tech staff involved with its development. In my several decades long experience with MS, that is NEVER a good position for the end-user owners of that device to be in, given MS's track record of mismanaging and then abandoning so much REAL innovation. That's actual innovation and not just this year's outdated 'innovation' that will disappear the moment a less expensive and more bulletproof folding, single screen tech can be licensed. I'll wait for the Neo to MAYBE show up with an explicit Windows X OS, possibly developed specifically for 2 screen devices. Then there will be a real reason for MS to maybe try and make it a winner. The Duo is just this year's Surface Pro X; an unfinished consumer ripoff that the buyer is meant to beta test while paying MS for the privilege. Maybe I'll wait for the Best Buy firesale in a year or so.

Just an FYI, I have a My Best Buy account. It currently has a "10% off any one item" offer. It appears to apply to the pre-order, though I didn't try to order it to confirm. If you have an account, give it a try.

No wireless charging, no 5G, no NFC, no headphone jack, no SD slot, no thanks. Worth less than a $1k. Which it will probably be in a few months..

Man I really wanted one of these but just not sure now. I don't understand how they could deliver a device with no 5G onboard right now.

Not concerned about the 5G or NFC, but no wireless charging?! In some respects MS went backwards. No continuum? A bad reputation on mobile and then $1500!? That really sucks. I was seriously excited about this and now I think I'll wait. Damn that sucks! They could have at least included the pen!

But, look at all the bleeding edge features that balance that 'backwards', and the unmentioned year-old chip, too. No headphone jack, laughable storage, no SD card, no build in pen holder and charger, and a form factor that, with a case to protect this lumbering dinosaur, will add to the bulk IF anybody bothers to make one and you can afford it. I'll wait for the Neo to show, if ever, as a partner to my Android phone from a manufacturer who is fully committed to the eco-system without requiring special software to take advantage of their phone, like this 2 screen oddball requires.

I just got a notification that my Duo has just shipped and will arrive on the 14th! Woah!

From a Best Buy pre-order?

I can trade up from my Galaxy S10 to the 256 gig model for $50/month. I am currently playing $47.92/month for the S 10, so it's not that much more. I am only 8 months away from paying off the S10, but I am used to my bill at the current amount, so it's easy to justify. I am tempted, even if I really am more excited by the Neo than the Duo.

I want to want this, but $1400 for a 1st gen device with so many compromises is just too much for me. Especially coming from a product as refined as the Galaxy Note. If the second generation can reduce the bezels, increase the battery size, add an IP rating, add NFC and wireless charging, and give me somewhere to store the pen I'll get it regardless of price.

I've got a perfectly usable phone I bought for reception, clarity, modem performance, and manufacturer commitment to Android. I'm using a Note 9, which lets me swap SD cards and use olde time earphones as well as having a large battery to power a WiFi hotspot. I'll save my money for a Neo to possibly replace the Surface Go I use in tandem with my Note, not this half-baked leftover from Panay's days as hardware-only chief, which uses yesterday's tech in a format that is so unique it's basically an MS-only device. Who knows if it will ever get to Gen 2 with MS' fabled lack of commitment and Panay being pre-occupied with Windows in his split role, now.

The second generation is already done conceptually and is in the prototyping stage. There'll definitely be a second generation, but the third generation is questionable.

So one thing that isn't mentioned is how do games work? Typically when you play games on Android they don't allow other applications to be pinned at the same time. And even if you switch between, the game pauses...how does this work with DUO? Anyone? Dan?

Orientation mode is sooo slow on Android. Like a 2 second delay.
Windows Central Newsletter
Thank you for signing up to Windows Central. You will receive a verification email shortly.
There was a problem. Please refresh the page and try again.