Surface Go with LTE preorders now available, starting at $679
You can preorder the Surface Go with LTE just in time for the holidays.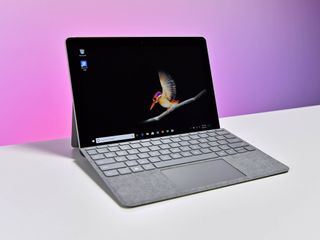 When the Surface Go with LTE was first announced in July 2018 a version with 4G LTE Advanced was promised by "the end of the year." It looks like Microsoft kept to its word, and four months later the Surface Go with LTE Advanced is finally ready to launch, according to Microsoft.
Perhaps the bigger news though is that by November 22 the Surface Go with LTE Advanced should be available in 23 markets globally with more to follow.
Surface Go with LTE Advanced price and specs
Like the already released Surface Go we reviewed in July, the Surface Go with LTE Advanced will have multiple versions, including models for business (Windows 10 Pro configurable to S Mode) and for consumers (Windows 10 Home in S mode).
Only the versions with 8GB of RAM and either 128GB or 256GB solid-state drive (SSD) for storage will have an option for LTE, leaving off the base model with 4GB of RAM and 64GB of storage.
That larger 256GB version is only the business model but consumers can order direct from Microsoft (opens in new tab) if they want it for $829.
Swipe to scroll horizontally
Category
Surface Go with LTE (consumer)
OS
Window 10 Home in S mode
Display
10-inch 3: 2 aspect
1800 x 1200 with touch
216 ppi
Processor
Intel Pentium Gold 4415Y (1.6GHz)
Fanless
Graphics
Intel HD 615
RAM
8GB
1866MHz LPDDR3
Storage
128GB or 256GB SSD
Security
TPM 2.0
Ports
1x USB-C 3.1 (aux. charge, video out, data), microSD (up to 1TB), Surface Connect, headphone jack
Surface Pen
4,096 levels of pressure, tilt support
Camera
5MP front-facing with Windows Hello
8MP rear auto-focus
Connectivity
Wi-Fi 802.11 a/b/g/n/ac
Bluetooth 4.1
LTE Advanced
Nano SIM Tray
4G LTE Advanced (22 Bands: 1, 2, 3, 4, 5, 7, 8, 12, 13, 17, 19, 20, 25, 26, 28, 29, 30, 38, 39, 40, 41, 66)
GPS/GLONASS: Standalone and Assisted
GNSS, accuracy up to 3 meters
Audio
Dual front-facing speakers
Dolby Audio Premium
Dimensions
9.6 in x 6.9 in x 0.33 in (245 mm x 175 mm x 8.3 mm)
Weight
1.17 lbs (532g) without keyboard
1.7lbs (770 kg) w/keyboard
Colors
Magnesium
Power
24 W power supply
Battery life
8.5 hours (video loop)
Price
Starts at $679
Keyboard $99 or $129 (Alcantara)
The Surface Go with LTE Advanced will also feature GPS for those who want to use geolocation with Windows 10. There is no mention of support for eSIM, but instead, it appears to rely only on a nano-SIM slot, and it is carrier unlocked.
For pricing, the Surface Go with LTE Advanced won't be cheap. Pricing starts at $679, a $180 increase over the same model with 8GB of RAM and 128GB of storage but without a 4G LTE modem. Also, the Surface Type Cover (opens in new tab) and optional Surface Pen ($99) (opens in new tab) are still sold separately.
Altogether that bumps the 128GB Surface Go with LTE Advanced to an eye-watering $907 price tag with an Alcantara keyboard or $877 with non-Alcantara.
Surface Go with LTE Advanced for Business is a bit more, as that ships with Windows 10 Pro in S mode and Advanced Exchange Service (AES) for the additional cost. The 256GB model is $829 plus Alcantara keyboard and Surface Pen comes in at $1,057 although corporate and education discounts certainly kick in for instituations buying that device.
Where you can buy Surface Go with LTE?
People in the U.S. and Canada get the first preorders with many more countries following later in November. These are the markets in which Microsoft announced availability:
US
Canada
Australia
New Zealand
Hong Kong
UK
Ireland
France
Germany
Austria
Belgium
Luxembourg
Netherlands
Switzerland
Denmark
Finland
Norway
Sweden
Poland
Taiwan
Italy
Portugal
Spain
Malaysia
Thailand
Areas in the Middle East and India are liking coming in later months.
Who should buy Surface Go with LTE Advanced?
Microsoft is making a big push for the Surface Go with LTE Advanced for businesses (opens in new tab). In its press release, Microsoft talks about firstline workers (FLWs) who could benefit from having a Surface Go with LTE Advanced and various benefits including:
No more dependence on Wi-Fi at a job site —c onstruction project managers can input real-time assessments and photos of contractor progress into their cloud system;
No more reliance on a client's home Wi-Fi network — insurance claims adjusters can submit damage reports and receive quotes while assessing a vehicle;
No more tethering with reduced speeds and depleted phone batteries — census takers can upload household demographic information in real time.
It is business that is driving demand for so-called "Always Connected PCs" (ACPCs) as the need for secure, non-public networks for workers who increasingly work outside a formal office rises.
For consumers, the Surface Go with LTE Advanced is an intriguing option, but due to the higher price, it is unclear if many will see the value in return, especially with the 8.5 hours of estimated battery life (certainly shorter in real-world usage).
Still, there are very few consumer-grade Windows laptops and tablets on the market that hit below the $1,000 mark – Surface Pro with LTE is $1,700 as an entire package – making this a first for Microsoft.
Get the Windows Central Newsletter
All the latest news, reviews, and guides for Windows and Xbox diehards.
Daniel Rubino is the Editor-in-chief of Windows Central, head reviewer, podcast co-host, and analyst. He has been covering Microsoft since 2007 when this site was called WMExperts (and later Windows Phone Central). His interests include Windows, laptops, next-gen computing, and for some reason, watches. Before all this tech stuff, he worked on a Ph.D. in linguistics, watched people sleep (for medical purposes!), and ran the projectors at movie theaters because it was fun.
Nice! I love how they support nearly every LTE band under the sun...I could even use it here in my country where Wi-Fi is not that common outside of major cities but I can get LTE in an island 10 miles off the coast lol.

5g is around the corner... This (without 5g)isn't a future proof purchase. I upgrade my phone every 1 to 2 years...not my tablets and laptops. I would have a 5g phone to tether with before I buy any laptop or Surface with LTE. Plus, tethering is included with my present plan... Why pay more? Daniel's argument in needing LTE or "Always connected" devices is and will always be flawed in my view.

I think 5g is a red herring for now. It will be several years before it is even remotely close to provisioned out in major metropolitan areas; this is a good first step by Microsoft and highly welcomed.

Basically what dstrauss said. We've got a bit (like a long bit) before 5G becomes a major buying decision for people. Even for many people, current LTE speeds is way more than they need.

5G adds microwave bands to the distribution of data. Microwave is line of sight. While 5G can send and receive far more info, that does not mean the density of transmitters will be sufficient in the near term to make it a viable connection mode for smartphones. I believe the initial 5G contracts will be to connect homes via 5G for internet/video/phone services. I think Apple is stating that Intel will be the supplier of 5G modems for iPhones beginning in 2020. So you are going to have to wait several more years before 5G is the primary standard for connection. 5G will include all the bands that 4G LTE currently provides. For most users, 4G LTE will be more than adequate, especially in the enterprise. However, consumers that want to use a Go (not likely) for game streaming would want 5G as fast as the service could be delivered. So the high-end smartphone with a 6" screen will have the 5G modem soon (late 2019). I suspect in 2021, many people will be wondering when they can actually connect to a 5G tower.

Seriously, will LTE suddenly stop working? Hmm, I think you have a very weird idea what "future proof" means.

5G is not around the corner at all, even if you live in the big cities

I am buying! I purchased the accessories back in July. Unfortunately it looks like the 256gb storage is only available for business users.

Hey where do you see that option? If it's only available for businesses, I want to try to get my job to order it for me.

Mary Jo article said the 8gb/256gb with LTE Advanced is only for commercial users. The 8gb/128gb with LTE Advanced is for both consumer and commercial users. When I went to the Microsoft Store, I only saw the 8gb/128gb with LTE Advanced listed for $679. When I went to BestBuy, I only saw the 8gb/128gb with LTE Advanced listed for $679.

I have links here for the 256GB model. You can still order it direct from Microsoft, but you'll pay for more storage + Pro license.

What are the links for the 256GB model?

"See Surface for Business"

The 256gb version is $200 more! I already have a Pro license to apply. Plus I can get a discount on the consumer version of the Go. I will put a 256gb sd card in the go and encrypt it. I got the Sandisk 256gb SD card on sale for $36.

Wow.... It just come out of the blue.

It was beginning to doubt MSFT would make the announcement before x-mas.

Excellent news! Not for me because I'd rather tether my phone, but great for those that would use it.

Would the Go LTE allow me to use turn by turn directions without being connected to the Network? The thing I most like about my Surface 928 and 950 is the ability to use offline maps and navigate in unfamiliar locations. The Go would be best when I am traveling on vacation. I do not want to sign a carrier contract to connect my Go when I would not need the service often. Can you buy a prepaid nano sim card for data?

LTE on the Go would be just like any old internet connection, so no you shouldn't have a problem using any internet dependent application (well, at least until you enter an area with a poor signal). I'm not sure about pricing though.

It has GPS and offline maps, so let's hope it does.

Seems like a rather large price jump just to add LTE... But I can't help but be excited. If I were able I'd buy this as a secondary device to take to work during the day and use as a tablet at home.

I agree
Any idea why it costs so much for an LTE modem ?
We can find full smartphones at half that cost (not the same quality, I get it, but much more components than what you get for the price bump)

GPS to boot! Yeah buoy! We're starting to see Nadella's chess strategy come to fruition. Mobile laptops are the future. And no one is better positioned than Microsoft.

Compared to the current non-mobile laptops?

Any word if AT&T is going to pickup these devices? I know they've been a decent supporter of Windows LTE devices in the past.

Maybe through back business channels. For consumer launchers AT&T usually demands some kind of exclusivity special feature. These are carrier unlocked, no carrier preference, so unlikely for AT&T push, but we'll keep looking.

I looked today. $35 a month for 1gb prepaid data with AT&T. Just go to the store and get the SIM and plug it into your Go. $30 if you auto-renew. You are really buying voice and text along with your data. I wonder if MSFT could just break through that sales pitch and say hey, get a go, buy our SIM card and We will get you the data for $xx per gigabyte. If you use it all, then you can hit a button and you get some more.

So you buy the SIM card from AT&T, then you pay them $35 and get 1 GB. If you don't use it, it rolls over. However, will it only roll over if I renew after 30 days? I guess everyone will have data expire after a certain time period. It would be too hard for a carrier to provision data to a device that paid money 6 months ago. How is AT&T going to account for cash received without a liability for delivering a service at some undetermined time and place?

I guess this is why Daniel has talked about eSIM and the impact of the business model of the current Carriers. I think MSFT could really care less about how you get your data, provided the device can connect to the internet. Yes, they want to empower greater mobility. The Enterprise will decide how best to pay for the data. I have discovered more about my cloud-based management system. I can really record far more accurate and valuable data if I could just remain connected to the internet as I operate my business. So I may just go ahead and get the auto-renew, see how it goes for several months and gauge the value it provides in greater productivity.

Great that it's available now, and in so many markets from the outset (the Surface Pro 6 will only be available in my country in the Spring 2019!). I would love the Go with LTE both for professional and personal use. LTE really makes a difference in having the perfect mobile device both for work and fun. However, 180$ is a lot. In my country the price difference between the similar Samsung Galaxy Tab S4 with WI-FI only and with LTE is just 75$. I wonder why Microsoft have to make it that expensive. 180 $ really is too much. But then I really would love one!
On the other hand: just around the corner the foldable phone is waiting. Samsung just presented a concept model where the screen can be extended from 5 to 7 inches. It's expected to be on the market early next year.
Imagine a foldable windows device, with a screen that can be extended from 6 to 12 inches (or just 5 to 10)! Then you could really have a laptop in your pocket.
So perhaps I should save the 180$, tether instead and wait for what happens with foldable devices in the near future. Choices, choices...

"On the other hand: just around the corner the foldable phone is waiting. Samsung just presented a concept model where the screen can be extended from 5 to 7 inches. It's expected to be on the market early next year."

Reality check: rumored price is over $1,700 ;)

Ahhh, I thought there would be a catch, then 180$ suddenly seems a very good buy! Perhaps I can convince Santa to be generous this Xmas. I really think I have deserved it ..... On a serious note: I have never read so many and so positive reviews of a new device like of the Surface Go. Add to that LTE and it's really too tempting. Might not have the patience to wait for Santa.

Just placed my order. Should be here by November 27th. It will replace my Surface 3 LTE, which has become noticeably slower since 1803. I am hoping a system reset will make it usable for my kids. I don't use the LTE a lot, but it is so useful when I do need it. Straight Talk wireless has a tablet plant for $15 per month for 1.5GB of data. I have never exceeded that amount.

This is a device folks will love it's a nice size for a hand held Tablet about the size of
the original iPad air. Microsoft should make a version with a built in 4G Cell phone
& sell it with a blue tooth headset, this would be a niche Product but enough People
would buy it to make it worth Microsoft selling it

Surface Go with LTE or Samsung Galaxy Book 2?

I'll likely do a video comparing the two. I think the Book2 is actually a bit better, but depends on priorities.

Love it, but getting too expensive. We will get the minimum speced one for my 80 year old mother in law with PEN (why should she continue to use a keuboard).

Been waiting for this since SGo was announced. Will be preordering it, early xmas present...along with the surface headphones.

Only wish there was an eSim model. Love the pay as you go, multinational, nature of data plans from eSim friendly providers like Ubigi. Would love to take the Go on vacation and get one of their continental plans for a month.

Will there be a 256gb model without LTE? I asked Microsoft the day this article was published and the agent said yes but it was out of stock... I haven't seen word in any articles but there was a placeholder for it on the business page noting sold out or out of stock so I think the agent was seeing something. That's my choice if one is coming.