Surface is going 'back to black,' says Microsoft event description
It looks like black Surfaces are all but confirmed for Microsoft's October 2 event.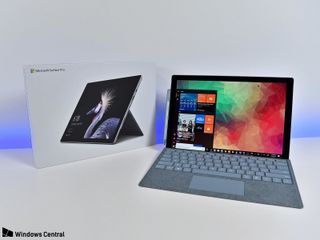 (Image credit: Windows Central)
In the lead-up to Microsoft's October 2 event, the rumor mill has lit up about the potential Surface updates, including a new black color option. Now, thanks to an official Microsoft listing for an October 16 event (via WalkingCat) set to take place in Auckland, New Zealand, it seems the fresh coat of paint is all but confirmed.
The event carries the unsubtle title of "Surface Back to Black," and calls back to the black chassis present on 2012's Surface RT. From the description:
So, if you were looking forward to going back to black with your next Surface, it looks like Microsoft may just have a treat in store for you this week.
As for what else is in store, we're expecting hardware refreshes for the Surface Pro and Surface Laptop, but everything else is up in the air at this point. But one thing's for sure: we'll know exactly what Microsoft has in store when it kicks things off on October 2 at 1 p.m. PT / 4 p.m. ET. So far, it doesn't look like Microsoft is livestreaming this event, but keep your eyes locked to Windows Central for all of the news as it develops.
Everything to expect at Microsoft's October 2 hardware event — and what not to
Windows Central Newsletter
Get the best of Windows Central in in your inbox, every day!
Dan Thorp-Lancaster is the former Editor-in-Chief of Windows Central. He began working with Windows Central, Android Central, and iMore as a news writer in 2014 and is obsessed with tech of all sorts. You can follow Dan on Twitter @DthorpL and Instagram @heyitsdtl.
I still use my RT to this day. Can't wait for this event.

I wish the RT had better adoption... So much promise.

it would be great if MS upgraded the Surface RT machines to run Windows10 on Arm.

Even Windows 10 mobile would've been cool

Keeping my RT around hoping for it to happen!

I keep my Surfaces RT updated next to my bed. It's good for watching movies and YouTube. Plus there is the fact that it can't get viruses. Sometimes I even use it as a battery charger for my phone. 😜

Woa is a better implementation of it so if surface just makes a surface woa device, you'll have your wish basically

Well the problem was the Windows Store and weak performance. The Windows Store is a lot better these days (the lion's share of my Windows software is from there) and low-end Windows devices ain't what they used to be. So I think there's some definite promise. Still need more apps in the Store, though, and charity starts at home MS (hint hint: Microsoft Mouse and Keyboard Center, anyone?).

Still using Surface RT? Must be the second generation as the original is unusable. I can't imagine even the second generation is fast enough to do anything with.

Blatantly racist. A clear insinuation that black people should be in the back.

Bad troll attempt (can't tell if this is a satirical attempt to poke fun at "SJWs". If not, social justice is important but let's not lose our minds). At least get the semantics right - for this to work, it would've have to be "black to back."

Social justice is just other word for communism. wake up.

I'm not going to argue social justice in depth on Windows Central (honestly, though, the comment section is quite entertaining when people get triggered and this website becomes Conservatism Central) but, to me, it's important. Also, that's quite a logical jump. There's nothing that's communistic about social justice. What's next? Microsoft's continuum is their code for pushing communism on unsuspecting youth? 😂 Most freedom movements are about social justice; it is just packaged differently and pertains to different things now. And yes, there are people who take it too far but don't let that detract you from the main goals.

You need some soul searching. Nothing racist about back to black.

Is AC/DC performing at the event?

Would not be surprised if they used the song. Microsoft has used their music before for surface events and advertisments.

Well I'm pretty sure Amy Winehouse won't be.... 😲

Since the Brian Johnson quit as lead singer and was replaced by Axel Rose (!!!!) and Malcolm Young died and was replaced by Steve Young, it's possible, but, it's just not the same band anymore.

Agree with that. They're dead to me with Axl Rose as their front man.

That would be "Back in Black".

Wish they'd bring Lady Gaga. 😜 She has the pipes and class (yes LOL) to back it up. Maybe bring some of her avant-garde-ness because that's what Surface is about.
She was the face of Xbox Music (before Groove) circa 2012 with her Born This Way era but this is just wishful thinking. Not happening lol.

I think being black in colour is a far too literal interpretation... In the context of that paragraph, to me, it seems to suggest they're going back to where all the innovation started. In other words, they're hoping to kick off a whole new period of innovation... Imagination will have to fill in the blanks... 🤞

I would want to think that but it's Microsoft. I've learned to underexpect. They specifically mention the RT with the black chassis, so it would make sense to be talking about the color.

They may be going back to the one and two stage kickstand or the 16:9 aspect ratio for the 10 inch screen

Ah! I really appreciate the taller resolution. 16:9 is not great for a tablet.

I was being super sarcastic

Lol and maybe Intel Atom ...

Waiting for the dual boot pixel...

Will they show a black surface go?

Microsoft Surface Andy clock is ticking...!

Perfect metaphor for proving time isn't real

I hope there's a choice because that black that I had on my original surface flaked off and I was not happy, it looked horrible.

Just give me a Surface Studio with good specs.

They can do that ...they just won't be in the same device

We are a three Surface Pro family. We love them. The one thing I find completely boring is the color. But I prefer the silver over the black. Black is just basic. Boring. I prefer VIBRANT colors. But it seems NOBODY is making anything attractive these days.

Right that is one thing Nokia brought to windows devices was color

Yeah but you can get a range of keyboards and pens, and a bunch of companies make things like sticker decals. There's even that ridiculous wood veneer that Daniel Rubino is constantly raving about. I kind of like having the metallic grey as the base color to build on. (I have a Surface Pro 2017.)

The color it should have been. Looking forward buying one if true.

Come on MS, announce ANDROMEDA already.... It's the one thing everyone is waiting for!!

Maybe not at this event. But eventually something has to be announced... MS needs to have a Mobile presence if it's going to take itself seriously.

Nah, don't be so pessimistic.

Excellent, I always missed the black Surfaces. Only problem is that if the case gets scratched it really shows the light grey underneath

Couldn't care less about the color, sorry. Please innovate in terms of hardware and software, not just design. Don't be Apple.

Still no USB C. Weird that SG has it. https://tablets.yourfreewordpress.com/?p=215042

Does that mean another AC/DC song in product video? I still remember when they played Thunderstruck in the Surface Pro 4 one. Seems like that particular product release was MS' best in recent years.

Jet black Surface Laptop (with black alcantera) running Windows 10 1809 Dark Theme...

MS just has to be kidding, black is a big deal? Packaging colour is important? Sheez!
Windows Central Newsletter
Thank you for signing up to Windows Central. You will receive a verification email shortly.
There was a problem. Please refresh the page and try again.