Everything to expect at Microsoft's October 2 hardware event — and what not to
New hardware, a bit of software, and maybe a surprise.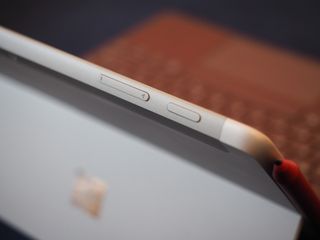 Microsoft's October 2 event is just around the corner, meaning it's time to start speculating about what we can expect to. We know the event isn't going to be a major one, not like the hardware event Microsoft held in 2015, at least. New Surface devices are in the cards, as well as a showcase of stuff from Microsoft's hardware partners and a focus on Windows 10. Perhaps we'll see Microsoft talk a bit more about its productivity focus on Windows 10 in 19H1, too.
What we're expecting
We believe there will be new Surface devices shown off on October 2 featuring updated specifications. The question is what kind of processors will they be updated to? Microsoft will almost definitely be using 8th Gen Intel processors, but will they be "Kaby Lake?" Or "Whisky Lake?" We're also expecting USB-C ports across all the new Surface devices.
New Surface Laptop
Announced in May 2017, the Surface Laptop is now a year and a half old, meaning it's almost ancient compared to other Surface devices on the market. So, it's not too crazy to expect a new Surface Laptop, featuring updated internals, USB-C, and perhaps a new black color option. It would be awesome if we also saw a new 15-inch model to follow along with the trend set with the Surface Book 2, but we've not heard anything specific on that front.
New Surface Pro
The latest Surface Pro was also announced in May 2017, just a few weeks after the Surface Laptop. This means the Surface Pro is due for an update, likely featuring the same updated internals, updated accessories, and USB-C. We're not expecting any major hardware changes, but we wouldn't be surprised to see a Surface Pro that follows the more rounded design approach found on the new Surface Go.
Surface Go LTE
It's likely that we'll also hear more about the Surface Go with LTE, with a possible release date and price to go along with it. Microsoft announced earlier this year that the Surface Go with LTE would be available towards the end of 2018, and we're fast approaching that time.
Software demos
It sounds a lot like Microsoft is planning to talk more about Windows 10 and its productivity focus at its October 2 event. As such, it's likely we'll see Microsoft demo some Windows 10 features, something it hasn't done on a stage in a very long time.
A little less than expected
While we're pretty confident we'll see new Surface Laptops and Surface Pros, we're less confident about some of the other things we've heard about. So, file these under "maybe."
Surface Studio 2
We know that Microsoft is working hard on a second-generation Surface Studio, codenamed "Capitola," which will include updated internals, USB-C and changes to the design of the base. We'd love it if Microsoft introduced more sizes and SKUs targeting lower price-points in an attempt to make the Studio 2 more accessible to consumers. While we know a Studio 2 is in the works, we're not certain when it'll be unveiled.
Smart speaker and headset
Earlier this year, I heard from sources familiar with the matter that Microsoft was working on new audio accessories alongside its secret Andromeda project, one being a dedicated headset type accessory, and the other a "table-top speaker." ZDNet's Mary-Jo Foley has since heard that a new headset may make an appearance on October 2, and I'm told a smart speaker may also be in the cards. Patents from Microsoft about a smart-speaker recently appeared online showcasing a device with a built-in screen.
What we're not expecting
As with every Microsoft event, there are things we're definitely not expecting to see announced (but are still hoping for).
Andromeda
Microsoft's highly-anticipated Andromeda device won't be announced on October 2, we know that for a fact. It was revealed a few months ago that the Andromeda project itself had been delayed, pushed back until next year so that the company could continue to work on the device and software. So, no Andromeda this year.
Surface Book 3
The Surface Book 2 isn't even a year old yet, meaning we're not expecting a new "Surface Book 3" in October. Microsoft may announce a new "Performance Base" Surface Book 2, just as it did with the original Surface Book a year after launch, but we've not heard anything specific regarding this.
What are you hoping to see?
The beauty of Microsoft events is that we usually don't know much about what is going to be announced. However, you can always expect to be surprised at a Microsoft event. What are you hoping to see get announced? Let us know in the comments.
Zac Bowden is a Senior Editor at Windows Central. Bringing you exclusive coverage into the world of Windows 10 on PCs, tablets, phones, and more. Also an avid collector of rare Microsoft prototype devices! Keep in touch on Twitter: @zacbowden.
If they don't update the i5 in the Surface Book to 8th Gen, I'll probably have to buy a different device.

If they don't announce Surface Andy, I'll probably have to buy iPhone XS or XR!
Enough waiting!

But XR is only $50 more than 8+...
In fact the XR is underpriced in Apple world and they may increase it another $100 once the demands goes up!

Why don't you take a look at the OnePlus 6 or the upcoming OnePlus 6T? Great devices for the price, better integration with W10 (compared to iPhone). Should be an awesome replacement as long as you wait for Andromeda.

Sure, go on and pay Apple's idiot tax. The iPhone 8 has a 4 year old design and is just as overpriced as all the other iPhones. Data breaches happen. On the other hand, Apple ripping off customers is their free choice. You say OnePlus is a terrible company? Then I'd say Apple is a disgusting, hypocritical company that will never see a cent of my money.

Both are terrible - but at least Apple has an OS that can be used without giving data to an even more digusting company: Google. However, there is still Xiaomi (if you're outside US) and Blackberry.

Everyone is still questioning Microsoft's commitment to Andromeda. Just announce it already, even with a 2019/2020 release date. Give it a proper name, so we can stop with this Surface Andy or "Andromeda device/Andromeda OS" crap. Nobody is questioning Microsoft's commitment to the Surface Hub 2S or 2X.

For the last part, Surface Andromeda is going to be the first iteration. It's best to wait it out.

You might want to head to the nearest Apple store now then!

How about a numeric pad on the 15 inch Surface Laptop. Maybe we could get one in the new Surface Book 2 base. Like many others I would Love to see the new mobile device and a band 3! But I won't hold my breath for either (Probably not before next October, assuming Microsoft has a good year).

Hoping for a num pad as well on the Surface Book

or a 13 in with the touch screen/mouse pad combo, like on other OEMs. Great Idea would love to see that on Surface laptop. I would also love to see the laptop hinge that goes 360 so you can use the pen more.

You're better off just going with a bluetooth number pad. It keeps the laptop more portable while giving you flexibility to move the num pad to the perfect distance. Amazon has them for under $30: https://www.amazon.com/Bluetooth-Number-Pad-Numeric-Keypad/dp/B07CQBXVP6...

Zac, you're saying the Surface Book 2 isn't even a year old yet, so you're not expecting a new one based on the timing. I don't think that's accurate. The original Surface Book was announced in October 2016 and became available in November 2016. The Surface Book 2 was announced on October 17, 2017, and became available on November 2, 2017. Based on historical timing, we should absolutely expect that MS will announce the SB3 this October and make it available this November. Not doing so would be a departure from what they have done the past two years. I'll note that you made a similarly pessimistic projection last year (based on one of Mary Jo's articles) before the SB2 came out. In a September 18, 2017, article, you wrote that we should not expect an SB2 in October, and that it probably wouldn't get announced until 2018. https://www.windowscentral.com/microsoft-may-not-launch-new-surface-book... You were mistaken, as the SB2 was announced just a few weeks later in October 2017. Obviously, I have no inside information about when the SB3 will be announced/released. But given that your pessimism proved incorrect last year, I'm more optimistic than you about whether MS will continue its consistent tradition of announcing a new SB generation every October. Thanks for the article, as always. But I look forward to picking up a new Surface Book in November!

Seems to be Surface laptop and pro have had a lot of recent discounts selling off inventory, but not so much for SB2. All conjecture of course

"The original Surface Book was announced in October 2016 and became available in November 2016." Actually, you got the dates wrong by a year: Surface Book was announced in October 2015 alongside Pro 4 and became available in November 2015. October 2016 was when Surface Studio was announced.

You are correct, and I misspoke. The history is as follows: October 2015: Original SB announced.
October 2016: SB with Performance Base announced.
October 2017: SB 2 announced.
October 2018: ??? So, my original date was off by a year, but I think the accurate history begs for MS to bring out something for SB at next month's announcement. Whether that actually happens is obviously a mystery.

The writer did mention that a SB2 with performance base is a possibility, just not to expect SB3.

I am hoping to see the andromeda device. And that's the only thing MSFT can pleasantly surprise me with. Any other thing, meh...

Same, just bought a Go and really like it. My next purchase will hopefully be Andromeda.

The list of things I would do for a Surface pro with thunderbolt is both long and somewhat shameful.

I'd like to see a Windows on ARM device.

There are already Windows on Arm devices.

I would assume he means from Microsoft...

I hope they do without that horrible proprietary huge charging connector on the surface pros. I hope we can just charge them through USB-C

so a surface laptop that works like a surface book, but not the surface book? Huh? That honestly doesn't make any sense. Why would they add another version of the surface book, that looked more like the laptop? Unless, of course, they move away from the look of the surface book and get sleeker.

I think what kojackjku is asking for is a Surface Yoga; they probably don't need the power of the Book, want a tablet sometimes, and a laptop most times. The Pro is a tablet oriented device, hardware wise, while the Yogas are laptop oriented, hardware wise.

Same here, the surface book 2 is both heavy and top heavy. I want something no heavier than the laptop, but convertible. The yoga from lenovo, samsung etc are all 16:9. There is no 3:2 yoga on the market....

naw, the magnetic thing is very nice. I would hate to have standard usb c plug in

I still want a Surface Studio monitor that I can hook up to my tablet. Don't need the PC hardware for it.

yes that would be my ideal device for photoshop and all photography related editing. Once connected to desktop/laptop/flaptop/surface top what ever.

Based on the cost of the Dell Canvas, that's what I'd most like to see too, preferably for under, say, $800. I did just buy an ~11" touch/pen screen that connects to my desktop and functions as my third monitor, the only one with touch or pen support. But I would much prefer something larger (that was the only size I could find without jumping to Dell Canvas or Wacom Cintiqs). Frankly, the Dell Canvas would be almost perfect, but I can't justify $1,800 for a monitor and I would prefer the position flexibility of something like the Microsoft Studio attached to my own desktop PC (Dell Canvas doesn't offer much adjustment on its angle or position).

Surface laptop and/or surface pro with dedicated GPU. :)

That doesn't even make sense specially for the pro.

I would love a GPU for some lite gaming. A laptop as small as the surface laptop that can game a bit would be great. Or a surface pro that can game some would be even better. At least for me :)

I would love to see one Surface device (or even one SKU/model within a family of one device) use one of the new Ryzen processors with Vega graphics. Surface Laptop that can play PUBG? Sign me up.

Apparently, Tencent has an emulator that allows PUBG mobile to be played on a PC....... I haven't tried it yet, but am intrigued.

I find the whole surface naming and amount of different surface machines rather confusing at times, god help anyone that does not follow the latest Microsoft devices. Walk into pc world hey I would like a surface bang which one em **** if I know you tell me.

There's only like 5
Go - small tablet
Pro - big tablet
Laptop - a normal laptop
Book - tablet and laptop in one
Studio - All in one PC Don't see whats so confusing about this.

Mac mini. MacBook pro. MacBook. MacBook air. Imac. Imac pro. Mac pro. Really, you think MS have issues???

For their sake, I honestly hope they don't release another speaker. I got the invoke. Great sound, but everything else? Ugh. Seriously, how do you excuse no multi-room support in (almost) 2019?
Not to mention the speaker just doesn't even work half the time.
ME: "Cortana, play Spotify"
Speaker: "Ok"
Waits 30 seconds...
Speaker: "Resuming on Spotify"
Waits..
Waits..
ME: "oh, guess its been a few days. Time to reset the speaker again" Beyond that, Amazon has a great lineup of Alexa stuff now, and Sonos has the high end locked up. Google isn't far behind with an announcement coming up, Im sure..

I wouldn't expect a speaker. It looks like they are moving away from Cortana, at least as a consumer assistant. Maybe they would release a business focused speaker, but that really doesn't make sense.

That's odd. My Invoke works great! I use it to play songs all of the time. Song starts playing in about 5 seconds. To me, the root cause of all problems with Invoke is the lack of marketing. Same with all other Microsoft failed hardware. They don't advertise enough. People don't even know these things exist. When they do advertise, they are not effective. They need a new marketing firm.

Yep. I have two Invokes. In the home office and the garage. Spotify starts right up when I ask, and I make hands free calls frequently.

Another happy Invoke owner here. I have one at home. At first it was mainly a Spotify device, and for the weather snapshot in the morning. I now added smart outlets to it via TP Link Kasa, and control lights + AC/Heat.

Maybe someone should have Capossela wake up a bit and realize that they should have been directly marketing their products from the beginning. With him having the title "Chief Marketing Officer and Executive Vice President, Marketing and Consumer Business", I think that would where the blame would be honestly. All of the products that have been shelved, made "not a focus", or completely ignored all suffered from the same thing, exposure. No one knew about Band, Windows phones, hell Surface for a long time (NFL calling them iPads and people asking me about my "iPad), Groove, Zune, etc. When you don't market your product, how are they going to know about it. Besides beating a dead horse that's no longer the focus, I have 3 Invokes. They are constantly dropping from the network or "something went wrong, try again soon." By the way, no one knows what Cortana is (unless you have played Halo which is NOT the majority of consumers), let alone the Invoke which is currently the only dedicated Cortana speaker on the market. So add HK Invoke to the list of failed products due to no marketing and why Cortana is no where she could be. Microsoft is probably going, "Well, it's not OUR speaker so it's not OUR job to market it." That's awesome for their hardware partners..... So, I say seek a new CMO as the current is not effective. How many products must fail, primarily due to lack of exposure, before this happens? Why launch a new speaker when everyone knows they wont market it? A company this size has absolutely NO excuse to not be able to funnel enough cash into a successful marketing campaign. Don't have the talent to do so? Hire them.

"Sonos has the high end locked up" Actually Homepod now holds 70% of the $200+ smart speaker market. https://news.strategyanalytics.com/press-release/intelligent-home/strate...

I have an Invoke at my office and my house. Great sound, always responds. One odd thing happened recently. My wife and I were driving to her parents, listening to Spotify through her iPhone linked via Bluetooth to the car radio. All of sudden it stopped working. What happened? My office assistant (in the office), Said: "Hey Cortana, play music". When that happened, Spotify thought the Invoke speaker had preference over my Wife's iPhone and Spotify ended streaming on the iPhone. Solution? Pay Spotify $14.99 a month, which gives five people a separate account. Thus my Invoke in my office becomes my Spotify device, and my wife's iPhone becomes her Spotify device. Is there a way to tell the invoke or Spotify which devices are tied to my account? Or would the smart speaker be capable of recognizing my wife's voice and allow her to access her Spotify account on any smart speaker device.

That's a Spotify issue, you can only play from one device at a time, per account. Such trash Microsoft ported people to

Microsoft is trying to keep the naming simple, but it's tough. Some marketing wouldn't hurt. The name Surface Studio wasn't bad.

Want new surface stuff. Want new surface speaker. New surface personal screen with calender and Cortana and skype and apps. Want a new surface phone with core windows and mobile in one. Want the whole world... It's never gonna happen.

yes, it is call surface note not a surface phone and you get a surface watch too

Not expecting it, but I'd love to get some Andromeda morsels.

More than anything, I'm hoping for Andromeda. Everything else, not so much. Guess this is going to be a boring day for me.

Can we expect to see interchangeable performance bases for surface books going forward?

Not sure if anybody else watched or noticed.... but....
On the new Magnum PI series the other day, the female Higgins is shown using a Surface Laptop, and it was either poor lighting or that thing was black. Also, I started watching season 2 of Iron Fist on Netflix the other night, and again, I saw a black Surface, and it looked like a Surface Book as opposed to a Surface Laptop.

I want a 13 inch surface pro that I can connect to a surface studio monitor with an external graphics card in the studio monitor base.

15" Surface pro and scaled up type cover with a huge trackpad. Wouldn't say this if I hadn't seen the 15" Surface book tablet side in action

"It would be awesome if we also saw a new 15-inch model to follow along with the trend set with the Surface Book 2," Would love to see that.

I'd love to see a 'Surface Andy'!

What about the next Hololens? I hope they announce a new version!

If you're a Windows/Microsoft fan than you would be lying if you didn't say you were hoping for any kind of commitment shown to the "Andromeda" device. All this time and everything is still speculations with nothing concrete. That's all I wanted from 2018.

Mixed reality progress. Roadmap for the Consumer edition of HoloLens. Updates on new use cases / apps for HoloLens. Already have a SB2, SP4, and SP3 - that's the best hardware I have experienced in years so quite content on that side. Now, only Andromeda and HoloLens will truly excite.

I'm writing this comment with my new Note 9. I'm incredibly sad about this. This is my first non - MS based phone since my HP iPAQ to my HP Elite X3. Yes, that's well over a decade folks. Needless to say, I held on as long as I could, but when they pushed Andromeda back, here I am. The other major device I've been clamoring for is the "Home Hub", however, since MS has made it clear the future of Cortana will be business oriented, I figure it'll just be put on the shelf.

I love my Note 9. Good choice!

SB2 event was kept secret to the public. Only after the press event did we learned about it. This is also a press only event and not streamed but it is publicized. I will guess that it is bigger than SB2 event but smaller than the typical Panos event. Probably mostly all refreshed device plus LTE SG. Hope there is a surprise though.

Info on Go LTE, and how I can use an eSim and buy data through Microsoft Store without having to deal with carriers. I just want to buy 10 gb of data, see how long it lasts.