How to pick between the Surface Laptop and Surface Pro 4
How does Microsoft's Surface Laptop stack up against the Surface Pro 4?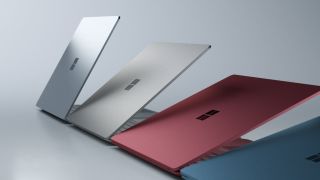 Before the Surface Laptop, every Microsoft Surface computer had a "plot twist" — be it a tablet with a kickstand and a detachable keyboard, like the Surface Pro, the giant hinged touch display of the Surface Studio, or the pop-off keyboard base of the Surface Book. The Surface Laptop? It doesn't do anything special, but its premium construction makes it a desirable piece of tech. It's best compared to devices like the MacBook Air, and interestingly, Microsoft's own Surface Pro 4.
If you're struggling to choose between the Surface Pro 4 and Surface Laptop, here's some specs and considerations I think you should make.
Surface Laptop vs. Surface Pro 4 tech specs
First of all, let's take a look at the raw tech specs. The Surface Laptop does beat the Surface Pro 4 on raw specs, sporting a modern Kaby Lake CPU and the latest Intel HD graphics, but that isn't the full story.
Swipe to scroll horizontally
Category
Surface Laptop
Surface Pro 4
Software
Windows 10 S (Upgradable to Pro)
Windows 10 Pro
Display
13.5-inch PixelSense Display
12.3-inch PixelSense Display
Display resolution
2256 x 1504 at 201ppi
Aspect Ratio: 3:2
2736 x 1824 at 267ppi
Aspect Ratio: 3:2
Processor
7th Gen Intel Core i5 or i7
6th Generation Intel Core m3, i5, or i7 (Skylake)
Storage
128GB, 256GB, 512GB Solid State Drive (SSD)
128GB, 256GB, 512GB or 1TB Solid State Drive (SSD)
Memory
4GB, 8GB or 16GB RAM
4GB, 8GB or 16GB
Graphics
i5 Intel HD 620, i7 Intel Iris Plus 640
m3 Intel HD graphics 510, i5 Intel HD graphics 520, i7 Intel Iris graphics
Rear camera
None
1080p with auto-focus
Front camera
720p
Windows Hello-compatible
1080p
Windows Hello-compatible
Speakers
Omnisonic speakers with Dolby Audio Premium
Front-facing stereo speakers with Dolby Audio
Ports
One full-size USB 3.0, Surface Connect, 3.5mm headset jack, Mini DisplayPort
Full-size USB 3.0, microSD card reader, 3.5mm headset jack, Mini DisplayPort, Type Cover port, Surface Connect
Sensors
Ambient light sensor
Ambient light sensor, Accelerometer, Gyroscope, Magnetometer
Security
TPM chip for enterprise security
TPM chip for enterprise security
WiFi
802.11ac 2x2 MIMO Wi-Fi wireless networking; IEEE 802.11a/b/g/n compatible
802.11ac 2x2 MIMO Wi-Fi wireless networking; IEEE 802.11a/b/g/n compatible
Bluetooth
Bluetooth 4.0 LE
Bluetooth 4.0 LE
Battery life
Up to 14 hours (with W10S)
Up to 9 hours
Pen
Surface Pen
1,024 levels of pressure sensitivity
Surface Pen
1,024 levels of pressure sensitivity
Magnetic storage
Weight
2.76lbs
i5/i7: 1.73lbs (786g), m3: 1.69lbs (766g)
Dimensions
12.13 x 8.79 x .57 in (308.1 x 223.27 x 14.48 mm)
11.50 x 7.93 x .33 in (292.10 x 201.42 x 8.45 mm)
Price
£999 to $2199
$799 to $2599
Battle of the specs
When it comes to raw specs, the Surface Laptop beats the Surface Pro 4 at almost every level. Sporting the latest Intel graphics and processors gives the Surface Laptop a decent boost over the Surface Pro 4. Additionally, to speculate, the fact that the Surface Laptop's internals are in a separate compartment to the screen itself should help with heat dissipation. The Surface Pro 4 can throttle under heavy load to prevent overheating, which prevents you from putting that Core i7 processor to its limit, without an external USB fan.
Image 1 of 2
If you go all the way up to the Surface Laptop and Pro 4's most expensive tier, both sport Intel Iris graphics, but the Pro 4 will always suffer from heat throttling. We haven't been able to test the Surface Laptop's heat dissipation in a graphics context yet, but I think it's fair to speculate that the Surface Laptop will trounce it for light gaming and other GPU-intensive tasks.
As powerful as these devices are, both are best suited to light professional work, lighter gaming, and general desktop leisure activities. Whether you're browsing the web or using Microsoft Office, both devices will perform extremely well, and it's only when you head towards Adobe Photoshop and PC gaming that you will notice serious performance deltas between the two devices.
Specs aren't the full story, however. This is as much a battle of form factors as it is power.
Battle of the form factor
The Surface Laptop packs a lot of power into a small package, but the Surface Pro 4 remains almost an entire pound lighter. Neither device is going to put you over the weight limit at an airport, but the Pro 4 has an extra trick up its sleeve.
In situations where you don't need to type, such as using Cortana voice in the kitchen, or watching a movie on the plane — you can remove the keyboard (or indeed, not buy one at all, since it's not included in the price!). Using the Surface Pro's integrated kickstand, you have a wide range of versatile use cases for the Surface Pro, which might not be present in the Surface Laptop.
Oddly, Panos Panay demonstrated that the Surface Laptop has Windows Ink support and a pressure sensitive display, but it has no "canvas" mode, since the hinge doesn't support 360 degrees of rotation. Inking on the Surface Laptop will be a clunky, awkward experience, for quick notes and annotations at best. If you were a student planning to write lecture notes by hand, you'd have to lay the Surface Laptop flat on its back, with the keyboard sticking up in the air — which is super dumb.
The Surface Pro 4 on the other hand, combined with its kickstand and detachable keyboard, will support artists and intensive note taking sessions, either in OneNote or other compatible apps.
The Surface Laptop might have the Surface Pro 4 beaten on raw power, but when it comes to versatility and getting the full use out of the hardware features you're paying a premium for, the Surface Pro 4 will be a safer bet for anyone wanting to ink more frequently.
But what about the Surface Pro 5?
To throw a wrench in the works, a "Surface Pro 5" may be on the cards, set to be announced very shortly, perhaps even in the next few weeks. While we're not expecting a huge rethink of the Surface Pro tablet, at the very least an update with new Kaby Lake processors and upgraded Intel graphics could be coming.
USB-C Thunderbolt 3 would take a Surface Pro 5 to the next level, but considering Microsoft doesn't think the market is "ready" for USB-C just yet and opted to include it in the Surface Studio or Laptop, it doesn't seem likely. Before purchasing a Surface Laptop, you might want to wait until the Pro 5 gets announced — it might edge the Surface Laptop into second place for bang for your buck. Speaking of which, let's discuss price.
Battle of the $$$
The Surface Pro 4 is cheaper than the Surface Laptop at every price tier, but not by a huge amount. There are a couple of "hidden" costs associated with both devices that you should be aware of.
The Surface Laptop comes with Windows 10 S, which is a battery-life focused version of Windows 10 that only runs approved apps from the Windows Store. For general browsing and every day laptop use, the Windows 10 Store is more than adequate to serve most people's needs, with a steadily improving array of editing apps, games, and office-type applications. Until December, 2017, Microsoft will allow you to "unlock" Windows 10 S and upgrade to Windows 10 Pro for free, after which, there will be a $50 charge.
The Surface Pro 4 on the other hand comes with full Windows 10 Pro out of the box, so there's no need to consider the upgrade cost if you're planning to buy after December 2017. However, the Surface Pro 4 doesn't come with the keyboard Type Cover, which adds another $130~ to the overall cost. While you can use a Surface with any Bluetooth or USB keyboard, trust us, you'll want a Type Cover.
Final thoughts
While the Surface Pro 4 is slightly cheaper, the gap is closed when you factor in the Surface Pro's type cover. At which point, this becomes a battle of functionality.
The Surface Laptop beats the Pro 4 on specs, but the Surface Pro 4 has a removable keyboard and a highly retractable hinge for inking, which defeats the Surface Laptop for any interested artist or ink-favoring student.
Image 1 of 2
For every day use, and if you just want something a little more usual, the Surface Laptop will likely be the better option, with upgraded internals, and more than likely, superior heat dissipation, leading to less throttling. You will want to escape the confines of Windows 10 S, however, to get the most out of those powerful internals.
Take a look at the links below for the most up to date pricing information, and if you're interested or already own one of the devices, let us know your thoughts in the comments.