How to pick between the Surface Laptop and Surface Pro 4
By Jez Corden last updated
How does Microsoft's Surface Laptop stack up against the Surface Pro 4?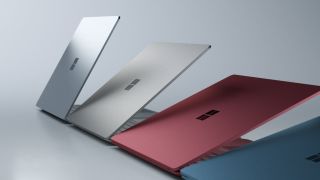 Before the Surface Laptop, every Microsoft Surface computer had a "plot twist" — be it a tablet with a kickstand and a detachable keyboard, like the Surface Pro, the giant hinged touch display of the Surface Studio, or the pop-off keyboard base of the Surface Book. The Surface Laptop? It doesn't do anything special, but its premium construction makes it a desirable piece of tech. It's best compared to devices like the MacBook Air, and interestingly, Microsoft's own Surface Pro 4.
If you're struggling to choose between the Surface Pro 4 and Surface Laptop, here's some specs and considerations I think you should make.
Surface Laptop vs. Surface Pro 4 tech specs
First of all, let's take a look at the raw tech specs. The Surface Laptop does beat the Surface Pro 4 on raw specs, sporting a modern Kaby Lake CPU and the latest Intel HD graphics, but that isn't the full story.
Category
Surface Laptop
Surface Pro 4
Software
Windows 10 S (Upgradable to Pro)
Windows 10 Pro
Display
13.5-inch PixelSense Display
12.3-inch PixelSense Display
Display resolution
2256 x 1504 at 201ppi
Aspect Ratio: 3:2
2736 x 1824 at 267ppi
Aspect Ratio: 3:2
Processor
7th Gen Intel Core i5 or i7
6th Generation Intel Core m3, i5, or i7 (Skylake)
Storage
128GB, 256GB, 512GB Solid State Drive (SSD)
128GB, 256GB, 512GB or 1TB Solid State Drive (SSD)
Memory
4GB, 8GB or 16GB RAM
4GB, 8GB or 16GB
Graphics
i5 Intel HD 620, i7 Intel Iris Plus 640
m3 Intel HD graphics 510, i5 Intel HD graphics 520, i7 Intel Iris graphics
Rear camera
None
1080p with auto-focus
Front camera
720p
Windows Hello-compatible
1080p
Windows Hello-compatible
Speakers
Omnisonic speakers with Dolby Audio Premium
Front-facing stereo speakers with Dolby Audio
Ports
One full-size USB 3.0, Surface Connect, 3.5mm headset jack, Mini DisplayPort
Full-size USB 3.0, microSD card reader, 3.5mm headset jack, Mini DisplayPort, Type Cover port, Surface Connect
Sensors
Ambient light sensor
Ambient light sensor, Accelerometer, Gyroscope, Magnetometer
Security
TPM chip for enterprise security
TPM chip for enterprise security
WiFi
802.11ac 2x2 MIMO Wi-Fi wireless networking; IEEE 802.11a/b/g/n compatible
802.11ac 2x2 MIMO Wi-Fi wireless networking; IEEE 802.11a/b/g/n compatible
Bluetooth
Bluetooth 4.0 LE
Bluetooth 4.0 LE
Battery life
Up to 14 hours (with W10S)
Up to 9 hours
Pen
Surface Pen
1,024 levels of pressure sensitivity
Surface Pen
1,024 levels of pressure sensitivity
Magnetic storage
Weight
2.76lbs
i5/i7: 1.73lbs (786g), m3: 1.69lbs (766g)
Dimensions
12.13 x 8.79 x .57 in (308.1 x 223.27 x 14.48 mm)
11.50 x 7.93 x .33 in (292.10 x 201.42 x 8.45 mm)
Price
£999 to $2199
$799 to $2599
Battle of the specs
When it comes to raw specs, the Surface Laptop beats the Surface Pro 4 at almost every level. Sporting the latest Intel graphics and processors gives the Surface Laptop a decent boost over the Surface Pro 4. Additionally, to speculate, the fact that the Surface Laptop's internals are in a separate compartment to the screen itself should help with heat dissipation. The Surface Pro 4 can throttle under heavy load to prevent overheating, which prevents you from putting that Core i7 processor to its limit, without an external USB fan.
If you go all the way up to the Surface Laptop and Pro 4's most expensive tier, both sport Intel Iris graphics, but the Pro 4 will always suffer from heat throttling. We haven't been able to test the Surface Laptop's heat dissipation in a graphics context yet, but I think it's fair to speculate that the Surface Laptop will trounce it for light gaming and other GPU-intensive tasks.
As powerful as these devices are, both are best suited to light professional work, lighter gaming, and general desktop leisure activities. Whether you're browsing the web or using Microsoft Office, both devices will perform extremely well, and it's only when you head towards Adobe Photoshop and PC gaming that you will notice serious performance deltas between the two devices.
Specs aren't the full story, however. This is as much a battle of form factors as it is power.
Battle of the form factor
The Surface Laptop packs a lot of power into a small package, but the Surface Pro 4 remains almost an entire pound lighter. Neither device is going to put you over the weight limit at an airport, but the Pro 4 has an extra trick up its sleeve.
In situations where you don't need to type, such as using Cortana voice in the kitchen, or watching a movie on the plane — you can remove the keyboard (or indeed, not buy one at all, since it's not included in the price!). Using the Surface Pro's integrated kickstand, you have a wide range of versatile use cases for the Surface Pro, which might not be present in the Surface Laptop.
Oddly, Panos Panay demonstrated that the Surface Laptop has Windows Ink support and a pressure sensitive display, but it has no "canvas" mode, since the hinge doesn't support 360 degrees of rotation. Inking on the Surface Laptop will be a clunky, awkward experience, for quick notes and annotations at best. If you were a student planning to write lecture notes by hand, you'd have to lay the Surface Laptop flat on its back, with the keyboard sticking up in the air — which is super dumb.
The Surface Pro 4 on the other hand, combined with its kickstand and detachable keyboard, will support artists and intensive note taking sessions, either in OneNote or other compatible apps.
The Surface Laptop might have the Surface Pro 4 beaten on raw power, but when it comes to versatility and getting the full use out of the hardware features you're paying a premium for, the Surface Pro 4 will be a safer bet for anyone wanting to ink more frequently.
But what about the Surface Pro 5?
To throw a wrench in the works, a "Surface Pro 5" may be on the cards, set to be announced very shortly, perhaps even in the next few weeks. While we're not expecting a huge rethink of the Surface Pro tablet, at the very least an update with new Kaby Lake processors and upgraded Intel graphics could be coming.
USB-C Thunderbolt 3 would take a Surface Pro 5 to the next level, but considering Microsoft doesn't think the market is "ready" for USB-C just yet and opted to include it in the Surface Studio or Laptop, it doesn't seem likely. Before purchasing a Surface Laptop, you might want to wait until the Pro 5 gets announced — it might edge the Surface Laptop into second place for bang for your buck. Speaking of which, let's discuss price.
Battle of the $$$
The Surface Pro 4 is cheaper than the Surface Laptop at every price tier, but not by a huge amount. There are a couple of "hidden" costs associated with both devices that you should be aware of.
The Surface Laptop comes with Windows 10 S, which is a battery-life focused version of Windows 10 that only runs approved apps from the Windows Store. For general browsing and every day laptop use, the Windows 10 Store is more than adequate to serve most people's needs, with a steadily improving array of editing apps, games, and office-type applications. Until December, 2017, Microsoft will allow you to "unlock" Windows 10 S and upgrade to Windows 10 Pro for free, after which, there will be a $50 charge.
The Surface Pro 4 on the other hand comes with full Windows 10 Pro out of the box, so there's no need to consider the upgrade cost if you're planning to buy after December 2017. However, the Surface Pro 4 doesn't come with the keyboard Type Cover, which adds another $130~ to the overall cost. While you can use a Surface with any Bluetooth or USB keyboard, trust us, you'll want a Type Cover.
Final thoughts
While the Surface Pro 4 is slightly cheaper, the gap is closed when you factor in the Surface Pro's type cover. At which point, this becomes a battle of functionality.
The Surface Laptop beats the Pro 4 on specs, but the Surface Pro 4 has a removable keyboard and a highly retractable hinge for inking, which defeats the Surface Laptop for any interested artist or ink-favoring student.
For every day use, and if you just want something a little more usual, the Surface Laptop will likely be the better option, with upgraded internals, and more than likely, superior heat dissipation, leading to less throttling. You will want to escape the confines of Windows 10 S, however, to get the most out of those powerful internals.
Take a look at the links below for the most up to date pricing information, and if you're interested or already own one of the devices, let us know your thoughts in the comments.
Jez Corden is a Senior Editor for Windows Central, focusing primarily on all things Xbox and gaming. Jez is known for breaking exclusive news and analysis as relates to the Microsoft ecosystem while being powered by caffeine. Follow on Twitter @JezCorden and listen to his Xbox Two podcast, all about, you guessed it, Xbox!
Surface Pro 4 lol, its tablet that can replace your laptop. Like 2-in-1 (SB is 2-in-1). better screen, W10Pro, and you can change keyboard. And also a better PEN usability. for 1000$ you can have tablet and also notebook. While with the surface laptop you can have just a laptop. btw, "i7 Intel Iris graphics" is "intel HD 540" intel iris

But a real laptop still works better as a laptop. And the battery life.

"Pros on Pro" weigh much more in this comparison.

The 14 hours the Surface Laptop gets is ONLY with W10S, battery life will be closer to the Surface Pro 4 with W10Pro.

You have no point. This comparison is pointless. Let's compare buying a Bentley and a Nissan Micra, oh which should I buy? See the insanity? What's the friggin point? Both will, and HAVE found their buyers. MS fans should be applauding instead of always ******* criticising.

How to choose between a Surface Laptop and Surface Pro 4... 1) Hold both devices and inspect them
2) Put back the laptop
3) Buy yhe Surface Pro 4

Just don't choose. Get both, and the Studio.

Why would anyone buy a SP4 AND a SL? That makes absolutely no sense whatsoever.

Really? If you had to wear a suit for work, would you have one suit or two or three? There would be times that I would see myself using the Pro 4, such as at home, on the lounge, and perhaps to travel, but then there would be times that I would want a conventional laptop because it feels more stable. Yes, on one hand you could say it is just a luxury, but so what, I work for what I have and I also like gadgets. I probably don't necessarily need a Studio either, but I would use it for a number of things that would feel better than using the other devices. It's like having two or three spaces/lounges/sofas in different parts of a house and choosing one place over another because of....whatever....what else can I say? Sometimes at the moment I use my wife's SB because of the very reason I would get the SL, but the SB is $1000 more than the SL and I don't need that device for all the things that are similar to the Pro 4 ( 2 in 1) but I do sometimes need the fixed clam shell configuration.

It's the laptop that can replace your tablet that replaced your laptop!

... with two hands I assume.

Surface pro 4 just has to be

Need/want tablet functionality... Buy SP4
Want/need traditional laptop only... Buy SL

Yeah. I don't see any need for a laptop anymore. I would buy the Surface Pro (pick a number) every time / all the time.

Personally I'll always be in the Tablet/2(3) in 1 category. One usage scenario I have a lot is simply sitting around marking up student work with my stylus. The Surface pen is a far easier editing tool than traditional mouse/keyboard (or finger in touch only systems). The second is that I teach Chemistry, being able to simply cast my tablet to the screen and draw out a mechanism on the fly is great, especially when integrated with one note classrooms.

A question for the reviewer: What is the battery life of the Surface Notebook running Win 10 Pro ? The article says Win 10s has a lower draw on power, increasing battery life. It will be important to know the life with the full featured OS ... for comparison purposes.

My guess would be the same as the Surface Pro 4 at 9 hours.

The Surface 4 Pro comes with the pen and (due to it's age) can be found with various discounts, making it a much better choice, economically.

Pro 4, cheaper, and has Pro already installed on it. Surface Laptop for people who just want that form factor (mainstream students).

Surface Pro 3/4 are awesome devices. I sold my laptop 2 years ago because I didn't feel any need for it once I bought Surface Pro 3. And, I haven't missed it. Surface Laptop is okay but it would have been a tougher choice if the keyboard could go 360 degrees. Because then it could have been a tablet alternative when you needed it to be. Using a pen would have also made much more sense.

Correction needed..."opted NOT to include it..."

Jez, are you using British currency in this article? In the US, the MSRP for the type cover is $130, not $100. Also, wasn't there a recent article on this site where Panos was quoted "There's no such thing as a Surface Pro 5. It doesn't exist." during the Surface Laptop introduction? So, I'm not sure if you can rely on the SP5 getting "announced very shortly, perhaps even in the next few weeks." I think if a college student needs to make a decision now or soon, he/she shouldn't factor in the SP5. BTW, the SP4 is still a beast today.

Yes, I prob was using UK currency, will fix. Sorry about that.

When was the last time Panos or Microsoft acknowledged the existence of something before it was announced? Yeah. Never.

Well, I don't think it's just MS. Every tech company, especially Apple, is super secretive about their projects. When they're ready to introduce a new product, they'd send out an invite to the press. The invite is normally a teaser which doesn't exactly tell you what the new product is. Then everybody will find out about it on the day of the press intro (unless there are leaks, of course). My point is, for Panos to say "There's no such thing as a SP5. It doesn't exist." just last week during the Surface Laptop intro and turn around to introduce the SP5 a few weeks later would be pretty awkward for him. I don't think the SP5 is going to come out in the next few weeks as Jez Corden speculates in this article. I think in the next few months is more reasonable.

I don't know when the SP5 will be announced but I'm pretty sure it will be. As for the awkwardness of Panos saying that...believe me, it wouldn't be awkward at all. He would probably even address it in the presentation. The reason he said it on the presentation of the Laptop is because he knows that the Surface Laptop is inferior to the Surface Pro line. If he said the SP5 exists there and then, he would pretty much be killing off any little chance the Surface Laptop had of success. The media already received the Surface Laptop with enough coldness. Admitting on the existence of the Pro 5 would just lead the headlines to be "Microsoft presents a Laptop but you're better off waiting just a little longer for their newest Surface Pro device".

The SP 5 will not be announced, and why should it. The SP 4 is perfect still for at least a year. We DO NOT need another Pro at this stage. The SB could do with a II release before, but the, Ultimate mobile device is what I'm hanging out for.

I am going to get either a Surface Pro 4 or Surface Book. I am leaning towards the Surface Book with Performance Base. For what I do tablet mode is becoming very necessary. I might consider the Laptop if it had a 360 hinge.

How to pick? There's no contest in the first place. Surface Pro 4 all the way. The Surface Laptop literally just scraps all of the following advantages of the Surface Pro 4 and keeps the price tag: - It's 3 times as versatile (a mono Laptop vs a Tablet + Digitizer Drawing Board + Laptop in 1) - Can practically replace ALL your needs for pen and paper (something Satya was clearly too stupid to realize is a big factor for Students) - 2 higher quality webcams (5 MP and 8 MP vs 1 front-facing only 720p webcam). That rear camera is extremely handy for students going paperless, especially with Office Lens in OneNote ( https://is.gd/JqZnjr ) - A higher resolution display (funny how they increased the screen size and gimped the resolution) - A convenient storage expansion port (MicroSD card slot vs being stuck with what you bought or having some dongle sticking out of your Laptop) - Comes with Windows 10 Pro regardless of when you buy it - etc. It's basically an overpriced joke with the Surface brand attached to it.

I have a feeling that the next gen Surface Pro will have Windows 10S to take advantage of the power lower power consumption. I wouldn't mind that, except I still need to run a few Win32 apps.

I wouldn't mind that either but Microsoft MUST get as many Win32 apps into the store as possible before they can do that. The fact that Spotify and iTunes are coming to the Store is a good start but more will be needed before they can make devices that are W10S only.

If I am going to spend that much money on something, it sure as heck MUST have a removeable battery.

Because if your battery breaks prematurely you have to send the whole product to Service. And if it breaks outside warranty the spare battery will be hard to find and you end in sending the product to service, paying a high price for a simple replacement.
For normal notebooks you can find on the web spare batteries.
With integrated batteries it could be a challenge having battery replaced.

Is this when I mention I never knew my Pro had a mini SD port?

You learn something new every day.😉

How does the surface book fit into this comparison?

The Surface Book is the way to go if you want that extra performance offered by the dedicated GPU. Otherwise, the Surface Pro 4 is the way to go. The Surface Laptop, merely an inferior and overpriced joke with the same price tag as the Surface Pro 4. Only thing it has over the Pro 4 is the CPU, and as we all know, Kabylake only brought battery improvements, barely any performance improvements over Skylake. That's why it's still only "50% Faster Than MacBook Air" just like the Surface Pro 4.

Another possible choice is any of a number of third party 2-in-1s like the Lenovo Yoga or HP Spectre 360. I have an older model Spectre with an Epson stylus and it works like a dream.

"the Surface Laptop beats the Surface Pro 4 at almost every level. " Sorry...WHAT? The ONLY thing the Laptop has over the Pro 4 is the processor which does NOT make that huge of a difference.Apart from that: - Screen resolution: Pro 4 is better - OS: Pro 4 is better (it cuts the need to get rid of Windows 10 S(hitty). - Front facing camera: Pro 4 - Speakers: Pro 4. - Sensors: Pro 4 has 3 extra sensors. - Weight: Pro 4 And then the Pro 4 also has: - a type cover which you CAN easily replace when it wears out, unlike the Laptop which had that unfortunate idea of covering the keyboard with Alcantara which, if it stains, it stains and it can't be user-replaced. - The ability to ACTUALLY USE the Surface pen since you can detach the keyboard of just flip it around. - Has a rear camera which allows you to take pictures of board annotations etc...which, for a STUDENT (you know, the supposed "target" of the Laptop) is quite useful. - It's lighter which, for a STUDENT, is also relevant ALL of this while being CHEAPER than the Laptop EVEN when you add in the type cover. Only a completely blind fanboy who lusts over every new shinny thing Microsoft slaps their logo on would EVER say the Laptop is better in ANY scenario than the Pro 4. It's not surprising that the Laptop had a lukewarm reception at best. It's overpriced and underspec'ed. A terrible deal for ANY users in ANY situation. And its competition isn't the niche Macbooks. It's Microsoft's own Surface Pro line AND Microsoft's OEM partners who are producing laptops that for the same prices are leaps and bounds better than the Surface Laptop. I personally am waiting to see the Surface Pro 5. The Laptop is completely out of the question, even if my usage of the Pro 3 so far has been 90% as a laptop replacement ('cause, you know, that was the point of the product itself).

@DJCBS
We'll said.
Add SD card support as well.
Which for me deal breaker!
No brainer at all. SP all the way.
I am finding difficult to justify an upgrade from SP3 to SP4.

Yep, got to agree. As a student I have to say my SP4 is so much more versatile than a normal laptop, for all the reasons you mentioned above. It can fit any use I need. The Laptop is a nice bit of kit but just not suited to students as well as the Pro line. The only real advantage of the laptop that I can see is a bigger battery, but the Pro has enough juice to work fine.

Yeah, that's the problem of forgetting to take into consideration, emotion. Humans are emotional, and the bottom line doesn't always make or break a deal. Pure facts don't mean much. The SL will find takers because it's a laptop, because it looks great, because of the colours, because some people don't need all the cool things the SP has, so, just dismissing it based on a stupid like for like comparison is annoying and ignorant. You don't have to be a fan boy to want the SL. More than likely it will convert others.

"The SL will find takers because it's a laptop" - So are all the other Windows...laptops "because it looks great" - So do all the other Windows laptops on the same price range. In fact, the Surface Laptop looks pretty "meh. Seen that before" "because of the colours" - You mean silver? Or are you refering to those other colours which are NOT available outside the USA and even in the USA are only available in one model? "because some people don't need all the cool things the SP has" - Those also don't need a 1000€ laptop. Thank you for proving with that "emotional response" that only a blind fanboy will buy the Surface Laptop ;)

Very well said! Also add: - Ports: Pro 4. It's hilarious how the lighter and thinner device has more ports

I don't want to choose. I have the Pro 4, and I will be getting the SL. I have use for both.

I'm honestly curious as to what you need the SL for that the SP4 can't do?

I do have a SP4 and I have to say I am considering getting a SL. Having a stable surface (pardon the pun) to rest my hands on when I code and manage VM's is something I'd really want. granted there is Dell, HP and the like, but after experiencing the stability of the surface line I can't say I'm willing to go back to OEM's and their poor quality service. I just wish they'd announce a laptop or what ever with a Quad Core processor instead of a hyperthreaded dual core like the rest of their line up. Apple so far has a device that offers power over batter. MS needs that right now more than ever. I'd get a SB but it's over my budget -_- not to mention just as weak as the rest.

It's funny being at Build and watching a lot of people (certainly not all) with Surface Pros. Some of them are taking notes with the pen and using it as a tablet, but many others are typing with it on their laps like a laptop (many rooms don't have desks, just chairs) and I see them slide and almost fall to the floor. That's the main reason to consider the Surface Laptop form factor in my mind: what % of the time you will be typing *on your lap* vs on a table/desk. If almost always the latter, the SP4 makes more sense. If the former, I don't think it does. I have an SP4, and that specific use case is what makes me switch devices for events. I hope SP5 addresses that better, though honestly I'm not sure how they would. Maybe what I really want is a Surface Book that has a less wobbly display.

The only way Microsoft has to address that is by releasing a metallic type cover. It's not impossible though it'd then make it almost a Surface Book.

I can understand this logic, although I never had issues with my SP3 falling, it seemed to fit well on my thighs but maybe those shorter than I would have problems so I understand that.

No-brainer. Always pick the Surface Pro.

Well for overall performance Surface Book is the way to go and flexibility it's the Surface Pro 4.
Am just 17 and I have
950xl phone
Surface pro 4 tablet
Surface book laptop
Surface studio pc...😂😂 now am hearing of the surface laptop when the book beats it hands down left and right..oh well I wouldn't even think about the surface laptop cause am complete except for the Mythical Surface Phone...

I would choose the surface lap top. Look at how many colors it comes in and no kick stand
Windows Central Newsletter
Get the best of Windows Central in in your inbox, every day!
Thank you for signing up to Windows Central. You will receive a verification email shortly.
There was a problem. Please refresh the page and try again.