Surface Power Cover receives ship date and price, boosts your battery by up to 70 percent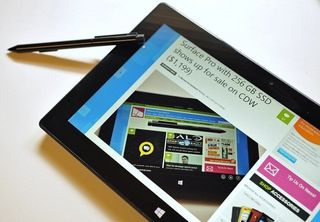 We have been hearing about Microsoft's Surface Power Cover since back in September of 2013. The new Surface accessory was expected to launch near or alongside the second generation of Surface tablets, but apparent delays kept it from being on schedule. Luckily, and thanks to a collection of patience from Surface users, the Surface Power Cover is now available for sale from the Microsoft store.
The new Power Cover is advertised to extend "the battery life of your Surface up to 70% and double as a screen cover. Reports from fellow journalist, Paul Thurrott, stated the cover would "significantly" expand the life of the device, but up to 70% is a bit of a shock – we were expecting around a 50% boost at most. To clarify for each device, the Surface Power Cover will expand the Surface 2's battery life by 70% and the Surface Pro models by 60%.
In comparison to Microsoft's Type Cover 2 that comes in at a jaw dropping 5 mm thin, the Power Cover comes in at 9.75 mm thin – both devices are .55 pounds in weight. While the Power Cover may be almost twice as thick as the Type Cover 2, you will not be noticing any extra weight in your bag.
One thing that you will notice, at least in the dark, is that the Power Cover does not contain a backlit as the Type Cover 2 and Touch Cover 2 do. This might be a deal breaker for some, who want to expand the life of their tablet, but cannot live without the convenience of backlit keys.
The Power Cover is compatible with the Surface 2, Surface Pro, and Surface Pro 2; unfortunately, Surface RT owners are out of luck if they are interested in the accessory.
The Microsoft Store states that the Power Cover will begin shipping out on March 19, and will cost $199.99 USD – this is in comparison to the Type Cover 2's $129.99 USD price point.
Picking up the latest keyboard cover from Microsoft will cost you $70 extra than the non-power-extending Type Cover 2 and will remove the convenience of a backlit keyboard. That being said, with real world testing of the Surface Pro 2's battery life clocking in at around seven hours, you could easily see hitting eleven hours with the new attachment.
What do you think – is the Surface Power Cover worth $199?
Source: Microsoft; Thanks to Danny Davis for the tip!
Get the Windows Central Newsletter
All the latest news, reviews, and guides for Windows and Xbox diehards.