Surface Pro 3 firmware update preps the tablet for Windows 10 [Update: Surface 3, too]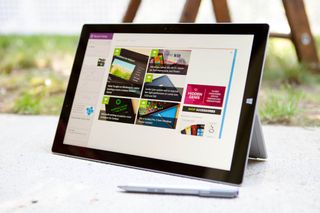 The Surface Pro 3 has grabbed a firmware update, bringing some driver updates to improve Wi-Fi and Bluetooth connectivity and adds support for new features in Windows 10.
Here's the breakdown of what this firmware update brings to the table for the Surface Pro 3:
Surface Pro UEFI update (v3.11.950.0) adds support for new features in Windows 10.
Wireless Network Controller and Bluetooth driver update (v15.68.3091.193) improves the system stability and the Wi-Fi connectivity experience, also increases the network download performance.
SATA AHCI Controller driver update (v9.4.0.1028) stabilizes deployment methodology on Surface Pro 3.
If you haven't picked it up yet, you can check for the update by navigating to Settings > Change PC Settings > Update and Recovery > Check Now. From there, grab the update and you should be off and running with some added support for Windows 10 just ahead of its July 29 launch.
Update: It looks like there's an update pushing to the Surface 3 as well, the details of which you can find below:
Surface System Aggregator Firmware update (v1.0.49500.0) improves the experience while using the Surface Cover.
Audio Device driver update (v603.9600.2563.61816) enhances audio performance and improves the audio experience on Surface 3.
Surface Pen Settings driver update (v4.0.112.1) enables new functionality with the Surface app, available for free in the Windows Store.
Camera driver update (v20.9600.3444.120) enhances the image and video quality while using camera.
HD Graphics driver update (v10.18.14.4175) improves the display stability and graphics performance.
Wireless Network Controller and Bluetooth driver update (v15.68.3091.193) improves the system stability and the Wi-Fi connectivity experience, also increases the network download performance.
Source: Microsoft (opens in new tab) Thanks for the tip, VineRider!
Dan Thorp-Lancaster is the former Editor-in-Chief of Windows Central. He began working with Windows Central, Android Central, and iMore as a news writer in 2014 and is obsessed with tech of all sorts. You can follow Dan on Twitter @DthorpL and Instagram @heyitsdtl.
Hell, I still can't install the one from last month on my Surface Pro after that build that didn't agree with it.

Do you mean the May 2015 firmware update? My surface pro 3 won't install that either... But it didn't even install when I temporarily downgraded to Windows 8.1. And I also tried to install from the MSI download...

Yup...(v3.11.850.0) was May. It finally installed for me, but windows update kept trying to install over and over again,,,,

Yeah, that's the one. Just keeps trying over and over again.

Lets hope this update fixes that....

Yeah, common issue it seems as it's not working for me either. I'll not be running the technical previews on SP3 after 29th July, my laptop will continue to be used as the insider test subject.

So it's not just me? If you're all having this problem why are there barely any reports on the user feedback? They're not going to fix it fast if nobody reports it ....

I had the same problem. It finally installed as well, but it seems like my Surface runs way hotter now, lots of Windows processes running high CPU.

I don't know. My Surface has always run super hot if a website has flash or I'm doing anything remotely serious in excel, etc. The round ends of the charger that hook up to my surface have long since melted into a plastic mush. :/ Probably the number one cause of my battery draining faster than it should is that at least half the time, when the cover is "closed", it isn't really, so the tablet is on when it's supposed to be sleeping in my bag. It took me like three months of cussing out my Pro's horrible battery life before realizing that was the main culprit. I've developed a Pavlovian reaction to that by shutting the Surface down, rather than simply closing the "lid" and assuming it has gone asleep.

Lol. Mine can't seem to install the May 14th one either. :/ It tries every time it checks for updates. About half the time, it claims to have succeeded and asks for a reboot, and then the same firmware update shows up again the next time it checks for updates. Good to see it doesn't appear to be an isolated incident. :D

These are big updates for Surface 3, nooice.

If you're running the Windows 10 Tech preview will these updates be available?

They are not showing up on my SP3 with 10130

While we are discussing builds, what is the latest windows insider build available? Not the leaked stuff....

No tweets from Gabe Aul in over 18 hours, they must be busy doing something

Yeah mine either...good to know. Pumped for next month's Windows 10 launch. I'm still dreaming for a Surface Pro 4 with an Intel Skylake processor to be announced for the launch.

Cherry trail. Posted via the Windows Central App for Android

Ditto for me. I'm not seeing the updates for SP3 on 10130.

What are the new pen features? Can I finally define what the pen click will open? (v3.11.950.0) is the new firmware....the may was installed for me, but kept being reoffered over and over again. I hope this one resolves that....

I'm curious, I wish they detailed exactly what features the firmware enables, instead of just saying it enables features. Anyone know?

Double click top button of the pen to select area to screen clip!

My Surface Pro 3 screen still flashes white on every boot up ever since the firmware update before this one..... ugh, Microsoft please!!!

Mine too :(
EDIT: The update has not fixed it :(

Anybody know where i can download the update manually if your already on Windows 10

Increased stability on the video driver is very welcome but its not quite good enough yet. Had the video driver crash and had to reboot today following the update. Hopefully more to come on this.

Wifi was a lot more reliable today after the update.

Wireless/bluetooth fix try 38. Is it fixed yet?

Excellent news. Updating now and deciding whether to finally install 10 on my SP3.

I would wait for one more release if its your production machine. 10130 is the best release yet, but not ready for production, at least on the Surface.

Someone let me know when Miracast starts working properly on the SP3 ... I've been somewhat hoping Windows 10 fixes all these things and I can try the wireless display again.

Im glad im not the only one who has had problems with miracasting! everytime i get a new update it throws it off and becomes unusable! they only way to get it to work again is to refresh the system which means reinstalling all the programs again...

I have 3 Microsoft Wireless Display Adapters and none of them have ever worked with three different SP3s that I have tried. Yet my wife's Surface 2 and my Lumia Icon have connected flawlessly every time.

It is not uncommon for me to have to uninstall the Intel display driver and reboot my SP3 so it can connect to my Wireless Display Adapter...its a 1 minute inconvenience every now and then. Hopefully, this new update helps out with it.

Update: Surface 2, too! Oh wait... :(

I hope these WiFi drivers work better. Tired of having to restart at the beginning of meetings in front of the MacBook crowd to get WiFi to connect at times.

Anyone know how to get old firmware update? I've been unable to download system firmware update 5/14/2015. Downloads it, update history says it's successfully installed, but comes back. Still haven't been able to download the new June firmware update.

Firmware 5/14 is the herpes of windows 10 preview..

It fixed the boot lag I started experiencing a few months back. 5-8 minutes now down to about 15 seconds. Lets see how long it lasts?

It doesn't seem to have fixed mine. :/

Blah, my May 2015 keeps trying to install even though it says successfull. I'm guessing i won't see the new one untill this onld one magically works one day :(

On an SP3 running Windows 10- no new firmware update here either. That said, installing the new Intel display driver seems to have gotten rid of the recurring prompt to install the May firmware. And my surface has run hot (like molten lava hot) for the last few Windows 10 builds. Installing the Intel display driver update seems to have fixed that as well.

Edge is killing my desktop and surface.

may i know which intel display driver you are using currently?

Yup. According to device manager, its 10.18.15.4204.

Thanks. I have same version of intel display driver as you.

Updared the firmware and on Twitter I say that now I can use the pen to select which OneNote to open - Modern or Desktop. I much prefer Modern OneNote for that quick jot. https://twitter.com/WinHowToGuy/status/613492778912325632

Only difference in seeing on my SP3 is that it now takes a long time (couple of minutes) to restart.

Wish I could get some updates on my computer... Bf4 keeps crashing

When I dock my Surface 3 the monitor (connected via DisplayPort) keeps shutting off an turning back on again, even if the Surface ist in standby. Anybody else experiencing this problem? I used different displays an cord's....

lots of stuttering and pixelation with display adapter with Surface 3, (problems my Surface 2 never has had)...havent tried it with new update yet...

Yes same thing for me, also ervery usb connected to the dock restart too, as the monitor. Like you plug and unplug everything connected to the dock before docking.

It appears my Surface Pro (the first model) also got a similar update lately. I don't know what exactly changed but I remember seeing a "hardware firmware update" or something a few days ago. What I noticed though is that the system now sees two batteries when my Surface Power Cover is snapped in unlike before where it only shows the percentage of the whole.

I guess this is pushed out automatically, so I wonder how this will this impact the device if you do not plan to install Windows 10?

Still a long way to go with Win 10. My Surface Pro 3 won't wake from standby without doing a hard reset and then the keyboard won't work, the key mapping breaks, and then I have to restart.

They are going to fix the tablet view function before the release, right? Right?? It's terrible vs. 8.1. There will be so many complaints. Bad press incoming. Posted via the Windows Central App for Android

I have a problem with the pen since I updated my surface pro 3.
The pen doesn't work when I resuming from sleep :(
Only buttons are working....
Windows Central Newsletter
Thank you for signing up to Windows Central. You will receive a verification email shortly.
There was a problem. Please refresh the page and try again.